The 27-year-old is a mainstay for both Bayern Munich and Germany.
5 March 2016. The first Der Klassiker of the year had just come to an enthralling close. The game had ended goalless, with the old rivals going toe-to-toe in of the most intense Bundesliga matches in front of a strong 81,359 at the Signal Iduna Park. After the game, amongst a sea of players doing their customary handshakes, one could see the silhouette of an unsatisfied figure darting towards a certain 21-year-old Bavarian.
In his trademark passionate and almost violent 'hand-gestury' fashion, Pep Guardiola, with eyes wide open, was seen seemingly berating this kid. After much hullabaloo, the animated post-match disquisition finally ended with Pep putting both his arms on the buddying footballer's sturdy shoulders, still mildly complaining about something. Now, the average football fan is aware of the fire that burns inside the Spanish tactician to always end up on victory's side. But why take it all out on a 21-year-old kid?
He's got the desire, the will, the passion: Pep Guardiola
When quizzed in the post-match press conference as to what exactly he told the prospect, Guardiola said:
"I told him that he's perhaps one of the best center-backs in the world. He's got the desire, the will, the passion. He's got absolutely everything."
When an elite manager like Guardiola holds a 21-year-old in his high regard, you can gauge that the footballing brain of the player would be unimpeachable. Fast forward six years from that famous episode, Joshua Walter Kimmich is one of the best and most complete footballers in world football. The Rottweil-born defender has won an astounding 20 trophies for club and country till date at just 27. This impressive assemblage includes a staggering seven consecutive Bundesliga titles from 2015 to 2021-22 season and one UEFA Champions League trophy in 2020.
3. Liga defender to Bundesliga conqueror
Contrary to the apparency of Kimmich being a born-and-bred Bayern homeboy, Kimmich is a product of VfB Stuttgart's academy with the-then 12-year-old joining the club's youth system in 2007. In six years playing for Die Roten's U-17 and U-19 teams, Kimmich scored eight goals and provided 12 assists in 57 outings. The most standout statistic among those are the 12 assists (more on that, later…). He then joined then 3. Liga (German third division) side RB Leipzig in 2013, making his professional debut in September that year against SpVgg Untherhaching. An 18-year-old Kimmich made 28 appearances in his first full season, scoring and assisting two goals each helping the Red Bulls win promotion to the 2. Bundesliga (German Second Division).
Long-term heir to Philip Lahm
Pep Guardiola was looking for a long-term heir apparent for legendary defender Philip Lahm, who at 32, had tasted unparalleled success with club and country. The Spaniard dipped his fingers in the obscure jar of the German second division when he could have afforded all the fancy jars of the world. He plucked out a seemingly unknown entity, with the latter not believing the slice of luck that had come his way. In an interview three years ago, Kimmich said:
"I thought he (his agent) was joking. I was 20 years old playing in the second division. And I was like, 'Why do they want to get me when they can have every player in the world?"
Guardiola knew what he was doing. Kimmich joined Bayern in 2015 and Guardiola endowed the youngster with astute tactical knowledge, slowly turning him into the world-beater that he is today. The Spaniard helped Kimmich improve his spatial awareness, taught him to be wary of his teammates and opponents on the pitch at all times. Pep's prodigy had now become a passing and assisting machine with even old foe Jose Mourinho giving his approbation (via GOAL):
"I see him as a top right-back, left-back, centre-back, No.6, No.8, No.10… he has the qualities to be anything. I think he's phenomenal; an absolutely phenomenal player."
But perhaps the best quality Guardiola inculcated in Kimmich was that of versatility.
How versatile is Kimmich?
Guardiola equipped Kimmich with qualities to play at right-back, centre-back, central midfield and defensive midfield. He is always 'thinking forward' and plays according to the strengths of his teammates at all times. Bayern have had lethal goal scorers in their ranks, but most of their goals have been calibrated inch-perfectly by Kimmich from midfield.
To gauge Kimmich's versatility at various positions, let us look at his defensive and offensive actions per game across the last three Bundesliga seasons at the three positions he has played in for Bayern.
Right back
Kimmich has played 8532 minutes of football since 2016 for club and country in this position. A large chunk of his minutes (4884) at right-back came in the 2017-18 and 2018-19 Bundesliga seasons. Philip Lahm, who played around 41% of his club career games in this position has often been cited by Kimmich as his inspiration. France Football had likened a 24-year-old Kimmich to Lahm to which he responded in a self-effacing manner (via Bundesliga.com):
"His consistency was incredible. You can count his bad games on one hand. I would like to commit as few mistakes as he did, whether it's in terms of positioning, anticipation, clearances, and to be as intelligent on the field.
"It's on that level that he is a source of inspiration, with his ability to make the right decision between managing a situation or taking risks. That's what he knew best, but it's also the most complicated to do and to keep doing. He's a Bayern legend, and one of German football. To be considered as such, you need to have been convincing on the highest level over many years."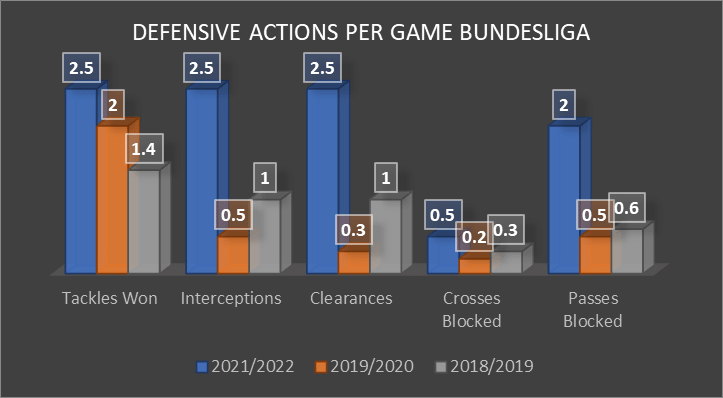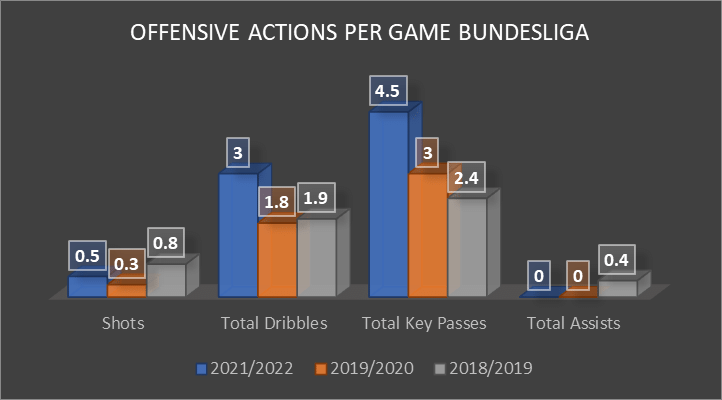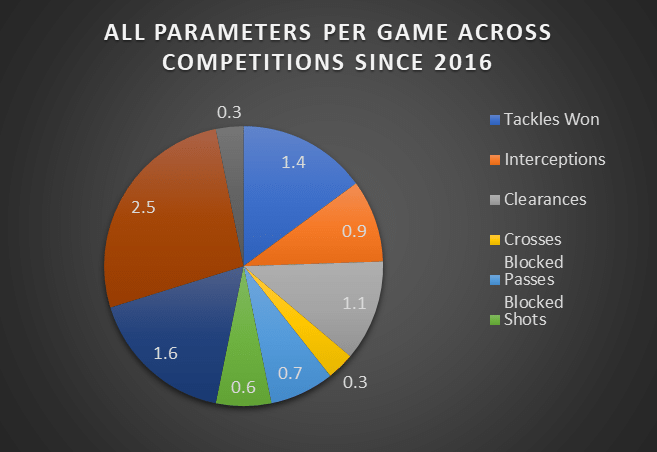 Central Midfield (No. 8)
A less-known fact is that Kimmich's favourite position is in the middle of the park and a lesser-known fact is that former midfield lynchpin Xabi Alonso has been his inspiration for this position. Kimmich told France Football in the aforementioned interview:
"He was truly special in the way he played; his crosses were of a surgical precision, and I was always impressed. He was a real source of inspiration"
The 27-year-old has spent 2981 minutes in the position since 2015 for club and country.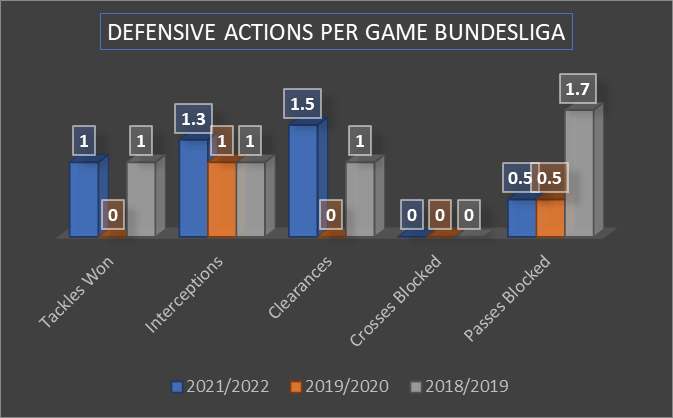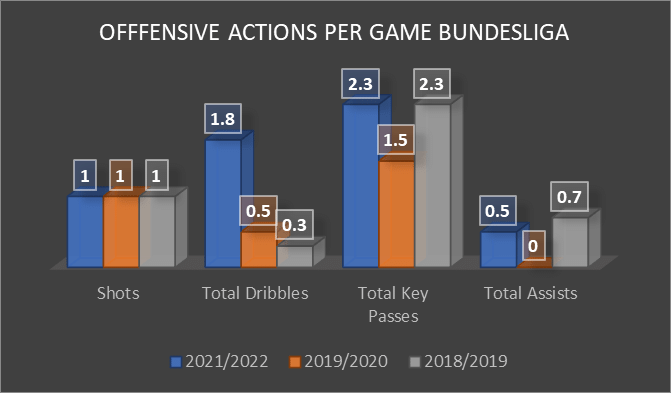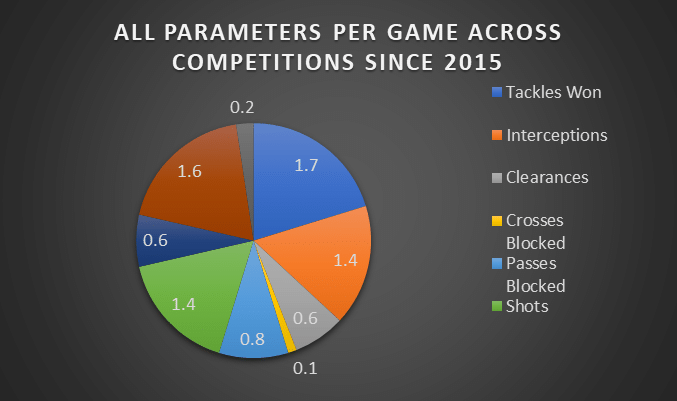 Defensive Midfield (No. 6)
Kimmich has played in this position the most in his prolific career till now. Since the 2015-16 season, the German has amassed 9540 minutes across 110 games, acting as a shield to his defence.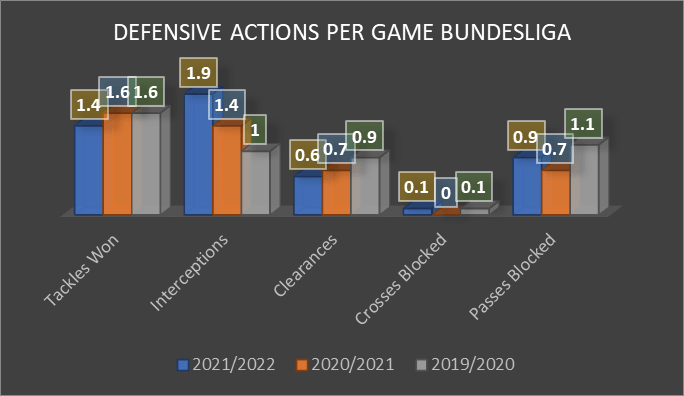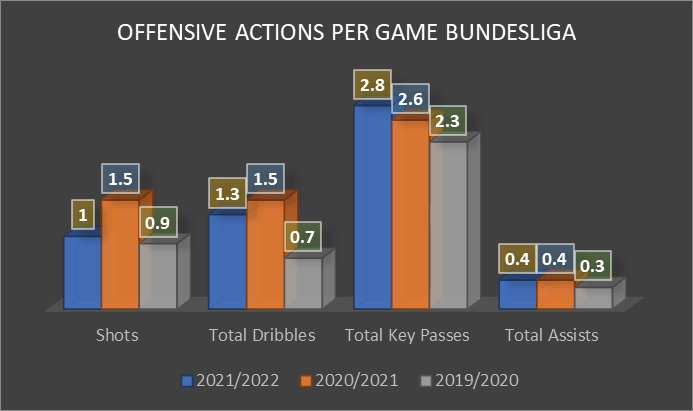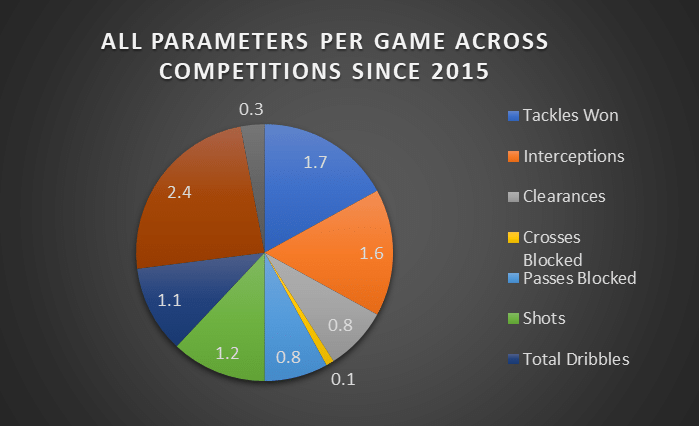 Some key takeaways from the above-mentioned data:
Kimmich's primary defensive trait of winning tackles has been almost uniform at all positions.
Kimmich's quality of intercepting balls has been uniform across all three positions.
Kimmich's clearances are higher in the 2021-22 season at right-back since he played only two games in that position.
Kimmich's pass blocking has been consistent throughout all positions across the last three seasons in the Bundesliga.
Kimmich is not known for his goalscoring abilities and hence his shots per game are low.
Kimmich's unmistaken ability to provide for his teammates on the pitch is clearly highlighted by the high number of key passes per game. He has created a whopping 221 chances across the last three Bundesliga seasons.
The German always tries to create opportunities for his teammates from any position he plays in, mostly culminating into assists. He has assisted 28 times in 88 games across the last three Bundesliga seasons.
Kimmich vs. World's top defensive midfielders
A central defensive midfielder is a vital link in the chain of transition from defense to attack. He thwarts attacks, recycles possession and feeds the attacking third with defence-splitting passes. Most top teams in the world find their footing built on a top enforcer in the middle of the field. The likes of Manchester City, Real Madrid and Liverpool have found extreme fluidity to find the back of the net because of a solid No. 6. Kimmich has done well in that role for Bayern and Germany. But how has he fared against the top defensive midfielders of the world? Below is a comparative snapshot from the 2021-22 league season.
| | | | | | |
| --- | --- | --- | --- | --- | --- |
| | Kimmich | Rice | Rodri | Casemiro | Fabinho |
| Ball Recoveries | 218 | 286 | 292 | 230 | 193 |
| Shots | 20 | 19 | 32 | 28 | 16 |
| Assists | 11 | 4 | 2 | 3 | 1 |
| Chances Created | 80 | 24 | 29 | 26 | 16 |
| Passes Attempted | 2075 | 1973 | 2629 | 1688 | 1349 |
| Pass Accuracy | 88 | 91.64 | 91.76 | 86.03 | 87.48 |
| Passes Completed (Oppn. Half) | 1204 | 1054 | 1523 | 852 | 724 |
| Tackles Made | 39 | 80 | 72 | 79 | 46 |
| Ground Duels Won | 106 | 141 | 104 | 136 | 84 |
| Clearances | 25 | 49 | 42 | 59 | 23 |
| Interceptions | 52 | 63 | 28 | 38 | 39 |
| Blocks | 8 | 21 | 5 | 19 | 10 |
| Progressive Passes per 90 (last one year) | 9.84 | 4.24 | 5.63 | 4.53 | 4.64 |
Kimmich vs. World's top defensive midfielders
As you can see from the table, Kimmich is roughly on par when it comes to defensive attributes like ground duels won, clearances, interceptions, etc. Nevertheless, what makes Kimmich uniquely versatile is that he stands out in attacking attributes such as chances created, assists, final third passing, progressive passing, etc.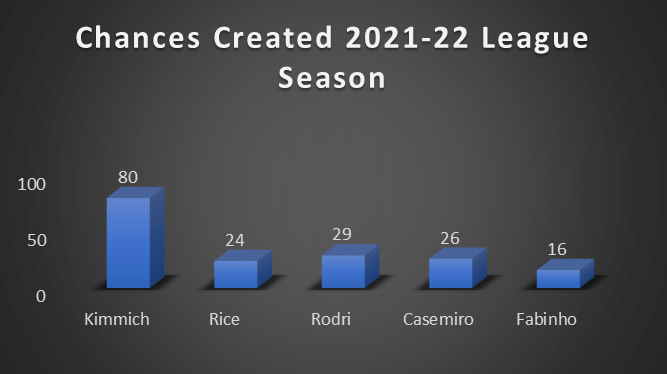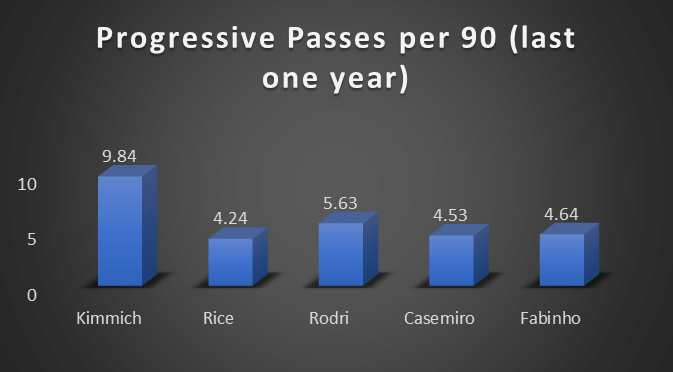 Kimmich has opened the 2022-23 Bundesliga season in conventional fashion, scoring on opening day 1-6 demolition of Eintracht Frankfurt and assisting one goal in the 2-0 win over Wolfsburg. One can take an educated guess on Bayern's Bundesliga fortunes for the ongoing season. However, the biggest prize up for grabs for 67-capped Kimmich is the FIFA World Cup in Qatar, starting in November this year. The super-achiever that he is, he will look to add the most gleaming feather in his overloaded cap when he takes the pitch for the showpiece event for Die Mannschaft.
For more updates, follow Khel Now on Facebook, Twitter, and Instagram and join our community on Telegram.