The recent loss at Signal Iduna Park for BVB has all but handed Bayern Munich the Bundesliga title.
Joshua Kimmich's lob from just outside the box was a whirlwind of emotions. As the ball looped over all the Borussia Dortmund defenders, there was anticipation. When it touched the retreating custodian Burki's hands, there was a momentary tinge of hope. When it nestled inside the goal achieving its destiny, there was despair.
Four teams and their contingent of supporters saw their aspirations shot down with the prospect of getting back up slim. But when the goal went in, there was also realisation. To topple Bayern, you need more than pace and flair. You need more than talent. You need championship mentality.
Several reasons make it evident that Dortmund's chase and grab attempts at Bayern and the Bundesliga trophy, an annual custom in the Bundesliga, is going to end in disaster. These reasons singlehandedly don't seem to have a big impact. But when compounded, it can help find the answer to the question everyone wants to know. "Can Borussia Dortmund win another title after Klopp?" The answer, atleast following the current trend seems to be a resounding no. Let us look into why.
Mentality
In basketball, especially the NBA, there is a term – Playoff basketball. It refers to the kind of basketball performances several players put forth during games like the playoffs that can be termed nothing short of spectacular. These players and performances seem to be at a much higher level during the knockout stages than the regular season games. In short, they elevate their game when it is crunch time.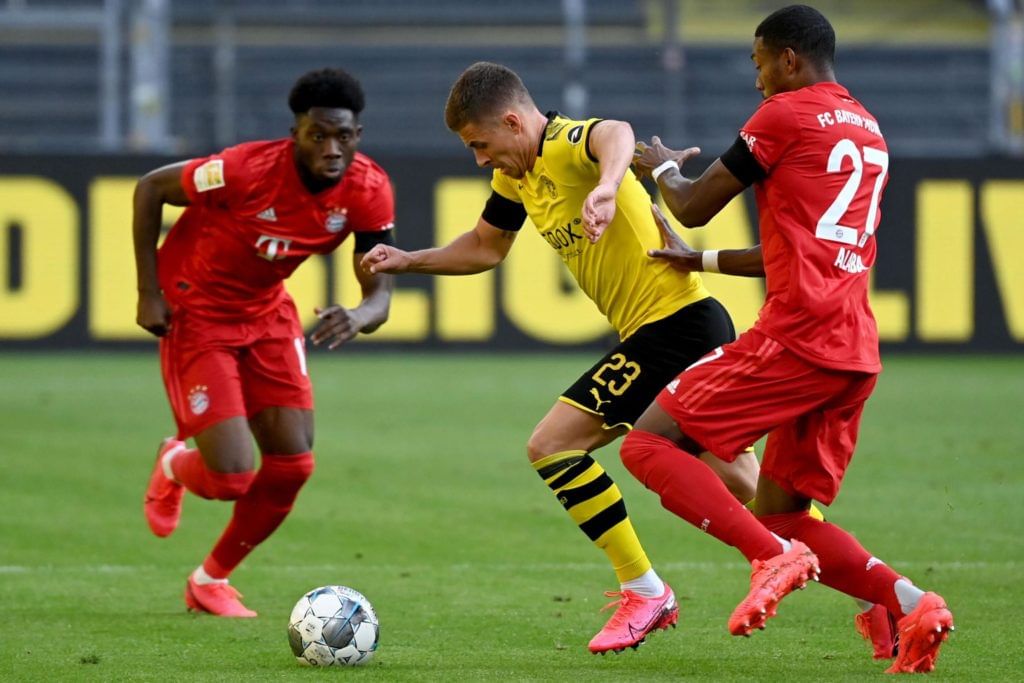 Last week, when it was needed Bayern upped their game to another level; Borussia Dortmund failed to. This is something that comes with having a winning mentality. Bayern players have been in this position several times and understand and absorb the pressure that comes with crucial matches. Borussia Dortmund lack the experience and the maturity within their ranks to stabilize themselves during times of insurmountable pressure. When they do, it could turn out to be a different story.
Transfer Policy
There is little doubt that Erling Braut Haaland is a terrific buy. Youngster making waves throughout the continent and a club willing to nurture and develop talent. Borussia Dortmund and Haaland seemed like a perfect fit. Dortmund, in fact seems to be the perfect place for youngsters to nest in. To improve to the level of a generational talent before a big club comes calling your way. But it is what it is. If the aim is to develop youngsters and create the next generation of players, then don't stop.
Borussia Dortmund is doing a great job at that. But unless there is a sufficient mix of both the flair and speed of the young, the resilience and the maturity of the old (in all positions, not just defense) aiming for the title seems to be a stretch.
The sneakiest move Bayern Munich managed to pull off during the summer transfer window of this season turned out to be a loan move. No, not Coutinho. But a rather experienced winger from Inter Milan who was a crucial part in leading his team to the World Cup final – Ivan Perisic. Now they have a veteran, ably supporting and stepping up as a leader alongside a team of brilliant and talented wingers like Gnabry, Coman and Sarpreet.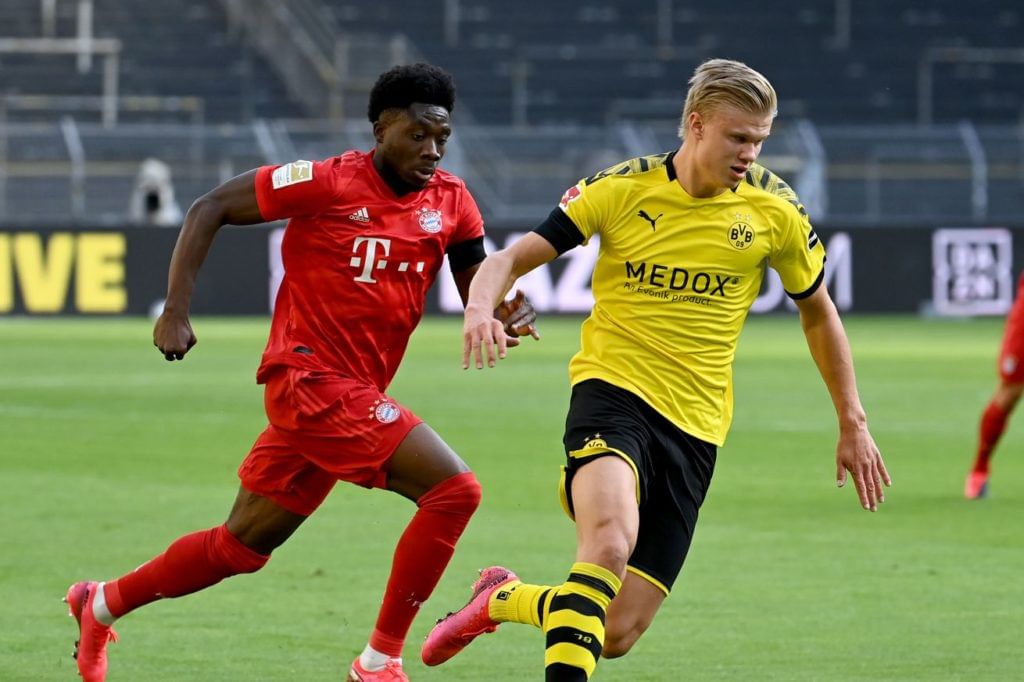 In stark contrast, the arrival of Haaland meant one thing for Dortmund's main striker Paco Alcacer. He was duly sold to Villarreal leaving Haaland as the only proper forward option in the whole team.
To requote Alan Hansen, "You can't win anything with kids." Although, the quote ended up being disproved by Fergie's Fledglings, there can be a minor change made to make the quote stand true in the present scenario. You can't win anything with just kids.
Replacing Weidenfeller
A good goalkeeper is the bedrock of the team. You need a stable and solid custodian between your posts to confidently march forward in offense. Roman Burki has failed to embark on that role for Lucien Favre.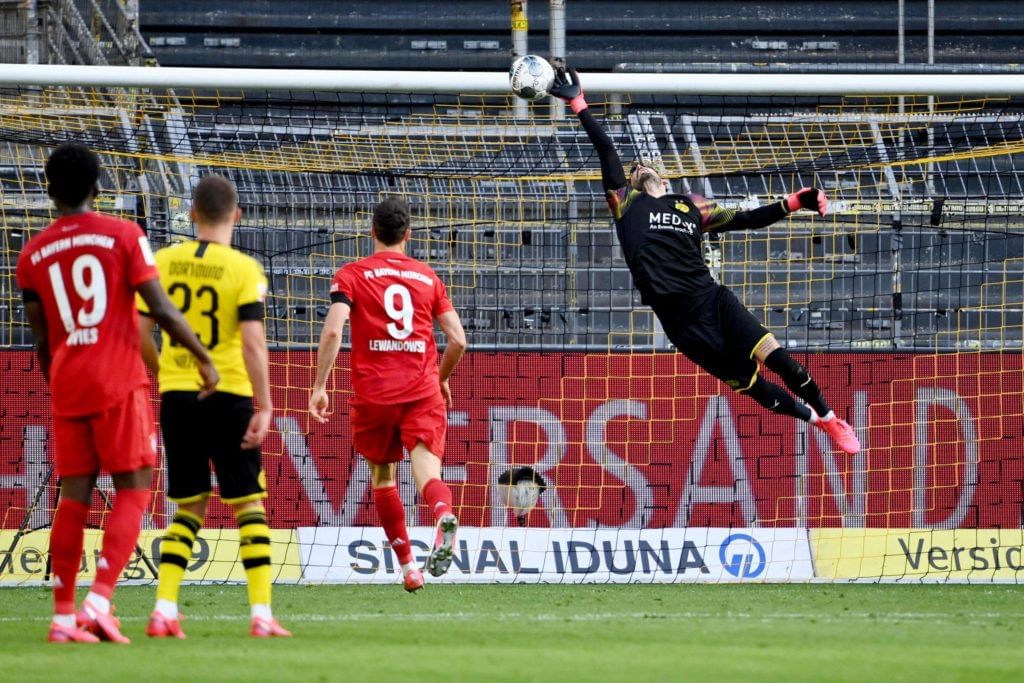 There have been repetitive instances of the Swiss international failing to do routine stops or saves which has ended up hurting Borussia Dortmund badly at crucial junctures in their league campaign. Burki's most recent gaffe proved to be costly for Borussia Dortmund as Joshua Kimmich's lob, which could have been stopped by Burki had he been at the designated spot, might end up costing Borussia Dortmund a fighting chance at the Bundesliga title this season.
Burki needs to improve his game considerably, taking it up several notches, especially if he wants to give his team a fighting chance. Rash and uncalled-for decisions have marred his tenure at BVB. If that doesn't work, The German giants needs to start looking at other options. Liverpool had a similar problem two seasons before and they dealt with it by bringing a world-class keeper in Alisson. A move that changed both their form and fortune. A step Lucien Favre needs to take with a sense of urgency.
Philosophy
There are times when a big rebranding and rethinking is required. Bundesliga teams are known for their reliance of pacy offensive systems within their gameplans rather than focussing on defensive solidity. That has given rise to some of the most attractive football there is on the planet but also leaves several loopholes that can be exploited. Bayern Munich has proven themselves to be defensively resilient during many occasions and that solidity was in full display in their win over Borussia Dortmund when they relied on pulling defensive stops at critical moments to prevent the quick counters of BVB.
Die Roten have also been flexible in attack switching it on to provide boosts if required. Such flexibility in both sides have been wanting for Favre's men and is also a trademark deficiency for several title contending Bundesliga teams like Bayer Leverkusen and Borussia Monchengladbach. Clever tactical re-orientation combined with buying mature and adjustable players can provide an easy solution for this issue but Dortmund's reluctance to spend for older players can have a deep impact on their title hopes.
All these issues have joined to create a huge obstacle for Lucien Favre's men. A deeply attack-oriented philosophy and inefficient transfer dealings combined with an unsteady goalkeeper and a wavering mental fortitude are spelling problems for Borussia Dortmund. Unless, they capably address this, Bayern Munich will always be one step ahead of them. The 1 -0 loss needs to be treated like a wake-up call. Second is not good enough for the 2013 Champions League runners-up.
For more updates, follow Khel Now on Facebook, Twitter, Instagram, Youtube and join our community on Telegram.