The Argentine great led a colorful life both on and off the pitch.
The unfortunate demise of one of football's greatest ever player Diego Maradona has left the world in splits and the condolences keep on pouring for him. The Argentine legend had won numerous accolades during his career for both clubs and his country. However, although he is regarded as one of the best players to have played the game, his off the field antics had put him on the front pages several times. From a drug addiction to his relationships with some of the world's biggest politicians and criminals of his time – Diego Maradona lived a colourful life, one which was filled with many controversies.
Here, we talk about five times Diego Maradona pulled off the unexpected and controversial.
5. Drug addiction
The Argentine maestro was heavily addicted to drugs. In 1992, he failed a drug test for cocaine and was banned for 15 months which led to his infamous exit from Serie A outfit Napoli. Following the ban, Diego Maradona joined La Liga side Sevilla for a year.
The second such incident was during 1994 FIFA World Cup where he was found guilty of taking drugs. He was sent back home by the apex body after the first game against Greece. Unfortunately, the incident is seen as one of the highlights of his career even on this day.
4. Lavish Lifestyle
Diego Maradona always enjoyed living a luxurious life and was a fan of big parties. He owned a house worth $2 million and various other properties in his homeland. He also had a collection of luxurious cars, with a particular taste for Ferraris.
3. Relationship with Fidel Castro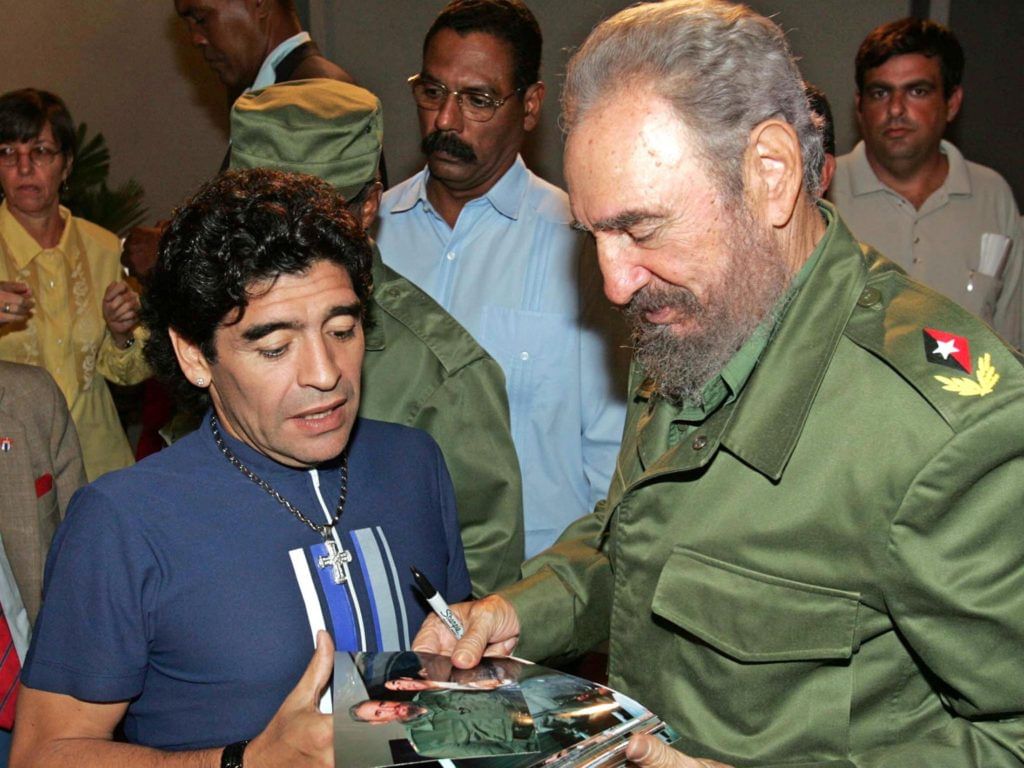 The revolutionary Cuban leader Fidel Castro was a father figure to the Argentine. After the 1994 FIFA World Cup debacle, Diego visited Cuba and Castro offered him a chance to rehabilitate from his drug addiction in the renowned La Pedrera facility in Cuba. Those in the close circles of Maradona say that the intervention of Fidel Castro saved his life.
Maradona spent four years in Cuba for his rehab process and Castro would call him daily in the mornings to talk on sports and politics. Castro once said, "Diego is a great friend and very noble too, there's no question he's a wonderful athlete and has maintained a friendship with Cuba with no material gain of his own."
Interestingly, both Fidel Castro and Diego Maradona passed away on November 25, with a four year interval in between.
2. Snorting drugs during games
In 2019, Diego Maradona was a coach of Argentina's first division side Gimnasia La Plata and during a game against Rosario Central he was seen consuming a white substance with water. While he was gulping, the coaching staff obstructed the camera.
This was not the first time he was caught on camera. During the FIFA World Cup in 2018 he was caught twice snorting cocaine. The first instance was Argentina's game against Nigeria, while the second time was against Iceland.
1. Relationship with Pablo Escobar
Arguably the most famous drug kingpins in the history of humankind, Pablo Escobar had a relationship with Diego Maradona. Escobar was so rich that during his prison sentence at La Cathedral, he invited the Argentine footballer for a kickabout. Diego Maradona later claimed that he didn't know who Escobar was at first and had accepted the proposal for money.
Maradona narrated the entire incident by saying, "I was taken to a prison surrounded by thousands of guards. I said: 'What the f**k is going on? Am I being arrested?' The place was like a luxury hotel."
"I didn't read the newspaper or watch television, so I had no idea who he was. We met in an office and he said he loved my game and that he identified with me, because, like him, I'd triumphed through poverty," he said.
"We played the game and everyone enjoyed themselves. Later that evening, we had a party with the best girls I've ever seen in my life. And it was in a prison! I couldn't believe it."
For more updates, follow Khel Now on Twitter and join our community on Telegram.