Quick Reads
Five reasons why Robert Lewandowski deserves new contract at Bayern
(Courtesy : footyrenders)
The striker is near the end of his current contract with the German club.
Robert Lewandowski is amongst the best forward players in world football at the moment. The Polish international has scored record-breaking goals for Bayern Munich, since making the move from Borussia Dortmund in 2014. He will be out of contract in 2023 and there is speculation that a renewal might not be on the cards.
However, Bayern Munich must retain Robert Lewandowski for more years considering his quality. The striker has 341 goals for the Bavarians since joining from Dortmund and continues to score for fun. He is only getting better with age and will certainly help in achieving the club's ambitions. Losing a player of his quality for free will be a negative move in a financial capacity.
Furthermore, tying him down to a new contract will prevent him from playing for a rival team that could challenge FCB in Europe or the domestic league. On that note, here are the five reasons why Bayern Munich should tie down Lewandowski to a new contract:
5. Age is just a number
The 33-year-old striker is showing no signs of slowing down. Despite the intense physical demands of his position, Lewandowski has not let it affect his performance. His movement and hold-up play are still exquisite.
One can draw parallels with Karim Benzema, who is also scoring plenty of goals. Robert Lewandowski is getting more lethal as a striker with age, just like a fine wine. His experience plays a key role and the club must retain him.
4. Scoring goals for fun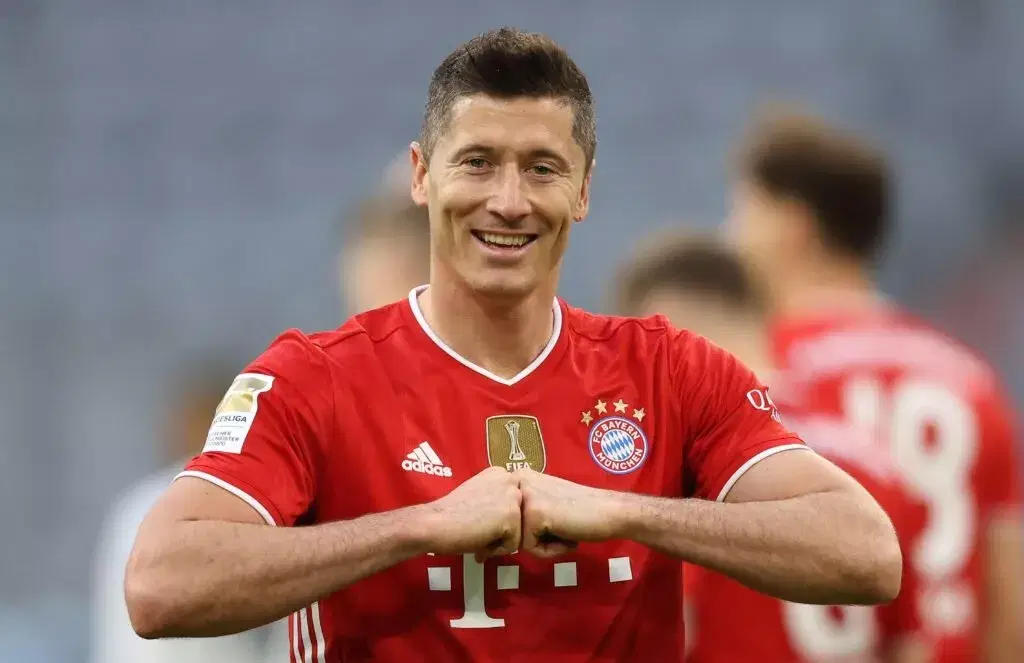 Since joining Bayern Munich, Robert Lewandowski has scored 341 goals and made 69 assists in 370 matches. In the ongoing campaign, the striker has managed 47 goals and four assists in 41 appearances across all competitions. There is no slowing down the forward whose hunger for goals knows no end.
The Polish international broke the record for scoring the most goals in a Bundesliga season by scoring 43 goals last term, breaking Gerd Muller's record that stood for 49 years. There is no stopping Lewandowski on his day and that is a quality Bayern Munich should certainly keep in their lineup.
3. Ambitious like the club
Winning trophies is the minimum requirement at a club like Bayern Munich. The Bavarians are on a streak of nine league wins and are heading for the 10th league win in succession. Robert Lewandowski has won seven league titles with FCB and is hungry for more.
Overall, the striker has lifted 18 trophies with the Bundesliga outfit across different competitions. He has also won numerous individual accolades in the process. The club must extend Lewandowski's contract due to the fact that he is a serial winner and has a hunger like that of the club.
2. Competition in market for centre-forwards
Bayern Munich will be in a spot of bother if they let Lewandowski's contract end or let him join another team. In that situation, the club would need to enter the market in search of a top striker and the competition for this particular position is breakneck.
Players like Erling Haaland have multiple suitors who have the capability to offer more money than FCB. Extending Lewandowski's contract gives the club time to search for an ideal target or sign a youngster who could fill the position in the future.
1. Protecting the initial investment
One of the key areas that a football club must focus on is money. The operating costs are always rising and signing quality players gets expensive with every transfer window. In a situation where Lewandowski does not renew his contract and leaves on a free at the end of next season, it will be a loss financially for FCB.
In order to prevent such a situation, Bayern should offer a new improved deal to the player. He is a top-quality striker and every elite club will be willing to pay a good transfer fee for him. FCB will get a better transfer payout if there are more years on Lewandowski's contract.
For more updates, follow Khel Now on Twitter, Instagram and Facebook.