An exchange of letters between the apex body and the federation has been witnessed in the last few days.
Just hours after India celebrated its 75th Independence Day, world football governing body FIFA in a late-night order suspended the All India Football Federation (AIFF) with immediate effect due to third-party influence.
Indian football had been flirting with a FIFA ban for some time now. After Praful Patel's reign as AIFF President lapsed in December 2020, the honourable Supreme Court had pushed him out of office and formed a Committee of Administrators (CoA) to run Indian football. The CoA had been tasked with forming a draft Constitution to ensure fresh elections as soon as possible.
Khel Now has been constantly providing you with all updates regarding the situation. From the finalization of the draft to I-League clubs raising their apprehensions to the recent FIFA comments on SC's judgment, we've got you covered.
In this piece, we will delve further into what happens now after FIFA has implemented a ban on the AIFF and Indian football.
Why a ban always looked likely?
FIFA and AFC had sent a delegation to India in June this year to formalize a roadmap that will prevent such a ban. In a judgment made on 3rd August, the Supreme Court decided to form an interim body that would be decided by a voting committee of 36 former footballers.
This, according to FIFA, was a deviation from the roadmap that was finalized. Football's governing body had in a strongly-worded letter said, "As per the said roadmap, the AIFF was to call for a special general assembly in the first week of August 2022 to approve new statutes worked upon with FIFA, the AFC and the Indian football community.
"Unfortunately, we have been informed that Supreme Court's hearing held yesterday (on August 3) on the situation of the AIFF allegedly resulted in deviations from the aforementioned roadmap. If this is considered to be true, it would irrefutably jeopardize the mutual understanding which was displayed so far on the steps forward."
However, the Supreme Court had also issued an order to ensure that elections take place before September 15. This was in line with the FIFA roadmap. Now, let us take a look at the several aspects that will be affected now that FIFA has imposed a ban on India.
How a ban will affect the clubs
Club football is the spine of football systems across the world. It is no different here in India. Debates are rife about how clubs and leagues can be improved. But, that is a debate that will live to fight another day. For now, the ban is set to affect all Indian clubs.
Senior league clubs – namely ISL, I-League and IWL clubs – compete to win national titles. Following this, they earn a place to compete against clubs in Asian competitions. Once a ban is imposed, the best Indian clubs will not compete in Asia. This will be a huge blow for all Indian clubs, if not the most brutal one.
Another issue would be signing players from foreign countries, a characteristic that has continued to attract fans to stadiums worldwide. With a FIFA ban, not a lot of players would be willing to come to Indian shores and would rather ply their trade elsewhere.
What will happen to the leagues?
The leagues will continue to exist, as they function under AIFF's umbrella and not FIFA and AFC. However, leagues will lose their representations to Asia's top leagues or tournaments. Till the ban, three men's teams and one women's team were representing India in Asian competitions.
Losing this will be a massive, massive jolt for Indian football.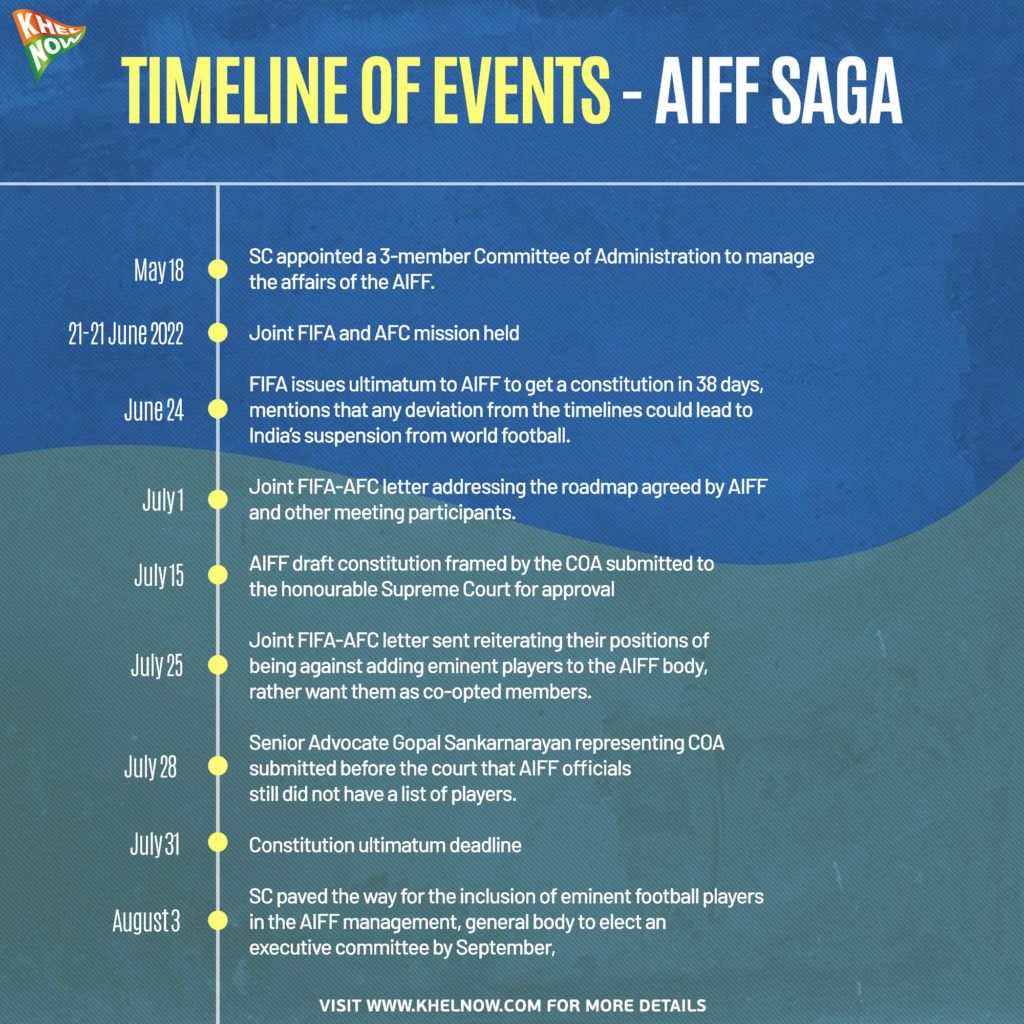 Danger for national team
Inarguably, the FIFA ban affects the Indian football team the most. India had recently qualified for the AFC Asian Cup 2023. Not being able to play in the competition will be catastrophic for players, fans and the entire football fraternity in the country. In addition to that, India might not be able to participate in the FIFA World Cup 2026 qualifiers, which begin in October 2023. Needless to say, it will also mean that India will not be able to play international friendlies or any other international tournaments.
In layman's words, the national team jersey could be folded and kept in the drawers for some time. Imagine not witnessing 'The road is long but belief is everything' banner. Other age-group sides, too, will not be able to compete against fellow nations. What a massive, massive loss that is!
Related:
Impact on players
While everything we've discussed until now has been about a unit or an organization, here comes the humane part. The players, the singular unit of any football system, are massively affected. First and foremost, let's remind you what captain and arguably India's best-ever footballer Sunil Chhetri said about the ban.
"No matter what is happening on that front, I hope it is under control and the country does not get a ban. Because that will be catastrophic, not just for the whole country but for me, because I'm 37. I'm playing my last games. You never know when there's a last game for you.
"So yes… I was scared when the headlines came, it affects you. But, with my limited knowledge, when you go into it, you understand that it is not that dangerous and things will subside," said Chhetri, calming Indian fans.
Things did not subside. India got a ban. Moving on from the captain, what will be there for players to fight for? An I-League title? An ISL Shield and trophy? An IWL trophy? By no means we mean these are small trophies, but comparing them to continental competitions would be inappropriate. The buzz Mumbai City created after they became the first Indian club to win an AFC Champions League match is still alive.
Bengaluru FC and East Bengal's recent forays in continental football are stuff footballers talk about. Will that be left? Sadly, no.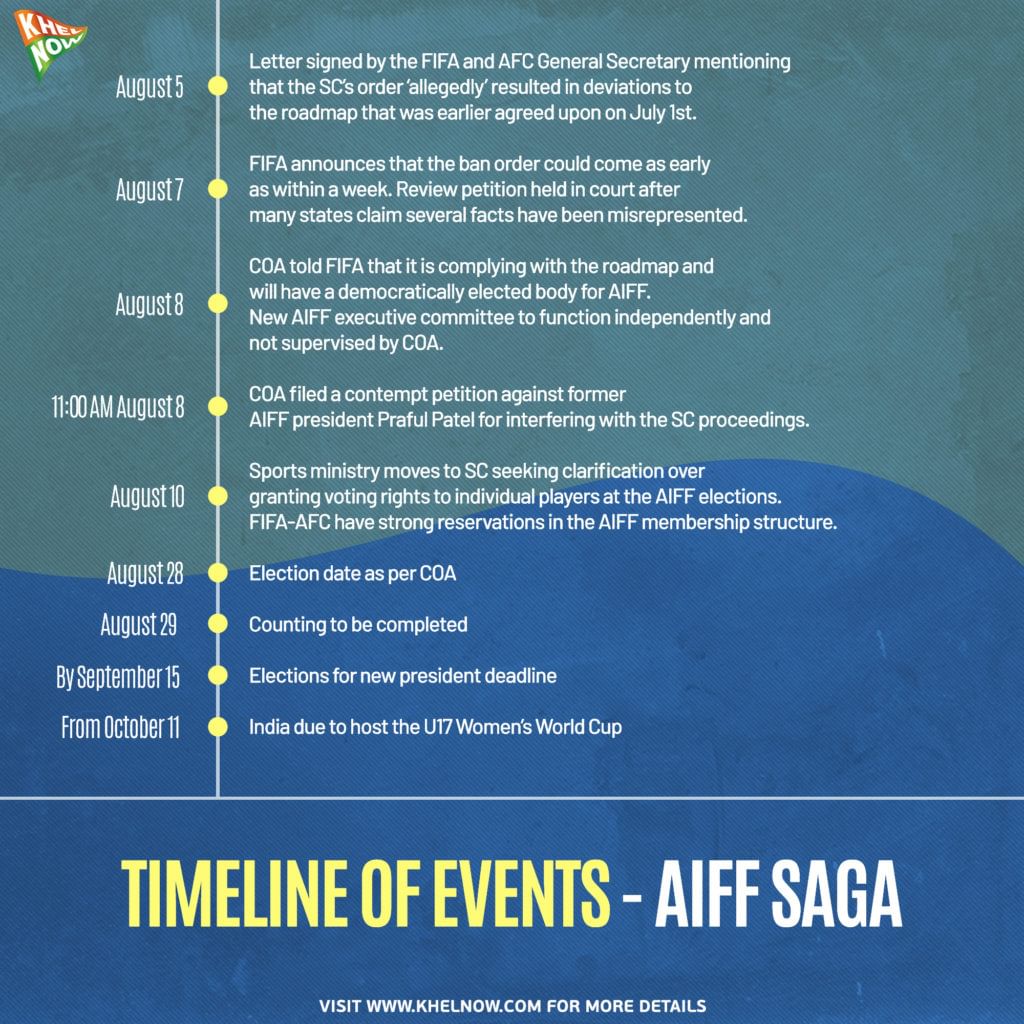 AIFF won't be spared too
Oh yes, the perpetrator will be the victim as well. Of course, we don't mean that the AIFF as a whole is the perpetrator. But, people that were running the show are at fault for this entire mess. However, the AIFF too, stands to lose in from the FIFA ban.
First, FIFA will stop its grant worth $500,000 to Indian football. Several FIFA grassroots programs, too, will cease. With the negative image surrounding the ban, advertisers and other stakeholders are likely to not invest in Indian football. This will also put a long pause to all the developmental work done.
Oh no, we didn't forget about the FIFA U-17 Women's World Cup. Simply, FIFA has taken away hosting rights of the World Cup that is just two months away. India had hosted the AFC Women's Asian Cup 2022 in January, but the Indian team had to pull out of the tournament after the first group stage game due to a COVID outbreak in the squad.
It was expected to be a shot in the arm for women's football, a role now anointed upon the World Cup. However, now, India can forget about hosting the World Cup.
Conclusion
If we have to further simplify what a FIFA ban does to Indian football, we'd do it in two words – destroy it. The 'sleeping giant' as FIFA often calls India had just woken up and taken a few steps, but a ban – brought about by its own mismanagement – has put it back to sleep.
India needs to work its socks off and toe the line of both the Supreme Court and FIFA to find a route and ensure that the ban is lifted as soon as possible. In that scenario, India might be able to participate in the AFC Asian Cup 2023.
Note: This article, originally published on August 10, was updated after AIFF's suspension.
For more updates, follow Khel Now on Facebook, Twitter, Instagram, Youtube and join our community on Telegram.