In Part 3 of our exclusive interview, the Dutchman speaks about his experience at NorthEast United and Kerala Blasters as well as problems.
Time at NorthEast United and roadblocks with the Highlanders.

Arrival at Kerala Blasters and a season to forget.

Sahal Abdul Samad and the popular belief regarding the duo's relationship.
Although, Eelco Schattorie had ample experience in I-League and the lower leagues, he became a household name in Indian football after his move to NorthEast United. The Dutch tactician worked as an assistant coach to Avram Grant for the Highlanders, only to become the head coach in a few months, after which, NorthEast United undertook a honeymoon period with the 48-year-old.
"NorthEast never qualified for the playoffs previously and when I arrived, I had a very difficult pre-season with them. Their budget is one of the lowest in the league, but eventually, I think we managed to get a good bunch of players. I managed to convince the team to forget about all the problems that we faced and to focus on football. I also implemented the right balance between the players," Eelco Schattorie recalled.
The 2018-19 season saw NorthEast United making it to the semi-finals of the Indian Super League (ISL) for the first time in their history. However, despite their best attempts, the Highlanders could not march forward to win the league.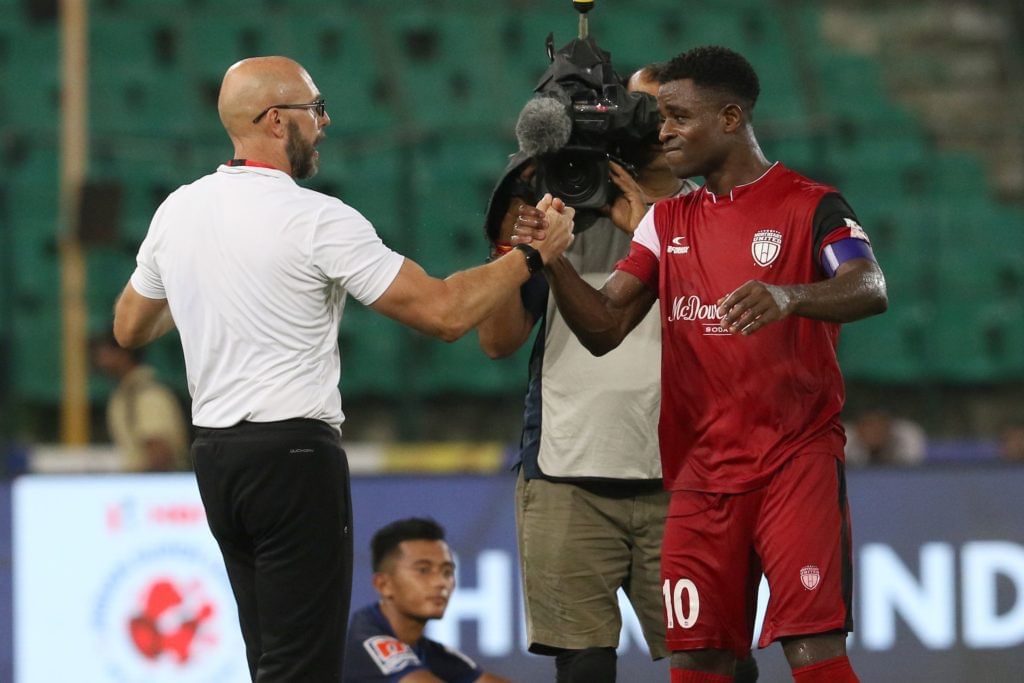 Speaking about the 2018-19 term with NorthEast United, Eelco Schattorie revealed, "Just before the winter break, one of our center-backs got injured and I asked the club to change him, but they didn't agree. They said he will be fit again, so we went into the break – but when we returned, he played one game and got injured again."
"In my opinion, that cost us and we couldn't reach the final. In the first leg of the semi-finals also, I lost a couple of players – (Rowllin) Borges and Bart (Ogbeche) who had played all the games till then. So, at that point, we didn't have a squad deep enough to replace these two players, but still we did our best."
According to him, working with NorthEast United right from the beginning of the season helped him achieve great results with them. "If you look back 10-15 years into my coaching career, it was only at NorthEast and Kerala where I basically started from the beginning of the season – almost all my other jobs were at clubs that were struggling midway during a season," he quipped.
"These jobs are extremely difficult, so I know how it is to work not only on a psychological level but also on the technical level when it comes to a team that is either in trouble or has fewer facilities when compared to the others in the league. But, working this way does not bring you titles," Eelco Schattorie opined.
"Take a look at the fairly-successful FC Goa for instance. Their (former) coach Serio Lobera got three seasons to work with their team. To date, he has not won the title but everybody has been praising him for the work he has done with them. Don't get me wrong, he is a great coach."
"The same applies to Bengaluru FC. In all its years of existence, they have never finished outside of the top four. Their coach Carles Cuadrat – it is his first job ever at Bengaluru – but he also got enough time to build a proper team and finally in the 2018-19 season, they became champions," he explained.
In his two seasons in the ISL, Eelco Schattorie's relationship with Nigerian striker Bartholomew Ogbeche had often put the duo in the headlines, for all the right reasons. The tactician's meteoric rise as one of the best head coaches in the ISL was majorly influenced by the goalscoring abilities of the former Paris Saint-Germain striker, which he continued at Kerala Blasters as well.
Speaking about his association with the talismanic forward, Eelco Schattorie quipped, "Many times in the ISL, some players become very important that they have to be used in every game. In our case, it was Ogbeche. He was 35-years-old, but he played all of our games at NEUFC."
"If Bart were to play at FC Goa for instance, I am sure that he will go on to be the top-scorer there as well. But if he plays in a team that does not play possession-based football or a team which has to fight for the ball, he will not score as prolifically as he has done so far. It doesn't mean that he doesn't have quality, it's just that because of his age. Bart knows how to make the best use of certain goal-scoring opportunities," the Dutchman opined.
The Dutchman then proceeded to talk about the circumstances that led to his exit from NorthEast United and his appointment at Blasters. "Honestly, they (NEUFC) made a mistake (in letting him go). It is clear because in the season that followed, they finished almost at the bottom of the table," the 48-year-old claimed.
"I had a very good relationship with the players and I wanted to win laurels with them, but for some reason, we could not reach an agreement to stay together in the 2019-20 season and so I had to leave. However, I have no complaints. I still have a lot of love for the club and I really hope they do well in the next season," he said.
"Kerala Blasters were also struggling to get back to the top. They reached the final twice in the first three seasons, but then their results were poor in the campaigns that followed. They also have a huge fanbase and a great footballing culture. So, joining them was actually an easy choice to make. Finally, I also had a good talk with the owner and the CEO of the club before we started and it looked like a promising job to me."
Eelco Schattorie arrived in Kochi with huge expectations on his back. However, injuries and circumstances forced the club to continue their dismal run in the 2019-20 season as well and the Dutchman pinpointed a host of reasons for that.
"First of all, the owner of the club was not there with the team most of the time. The best we could manage was the little communication we used to have with him over the telephone. I really believe in connections between the people who need to run the club. I had a very good relationship with the (then) CEO Viren d'Silva as well, but in the end, our communication with the club's owners was below-par in standards and that took a toll on the team," he recollected.
"If you consider some other points – for instance, I really improved their playing style, as the fans had asked me. We managed to beat Bengaluru FC, we even managed to beat ATK twice – you will understand that we had a 'deep squad'. just like I saw someone mention on Twitter the other day. However, one major flaw in our plans was in our method of deal with the Indian players in our team," he suggested.
"Some of our Indian players played very few matches in the season, while the others did not even make one appearance. They could have been developed well, but these things take time. When the injury crisis began, we were forced to overwork our best players with the aim of achieving the best possible results. The club made a mistake there. We also had a disastrous pre-season and all of this contributed to our decline," he further added.
"I don't blame the club for this because basically we all agreed on to go to Dubai for the pre-season, almost immediately after my appointment. We also went to Dubai without fail and started our preparations. After one week, we faced a problem in hotel payments, as one of our sponsors retreated from their deal and hence we were forced to come back."
"That proved disastrous because we had to plan the pre-season from scratch once again. Also, it was impossible to do it this time because we were already back in India and the league season was within sight. This resulted in a lack of proper physical preparation and it had a huge impact on our team. During the season, the communication between me and the CEO was always good, but the owner was seldom involved."
Eelco Schattorie was also often placed under the scanner by the Kerala Blasters fans, who continuously slammed for his alleged "neglect" of Sahal Abdul Samad. When quizzed about the same, the Dutchman gave an interesting example to explain himself.
"If you have a player who has nice tricks, you will keep observing him even if his tricks are not effective. He may not be delivering results, but you will still feel the urge to back him by saying that he needs to get more chances and that is what has happened in this case too. If people talk about results for a coach, they will say 'yes, but you didn't win the league,' and so on. I would then ask them to look at how many talents have actually developed themselves under me. Sahal is definitely one of them," he went on.
"The one issue I had with Sahal, happened because he wasn't there with us during the pre-season. He was with the Indian national team and by the time he returned to us, he had already missed a big part of our pre-season. While I repeat that Sahal is a fantastic player by all means, he unfortunately did not have much time with us to understand our playing concepts."
"A lot of people compare Sahal's performances in my season and the previous season. Back then, he was playing under David James who had a plan of his own – but it did not look very effective to me. Infact, if I remember right, he scored only one goal throughout that season and that was in his last game. So, upon my arrival, I told him, "I will make you the best midfielder in India," he quipped.
"However, things take time, and unfortunately, because of the injuries that we had, I also had to change the system. I had to start playing a 4-4-2 and that did not suit his playing style. But, in my defence, I had to do what was best for the club. In the last few games, I tried to slot him into the starting XI by playing him on the wings, but again, to implement these things and achieve results takes a lot of time, which I did not get."
Despite these setbacks, he was supportive of Kerala Blasters and their plans. However, he still left a small warning for them. by saying that their policy of regularly changing managers could adversely affect the club.
"Kerala just appointed their ninth coach in seven years of their existence. Not only is it not a good look for the club, but the new coach will have to start everything from scratch once again and that puts a lot of pressure on the players and the management," Eelco Schattorie concluded.
For more updates, follow Khel Now on Twitter and join our community on Telegram.