The Croatian replaced the Englishman at the helm of the Blue Tigers in 2019.
With the end of the FIFA World Cup 2022 Qualifiers second round, Igor Stimac is now nearing the end of his contract as the head coach of the Indian football team. The All India Football Federation (AIFF) are likely to take a decision on his future soon.
While there's a possibility that he receives more time as India boss, the Croatian's record doesn't help him. He has managed to lead India to just two victories so far. The rest have either been uninspiring draws or crushing losses.
Igor Stimac was ushered in as the successor of Stephen Constantine in 2019 to take the Indian football team forward. After a decent showing in the AFC Asian Cup 2019, there were expectations building upon the Blue Tigers. But, has the Croatian managed to outdo his predecessor in any form? Let's have a look.
Style of play
The major problem many fans had with Constantine's reign was his style of play. Indian football supporters grew tired of the rugged style of football he implemented. India would get results – but mostly scrappy wins. Most of the goals either came through counter-attacks or set-pieces.
However, his style was effective. More importantly, it suited the players. During his first stint, the Indian Super League (ISL) still wasn't a thing – nor did the players know about the nuances of modern football. Even in his more effective second-stint, Constantine had to micro-manage to get the best out of his players.
During his second stint, Constantine managed 43 matches as India's head coach. In those, India scored 75 goals and conceded 44. In the 15 games with Stimac as manager, India have scored 14 goals – not even averaging one goal a game. They've only scored over two goals on three of those occasions.
Upon his arrival, the Croatian boss emphasized the need for change in India's playing style. He promised a more possession-based, fluid attacking football. However, he hasn't implemented that properly so far. India have only dominated possession in a handful of their games under Stimac.
Moreover, the Blue Tigers have been reliant on defensive sturdiness to scrape out results regularly. Stimac hasn't been able to figure out his strongest starting XI yet and kept rotating the team. That has resulted in very inconsistent performances, thereby frustrating Indian fans. In more ways than one, Stimac has failed to improve India's performances or style of play than that which worked under his predecessor.
Results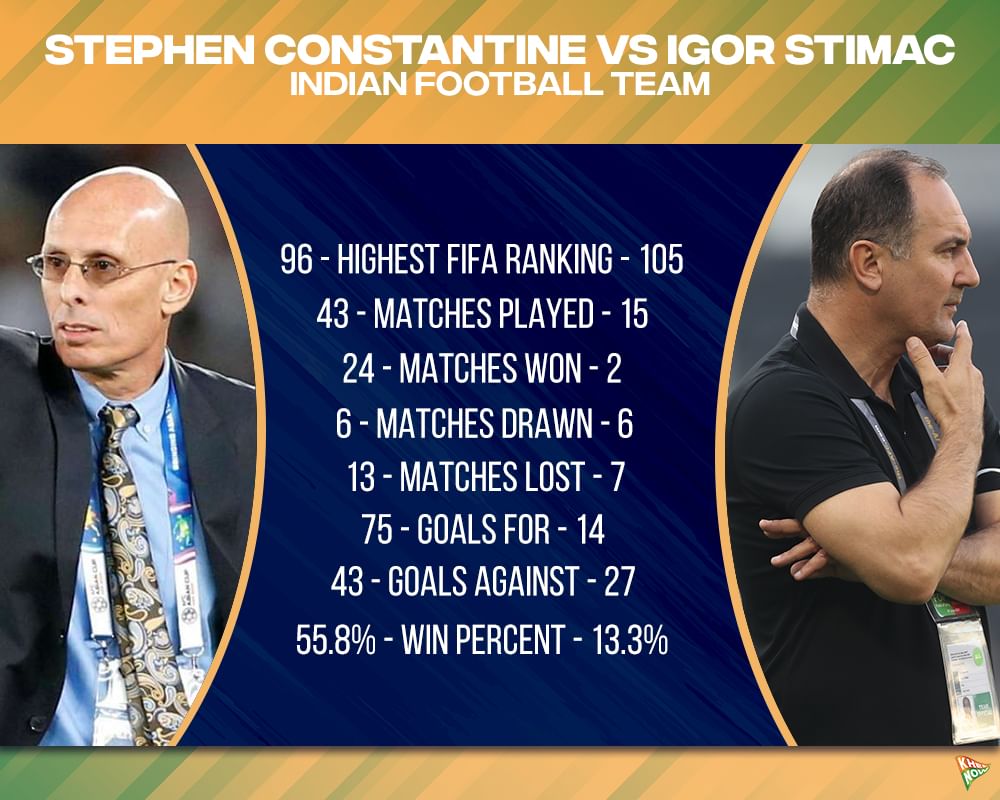 Irrespective of the playing style – results is what really matters in international football. On that front, Igor Stimac has severely under-performed as compared to his predecessor Stephen Constantine. In the 15 games he's managed so far, the Croatian manager has only been able to help India win two games.
Moreover, one of those was a slender win over Thailand in the 2019 King's Cup. The other one came two years later – the recent 2-0 win over Bangladesh. Both teams are way behind India in the FIFA Rankings.
In the other results, India were unable to defeat Afghanistan in either of the FIFA World Cup Qualifiers. Neither could they defeat Oman. Under Stimac, the Blue Tigers have only had a win percentage of 13%. In Constantine's second stint, they won 24 of the 43 International games he was in charge of. That's a 55.8% win percentage.
India's results have been riddled with draws under Stimac – while they only drew six games in the 43 under Constantine. In terms of results, the Croat has done nothing to improve India's record and been unable to scrap out results as the Englishman was able to do.
FIFA Ranking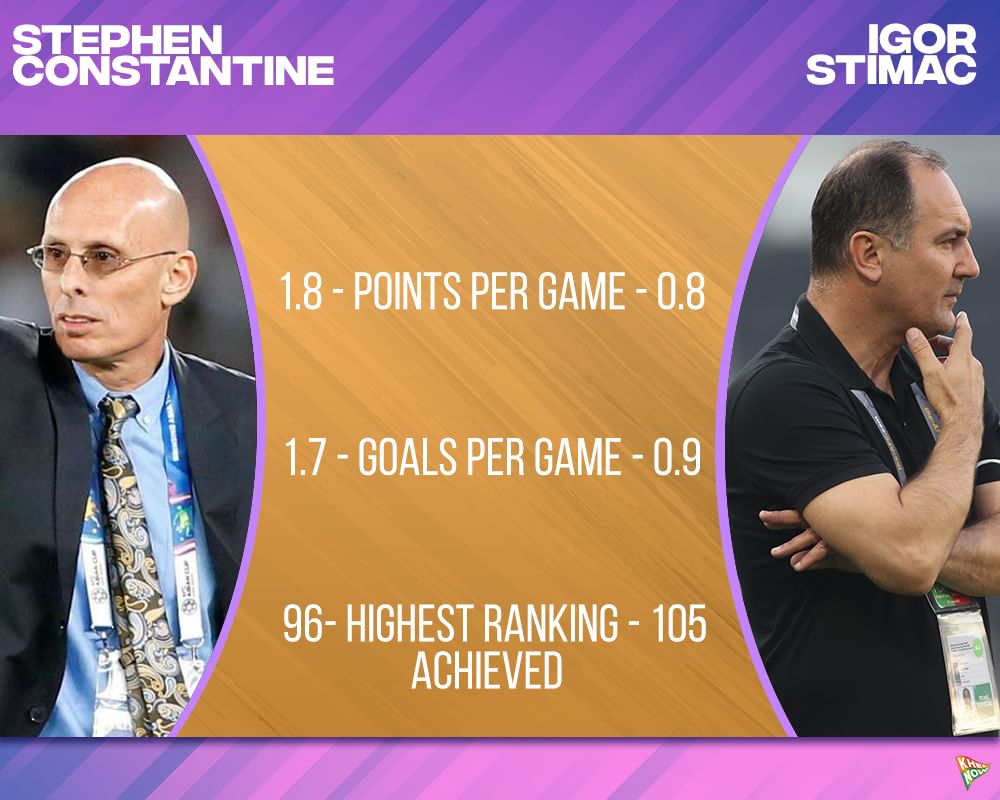 In 2018, Constantine achieved the impressive feat of helping India break into the top-100 in the FIFA World Rankings. The Blue Tigers soared into as high as the 96th position in August 2018, thanks to an unbeaten streak prior to that.
When he left his position, India were at 101st in the FIFA Rankings. Currently, they're ranked 105th – having fallen four positions in recent years. Unlike Stephen Constantine, Igor Stimac has not been able to guide India back to the top 100 in the rankings.
As a matter of fact, they've not even gotten close to it. Inability to win games regularly and drab draws have resulted in India being stuck in the same position for a long time under the Croatian tactician.
Conclusion
In 2019, the AIFF gave Igor Stimac the responsibility of taking the India national team forward after the departure of Stephen Constantine. His job was to improve the style of play, make them more exciting and help slowly but surely showcase tangible progress in the team.
However, he hasn't been able to match up to Constantine's work so far. Granted, the Croatian manager hasn't gotten that many games on a stretch to really figure out his ideal team. The COVID-19 pandemic's impact on International football and injuries to players haven't helped either.
That being said, Stimac hasn't been able to tick off any objectives so far. India's performances under him have been so sub-par on occasions that many fans have craved to get Constantine back to replace him. That itself is proof that Stimac hasn't yet been able to match up to his predecessor's impact on the Indian football team.
For more updates, follow Khel Now on Twitter, Instagram and join our community on Telegram.