SC East Bengal host ATK Mohun Bagan in the first 'Boro Match' of the ISL 2021-22 season.
For 26-year-old Tamali Ghosh, watching the Kolkata Derby sitting at home is quite torturous. All her life, Tamali would throng into the stadium in packed buses, chanting slogans, arguing tactics and hoping this time it's her time, her team and her win. The last year and a half though have been different. With the 'Boro Match' (big match) played miles away in Goa, all Tamali, a member of the Behala East Bengalians club, could do was silently wear the Red and Gold jersey, pick up the remote, switch on the television and watch her team on a screen.
"It's a different feeling," she tells Khel Now. "Flocking to the stadium and watching the match with your side in close proximity, knowing your chants can spur the team and affect a result. Hearing the opposition (fans) counter slogan, the excitement and madness, fervour and colour, nothing beats it."
On Saturday, as SC East Bengal take on ATK Mohun Bagan in the first Kolkata Derby of the ISL 2021-22 season, Tamali will glance at a TV screen again. She'd wear the same jersey shining bright in Red and Gold. She will keep her fingers crossed again, the emotions would be there. But, the feelings would be different. The mood would feel different, the chants won't be there. The electric atmosphere won't be there. Celebrations would be dim and the madness no longer here.
Yes, different it is. Yet, all the same in many ways. This is a derby forged through cultural differences, a clash of identities of the 'Ghotis' and 'Bangals,' of immigrants and natives and the right to an equal chance. Yet, this is also a rivalry that unites a city, perhaps a football landscape. It preaches a common goal and binds the traditions that make it what it is. This is a rivalry where enemies can co-exist, lend a shoulder and shake hands. It is also one where both sets of supporters can preach the same ideology, unite and show solidarity towards one another.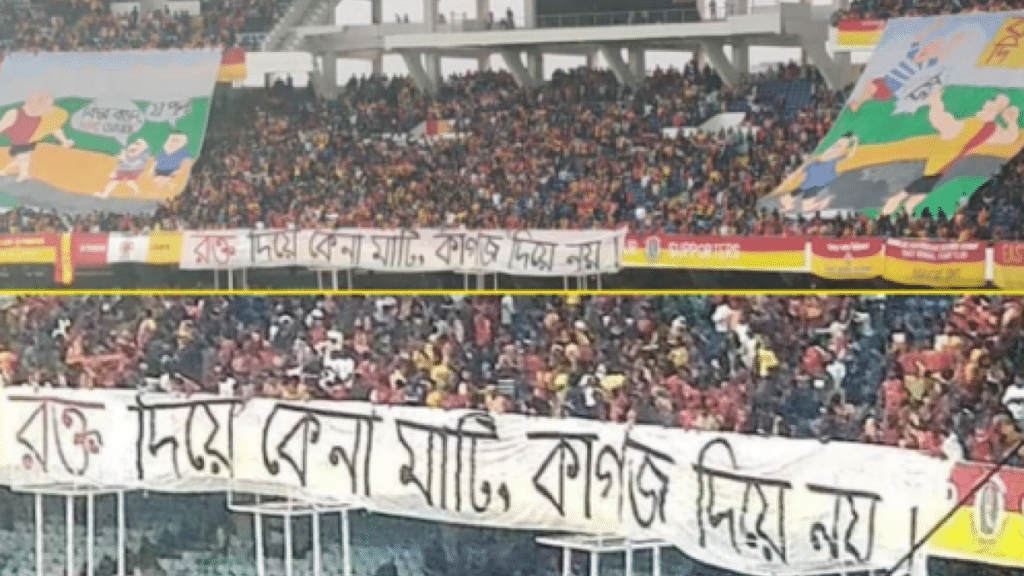 Like they did on January 19, 2020 – the last Kolkata Derby of the I-League era. With protests hot against the controversial Citizenship Amendment Act (CAA) and the National Register of Citizens (NRC), the Kolkata fans decided to choose their side. East Bengal fans unfurled a huge tifo that read, "Rakta diye kena mati, kagaz diye noy (This land was acquired through blood, not with documents)." Mohun Bagan fans' response to it? A banner at the other end of the iconic Yuba Bharati Krirangan said: "We were here before there were papers."
Here both East Bengal and Mohun Bagan can reside in a family, as it is in Debasish Bose's family. Bose, a long-time Mohun Bagan fan, first stepped into the club with his father. It is a family tradition, he says proudly, exclaiming how support for the Mariners has passed across generations in his family. The chain though looks to have stopped with his sister, who is married in a family that supports East Bengal.
For Bose, the Derby is above everything. "It is our pride. It identifies Bengal and Bengalis," he says. "Generations have lived and loved it. My generation enjoys it, the ones that follow will also feel it. The Kolkata Derby has been there for over a century now. It'll always be there," adds Basu, who fell in love with the game after watching Chima Okorie in Green and Maroon.
Like Tamali, a normal Derby day for Debasish would be painting his area with Green & Maroon flags, swarming through lines to purchase tickets, making banners and often paying a visit to the Dakshineswar Temple for goodwill on his team. But, ever since the Kolkata Derby has moved to Goa in bio-bubbles and behind closed doors, Bose and his group of fanatic Mohun Bagan fans have had to innovate. Standing in lines for matchday tickets is no longer the norm, so they stage screenings in different parts of the city. On Saturday, Bose will be at one of those screenings, watching his beloved club play their arch-rivals.
"Sometimes the screenings are for only one set of fans. In other cases, both East Bengal and Mohun Bagan fans watch the match together," he says. "If Mohun Bagan lose, East Bengal fans tease us and vice-versa. But, there is no violence." He reiterates that this Derby is like no other. "We love and respect one another. The rivalry is on the field."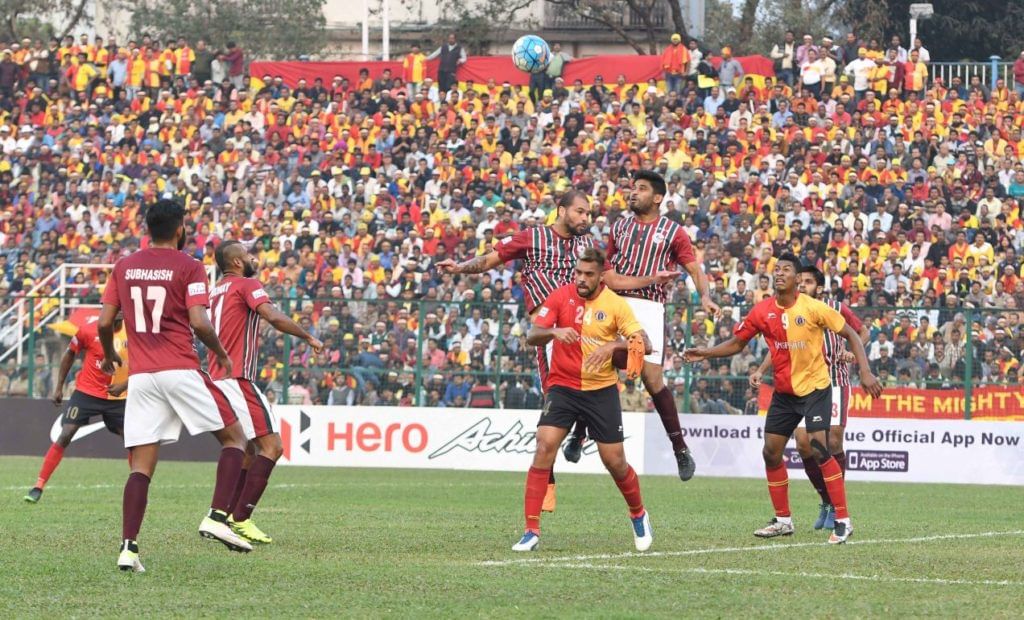 However, it is not all rosy. Like most derbies across the world and across sports, the Kolkata Derby has violence as one of its elements. Ask Bose's parents, who have warned their child to not wear his favourite club's jersey to the stadium for fear of him getting abused, teased or beaten up if Mohun Bagan lose.
Avijit Banerjee, another member of the Behala Eastbengalians club, recalls how he was once surrounded by a group of Mohun Bagan fans and admonished on his way home from a Kolkata Derby in 2012. "They asked me to take off the East Bengal jersey and leave or…" he recollects.
The Kolkata Derby has witnessed some cruel episodes of violence in its tall and rich history. The worst among them would perhaps be the summer of August 16, 1980. As many as 16 people lost their lives in a stampede, after violence broke out in the stands at the Eden Gardens, between both sets of fans over refereeing decisions. Thousands were injured trying to exit the stadium.
It remains a dark day in the history of the Kolkata Derby. But, violence and riots have not ceded. In 2012, a Kolkata Derby was called off after stones were hurled towards players following Odafa Okolie's red card. Okolie, Bagan's star recruit that season, was given marching orders after East Bengal took the lead. Mohun Bagan fans targeted the referee and threw missiles at the ground. Syed Rahim Nabi was injured in the riot and had to be hospitalized. 40 fans from both sides were also injured in the scuffle.
It is the romance, controversies and violence associated with it that maketh a derby.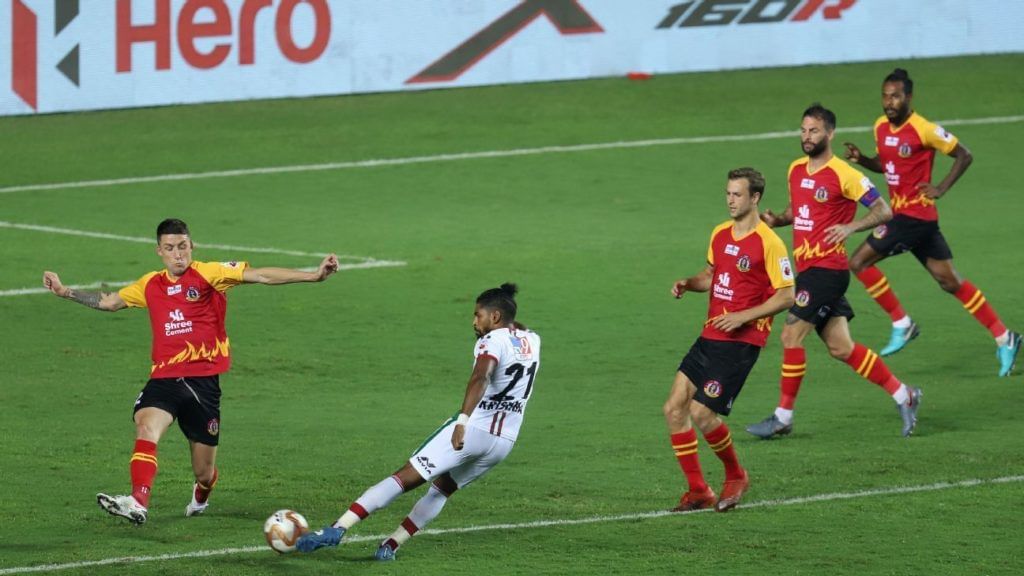 Subham Roy, a member of the Beleghata East Bengal fan club, has seen all of it in his decade-long support for East Bengal. "It is inexpressible," he says about the emotions attached with the Kolkata Derby. He first visited the club in 2003 after East Bengal won the ASEAN Cup that year, beating Thai side BEC Tero Sasana 3-1 in the final. "I have been to almost every East Bengal match since then. If fans were allowed in the stadiums in Goa, I would've travelled."
Just how much emotion is attached to the Kolkata Derby and the clubs involved in it, is evident in Mohun Bagan fans' ongoing protest against the merger with ATK. Fans have called for the ATKMB management to remove the prefix 'ATK' from the club's name. Mohun Bagan and ATK FC, now defunct, merged last season, leading to the formation of a new entity ATK Mohun Bagan. But, Mohun Bagan loyalists have rallied against the merger, alleging ATK's disrespect of the club's legacy and history.
Last season, fans highlighted the use of three stars on the ATK Mohun Bagan training jersey, which referred to the three ISL titles won by ATK. The club's third kit last season also created a furore, with fans demanding a change in design and colour. The protest is still ongoing with many fans boycotting ATK Mohun Bagan's matches this season.
Sayan Chatterjee, a member of the Bharat Shera Mohun Bagan group, also reiterated their demands. "Remove ATK from the club's name. This is the only way forward," he said. Asked if he will be watching the Derby, Sayan responded by stating that he'll take a glance at the result. "We love the club and support the club. Our protest is against the management's decisions."
Nowhere is such emotion attached with a football club and with a match as it is here in Kolkata. As Avijit Banerjee said, East Bengal and Mohun Bagan will always be there, so will the Kolkata Derby. It is what brings us together. This is what makes this place the City of Joy. It is what makes us survive, it divides and it unites.
For more football updates, follow Khel Now on Twitter, Instagram and join our community on Telegram.