These players have shown that they can hit top-gear when faced with beating their man to the ball.
Football demands a lot of physical exertion on the pitch, which has given us enough glimpses of our favourite players spending hours in the gym and on the training field, improving the ability of their feet to take them past opponents.
Modern football has become a very fast-paced affair and with teams quick to press and counter-attack, players who possess blistering pace and acceleration to bolt forward have become an inextricable part of the sport.
Over the years, we have seen many players mesmerize crowds with their breathtaking pace, both with and without the ball. This has made them able to beat opponents in one-on-one situations.
Today, we at Khel Now look at the 10 fastest football players in the world:
10. Kyle Walker – 35.24 kmph
Manchester City wing-back Kyle Walker edges out his former teammate to ninth spot in our fastest footballers list. The defender has hit top speeds of 35 kmph and his lung-busting runs have been an important part of City's possession football under Pep Guardiola.
When he has played, Kyle Walker has been a driving force on the right flank, making runs up and down the length of the pitch for the Cityzens, He has also proven to be a very capable ball-playing wing-back on occasions while surging ahead.
9. Karim Bellarabi – 35.38 kmph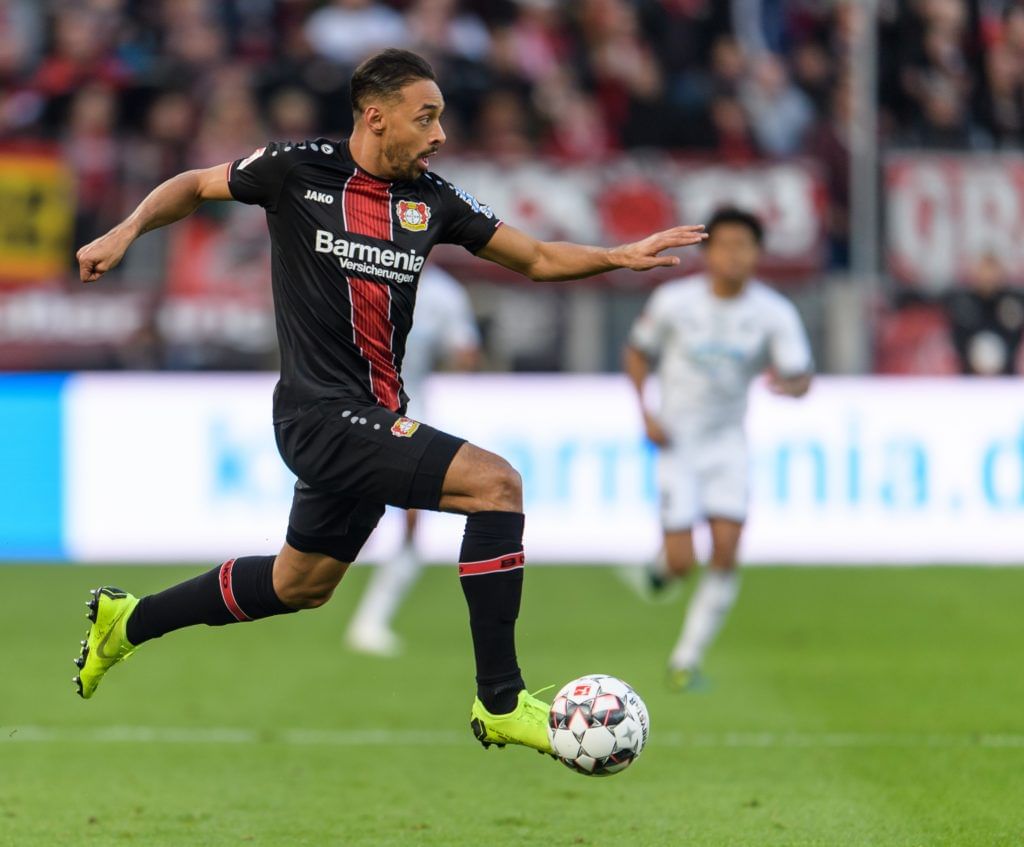 At #8, is Bayer Leverkusen's Karim Bellarabi. The 30-year-old is another example of modern German wingers, who are brisk and capable of hitting their straps when on the run.
Bellarabi's pace combined with his intelligent inter-playing ability have been a key to success for Leverkusen. Despite playing as a winger for the majority of his career, he has also put in a good shift when played deeper in midfield or even at times as a wing-back, bringing the ball out in tough situations with his speed and awareness of other players.
8. Pierre-Emerick Aubameyang – 35.55 kmph
Aubameyang has turned into one of the finest strikers in Europe during his time at Dortmund and now at Arsenal. The Gabon international has showcased great consistency and lethal ability in front of goal.
One of Aubameyang's trusted qualities is his capability to beat his marker to the ball. This capability is surprising, especially for a proper striker like him. But, he has used his speed to great effect while scoring piles of goals for both club and country.
7. Inaki Williams – 35.62 kmph
Inaki Williams is the fastest footballer from LaLiga on our list and his numbers say enough about his quality. A top speed of 35.62 kmph is sure to help you beat your man and speaks volumes of his stamina and confidence.
The Spaniard is a more than capable dribbler as well and can match the same with or without the ball. He has turned into the most important player in Athletic Bilbao's scheme of things after Aritz Aduriz announced his retirement. He has since become the focal point of the team's gameplay.
6. Erling Haaland – 36.04 kmph
Moving into our top five fastest football players in the world, we have Dortmund's wonderkid Erling Haaland, who has taken to professional football like a duck to water. In 40 matches this season, Haaland has smashed 44 goals, surpassed only by Robert Lewandowski.
His prolific goalscoring combined with his gigantic frame may lead one to consider the Norwegian to be a beast in the box. But, Haaland has proved himself to also be an athletic striker, while clocking up speeds of 33-35 kmph consistently and hitting a top speed of 36.04 kmph in the 2020/21 season.
5. Kylian Mbappe – 36.08 kmph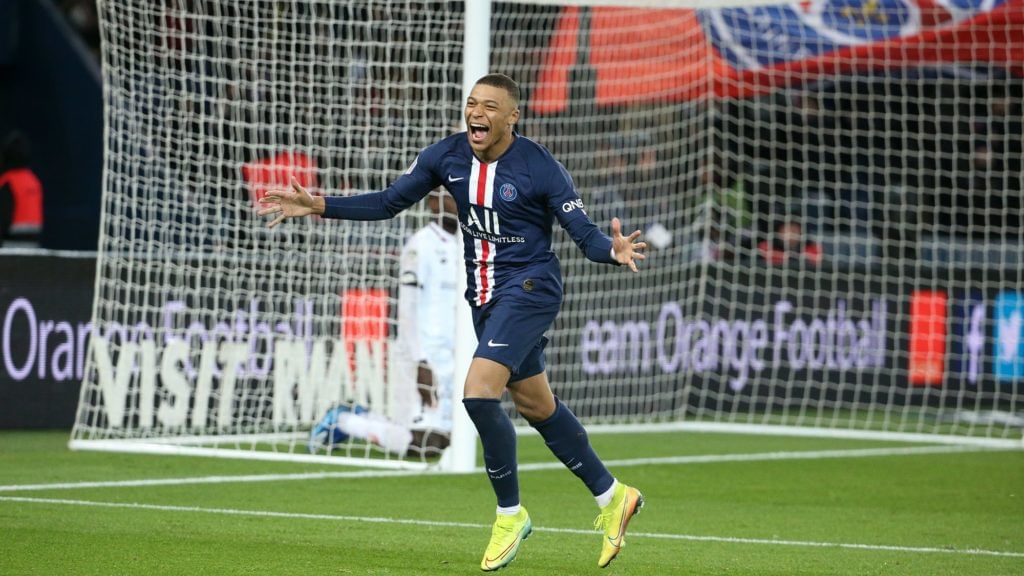 PSG's wonderkid Kylian Mbappe has already been noted for his lightning-quick pace on the wings. The winger has consistently clocked up breakneck speeds, which have become a characteristic part of his gameplay.
He has proven to be a handful for defenders and combined with his dribbling ability, he is sure to be the difference and cause more headaches for defences across Europe.
4. Adama Traore – 36.25 kmph
Adama Traore is the perfect definition of a physical beast. The Wolves winger packs an imposing frame with muscles and power. His driving runs have made him a troublesome commodity in the Premier League.
The winger enjoyed a breakout season and is considered as the toughest to beat in a 1v1 battle in the Premier League. It is a testament to his physical prowess, long strides and acceleration.
3. Marcus Rashford – 36.30 kmph
Manchester United forward Marcus Rashford is currently occupying the third spot among the fastest football players in the world. One of the most popular English stars of his generation, Rashford's runs are often help him to go past the opposition defenders and find a goalscoring opportunity.
The Englishman has been steadily climbing on Manchester United's highest scorers' list, along with teammate Anthony Martial. He has been one of the most integral members of Ole Gunnar Solskjaer's plans at Old Trafford and has repaid the manager's trust with interest.
2. Achraf Hakimi – 36.48 kmph
Achraf Hakimi has been seldom talked-about when it comes to sprinters. But, the Moroccan has always taken it up a notch in pace and has all the capabilities of a modern full-back.
Fast and capable of a quick turn, the Moroccan is a quality addition to Inter's ranks and will be particularly of use in Antonio Conte's low-block, counter-attacking system.
This season, Hakimi hit a top speed of almost 36.5 kmph, which proves that he is among the fastest out there and can be a tough prospect to outrun when faced individually.
1. Alphonso Davies – 36.51 kmph
Alphonso Davies has been this season's wonder-story. The Canadian has rarely put a foot wrong in what has been a blazing first season, like his ferocious runs up and down the left wing for Bayern.
Due to this trait, Davies has also shown that he can also be deployed further up the pitch, if required. "The Roadrunner" as he is fondly nicknamed by Thomas Muller, Davies is fast turning into a prototype for the modern wing-back. A quick shift and breaking out with blistering pace. Davies combines these qualities with fearlessness in dribbling, which makes him an even more dangerous prospect.
His top-gear runs have made him a household commodity in football today and at 19, he has the world at his feet, literally.
*The article last updated on July 8, 2021 at 1:50 AM.
For more updates, follow Khel Now on Twitter and join our community on Telegram.