Quick Reads
Top 10 oldest goalscorers in Bundesliga history
Alongside the Premier League, one of the leagues which excites the football fans the most is the German league, popularly known as the Bundesliga. Modern greats such as Manuel Neuer, Frank Ribery, Arjen Robben, Robert Lewandowski have played and conquered this league.
In this article we will cover the oldest goalscorers in Bundesliga history. The list is as follows:
10- Michael Tarnat (37 years, 11 months and 24 days)
The left-back has a total of 24 goals and 52 assists in his Bundesliga career. Tarnat scored his last ever Bundesliga goal for Hannover 96 playing against Wolfsburg. The game ended in a 2-2 draw. The German has also played for Bayern Munich for six complete seasons, winning the Champions League in the 2000/01 season. He also won the Bundesliga four times with the German giants. He has 3 Premier League goals in his kitty having represented Manchester City in the 2003/04 season. From Manchester City he went to Hannover 96 where he played for five seasons, eventually retiring in 2009.
9- Sigfried Held (38 years and 7 months)
Sigfried Held scored his last Bundesliga goal for Bayer 05 Uerdingen on March 7, 1981. The effort went in vain since his side ended up losing to VFB Stuttgart as the game ended 3-2. Stuttgart were comfortably winning the game 2-0 when Norbet Hofmann scored for Uerdingen in the 74th minute. In the 85th minute Held scored the equalizer. But in the very next minute, Ilyas Tufekci scored the winner, giving the home fans a delight back home. The German was playing his last season and announced retirement making the 1980/81 season his last.
8- Lothar Matthäus (38 years, 7 months and 30 days)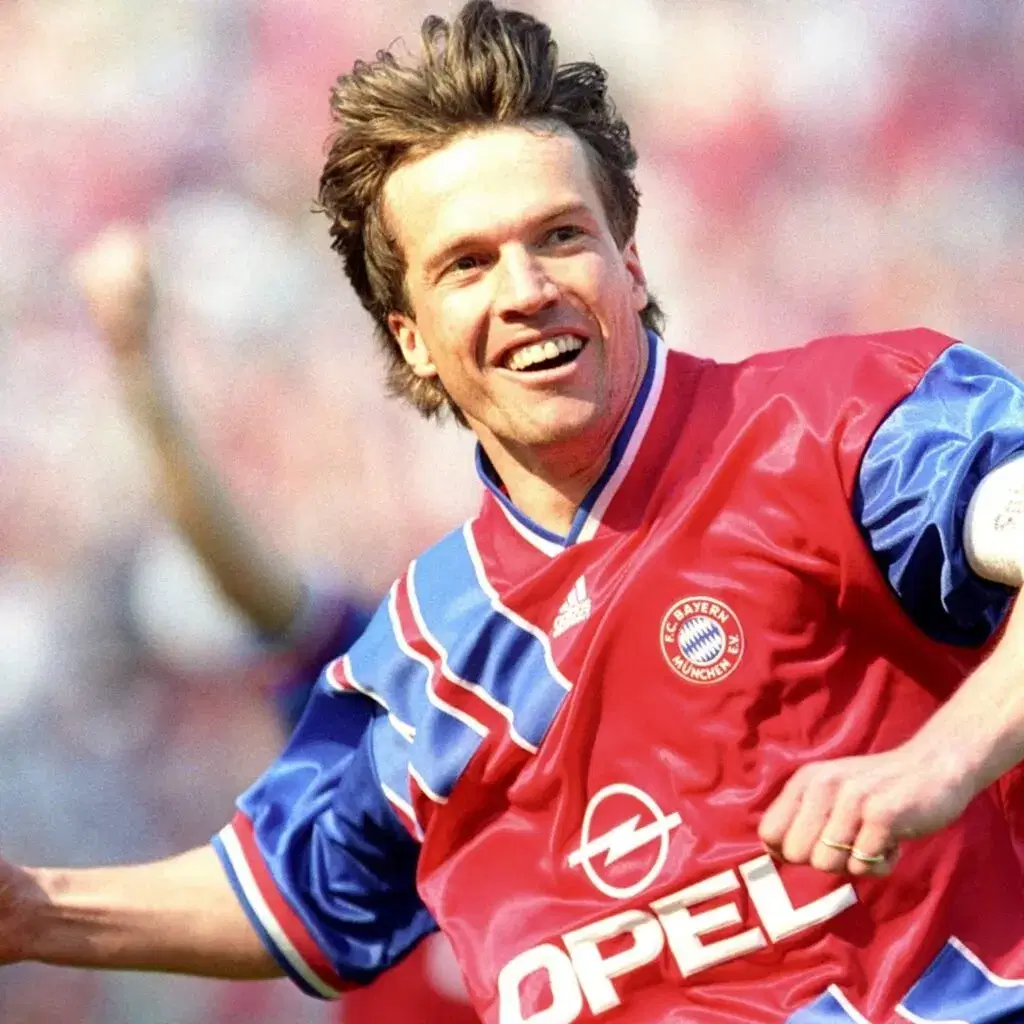 The German international scored his last Bundesliga goal against SC Freiburg on 20th November 1999. Bayern Munich won that game with a significant score line of 6-1. He scored 121 goals in Bundesliga which is excellent for a defensive midfielder. In Bayern Munich the German won 7 league titles. Apart from these achievements in Germany, he has also won the Serie A in 1988/89 season with Inter. In 1990, he won the World Cup with Germany and also won the prestigious Ballon D'or. In the subsequent year he also won the Fifa's Best Men's Player Award.
7- Richard Kreb (38 years, 8 months and 17 days)
Kreb only scored two Bundesliga goals, both coming in November 1963. His second goal which was also his last goal came against TSV 1860 Munich on 23rd November 1963. Eintracht Frankfurt were winning the game 4-2. Kreb's goal, which was a simple tap-in made the score line 5-2 in his team's favour. He spent 11 seasons in Eintracht Frankfurt. He was a part of Frankfurt's only German championship title in the 1958/59 season. This could be considered as the winger's only achievement in his professional career. He played a total of 17 Bundesliga matches for his side.
6- Max Morlock (38 years, 11 months and 28 days)
Another German makes it to this list. The centre forward played for FC Nurmberg for 24 long seasons. The Bundesliga was established in his final season as a player (1963/64). In that very season he played 21 matches, scoring 8 goals and providing 3 assists. His professional achievements include a World Cup win in 1954 and Footballer of the Year award in 1961. He has won the German Championship twice with Nurmberg- in 1947/48 and 1960/61. His final goal came against Hamburger SV on 9th May 1964. He gave his side a 2-1 lead in the 54th minute, before an equalizer by Horst Dehn in the 55th minute of the game, making him one of the oldest goalscorers in Bundesliga history.
5- Gunter Sebert (39 years and 1 day)
A day after his 39th birthday, Sebert scored his last career goal. Playing in the sweeper position, he made a total of 128 Bundesliga appearances, scoring 13 goals and providing a single assist. On May 30th 1987, his team SV Waldhof Mannheim were playing against Bayer 04 Leverkusen when Sebert's goal gave them a 1-0 lead in the 26th minute. His side eventually won the game 2-1. His achievements include winning the 2nd tier German Championship in the 1982/83 season. He announced his retirement after the 1986/87 season in a career spanning over 487 games in his club career.
4- Morten Olsen (39 years, 6 months and 18 days)
The Dane international scored his final Bundesliga goal on 4th March 1989. His side FC Koln was facing VFL Bochum and ended up winning 1-3. Olsen scored the 3rd goal in the 86th minute of the match. He came to FC Koln from RSC Anderlecht in 1986 and announced his retirement playing for the German club till 1989. In 80 Bundesliga matches, he has scored 2 goals and provided 4 assists. He has won the Belgian championship 3 times and has also won the UEFA cup in 1983. He has also won Denmark's Footballer of the Year Award in 1983 and 1986.
3- Manfred Burgsmuller (39 years, 7 months and 14 days)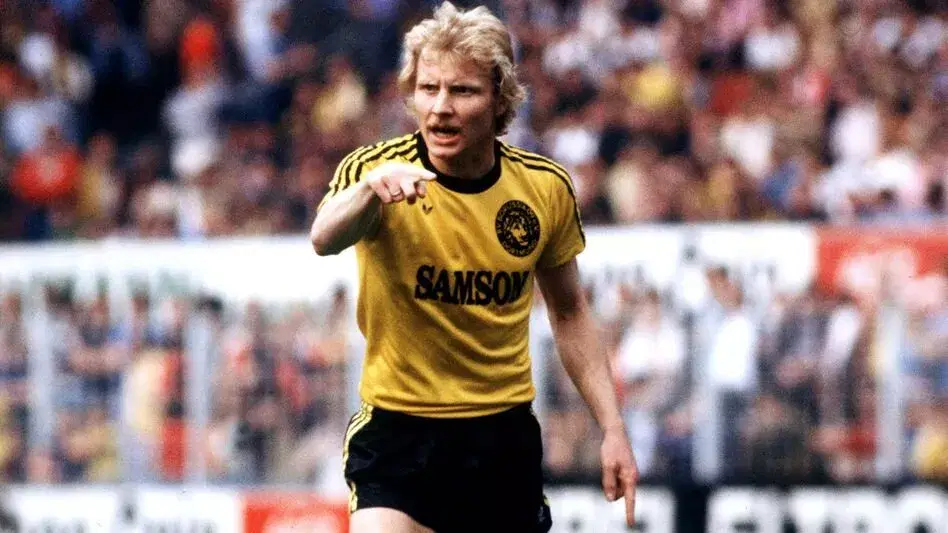 One of the three names to appear from Werder Bremen in this list is Manfred Burgsmuller. On 5th August 1989, the centre-forward scored quickly in the 5th minute of the game to give his side a 1-0 lead. The game eventually ended in a 2-2 draw when Dusseldorf's Michael Schutz scored an equalizer in the 82nd minute. This was his last Bundesliga goal. The German had an illustrious career. He scored the most goals in Bundesliga in the 1984/85 season (29 goals). He also won the Bundesliga with Werder Bremen in the 1987/88 season. It was their second league title.
2- Mirko Votava (40 years, 3 months and 30 days)
Votava was born in Czech Republic but ended up playing for the German national team. He scored his final Bundesliga goal on August 24 1996. Playing for Werder Bremen he scored the goal in the 69th minute of the game after trailing 2-0 to VfB Stuttgart. His goal gave his side a hope to draw the game but they eventually ended up losing it 2-1. He was in Werder Bremen for full 11 seasons, seeing highs of winning the Bundesliga in 1987/88 season and 1992/93 season and lows of finishing 17th in the 1996/97 season. He also won the European championship with Germany in 1980.
1- Claudio Pizarro (40 years, 7 months and 15 days)
On May 18, 2019, Claudio Pizarro became the oldest goalscorer in Bundesliga history. Coming off the bench in the 74th minute of the game, the former Bayern Munich centre-forward scored the winner against RB Leipzig, helping his side Werder Bremen beat them. The game ended in 2-1. It was a dramatic moment since Leipzig had equalized in the 86th minute before Pizarro scored the winner in the 88th minute. Pizarro had an illustrious career with 6 Bundesliga titles and 1 Champions League title to his name. He announced his retirement on July 7 2020 having scored an impressive 197 Bundesliga goals.
For more updates, follow Khel Now on Twitter, Instagram and Facebook.