Formula 1
Formula 1: Teams with most consecutive wins in F1 history
By

Hisan Kidwai
These are one of the most standout performances we have ever seen in F1 history.
It's no secret that Formula 1 as a sport is not just about the drivers but also about the teams working tirelessly to develop competitive cars that can win championships. And although this metric changes every year, there have been a few teams that have stood above the rest and dominated entire seasons like never before. Now, let's take a closer look at the teams with the longest winning streaks in Formula 1 history.
5. Mercedes: 2016 (10 wins)
Although Max Verstappen claimed his first victory in the 2016 season, Mercedes' dominance was far from over as they won every race after the Spanish GP and once again equaled their record of 10 consecutive race wins. Additionally, the 2016 season is also remembered for the intense title battle between Nico Rosberg and Lewis Hamilton, which sparked numerous controversies. Nonetheless, the team showcased their mettle, establishing themselves as a force to be reckoned with in Formula 1.
4. Mercedes: 2015-16 (10 wins)
Mercedes' domination at the start of the turbo hybrid era was truly astounding, as the team achieved an impressive feat of 10 consecutive wins across these two seasons. Lewis Hamilton and Nico Rosberg, the two drivers, were exceptional, winning 16 out of a possible 19 races in 2015.
However, their win streak was halted by a young, talented driver named Max Verstappen, who secured victory at the 2016 Spanish GP, becoming the youngest-ever driver to win an F1 race.
3. Ferrari: 2002 (10 wins)
While Ferrari's recent form has been nothing short of a disappointment, thanks in part due to the car's lack of race pace and questionable strategy calls, the 2002 Formula 1 season was a dream for Ferrari and a turning point for Michael Schumacher. With his former teammates struggling in uncompetitive cars, Schumacher once again displayed his unrivaled skill on the track, claiming victory in 10 out of the 17 races that season. Moreover, the fact that he finished on the podium in all 17 races, and his worst result was a third-place finish in Malaysia, showcased the German driver's unmatched consistency.
2. Red Bull: 2022-2023 (11 wins)
Red Bull's dominance in recent years has truly been unmatched, with Max Verstappen redefining what it means to be a champion. Now, with their recent victory at Silverstone, the team has matched McLaren's 1988 record of eleven consecutive race wins.
However, this win at Silverstone wasn't as straightforward as the others since Max initially struggled with the rear, allowing Norris to take the lead. But the reigning world champion quickly fought back and won the race by a comfortable margin of over 5 seconds. Now, heading to Hungary, Red Bull has a chance to surpass McLaren's longstanding record of consecutive wins.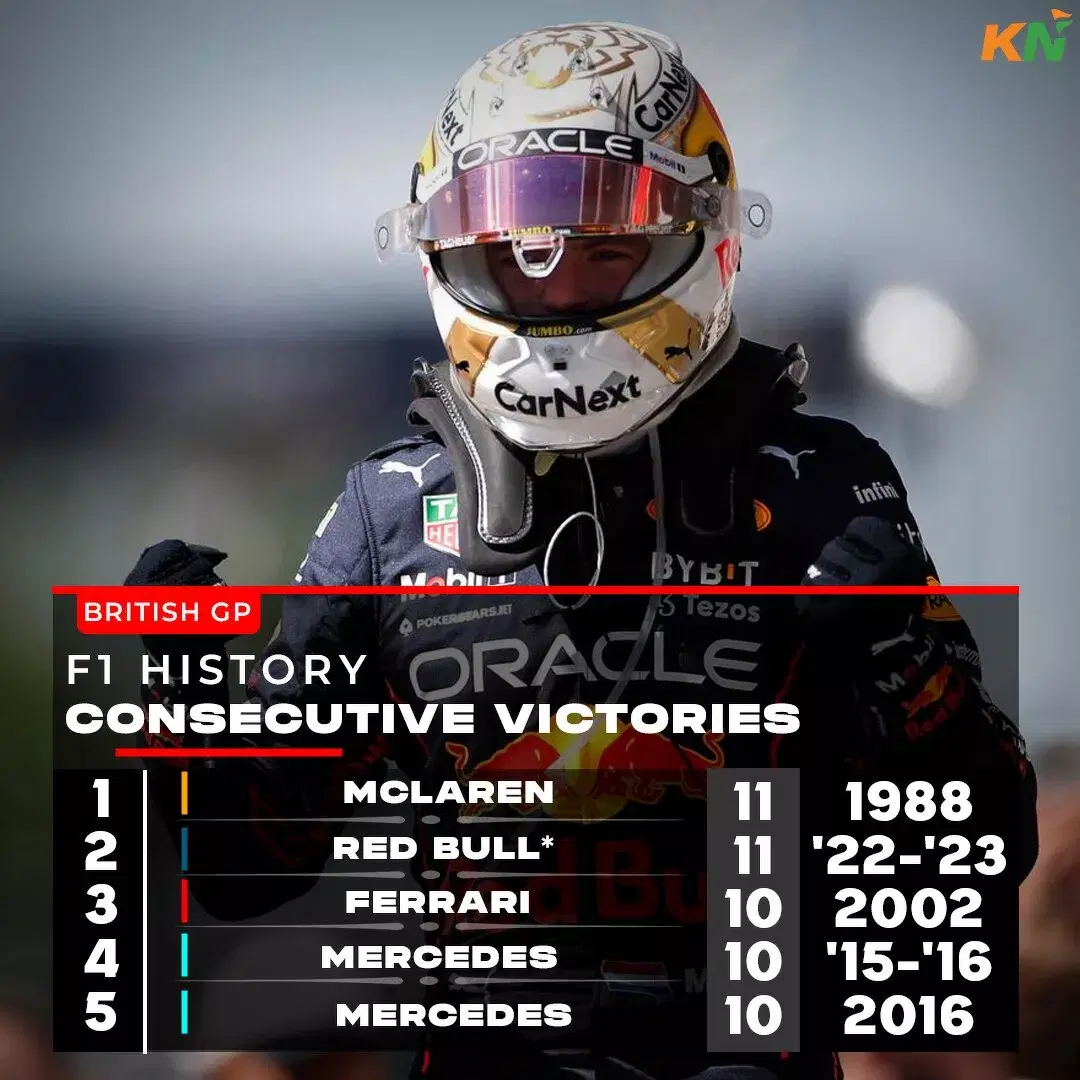 1. McLaren: 1988 (11 wins)
Founded by the visionary Bruce McLaren, the team's prowess in Formula 1 is truly unmatched, having won 183 races to date. However, the 1988 season stands out as extraordinary due to the championship battle between McLaren teammates Ayrton Senna and Alain Prost. Although Ayrton Senna ultimately emerged victorious, McLaren's domination was unquestionable, as they clinched victory in a staggering 15 out of 16 races. Their incredible performance almost resulted in a clean sweep, if not for a heartbreaking incident where Senna was taken out of the race just two laps before the finish line.
For more updates, follow Khel Now on Facebook, Twitter, Instagram, Youtube; download the Khel Now Android App or IOS App and join our community on Whatsapp & Telegram.