Pro Kabaddi League
Mohit Chhillar clears air on the average display of Pardeep Narwal
By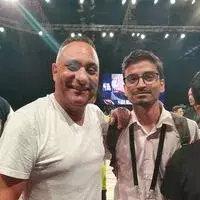 Gaurav Singh
(Courtesy : Pro Kabaddi League)
The "Dubki King" has failed to impress in the ongoing season of the Pro Kabaddi League.
The Pro Kabaddi League (PKL) has made a strong comeback after a gap with the eighth season. The thrill and excitement have not lessened a bit even after a two-year gap, both for the players as well as the watching audience. The teams are giving each other tough competition with many matches ending up in ties. On Khel Now TV you can also watch the continuous coverage of the league with former PKL winner Mohit Chhillar.
The first day of the New Year came with an unexpected turn of events, as all three matches ended in a tie. The eagerness and desperation of clinching the PKL title are very robust this time. But, one of the most successful players of the league, Pardeep Narwal has not been able to perform up to his usual standards. He has stood as a famous name for his 'dubki' and is also nicknamed "Dubki King."
The 24-year-old is not a part of Patna Pirates this season. He was released by the team before the auction and was later bought by UP Yoddha for a record price. Narwal's below-par performance has also affected his team's display and UP Yoddha's resurgence seems compromised too. However, the record-breaker from previous seasons is still likely to make a comeback this season.
Veteran defender Mohit Chhillar, on KN TV's show Khel Kabaddi Live, broke his silence on Pardeep Narwal's continuous poor performances. He raised questions on Pardeep's 'dubki' techniques.
Pardeep's average performance
Speaking on the show, Mohit Chhillar said, "Pardeep Narwal's dubki has become very slow and that is why the defenders are tackling him with ease. "When I used to play, Pardeep Narwal, once against Haryana Steelers in a single raid got the whole team all out and got a total of nine points. But, now his performance has not been the same, but he can return to form and then repeat the same performance."
The 28-year-old defender also pointed to the back hold techniques which are used by defenders against Pardeep Narwal. "Defenders are also able to easily understand Pardeep's moves this season. Several players have also used back holds on Pardeep. The back hold is a great weapon for any defender. Many defenders take out the raider through this move. However, for this, it is important that your force should be very high on the raider and his back should be visible," Chhillar pointed out.
How to Backhold?
Mohit Chhillar also explained some of the tips and tricks to execute the backhold successfully. He said, "The defender backholds only when he sees the raider's back. But, if the raider's back is not visible, then do not try to make an advance tackle. You will not be successful with this."
Over time, the rules of Kabaddi have also changed and are still subject to evolution. Earlier when a raider went to raid, he had to keep saying "kabaddi kabaddi" continuously and hold his breath. But now, the raider does necessarily not have to do the same.
On this big change, Chhillar said, "When Kabaddi was established, there was a rule not to break the breath. But, as the game progressed, the rules changed and now a raider can breathe and doesn't necessarily have to say "kabaddi kabaddi."
For more updates, follow Khel Now Kabaddi on Facebook, Twitter, Instagram and join our community on Telegram.