Pro Kabaddi League
Exclusive: Performance matters more than money, says Pardeep Narwal
By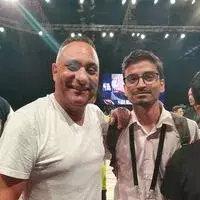 Gaurav Singh
(Courtesy : ProKabaddiLeague)
The star raider spoke about his new team UP Yoddha, the bio-bubble and much more.
India's premier Kabaddi competition the Pro Kabaddi League has seen the rise of many talents over the years. But, the first name when you talk about the best players in the league, has to be that of Pardeep Narwal. The Haryana-born raider has taken the league by storm ever since his debut in 2015.
The "Dubki King" has broken record after record and has made a name for himself. He won three Pro Kabaddi League titles with his former side Patna Pirates and is also the most successful raider in the league. Pardeep Narwal has over 1100 raid points and is a mile ahead of the chasing pack. This season, he has switched sides to UP Yoddha, who made him the most expensive buy in the auction.
Pardeep Narwal spoke to Khel Now in an exclusive interview and shared his thoughts on the challenge:
Return of PKL after two years
The Pro Kabaddi League was out of action for more than 20 months due to the coronavirus pandemic. Pardeep Narwal was asked if the lack of match practice will affect the players. He said, "No, there's nothing like that. Our league is beginning after two years, but we've played our state leagues and other leagues. Of course, we were not happy as Pro Kabaddi League did not happen, but we did not stop our practice, as we played other tournaments."
Thoughts on becoming most expensive buy in auction
Pardeep Narwal became the most expensive buy in the Pro Kabaddi League Season 8 auction, as UP Yoddha bought him for ₹1.65 crore. He broke Monu Goyat's record ₹1.51 crore move to Haryana Steelers in Season 6. The UP Yoddha's raider shared his thoughts on becoming the most expensive player in the auction in 2021. Pardeep Narwal remarked, "There's no pressure as such. I just have to play my game and show everyone my game. Money is the secondary thing and helping my team is my first priority."
Thoughts on new side
He achieved everything and broke all the records during his time at the Patna Pirates. This season, he experienced a change in scenery as he moved to UP Yoddha. Sharing his thoughts on his new teammates and coaching staff, Pardeep Narwal said, "I feel very happy here. The players are very good and we all live as a family. Our coach treats us as his sons and it has been a great experience so far."
This is the first time when the Pro Kabaddi League is being hosted inside a bio-bubble. The Indian international shared his experience of living in the environment. He stated, "We are sad because our fans cannot come here and watch us play. We always try that all our fans keep supporting us from their homes."
Thoughts on UP Yoddha's squad
The three-time Pro Kabaddi League winner also spoke about his squad and applauded the balance of his side. "We have a really good team. Our offence and defence are very well-balanced. We didn't do well in our first match, but we will do well in the upcoming matches. We have a very young team," he asserted.
Pardeep Narwal has been a sensational player since his Pro Kabaddi League debut and has gone on to break numerous records. But, just like any other good player, he is always open to improvisation. He shared some information about a new skill that he has learnt from his coach at UP Yoddha.
"I'm working on a bonus. I never took bonus before, but then coach told me to work on taking bonus points," he signed off.
For more updates, follow Khel Now Kabaddi on Facebook, Twitter, Instagram and join our community on Telegram.