The skipper sounded optimistic and stressed upon the importance of winning the title this season.
Haryana Steelers have had a rough start to their campaign in PKL 8. The JSW Steel-owned outfit have lost two back-to-back games and find themselves at the bottom of the table. However, its still early days and you just can't rule anyone out. Vikash Kandola, 23, has been one of Haryana's best performers over the last couple of seasons. This campaign, he has been named as the skipper of the Haryana Steelers and has a point to prove.
Vikash Kandola spoke to Khel Now in an exclusive interview and shared his thoughts on the upcoming season:
Changes in team
The skipper spoke about the changes his side have made this season which will help them win the title. He said, "Our first match was a very close one and we lost. We improved the small mistakes that we made last season. We'll try not to repeat those mistakes and win the title this season."
Sloppy start to season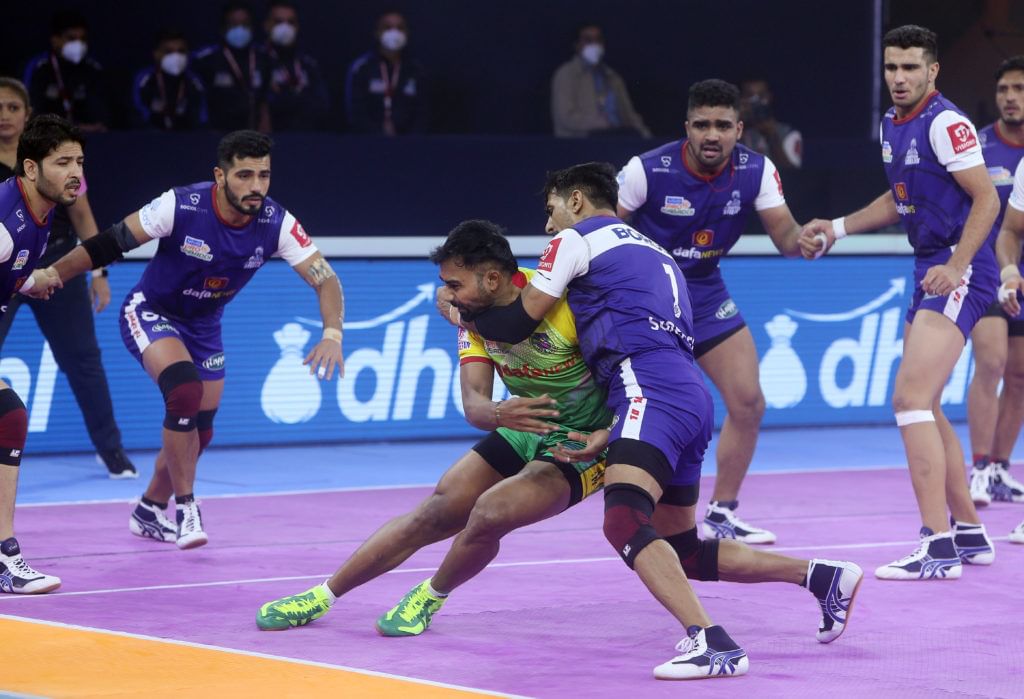 Vikash Kandola has had a poor start to the season according to his high standards. On being asked about the reason behind this, he said that it's not possible for every raider to score a lot of points in every match.
"It's not important that every raider scores in every match. We played with three raiders and our plan was to back the raider who got points. Rohit Gulia scored very well and he was continuously raiding for us."
Importance of Rohit Gulia
Rohit Gulia is considered to be one of India's brightest prospects in the all-rounder position. Sharing his thoughts on the importance of the all-rounder in the side, Vikash Kandola said, "He's very beneficial for the team."
"We can use him for raiding as well as defending. He can play as a corner and a cover on either sides. That's why the management got him in."
Biggest strengths of side
Vikash Kandola has been a part of the Haryana Steelers for three seasons now. He's someone who knows the team inside out. He said that unity is the biggest strength of the Steelers.
"The biggest strength of this team is that even if we lose, we don't blame anyone. There's no pressure and the entire management is very supportive. They tell us to play our natural game, irrespective of the result. That is the biggest strength of this team," he asserted.
Fitness
The Haryana Steelers' skipper has faced major issues with his fitness in the recent past. He has had frequent injuries and has struggled to keep fit. He said he'll try to be fit for the entire season and get my hands on the title.
"I'll play the entire season and injury is a part of the game. I've trained myself very well and will try to keep myself away from injury and win the trophy," Vikash Kandola explained.
Thoughts on Surender Nada
Veteran defender Surender Nada has re-joined his former side this season. Surender is considered to be one of the greats of this game. Sharing his thoughts on the defender, Vikash Kandola said, "He's a very senior player and he handles the defence very well.
"He played the role of a corner very well. His return was very tough as he suffered an injury last season, but he showed everyone in the first match itself that he's ready."
Playing behind closed doors
The Pro Kabaddi League returned after a halt of two years to host its eighth season. But, things are very different in comparison to the previous campaign. The league is being played behind closed doors for the first time. The skipper was asked about his thoughts on the same.
Vikash Kandola said, "The best thing is that the league has finally returned after two years. It's tough for the players as we're playing without a crowd for the first time. But, we just have to give our 100%. Our fans and friends are watching us and their support is always with us."
Top four teams this season
All the teams have done their homework very well during the off-season and have assembled good looking squads. When quizzed about the strongest four teams this season, Vikash Kandola said, "All the 12 teams are equal and everyone has played very well in their opening matches. We'll try to show our best game and win the trophy. I don't know about others, but we're surely there."
For more updates, follow Khel Now Kabaddi on Facebook, Twitter, Instagram and join our community on Telegram.