In a country high on patriarchal norms, Mirza was revolutionary and perhaps the country's first female sports great, a true trailblazer.
Serena Williams had King Richard. Marian Vajda moulded Novak Djokovic. Yuri Yutkin taught Maria Sharapova the ropes of the game and for the effervescent Rafael Nadal, it was uncle Toni who shaped a beast. While all of this fine wine was being brewed in the West, a family in India had moved from its business capital to Hyderabad. A little girl – very little, in fact, according to her first tennis coach – was going to take her swimming lessons.
The way to the swimming pool was not through, but adjacent to tennis courts. Bred in a Sunni Muslim family, not a lot of women could dream in that India. However, this one was different. The girl had nerves of steel and the parents sewed her wings at an early age. In six years, she went to the court, only to be called 'too small'. However, six months later, her coach said he had never seen a child progress so quickly.
This is where it all began. The hard work. The hours of practice. The growth. The resolve. The willpower. The stern believe in oneself and the resoluteness to do things on one's own terms. A 'little' girl with a not-so-little dream was coached by CK Bhupathi (father of Mahesh Bhupathi), Roger Anderson and her father Imran Mirza. The girl was 'quite the geek' – she loved studying more than playing tennis. However, her headmistress believed in her talent and persuaded her to play.
"I think she knew she was a star when she was 12. She behaved like, not in an obnoxious or boisterous way, she was destined to (be a star) and she was heading there," Somdev Devvarman said in an interview to Scroll.
Beginning of Sania Mirza
Unheralded like any other non-cricketing athlete, Sania Mirza first shot to fame after winning the Wimbledon Championships girls' double title in 2003. People sat up and took notice. She was the first Indian female player of note. For a country that possesses tennis stars such as Ramanathan Krishnan, Ramesh Krishnan, Vijay Amritraj, Mahesh Bhupathi and Leander Paes, Sania is a rare breed, and it is she who built it, on her own terms.
That same year, she turned pro. In individual sports, often, a celebrated defeat is cheered a lot. That moment arrived in 2005. After beating Cindy Watson and Petra Mandula, Sania fought arguably the greatest-ever female tennis player valiantly. However, Serena Williams trounced her 6-1, 6-4. The world had got the glimpse of a fighter.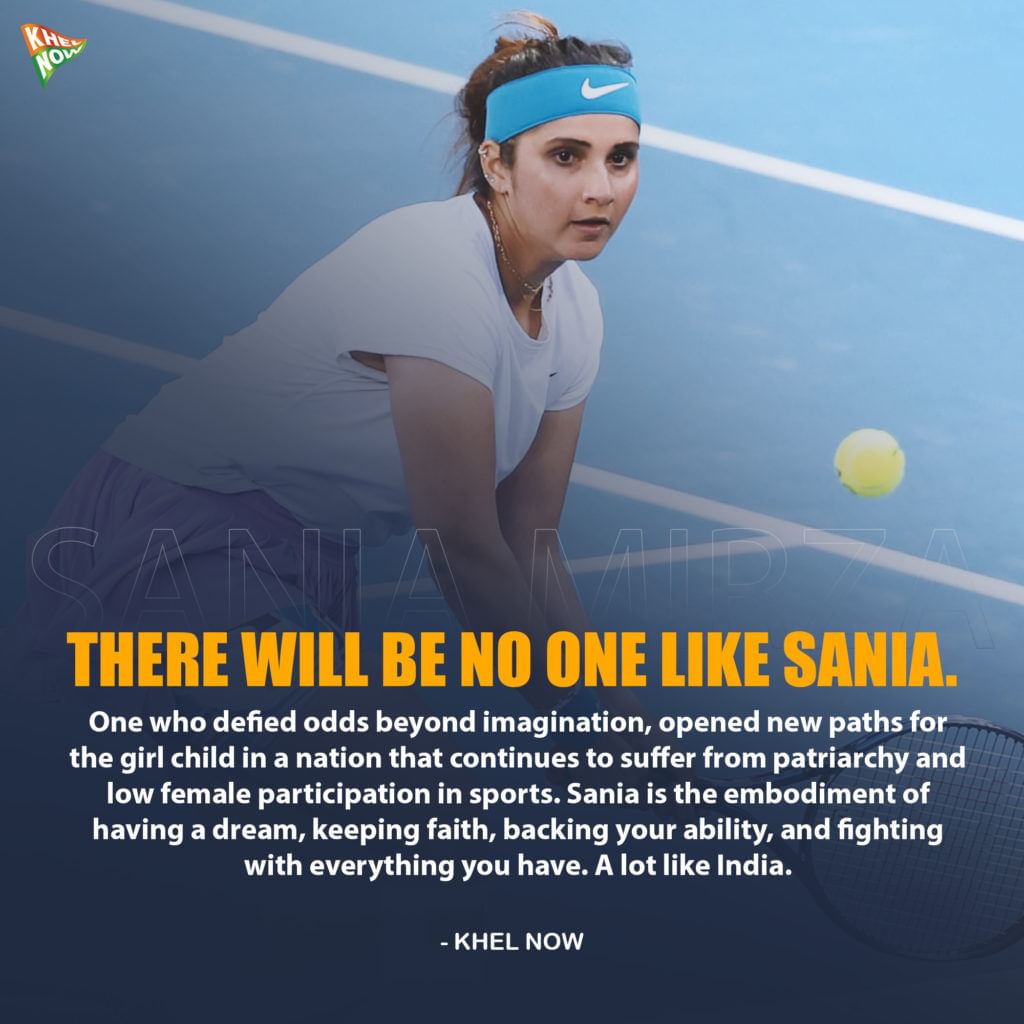 First title
Barely a month later, the 'little' girl wrote history on home turf. She won the Hyderabad Open to become the first Indian female player to win a WTA Title in the history of the sport. Sania continued her impressive run at the Dubai Open, defeating the then-US Open Champion Svetlana Kuznetsova. It was a strong performance from the 19-year-old who beat Kuznetsova in straight sets 6-4, 6-2.
Two years later, she made it to the fourth round of the US Open, beating Marion Bartoli of France and set up a date with Russian star Maria Sharapova. En route, she also became the first and only Indian woman to reach that far in a Grand Slam. However, the then World No. 1 Sharapova continued to the next round. For Sania Mirza, then came the trophies and the Grand Slams, list of which is easily accessible to anyone with an internet. So we move on, to the next chapter.
Indian Sports Live Coverage on Khel Now
Fight against fatwa
At 18, Sania was just at the outset of her pro career. However, the nation looked at her as a woman first, then a Muslim, and at the very end, an athlete. You might think this is ridiculous, but hear us first. India was very different back then. The Sunni Ulema Board had issued a fatwa against Sania because of her 'indecent dressing', calling her tennis skirt and shirts 'unIslamic' and 'corrupting'.
But then, Sania was the same-old, bold, brave and in your face. Not one to toe the line ever, Sania had a beaming smile and an answer, writ large on her, quite literally. On the biggest tennis stage – the Wimbledon in 2005 – she wore a t-shirt that proclaimed 'well-behaved women rarely make history'. She trained, played fought and dressed on her own terms.
Transition to doubles
Sania Mirza was as confident as can be, but she was smart as well. She had a massive forehand, was a strong personality on tour, and knew the rigours and demands of the game. The No. 27 (in 2007) understood her limited mobility and knew her body was giving in. Too many erratic injuries – and she knew full well it could lead to burnout.
She used that to her strength, concentrating more on winning titles in the doubles version of the game – both women and mixed. The transition kept happening gradually, but came in full flow only post-2011, on her own terms.
She won six Grand Slams in total – three in each, and even rose to become No. 1 in the world in this respect. She partnered with great players such as Martina Hingis, Elena Vesnina, and India's Mahesh Bhupathi. Her partnership with Hingis was even nicknamed SanTina, as they won the Wimbledon Championships in 2015 without dropping a set. By February 2016, SanTina had a 41-match winning streak, winning every tournament on the way, even the Australian Open.
The call
After giving birth to son Izhan in 2018, Sania made a comeback to competitive tennis a year later. She first announced her retirement in 2022, stating it will be her last season on tour. However, an injury meant she couldn't retire on her terms. She made another comeback, and reached the finals of the Australian Open 2023 – a stage where she had first met Serena and shot to global fame.
Final chapter
There would be no one like Billie Jean King, they thought. There was Chris Evert. And there would be no one like Evert, they thought. Then there was Martina Navratilova. There would be no one like Navratilova, they thought. And there was Steffi Graf. There would be no one like Graf, they thought. And there was Serena Willaims. There might or might not be another world-beater like Serena, but there will be another great in women's tennis.
But there will be no one like Sania. One who defied odds beyond imagination, opened new paths for the girl child in a nation that continues to suffer from patriarchy and low female participation in sports. Sania is the embodiment of having a dream, keeping faith, backing your ability, and fighting with everything you have. A lot like India, it seems. Sania Mirza will never be limited to tennis – she is India's very own Wonder Woman.
For more updates, follow Khel Now on Facebook, Twitter, and Instagram and join our community on Telegram.