Hangzhou 2022 Asian Games
Events where India achieved 1-2 finish at Asian Games 2023
By

Anmol Kakkar
India secured gold-silver finish in three events at the Continental meet.
The Asian Games 2023 came to an fruitful end and India recording their best ever finish with a record 107 medals. They became the 4th nation after China, Japan, and Korea to breach 100 medals in the history of the Asian Games. This includes 28 gold, 38 silver and 41 bronze medals. The Indian contingent created many records including three 1-2 finish at the quadrennial extravaganza.
In this article let us look at the multiple 1-2 finishes at the Asian Games 2023.
Women's 10m Air Pistol (Palak Gulia, Esha Singh)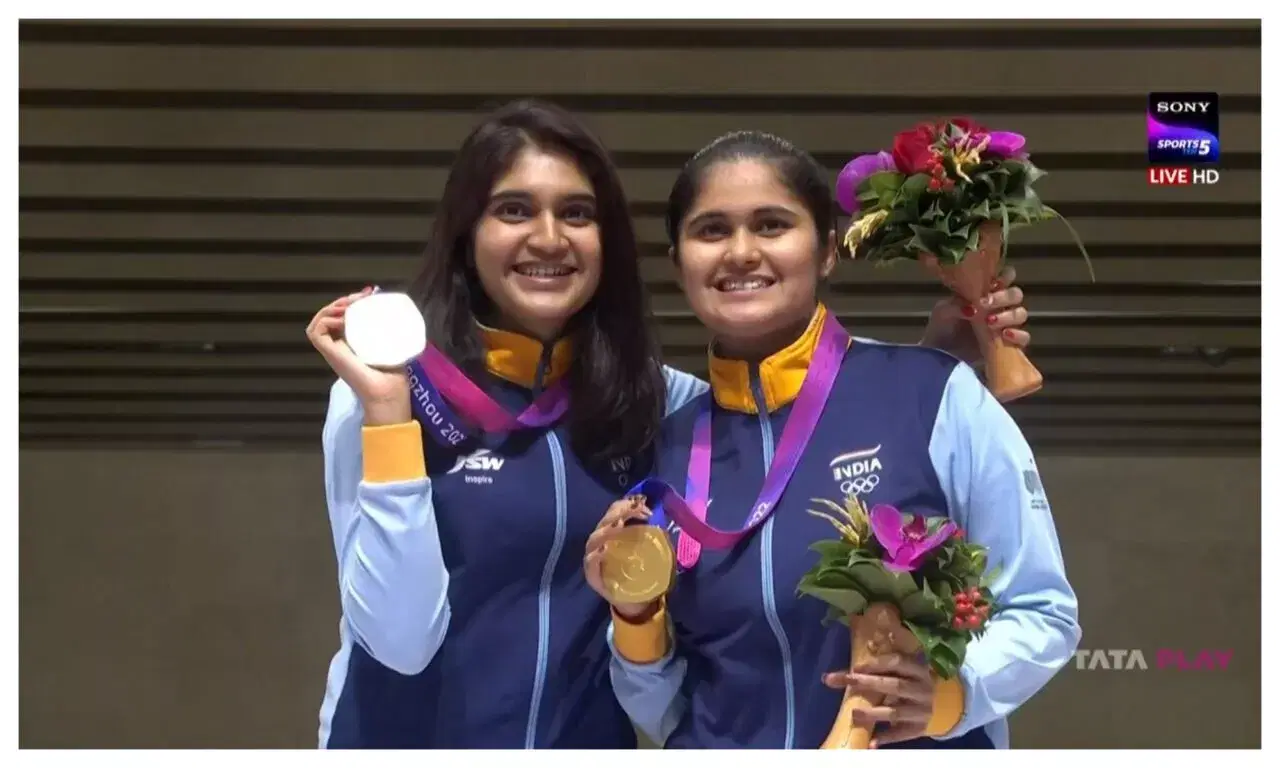 On Day 6 of the Asian Games 2023, India created history as they registered the first ever 1-2 finish in shooting history. Palak Gulia finished 7th in the qualification with a score of 577, while Esha Singh finished 5th with a score of 579.
Prior to the individual final, the women's team also won silver medal in women's 10m Air Pistol along with Divya who finished 10th with a score of 575. In the finals, Palak and Esha started brilliantly and they were placed in the top 2 for majority of the time. In the end, Palak shattered the Game's record with a score of 242.1 and won the gold medal.
Teenager Esha Singh finished 2nd with a score of 239.7. She had won a total of four medals making her the 1st female shooter to win 4 medals in a single edition.
Men's Javelin Throw (Neeraj Chopra, Kishore Kumar Jena)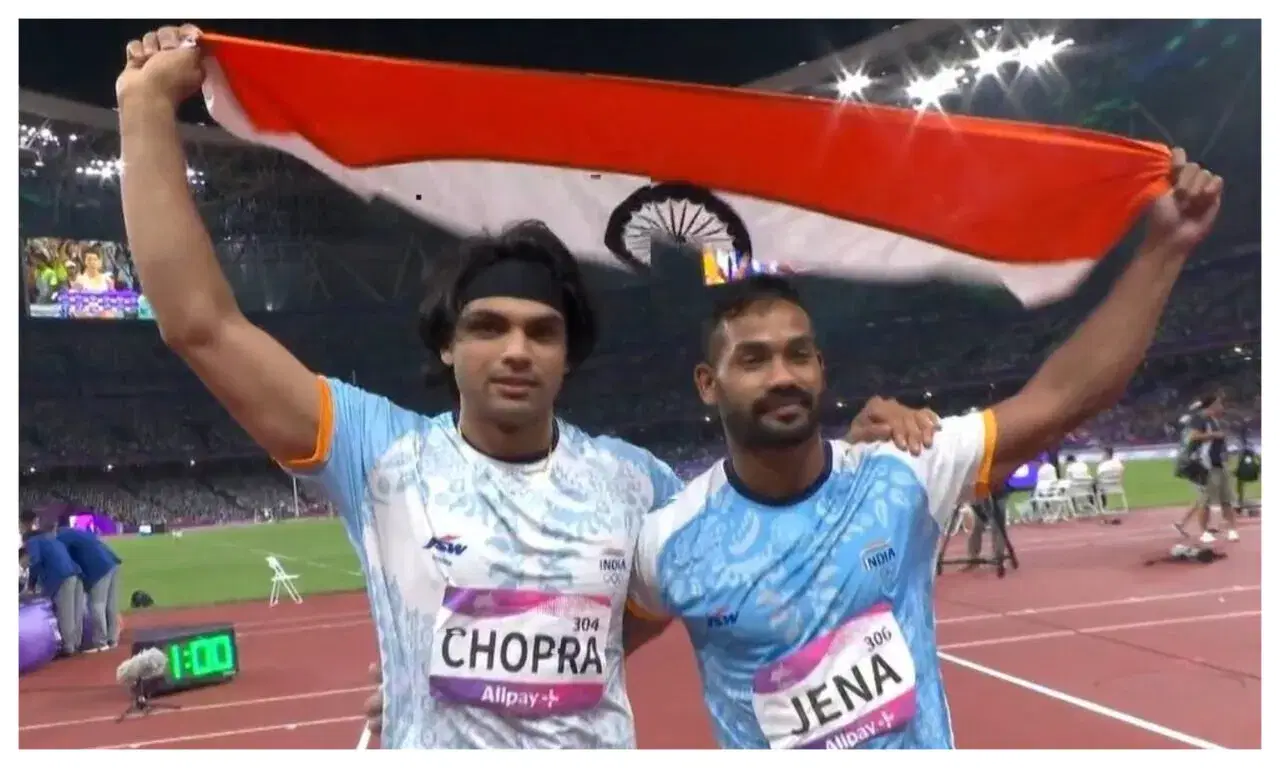 On Day 11 of the Asian Games, India registered its second 1-2 finish. India's golden boy Neeraj Chopra alongside Kishore Kumar Jena finished with gold and silver medals respectively. Neeraj whose first throw was huge was declared invalid because of a technical issue as the second thrower threw the javelin before Neeraj's was recorded.
Indian Sports Live Coverage on Khel Now
Kishore Kumar Jena's 2nd throw was given a foul despite falling behind the white line. Neeraj then came to the rescue and they went to the officials and the decision was overturned. The world and olympic champion, Neeraj Chopra, registered a huge throw of 88.88m in his 4th attempt to clinch the gold medal.
The athlete from Odisha on the other hand threw a massive throw of 86.77m in the 3rd attempt to take the lead but in a short while, Neeraj took the lead with his winning throw of 88.88m. Kishore further went on and again improved his PB and this time he threw 87.54m in his 4th attempt to win the silver medal.
In the process, he also qualified for the Paris Olympics 2024 after breaching the automatic qualification mark – 85.50m. Genki Dean of Japan finished 3rd with a best attempt of 82.68m.
Men's Compound Individual (Ojas Pravin Deotale, Abhishek Verma)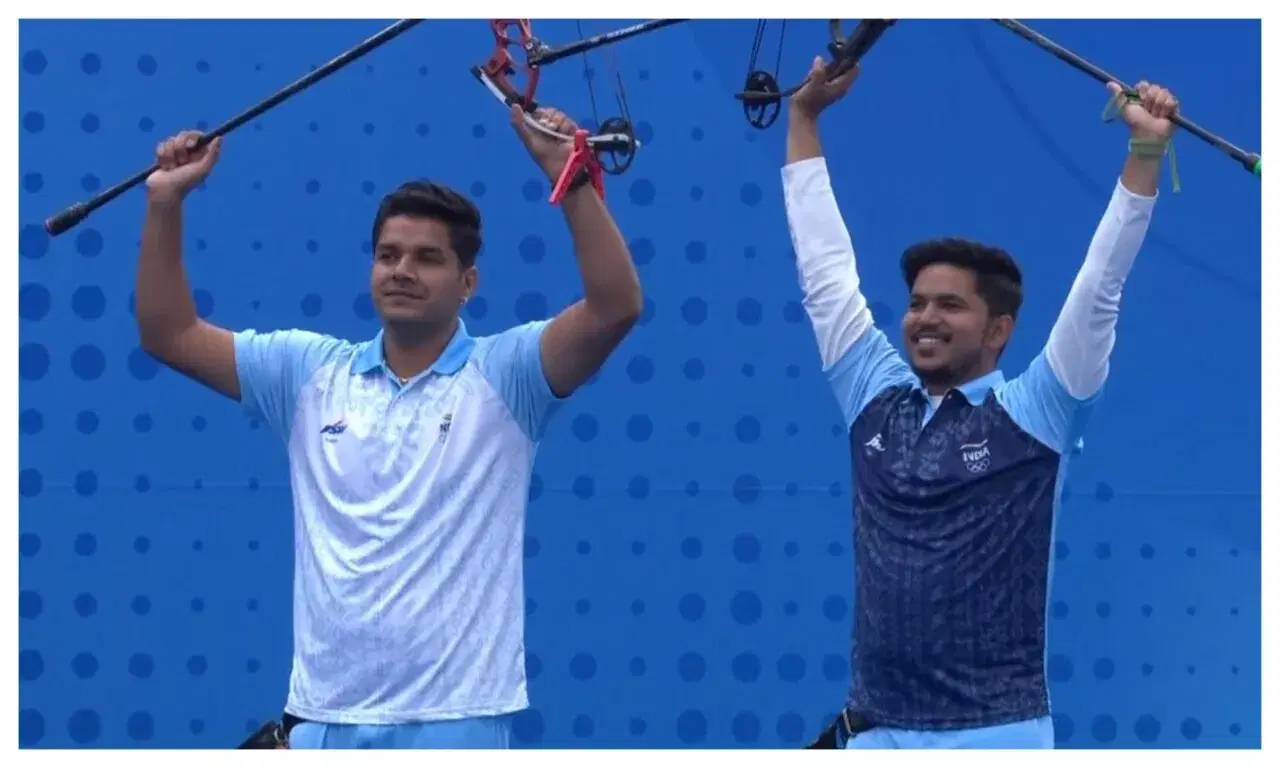 World Champion Ojas Pravin and ace archer Abhishek Verma finished with gold and silver medals respectively in men's singles compound archery. Ojas Pravin finished 3rd in the ranking round with a score of 709, while Abhishek Verma finished 4th with a score of 708.
Ojas continued his world championships form as he scored two back to back perfect 150/150 in the quarterfinals and semifinals. Abhishek had a little scare in the quarters as he was forced into a shoot-off by Kazakhstan Tyutyun, but edged passed with an X.
In the semifinals the Indian duo defeated Koreans to ensure an All-Indian final. In the final, Ojas defeated Abhishek (149-147) to clinch the gold medal, while Abhishek won the silver medal. The bronze medal was given to Yang of Korea who defeated his compatriot Joo (147-146).
For more updates, follow Khel Now on Facebook, Twitter, and Instagram; download the Khel Now Android App or IOS App and join our community on Telegram.
posted in :