Hangzhou 2022 Asian Games
Asian Games 2023: India's medal tally after Day 11, 4th October
By

Abhiruchi Rout
India has bagged a total of 81 medals so far.
On 11th day of the Asian Games 2023, Indian sportspersons made their impression in numerous events such as Archery, Athletics, Badminton, Boxing, Bridge, Chess, Diving, Equestrian, Hockey, Kabaddi, Roller Skating, Sport Climbing, Squash, Volleyball, and Wrestling.
Once again, Athletics stole the limelight as the sport contributed a significant number of medals to India's count, as the country secured seven medals in the sport. This included two gold, four silver, and one bronze medals. Additionally, the Indian athletes were excellent in Boxing and Archery as they clinched two medals and a gold, respectively in the events.
Number of medals presented to Indian athletes on 4th October
Indian sportspersons earned a whopping 12 medals on Day 10 of the Asian Games 2023, including three gold, five silver, and four bronze medals. Indian race-walkers Manju Rani and Ram Baboo clinched the bronze in the 35 km mixed team event, completing the race in a combined time of 5 hours, 51 minutes, and 14 seconds.
Jyothi Surekha Vennam paired with Ojas Deotale to grab India's inaugural gold in the compound mixed team archery. Narrowly beating South Korean duo So Chaewon and Joo Jaehoon 159-158, they also set a new national record, taking India's medal count in the Asian Games to 71. This also surpassed the previous best of 70 from the 2018 Jakarta Games.
India's squash stars Anahat Singh and Abhay Singh had to settle for a bronze medal after a tight match against Malaysia's Aifa Binti Azman and Mohammad Syafiq Kamal (11-8, 2-11, 9-11). Despite leading in the final game, the Indian pair faced a comeback from the Malaysians who clinched five consecutive points, securing their spot in the finals.
Boxer Parveen Hooda faced a tough opponent in two-time world champion Lin Yu Ting from Chinese Taipei in the women's 57kg semifinal, which resulted in a bronze for India after a 5-0 unanimous decision against her. Meanwhile, Tokyo Olympics medalist Lovlina Borgohain bagged a silver in the 75kg category, falling to China's Li Qian.
In Wrestling, Sunil Kumar bagged India's first medal in the sport as they secured a bronze in the men's Greco-Roman 87kg, defeating Atabek Azisbekov of Kazakhstan. This victory marked India's first Greco-Roman medal in the Asian Games since 2010.
Indian athletes claimed three silver medals, including Harmilan Bains (women's 800m), Avinash Sable (men's 5000m), and women's 4x400m relay. Harmilan won silver with a timing of 2:03.75s, narrowly missing gold to Sri Lanka's Tharushi by 0.55s. Although it seemed like she wouldn't be able to secure a podium finish, she pushed through in the race's final moments.
Meanwhile, Sable won his second medal for India and this time, he clinched a silver in the men's 5000m with a time of 13:21.09. The women's 4X400m relay team, consisting of Vithya Ramraj, Aishwarya Mishra, Prachi, and Subha Venkatesan, earned silver, narrowly finishing 0.20 seconds behind Bahrain.
The nation's second gold medal of the day was bagged by none other than Olympic and World Champion Neeraj Chopra, who claimed his second successive title, with a throw of 88.88m. However, the biggest star of the day was Kishore Jena's performance as the 28-year-old delivered a sensational performance of 87.54 meters to claim the silver medal. With this, he also qualified for the Paris Olympics 2024.
The last gold medal of the day was won by India's men's 4X400m relay team comprising the quartet of Anas Muhammed Yahiya, Amoj Jacob, Muhammed Ajmal Variyathodi, and Rajesh Ramesh. The team finished with a timing of 3:01.58 to claim India's 18th gold in this edition of the competition.
Asian Games 2023: India's medal tally after Day 11, 4th October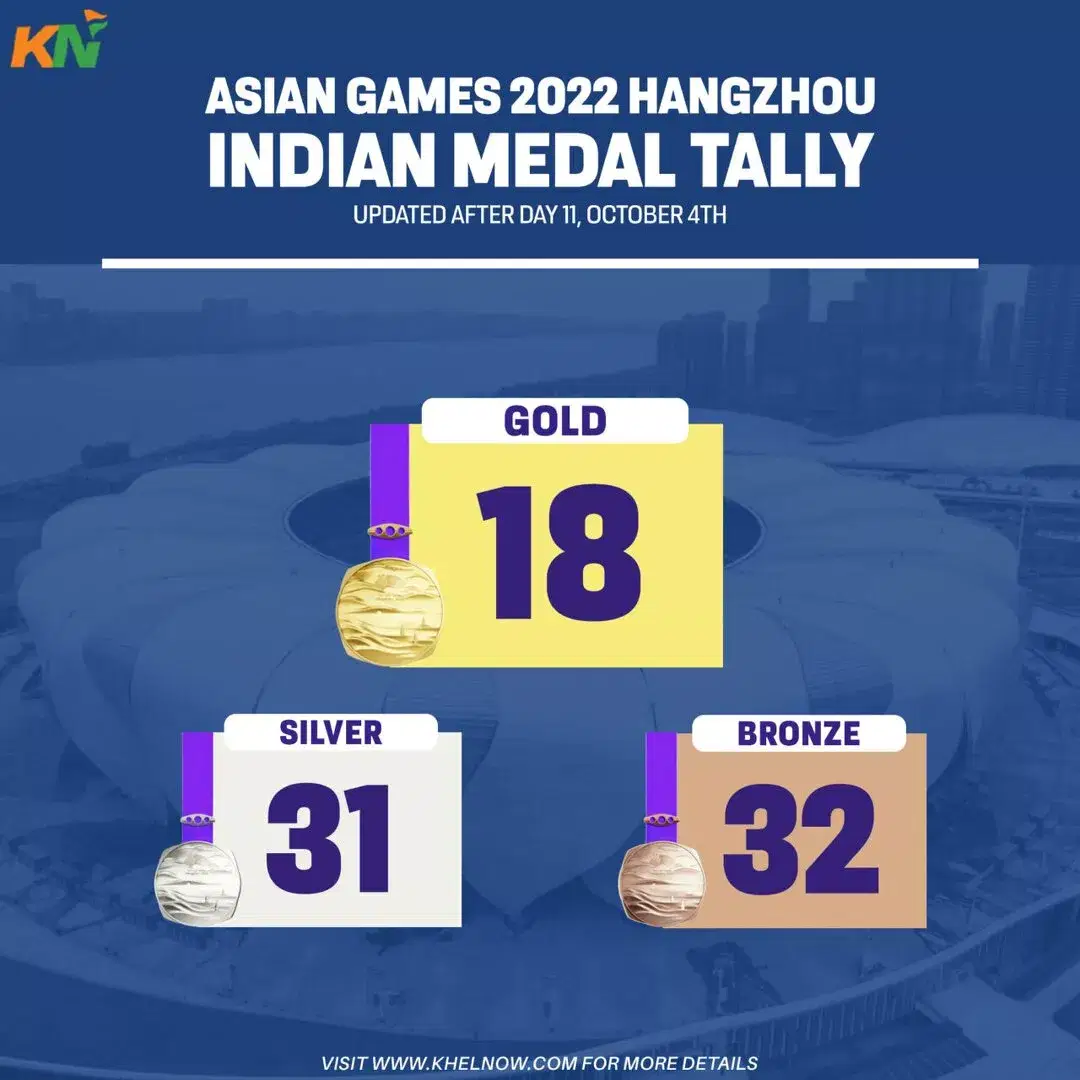 On the eleventh day of the 2023 Hangzhou Asian Games, India clinched three more golds, holding onto its fourth position with a total haul of 81 medals – 18 gold, 31 silver, and 32 bronze. Host nation China dominates the tally with a staggering 316 medals, with 171 gold, 94 silver, and 51 bronze.
While Japan remains firmly in second place boasting 37 golds, South Korea trails closely with 33. The top ten is completed by countries including Uzbekistan, Chinese Taipei, Thailand, North Korea, Bahrain, and Hong Kong, holding gold medals of 16, 12, 10, 9, 9, and 7, respectively.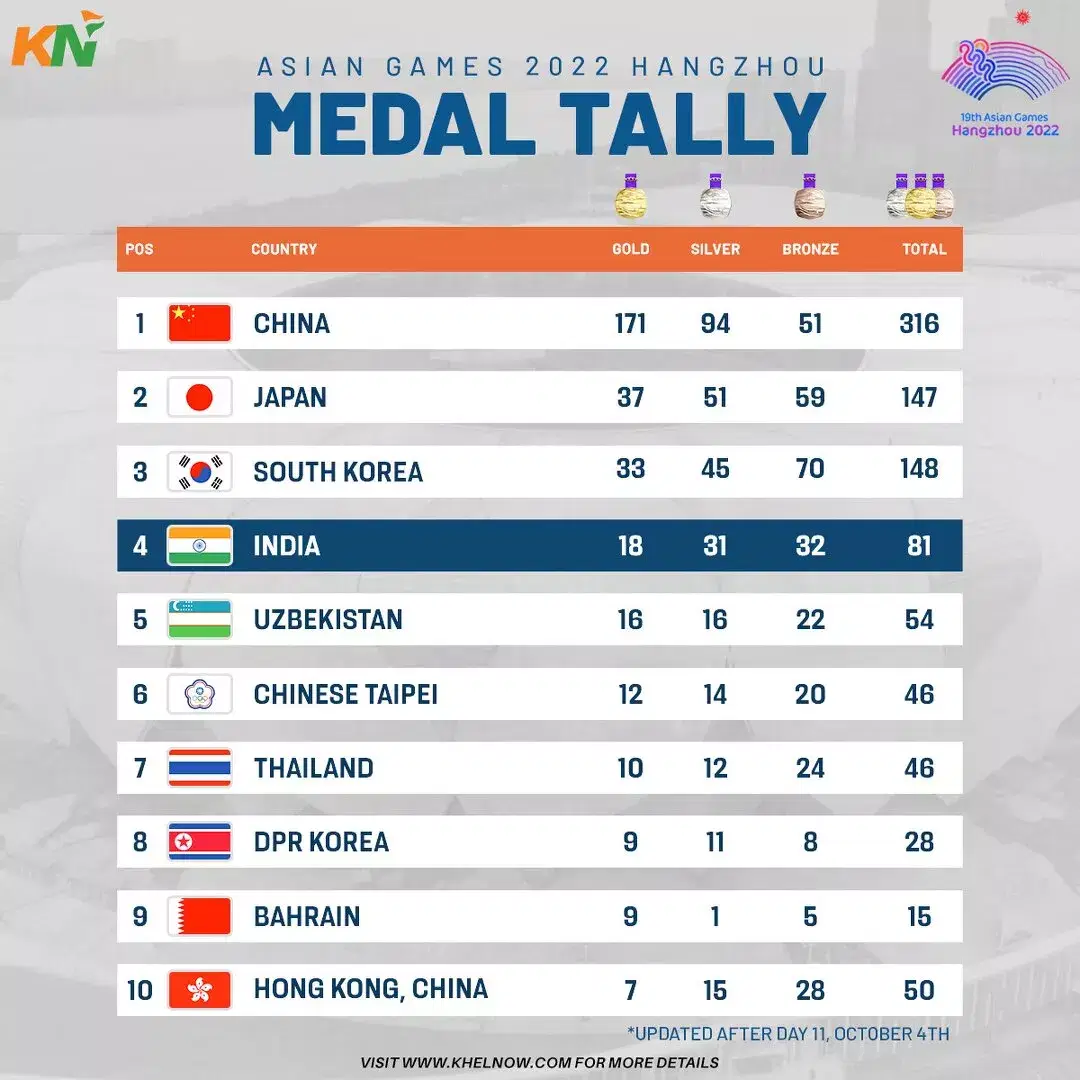 Indian Sports Live Coverage on Khel Now
What to expect from the Indian contingent on October 5, 2023?
As events take place on October 4, 2023, Indian participants in various sports such as Archery, Athletics, Boxing, Kabaddi, Squash, Badminton, Chess, Wrestling, and Hockey will aim for top honors. The compound archery teams, women's hockey, and chess teams are a few squads to keep an eye on.
While two-time Olympic medalist PV Sindhu, HS Prannoy, and Antim Panghal are some athletes to watch out for in the individual events.
At the Asian Games 2018 in Jakarta, Indonesia, India claimed 70 medals, bagging 16 gold, 23 silver, and 31 bronze. For this 19th iteration in Hangzhou, the goal of the Indian contingent will be to reach or even surpass the 100-medal mark. The nation is nearing its desired goal, having already claimed 81 medals with four days remaining in the prestigious tournament.
For more updates, follow Khel Now on Facebook, Twitter, and Instagram; download the Khel Now Android App or IOS App and join our community on Telegram.
posted in :