Both teams come to this game on the back of one win and a loss.
Odisha FC is all set to return to the Kalinga Stadium on Thursday to face Chennaiyin FC in a jaw-dropping Indian Super League (ISL 2022-23) encounter. The side from eastern India scripted an extraordinary comeback story in Kolkata last week against East Bengal when they overcame a two-goal deficit to win the match 4-2. Some individual brilliance from players like Pedro Martin and Diego Mauricio and an overall team effort meant that the Juggernauts left Kolkata with all three points.
Gameweek 7 also saw Chennaiyin FC get back to winning ways after their humiliating defeat against Mumbai City the week before. They got the better of Jamshedpur FC at home to win the game by a margin of 3-1. It was a comprehensive performance from a side that is struggling to find consistency this season. It is not difficult to say the Marina Machans will like to continue their current momentum against Odisha FC as well.
With both teams registering positive outcomes from their respective last fixtures, Thursday's game is poised to be a fascinating game of football. As the competition gets tougher with age, it is expected that both sides would be eyeing a win in the fixture.
In light of these, let us take a look at what the encounter has to offer.
The Stakes
Odisha FC
Thursday's game is slated to be an important one for Odisha FC as it will be their home game. They would love to have a similar approach as they had in their game against East Bengal, especially in front of their home support. As we have observed, Chennaiyin FC have a few vulnerabilities in terms of their consistency. Odisha will relish to cash in on that aspect of Chennaiyin's game to get all three points on Thursday.
Odisha FC are currently placed in the fifth position of the points table with 12 points from six games. A win on Thursday will take the side to 15 points, level with second-placed Mumbai City from the same number of games. Thus, after their solid performance from last week, Odisha will hate to slip on Thursday. It is a perfect opportunity for them to get three points and strongly put their bid for a top-of-the-table finish.
Chennaiyin FC
Chennaiyin FC will be equally keen to win Thursday's game. After their dismal show against Mumbai City, the side showcased an inspiring performance last week to down Jamshedpur FC. Hence, their aim shall be to continue with its momentum.
Even though it is going to be tough to play against Odisha at Bhubaneswar, it should be kept in mind that Chennaiyin have already earned six points from Kolkata. Thus, the side knows how to take points from the eastern part of the country, and they will definitely eye three points from this encounter too.
Chennaiyin FC are currently seventh on the points table with 10 points from six games. A win on Thursday will take their tally to 13 points, which, in turn, will take the side to the third position. Being in the third position after seven games is not that bad for a side that is not having a very good season so far.
Injury & Team News
For Odisha FC, there are one or two niggles in the squad. One of them is assumed to be Jerry Mawihmingthanga, who actually played against East Bengal without his supreme fitness.
Meanwhile, Chennaiyin FC will miss out on the services of skipper Anirudh Thapa and Jiteshwor Singh. However, the good news is, Kwame Karikari will be there in the matchday squad and might come on as a substitute.
Head-to-Head
To date, Odisha FC and Chennaiyin FC have met six times in ISL. Odisha have won only one game out of these six whereas Chennaiyin FC have won two games. The rest three games have ended in draws.
Played – 6
Odisha FC – 1
Chennaiyin FC – 2
Drawn – 3
Predicted Line-ups
Odisha FC XI (4-3-3)
Amrinder Singh (GK); Denechandra Meitei, Nikil Prabhu, Carlos Delgado, Sahil Panwar, Raynier Fernandes, Saul Crespo, Thoiba Singh, Diego Mauricio, Pedro Martin, Nandhakumar Sekar
Chennaiyin FC XI (4-2-3-1)
Debjit Majumder (GK); Ajith Kumar, Fallou Diagne, Vafa Hakhamaneshi, Aakash Sangwan, Sajal Bag, Sourav Das, Vincy Barreto, Julius Düker, Jockson Dhas, Petar Sliskovic
Indian Football Trending Articles:
Player to Watch
Pedro Martin (Odisha FC)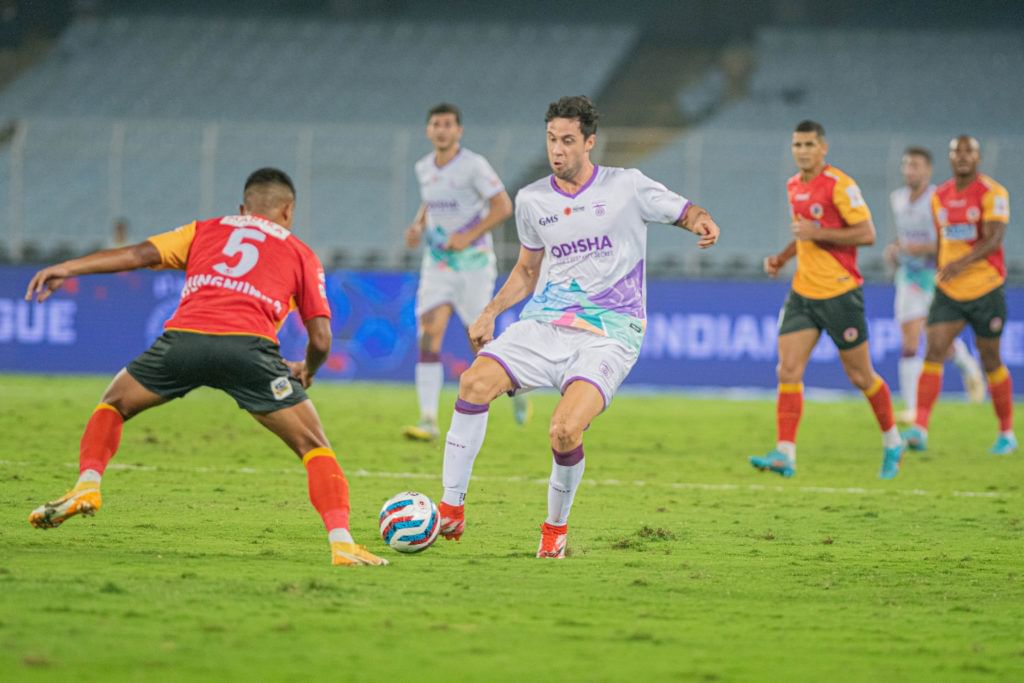 Undoubtedly, the best player from last week was Pedro Martin. His arrival on the pitch made an instant impact on the game that saw Odisha make a comeback win against East Bengal. Martin scored twice within three minutes of the second half to level the score, setting the stage for their comeback. Hence, it is likely that he will start the game. And if he does, all eyes would be on him.
Martin has the ability to change a game's course single-handedly. He will be principal in Gombau's strategy, at least as a substitute if not as a starter. With his current form, he is definitely going to be a menace for Chennaiyin's defenders.
Nasser El Khayati (Chennaiyin FC)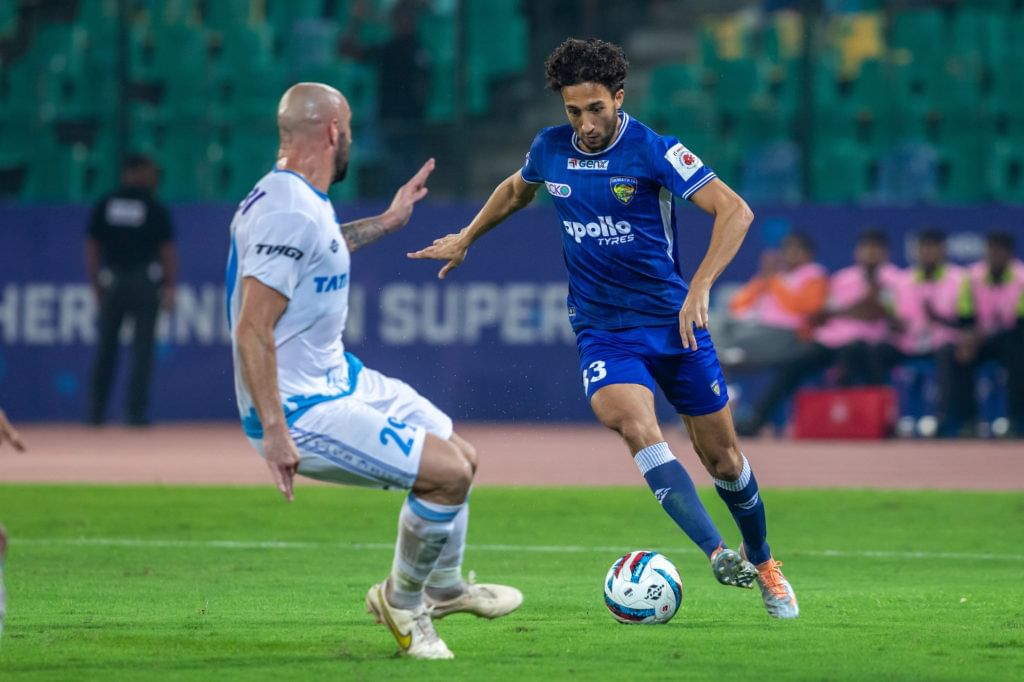 Nasser El Khayati was the stand-out player for Chennaiyin FC in their last day's win over Jamshedpur. He was on the pitch for around 15 minutes and made a strong impact on the game within that limited time. However, keeping in mind Odisha's attacking prowess, Thomas Brdaric might not take take risk of sacrificing Duker or any of the two centre-backs!
In their last game, Khayati scored a gem of a goal and kept Jamshedpur's defenders busy in the dying minutes. As a result of his constant movements, Chennaiyin were able to score twice in the last 15 minutes to get the win.
It will be interesting to see if El Khayati will start Thursday's game, and in case he does, in place of whom? But there is no doubt that he will be on the field, at least as a sub. The Marina Machans will be hopeful that he will be able to pull off a similar performance in tomorrow's game as well that will fetch his side all three points.
Did You Know?
Odisha FC has made three comeback wins this season so far, one against Jamshedpur FC, one against Kerala Blasters, and the latest against East Bengal.
Chennaiyin FC have won all six points from their two visits to eastern India this season so far.
The previous game for both teams saw substitutes create an instant impact.
Telecast
The match between Odisha FC and Chennaiyin FC will take place at the Kalinga Stadium, Bhubaneswar, Odisha, on November 24 (Thursday). The kick-off time is 7:30 pm IST. The game will be telecasted live on the Star Sports Network. Disney+HotStar and JioTV will also stream the match.
For more updates, follow Khel Now on Facebook, Twitter, Instagram, Youtube and join our community on Telegram.