There are huge promises in the roadmap which aim to strengthen Indian football in years to come.
The All India Football Federation (AIFF) unveiled its strategic roadmap 'Vision 2047' on 7 January, 2023. It is a roadmap that promises to "take Indian football to peaks never scaled before."
"We as a team came to the conclusion that 2047 is a momentous year for India and football should not lack behind because other areas are going very fast in India. 25 years down the line, we will see an incredible state of football in India," said Shaji Prabhakaran, the Secretary General of AIFF, during the presentation of the roadmap in Delhi on Saturday.
There are several aspects of the Vision 2047 project that need to be analysed and assessed critically. One of the major areas that needs work to improve the level of football is the grassroots. Furthermore, India desperately needs better infrastructure where instead of aiding, it hinders the progress of young footballers.
Here is a look at how the roadmap attempts to address this:
Acceptance of a lack of structure at the local level
The roadmap states that "Despite the influx of money at the top of the pyramid, at the grassroots, gaps prevailed. A lack of vibrant football structure across the pyramid meant the game's growth was stunted and restricted to certain pockets. Participation had been steadily growing in urban cities. However, whilst there was a substantial appetite for the global game, there was often little or no connection at the local level."
One of the major objectives of Vision 2047 is to have a "vibrant football ecosystem in India."
Grassroot Goals
The major goal is to achieve maximum participation at the grassroots in collaboration with the stakeholders of Indian football. It is acknowledged in the roadmap that there is relatively low participation in football considering India's size and population. There is gender disparity, irregular formal football-centric activities with short engagement periods, lack of a defined pathway between grassroots football and youth structure and so on.
The objectives set by Vision 2047 to address issues at the grassroots level, range from defining age-appropriate activities to promoting grassroots participation. The federations will construct and promote mechanisms to track growth at the grassroots. There will be an attempt to liaison with government authorities to generate investment from the public/private sector at the grassroots.
Moreover, the roadmap will aim to ensure the implementation of transition programs. It will work to influence the creation of playgrounds to increase accessibility for kids at the grassroots towards football. Influencers will be used to promote grassroots.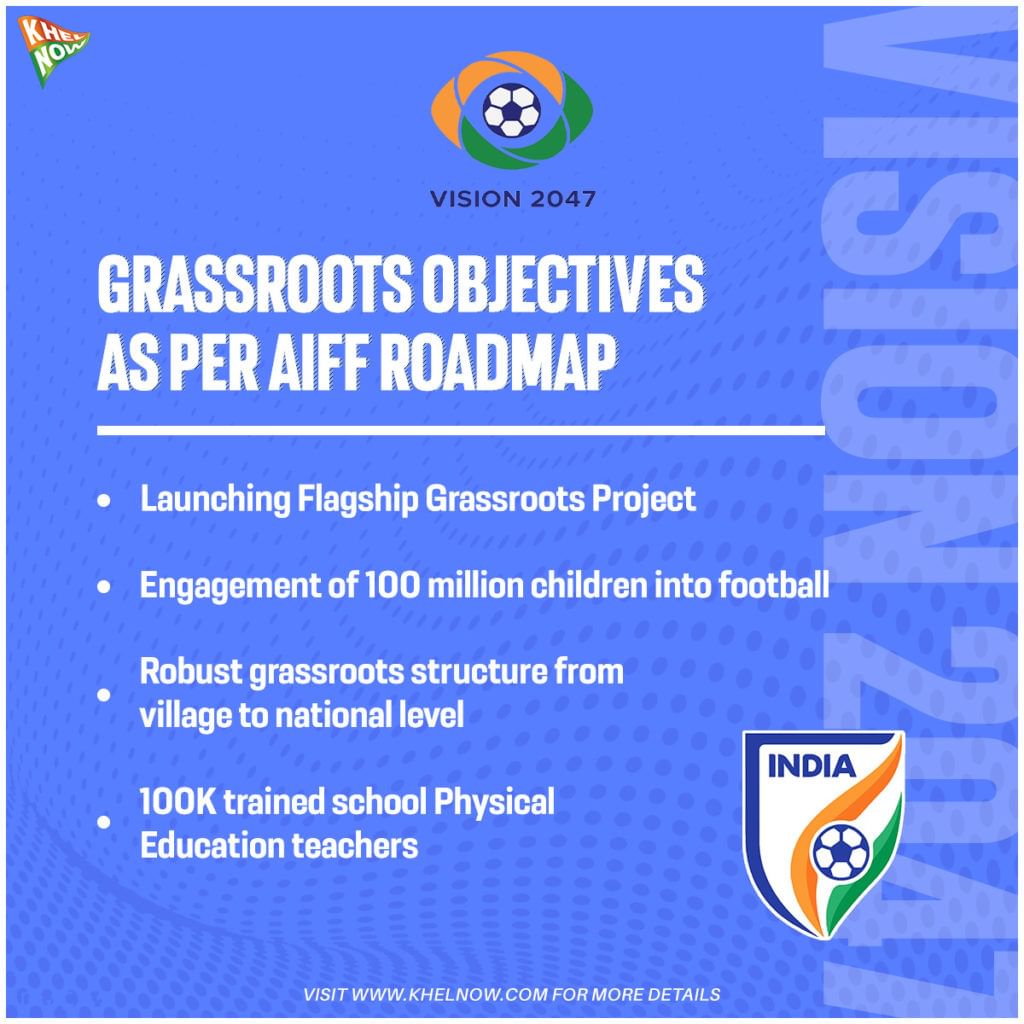 Initiatives like the 'Grassroots League', 'Football for School', 'Village Grassroots Program', and more will be tailored to target schools and promote grassroots participation in urban and rural areas. The aim is to identify talent and promote participation through football festivals and leagues. Budding youth footballers must have a clear pathway from playing casually in a playground to becoming elite academy players.
The target is simple – to engage 35 million kids by 2026 and 100 million by 2047, with football.
Infrastructural Goals
The roadmap accepts that there are not enough playing surfaces or an adequate number of full-size pitches. These are essential for the improvement in the quantity and quality of football in a country.
Infrastructure Grading and Licensing Criteria are to be developed with a long-term focus. There will be an attempt to liaison with Government Bodies to enact policies that support the development of football at the national and community levels.
Another objective is to partner with facility owners in order to provide more competition and match time for youth. Also, the Introduction of state-wise customised infra-development plan. This is imperative because every state has different needs due to differences in population and geographical factors among others.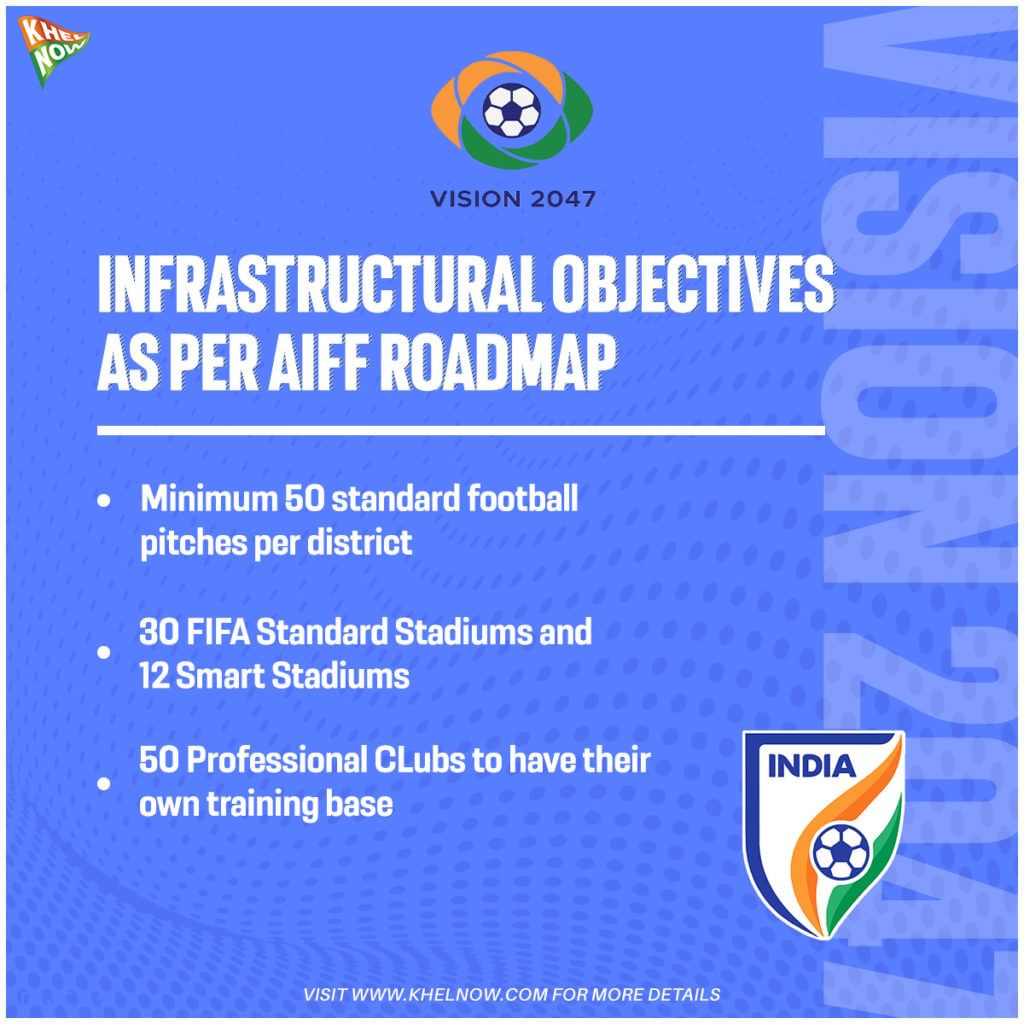 There will be an attempt to ensure professional football clubs have their own training facilities. Several Indian Super League and I-League clubs have started working in this direction already. The support of Indian football governing bodies' network and influence will aim to build community playing facilities, district match venues, training grounds, state-level stadiums, national-level second and third division clubs' training facilities and smart stadiums.
Investment from government authorities, football clubs, corporates, private investors, local government bodies and institutions will aim to achieve this.
Indian Football Trending Articles:
Takeaways
It is not a surprise that weak infrastructure and lack of participation at the grassroots are one of the major factors behind India's low status in world football. It is important to achieve the objectives set by 'Vision 2047'.
India needs a proper structure to identify talent and provide it with state-of-the-art facilities, a feat other countries have been able to achieve. Stakeholders must come together to invest and promote football at lower levels of the pyramid. Above all, there needs to be a will to develop football culture in India by making it accessible to the youth.
For more updates, follow Khel Now on Facebook, Twitter, Instagram, Youtube and join our community on Telegram.