The Dutch tactician is being wanted by a number of clubs after his impressive work at Ajax.
Football management is a cut-throat business. The job of a football manager, therefore, is a very difficult one. It involves taking a lot of pressure and the blame for poor performances, especially in the modern era.
The role of a football manager continues to evolve, and with it comes further challenges. But some managers have continued to raise the levels in coaching and management and set the bar for the rest. Erik ten Hag is a name that shines among modern managers.
The evolution of managers
Every few years the game sees a new system, newer tactics, and unique approaches being discovered and added. It adds to the flavour and intrigue of the game. The legendary Arrigo Sacchi and his Milan team of the late 80s, Cruyff's tiki-taka-bred Barcelona Dream Team in 1992, or the current grandmasters like Pep Guardiola and Jurgen Klopp's explosive pressing style are great examples.
The quintessential modern manager's traits are to be ruthless and unyielding in their approach. Modern football has become fast, unpredictable, and unforgivable with the disparity between big and small teams fast blurring with the influx of analytics and data. The game is no longer played with only traditional formations and players. Managers work hard to making their players multi-skilled and it has become an inextricable part of the game.
There are plenty of managers who have recently catapulted themselves into the limelight. The likes of Gian Piero Gasperini and Erik ten Hag are names that occur frequently nowadays. The latter in particular has been making all the headlines across Europe with his exploits at Ajax.
Erik ten Hag's tactical nous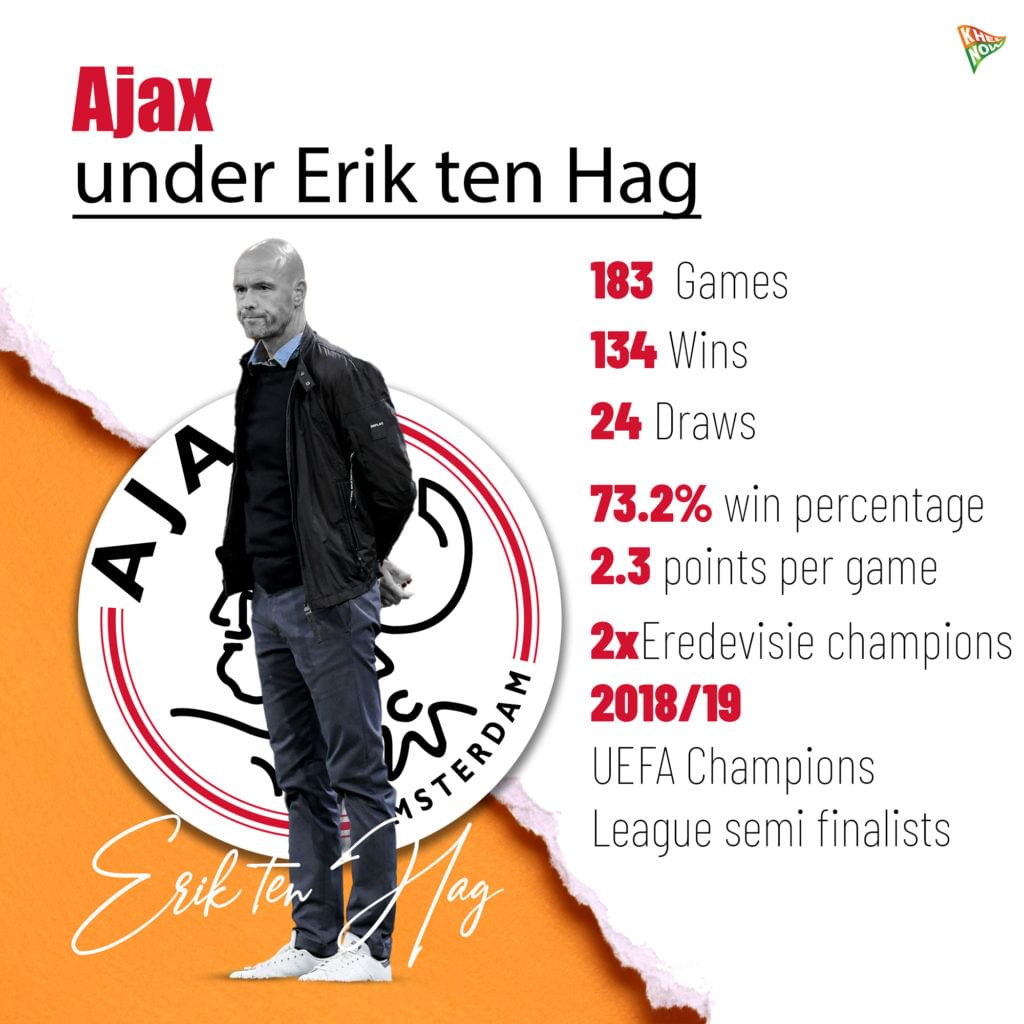 Ahead of a Champions League group stage game this season, Erik ten Hag mentioned his desire to "annoy the elite clubs in Europe." His tactical approach has very well backed that claim.
Under ten Hag, Ajax play attacking and aggressive football. There is absolute fearlessness in their gameplay. This comes from their tactical formation as well. The Dutchman portrays a prototypical modern manager; dominant in possession and playing with width using the two full-backs and the wingers.
The 51-year old typically employs a 4-2-3-1 or a more possession-oriented 4-3-3. This works due to Ajax's usage of quick and agile wingers in David Neres and Antony. While the majority of work is done in the wings, ten Hag encourages his two defensive midfielders to manage the length of the pitch. Ajax's defensive midfield combo of Ryan Gravenberch and Edson Alvarez provide tireless work rate and play in a box-to-box manner.
This helps Ajax build width while having extra players who can add to the defensive numbers as well as contribute to the attack. This approach combines aggression, cohesiveness, and agility within the team.
Standing out from the rest
Although Ajax have been dominant in domestic football, it is their performances in the European competitions under Erik ten Hag that has caught everyone's eye.
Erik ten Hag makes very minimal changes to his squads. This season, in particular, he has gone in with the same XI in all four of his Champions League games. Ajax have won all four. This is contrary to the pressures that a modern manager faces in terms of squad selection. For a club overflowing with talent and one that is strict with players getting game time, it can be a tough task managing the players. But Erik ten Hag has managed this with aplomb. His approach shows how a settled core of players can help build cohesiveness and familiarity in gameplay rather than going horses for courses which leads to constant chopping and changing.
But ultimately, what's intriguing with Erik ten Hag and other new age managers is their intent to develop clubs rather than join the big ones. We live in an era where managers are quick and premature to move to big clubs and clubs are quick to appoint former players as managers. But many such moves haven't turned out to be successful. It also builds massive pressure on these managers who end up tarnishing their legacies with the club and also their careers.
But the trend set by managers like Erik ten Hag shows their desire to build iteratively. It gives hope that there are people who are slowly bridging the gap between the big clubs and their counterparts slowly but surely. People like Erik ten Hag are ushering in the era of managers who are bringing the comparatively smaller clubs into prominence. They stick out like a sore thumb for clubs looking to monopolize the game. But it still remains to be seen if the Dutchman could be swayed by these bigger clubs who are interested in his services.
All eyes on him
The Dutchman's quality is evident in the results Ajax have achieved under him. He has won five trophies including two league titles since joining the club in December 2017.
Under Erik ten Hag, the club drew 3-3 against Bayern Munich and put Real Madrid and Juventus to the sword in their run to the semifinals in the 2018-19 Champions League. They played an enthralling 4-4 draw against Chelsea at Stamford Bridge in 2019. This year, they dismantled Borussia Dortmund in the Champions League home and away winning 4-0 and 3-1 respectively. They also hammered domestic rivals PSV 5-0 in the league this season.
This season, Ajax stand atop the Eredivisie table having lost just one of their 11 games so far. Ajax have conceded only four goals across all competitions this season. They have already qualified for the Champions League Round of 16 having won all four of their games.
Owing to his great work, ten Hag has been linked with the likes of Paris Saint-Germain, Manchester United, and FC Barcelona. This shows the appreciation for the quality of work that he has done. But despite being the same age as his illustrious peers, Erik ten Hag is now only a few steps away from getting to the highest level of world football alongside the established elite.
For more updates, follow Khel Now on Twitter, Instagram, and Facebook.