The Cameroonian forward has been one of Kerala Blasters' highest scoring foreigners this term.
When Kerala Blasters announced the signing of Raphael Messi Bouli on August 24 last year, the reception was not the sweetest, with that middle name of his doing him no favours.
While most of the comments on social media were 'Messi' jokes, one fan went on to term the Cameroonian as the 'Kunnamkulam Messi'.
For those of you who don't know, Kunnamkulam – a commercial town in the district of Thrissur – to Kerala is what China is to the entire world – a hub for knock-offs. However, it did not take long for Messi Bouli to prove his doubters wrong and five months into his stint in India, the 'Kunnamkulam Messi' tag is no longer to be seen.
It is his aplomb that saw him prove his mettle in the Indian top-tier and it was evident as he interacted with Khel Now.
The Kerala Blasters forward is 27-years-old now and it is not wrong to say that he is entering his peak as a player. Messi Bouli, who describes this phase as the 'golden age,' has no regrets over where he is at the moment and in fact, is delighted with how things have turned out for him so far.
"This age is always a golden age to try to do something better and get better. Now, I think I'm good, I'm happy and I feel very well about this age. But, I think it's a new start for me," he begins.
Messi Bouli previously plied his trade in the Chinese and Iranian leagues. Wasn't moving to India, who itself is slowly making its way up in football, in his peak years a bold decision to take?
He doesn't think so. The former Foolad FC frontman believes it is a good time for him to be in India and is glad to be a part of Kerala Blasters, playing in the ISL.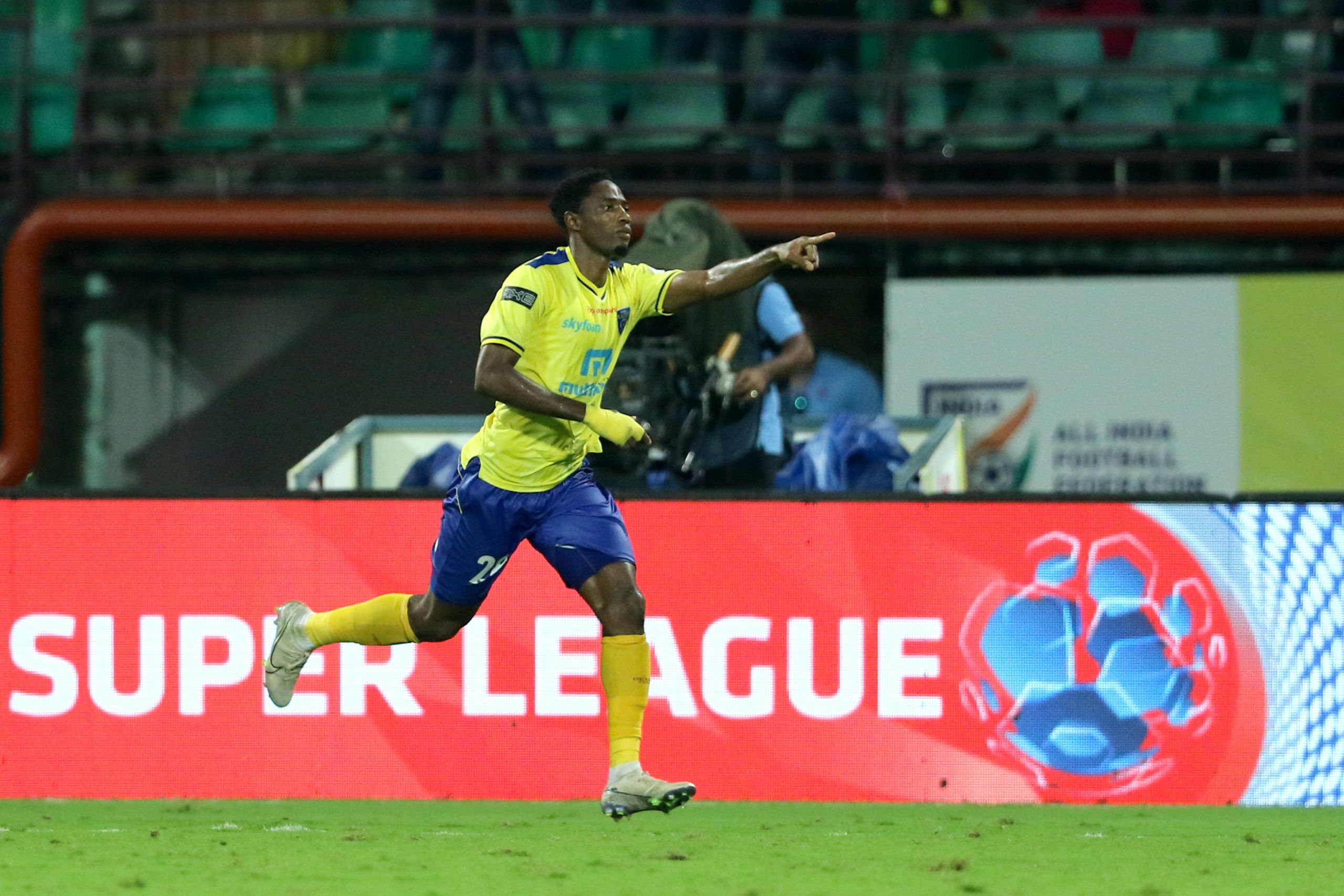 Raphael Messi Bouli has scored five goals in the ongoing season for Kerala Blasters
Messi Bouli also lives in the moment and is not concerned about what lies ahead for him.
"It's a good moment for me to be here because India is now improving in football. So, I'm happy to be here. I am only focused on now. For the future, we never know. Only God knows about the future. So, now, I just enjoy the moment and try to give my best and achieve my goals," Messi Bouli explains.
While Messi Bouli is delighted with where he is at on a personal level, he cannot find much joy when it comes to his team – Kerala Blasters. The Kochi-based outfit have won just three of 13 games this season.
However, they have managed to bounce back with consecutive wins against Hyderabad FC and ATK this month and Messi Bouli prefers to focus on the present over the past.
"In life, we cannot control everything. We had a good pre-season. We wanted to start the league in a good mood and we won the first game against ATK. After that, we had many injury problems, but this is football. You need to deal with that. The past is the past, now it's about the present and the future," the forward says.
Despite the frustration of injuries, disappointing results and all that, working under Eelco Schattorie has been one of the main highlights for Messi Bouli, who feels the Dutchman is like a father to everyone in the squad.
"We have a good relationship. He's like a father for all the players of Kerala Blasters. Always behind you, always there to support us. Also, as a human and coach, he is great. All the players enjoy working with him. He is a passionate coach and we are so blessed to work with him," he explains.
When Messi Bouli was signed – and with the likes of Bartholomew Ogbeche, Mario Arques, Sergio Cidoncha, Gianni Zuiverloon and Jairo Rodrigues already in the side – it almost appeared as if he was brought in to provide foreign options from the bench.
This suggestion was proved right when he made appearances off the bench in the first four games of the campaign. However, the 27-year-old earned his way into Schattorie's starting XI and has started each of Kerala Blasters' eight matches since.
On two occasions (against Mumbai City and Jamshedpur FC), Messi Bouli, who was written off by many fans even before he had kicked a ball for the club, was tasked with spearheading the frontline in the absence of Ogbeche.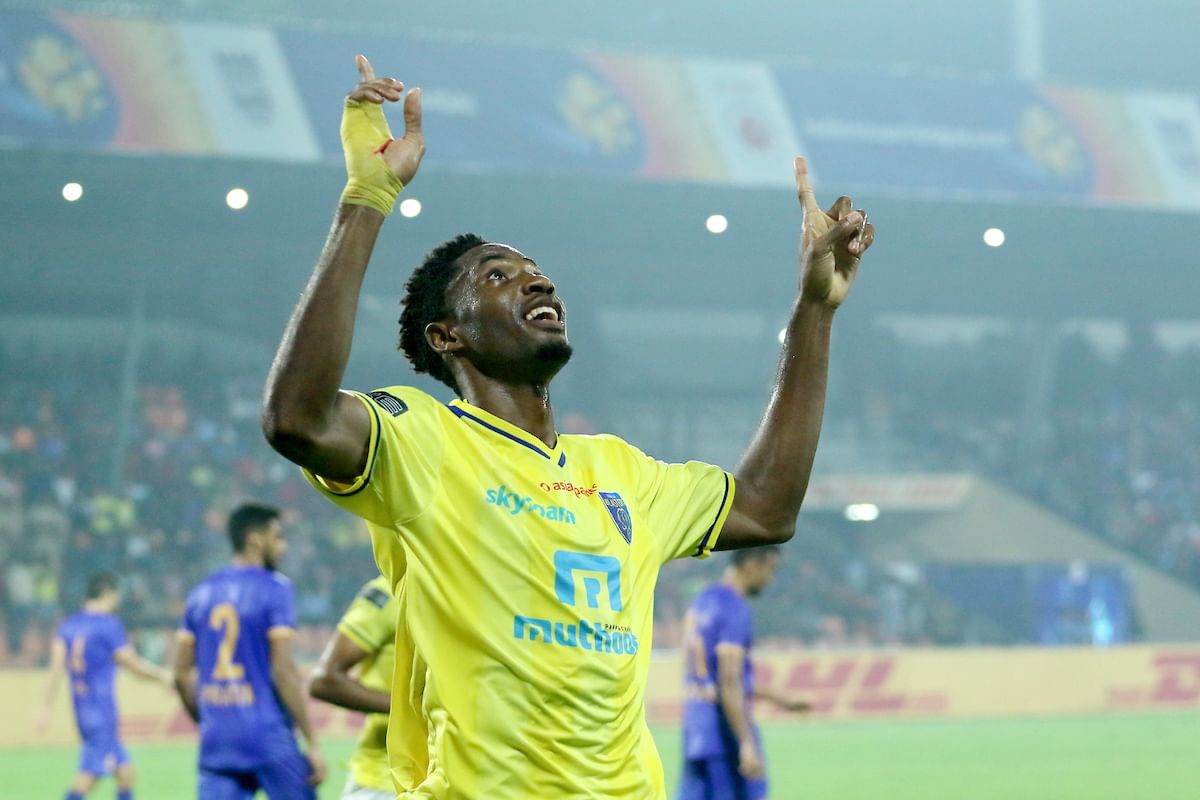 Messi Bouli has turned out to be an integral player for the Blasters
The striker stepped up to the plate and scored three goals in those two games, helping Kerala Blasters salvage a point each from them. With that, Messi Bouli proved his ability to handle pressure.
Pressure has been with him like his shadow. He had to prove his doubters wrong, earn his way into the coach's preferred starting lineup and lead the line in the absence of the first-choice striker. On none of these occasions did he falter.
Upon being queried about how he manages to handle the pressure, Messi Bouli gives an insight into his understanding of the concept of pressure.
"Everyone has pressure. Pressure is inside us, inside everyone, but it's about how you deal with the pressure and about how about you control yourself. The rest is easy. Focus on your job and try to give your best," the former Yanbian Funde man elucidates.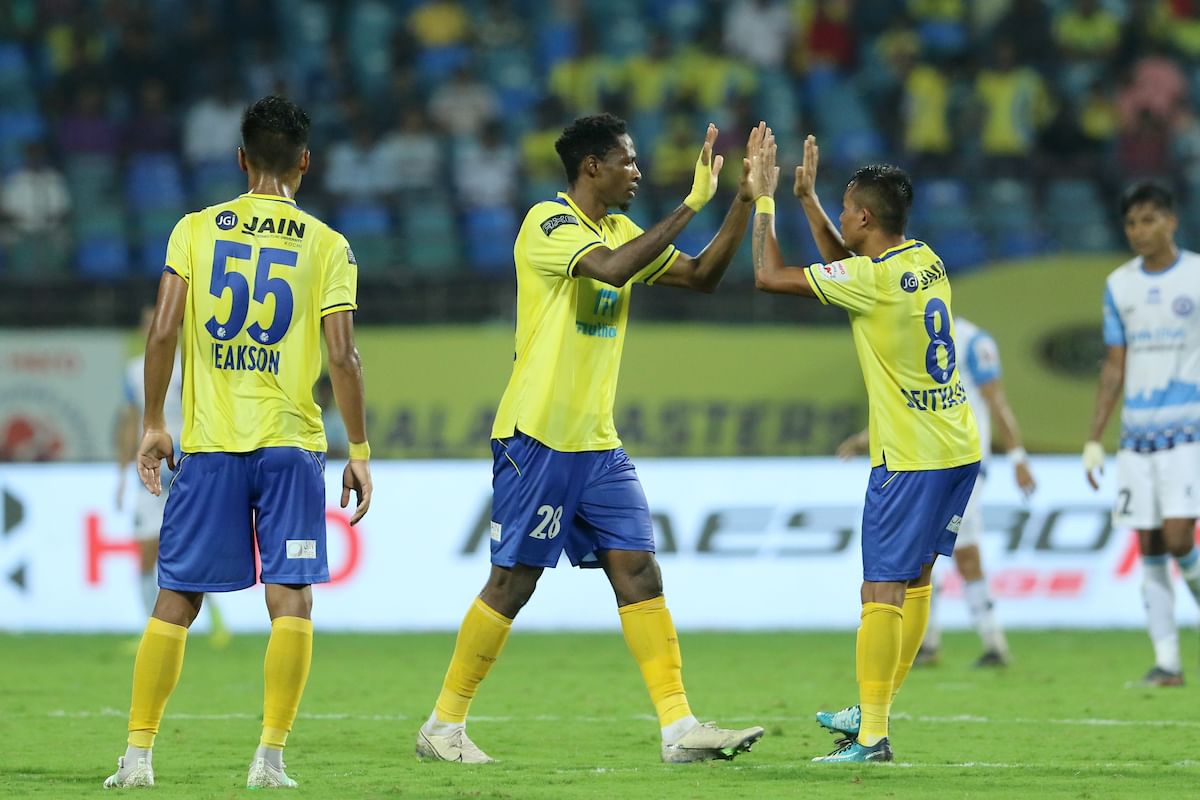 The Cameroonian believes it is the right time in his career for him to be playing in the ISL
Messi Bouli has scored three goals in the two games he played as the lone striker for Kerala Blasters, while finding the back of the net on two occasions in his other six starts.
Looking at this stats, one could draw the conclusion that the Cameroonian is most effective when played alone upfront. However, he has no such preferences and always puts the team ahead of himself.
"I don't care about (playing) 4-4-2 or 4-3-3. The most important is the team," Messi Bouli's answer is short but clear.
The forward's idea of football is crystal clear from his answer, but it doesn't stop us from bringing up another interesting stat about him.
While the Yaounde-born striker has scored five goals for the Blasters this term, skipper Ogbeche has delivered six times.
Out of the five other goals the southerners have scored this term, two have come from Sergio Cidoncha and Vlatko Drobarov. Only three of their 16 goals have been scored by Indians and the pattern is largely similar across the league.
So, are Kerala Blasters and other teams in the ISL over-dependent on their foreign stars? Messi Bouli's answer is short, again.
"That is about the people outside the team, we don't focus on that. Our team is most important for us. Sahal [Abdul Samad] scoring, Messi scoring, Samuel [Lalmuanpuia] scoring is all the same for us," he says.
Apart from the Indian Super League, Messi Bouli is also delighted with the progress the Indian national team has made in recent times. The Cameroonian even feels the Blue Tigers can make their mark in the World Cup soon, but has stressed the need to be patient.
"Of course. India has many good players like the captain of Bengaluru FC – Sunil Chhetri. They have Sahal also. He is very good. Sandesh (Jhingan) plays for the national team. They also have the chance to play in the World Cup. Why not? But, it takes time," Messi Bouli points out.
"Now, they are in new beginnings, a new era. I'm happy about everything that I watch on the TV about the Indian national team. I wish them all the best to try and grab the spot in the next World Cup," he concluded.