Quick Reads
Top 12 most expensive transfers in Premier League history
The ever-increasing figures show the spending might of the top clubs in England.
Transfer records in football are regularly broken as player values and their importance to one team increase. The fees required to sign top talents are increasing astronomically, not to mention the risks associated with it.
It is no more a surprise to see new players come in at record-breaking sums. Over the last decade, Premier League clubs have shed billions of pounds on new players in their quest for success and supremacy.
The players signed for huge sums have always been in the eye of supporters and experts alike. People place heavy scrutiny on their performances and the margin for error is very low. Nonetheless, most of these players have proven their worth for their clubs.
So let's take a look at the ten most expensive transfers in Premier League history.
12. Kepa Arrizabalaga (Athletic Bilbao to Chelsea) – £71.6 million
Kepa moved from Athletic Bilbao when Chelsea paid his buyout clause fee as a swift fix to the outgoing Thibaut Courtois. It meant the Blues paid the highest fee ever for a goalkeeper. Despite his best efforts though, Kepa hasn't been able to nail the starting spot between the sticks.
The Spaniard has often been inconsistent and erroneous in front of goal. But, he has won the Europa League and the Champions League with the Blues, while making more than 100 appearances for the London club.
11. Nicolas Pepe (Lille to Arsenal) – £72 million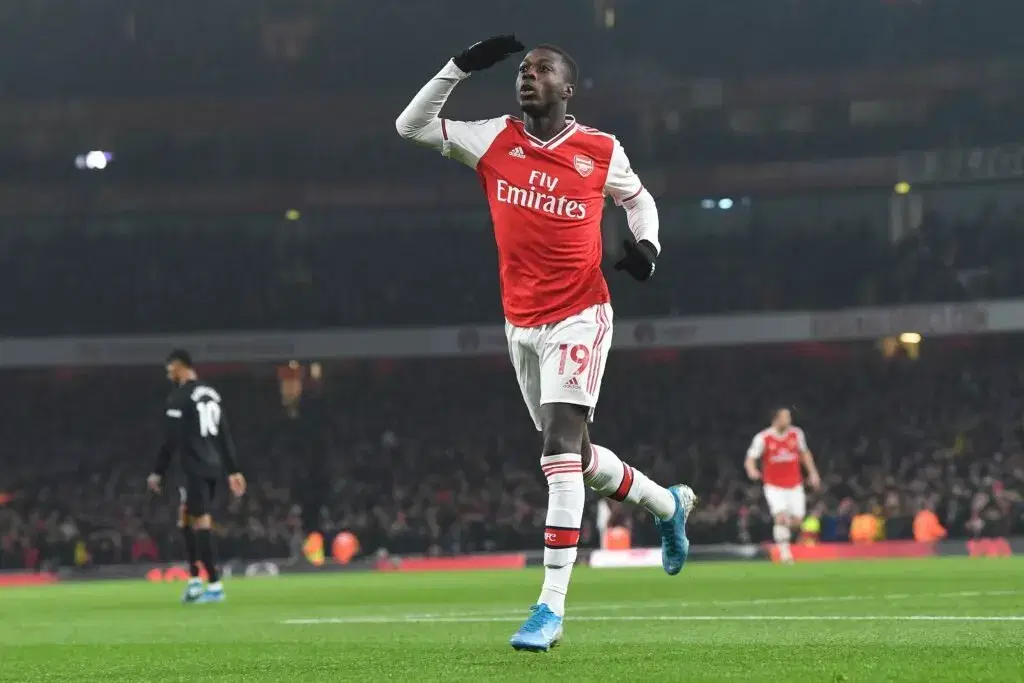 Nicolas Pepe signed for Arsenal in the summer of 2019 for a club-record fee of 72 million pounds. The Ivorian moved to North London after a sizzling season for Lille in Ligue 1.
Pepe has since faced a tough time at the club. The team's performances notwithstanding, he hasn't been able to attain the level he achieved at Lille. But, he ended up as the second-highest goalscorer for Arsenal in all competitions (16) last season.
It shows promise regarding his capabilities. But, Pepe's potential and his astronomical fee demand a lot more from him in the upcoming season.
10. Virgil Van Dijk (Southampton to Liverpool) – £74.4 million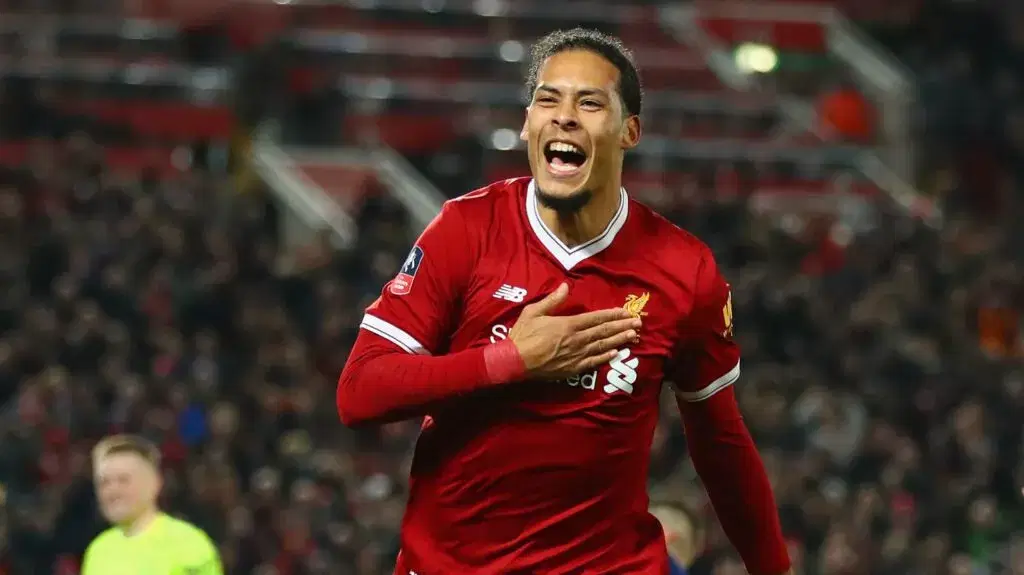 Virgil Van Dijk signed for Liverpool for 74.4 million pounds in the winter transfer window of 2018. He was the costliest defender in football history at the time. Van Dijk took no time adjusting to his new home. He quickly became a fan favourite and an inextricable part of Jurgen Klopp's squad.
Van Dijk led Liverpool to the Champions League, the Club World Cup and the UEFA Super Cup in 2019. He finished as runner-up in the Ballon d'Or and FIFA's The Best awards in 2019. He also led the Reds to their first league title in 30 years, when they won the Premier League in 2020. The Dutchman has established himself as one of the best defenders in world football.
9. Romelu Lukaku (Everton to Manchester United) – £74.5 million
Manchester United hold three spots in the top four in this list. Their big outlay on Romelu Lukaku saw them pay 74.5 million pounds (with 15 million add-ons) to Everton. Lukaku started promisingly for United, scoring 16 Premier League goals in his first season. But inconsistency and poor management led to his downfall. He was often played from the bench, which stalled his progress and confidence.
Lukaku was also often played out of position, therefore, stunting his capabilities. He could, therefore, not reach the heights of his Everton days. The Belgian eventually grew disgruntled and moved permanently to Inter Milan in 2020.
8. Jadon Sancho (Borussia Dortmund to Manchester United) – £74.8 million
Jadon Sancho's move from Dortmund to Manchester United has been well-documented. The talks stretched for more than two seasons before both parties finally agreed to a 74.8 million pound transfer fee with £15 million more in add-ons.
It could well mean that Jadon Sancho could be the costliest British player ever if he satisfies all bonus clauses. He joined Dortmund's academy from United's city rivals Manchester City in 2017. Sancho turned himself into one of the most exciting young talents in Europe in his four-year stint in Germany. He scored 50 goals in 137 games for 'Die Schwarzgelbern' and won them the DFB-Pokal last season. He scored two goals and assisted once in the final.
7. Harry Maguire (Leicester City to Manchester United) – £76.6 million
Harry Maguire moved to Old Trafford in the summer of 2019, after a great showing at the 2018 World Cup. The fee paid made him the most expensive defender in football history. It surpassed the fee Liverpool paid for the aforementioned Virgil van Dijk in 2018. Maguire is also the most expensive British transfer.
The centre-back quickly established himself as one of United's most consistent performers since his arrival. He has missed only four league games in two seasons so far. He played every minute in his first season as United finished third in the league. Maguire was given the captaincy in January 2020. The Sheffield United academy graduate led the club to second place in the Premier League last season.
He was also named in the Euro 2020 Team of the Tournament and returns in good form and fitness. He will once again be an integral part of Ole Gunnar Solksjaer's squad in the new season.
6. Antony (Ajax to Manchester United) – £83.6 million
Erik ten Hag played a key role in signing Antony from Ajax. Manchester United had to pay a massive transfer fee for the Brazilian winger.
The 23-year-old has won the Dutch Eredivisie twice with Ajax. In his first season at Old Trafford, Antony featured in 43 matches. The winger scored eight goals and provided three assists. There are a lot of expectations from the youngster in the 2023-24 season.
5. Paul Pogba (from Juventus to Manchester United) – £92.3 million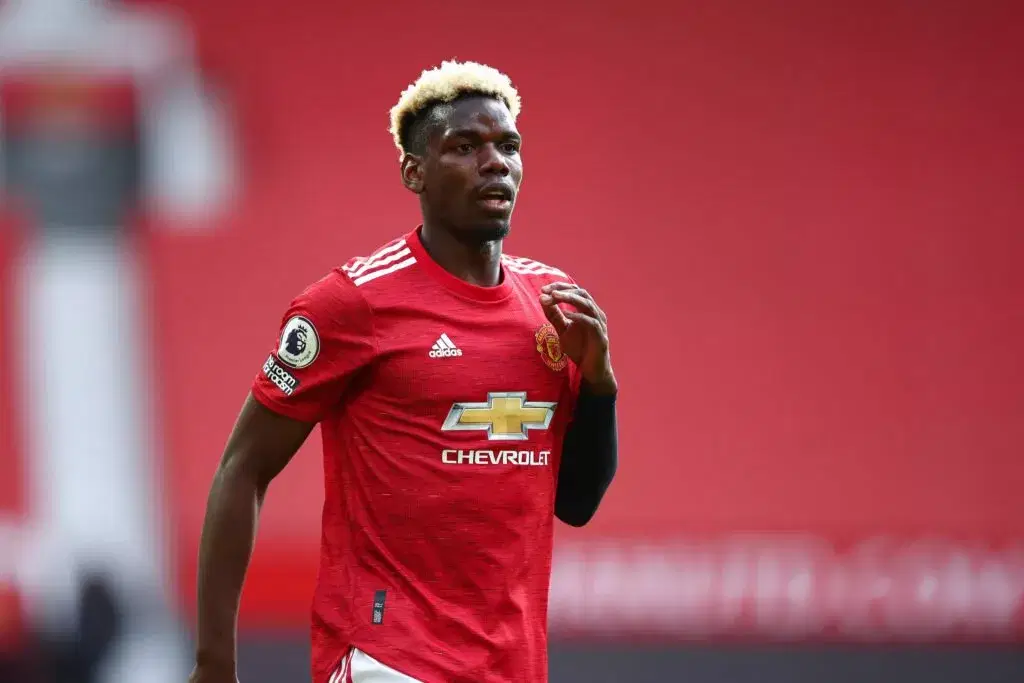 Paul Pogba's transfer from Juventus to Manchester United in 2016 sent ripples through the football universe. The fee smashed the record transfer fee at the time. It remains the highest transfer fee paid by a Premier League club.
United paid Juventus 93.2 million pounds to bring back the Frenchman to Old Trafford. It is safe to say though that Pogba's second stint at the club has been a polarizing one. He has shown glimpses of his world-class potential but has also gone through long periods of inconsistency. He is also regularly been linked with a move away from the club, citing unhappiness.
In 199 games for the club, the 2018 World Cup winner has scored 38 goals and has won the Europa League and the League Cup in 2016-17. But United and Pogba have not tasted silverware in the last four seasons.
4. Romelu Lukaku (Inter Milan to Chelsea) – £98 million
Chelsea resigned Romelu Lukaku for a club-record fee of £98 million from Inter Milan in the summer of 2021. The Blues came into the season off a Champions League triumph and Lukaku was regarded as a very good signing by the Chelsea faithful. Lukaku moved to Chelsea on the back of a Serie A triumph with Inter Milan. Move forward just 12 months and Lukaku has just 8 league goals to his name and is near an inevitable return to his former side Inter Milan.
3. Jack Grealish (Aston Villa to Manchester City) – £100 million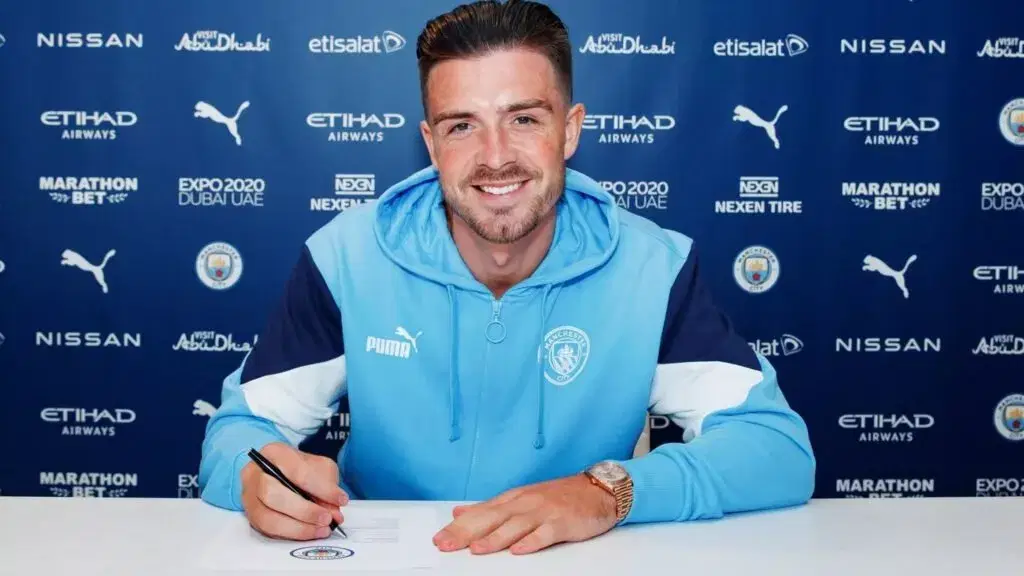 Manchester City have completed the signing of Jack Grealish from Aston Villa for a record transfer fee of £100 million. The move makes Grealish the most expensive British footballer in history. His transfer is also now the costliest in Premier League history surpassing the £93.2 million Manchester United paid Juventus for Paul Pogba in 2016. Grealish made 213 appearances for his boyhood club Aston Villa and scored 32 goals while also making 43 assists across all competitions.
Grealish is set to wear the No. 10 jersey at Man City, which was previously worn by Sergio Aguero, who left the club at the end of last season. After coming through the ranks at Villa, he made his senior debut for the club in 2014 and played eight seasons with them. Just last season, he had penned a new five-year contract with Villa keeping him at the club until 2025. But it became apparent that the player was looking for a move and with City ready to shell out big money, Villa found it hard to refuse.
The 25-year-old reportedly had a £100 million release clause inserted in his contract. Vill had initially rejected a £90m + Morgan Rogers offer from the Premier League champions. But when City made a straight cash offer of £100m, the release clause in Grealish's contract was triggered.
2. Declan Rice (West Ham United to Arsenal) – £105 million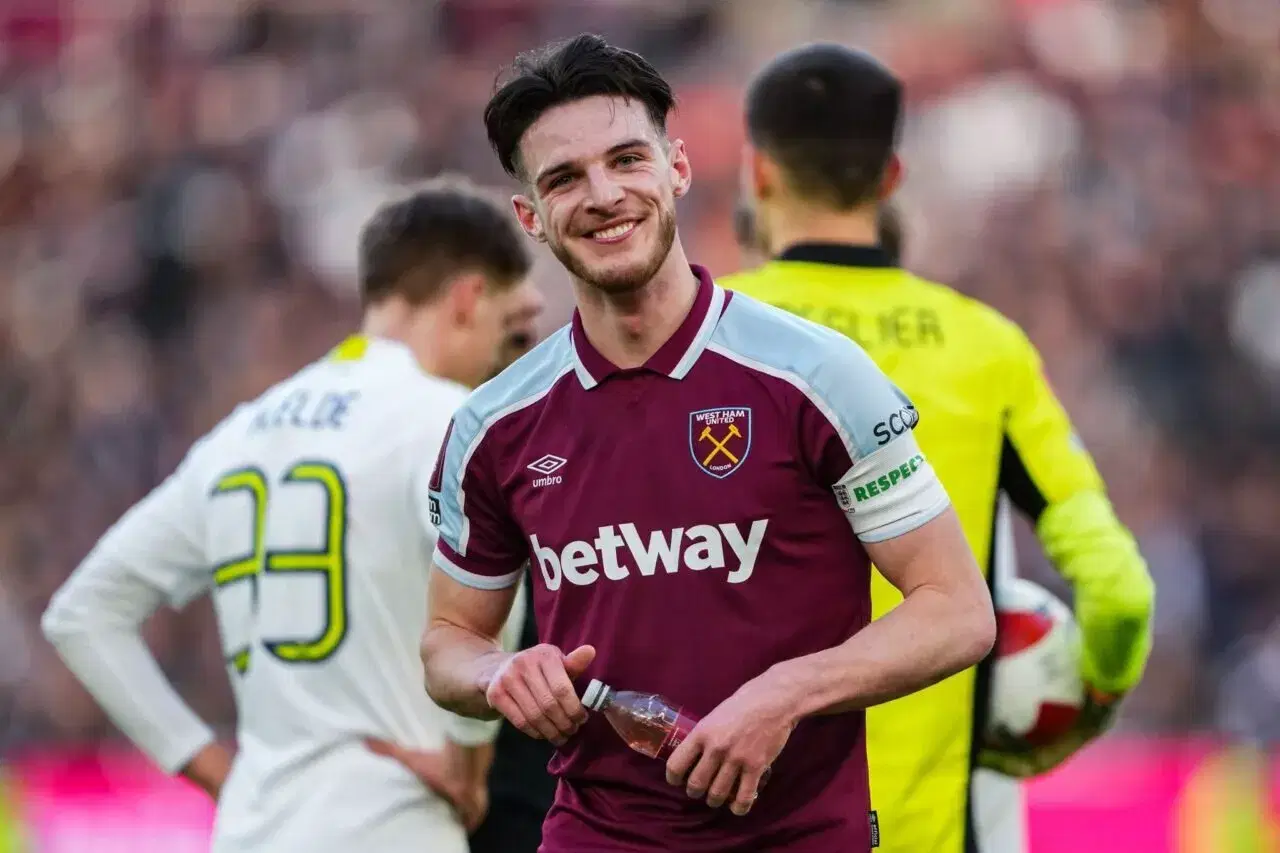 Arsenal completed the signing of England international midfielder Declan Rice from West Ham United. The Gunners have invested heavily in the 2023 summer transfer window. The 24-year-old becomes the second most expensive signing in English football.
Declan Rice led West Ham United to the UEFA Conference League 2022-23 title. The Gunners missed out on silverware in 2022-23 and have made a few recruits to strengthen their chances in the 2023-24 season. Rice will provide stability and the midfielder will look to add trophies to his cabinet.
1. Enzo Fernandez (SL Benfica to Chelsea) – £106.8 million
The 22-year-old's arrival at Stamford Bridge has made his name enter the most expensive signing in the Premier League. The World Cup winner with Argentina broke the record lastly held by Jack Grealish. Chelsea were on a spending spree as they acquired the services of Mykhailo Mudryk another sensational young player to join their squad.
Benfica bought him from River Plate in 2022 giving him Eusebio's number 13. shirt. His performance in Argentina and Portugal saw him being selected for the Qatar World Cup where he made big waves. Now with a big price tag on his head, he has to prove his worth under the new manager Graham Potter.
Last updated on July 16, 2023.
For more updates, follow Khel Now on Facebook, Twitter, and Instagram; download the Khel Now Android App or IOS App and join our community on Telegram.