These players are among of the most important parts of their respective teams.
"The key is developing your game in both directions: in the build-up, joining the attack at the right moment and also in defence. You have to win the one-on-one situations and need the required pace and technique. These are the decisive factors for a defender." The above lines were quoted by perhaps one of the best right-backs the sport has ever witnessed, Phillip Lahm.
The full-back position is important in football, both defensively and while moving forward. From stopping crosses from the flanks to creating chances, these are the duties a full-back has to thrive in.
Here, we will take a look at the top 10 best right-backs around the world in 2021. In some cases, it may be observed that the player also possesses a quality to emerge as a wing-back.
10. Ricardo Pereira (Leicester City)
Hailing from the city of Lisbon, Ricardo Pereira has exemplified the right-back position. In his career he has played for notable clubs like Porto, Nice and is currently plying his trade for Leicester City.
The 28-year-old has already appeared eight times in the Premier League for the Foxes this season and has made 23 tackles and 17 clearances in the 596 minutes he has played this season. He also possesses a passing accuracy of 76.41%. Pereira is also a good crosser of the ball (28.57% accuracy). Along with this statistic, the Portuguese has created six chances and has assisted his teammates twice in netting the ball home.
9. Denzel Dumfries (Inter Milan)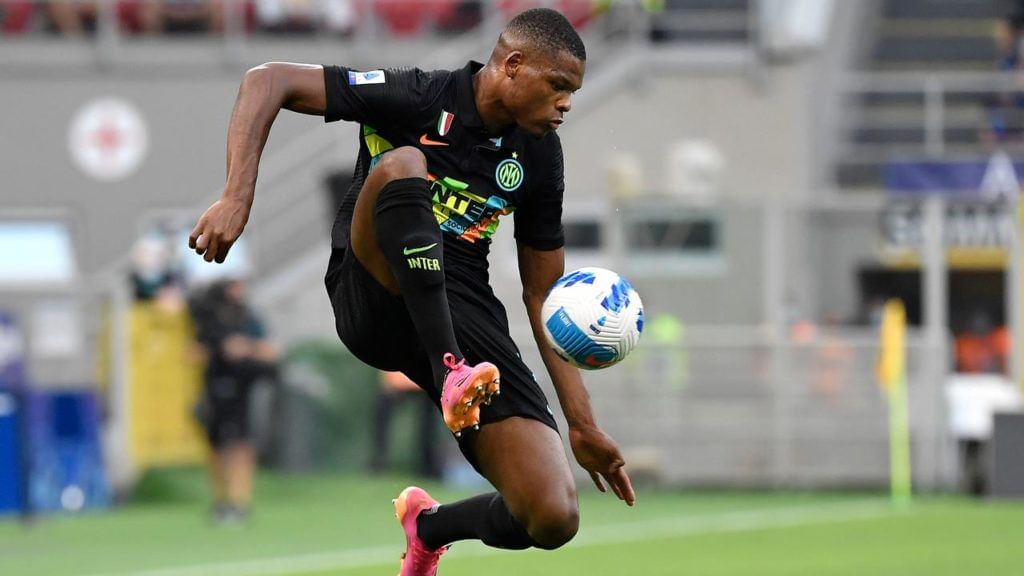 Denzel Dumfries caught the attention after his brilliant performances at Euro 2020 for the Netherlands. The 24-year-old right-back is currently an active feature of the Inter Milan backline.
Speaking about his statistics, he has already played 13 matches in Serie A this season. Defensively, he's a strong customer with nine tackles, 25 recoveries and five clearances. A rate of 46.81% quips his efficiency in ground duels. However, Dumfries is even better at the aerial ones. Out of the 18 aerial duels contested till now, the Dutchman has come up with 10 successful ones.
Offensively, he has created 10 chances and delivered two assists for his teammates.
8. Benjamin Pavard (Bayern Munich)
25-year-old Benjamin Pavard caught the attention in the FIFA World Cup 2018 for his stunning goal against Argentina. The half-volley attempt went past the keeper to ruffle the back of the net. Later, the goal was named as the Goal of the Tournament and was also nominated for the Puskas Award.
Plying his trade for German giants Bayern Munich, Pavard is more adept in his defensive duties rather than the offensive ones. He has appeared five times this season in the Bundesliga. The player possesses a good passing (87.09%) and crossing (28.57%) accuracy. Apart from these, he is also good in aerial duels and has a success rate of 75%. Going forward, the right-back has made an average of seven progressive passes per game, with a completion rate of 86.4%.
7. Reece James (Chelsea)
At 22, Reece James is one of the most promising right-backs in the world and definitely a reliable custodian for Thomas Tuchel's Chelsea. The lad hasn't yet made himself a regular at the English national team, but his prosperity on a regular basis may compel Gareth Southgate to think twice before the upcoming FIFA World Cup.
In 11 appearances so far in the Premier League, he has made 15 tackles and four clearances. He's one who is tough to beat in ground duels. The 22-year-old enjoys a success rate of 56.25% in this aspect. James is adept at long and short passing.
Offensively, he enjoys shooting from range (has a shot accuracy of 60%) and also scoring for the team. He has created 20 chances and has four assists to his name. He has already netted four goals in the Premier League this season.
6. Dani Carvajal (Real Madrid)
The 29-year-old has been a regular at Real Madrid for quite some time now. In the 11 matches the right-back has featured in so far in LaLiga 2021/22, Carvajal has already made 21 tackles and 18 clearances. It is really difficult to send the ball past him, as he is profuse in both aerial and ground duels.
Notably, he enjoys an excellent passing accuracy of 86.27% and has the ability to deliver long passes as well. Although he has created eight chances, the Spaniard hasn't yet made an assist this season. However, he has scored once.
5. Kyle Walker (Manchester City)
The 31-year-old English right-back has been a regular for both his club Manchester City and country. Since 2017, Walker has made 128 appearances for City and also has three goals to his name.
This season, he has appeared a dozen times for the Blues in the Premier League and has made eight tackles, seven clearances and five interceptions. It is tough to get past him, as he enjoys a success rate of 56.41% in ground duels and is also competent in the aerial ones.
He boasts an incredible passing accuracy of 90.36%, making him an asset going upfront. He has also recovered the ball 58 times this season and has created six chances and has one assist to his name.
4. Kieran Trippier (Atletico Madird)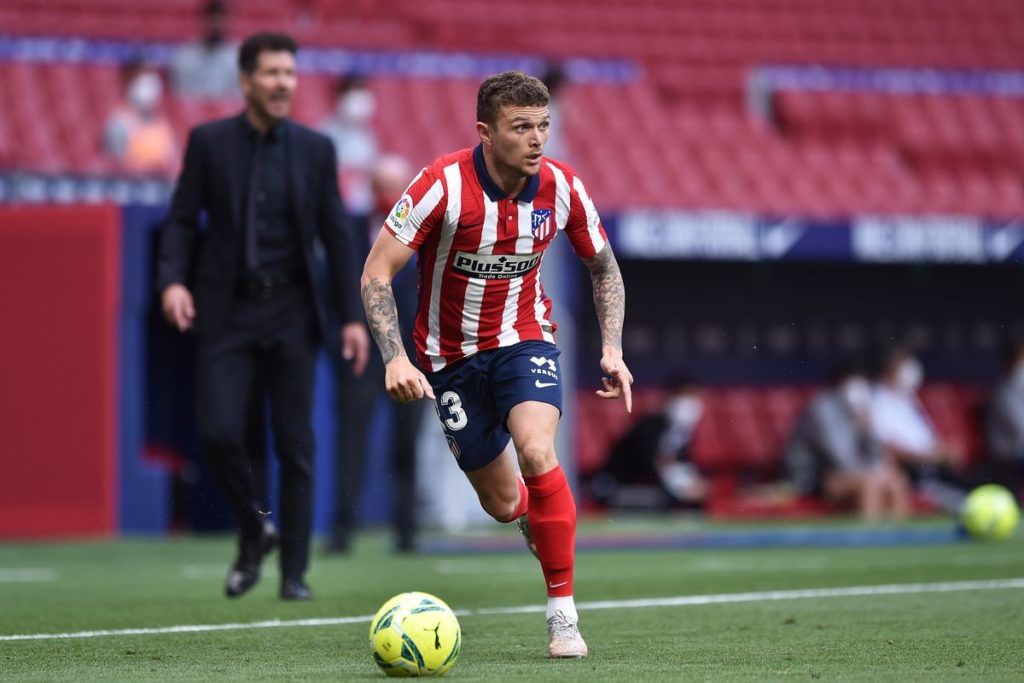 The Atletico de Madrid right-back delivered fascinating performances at Euro 2020 under the tutelage of Gareth Southgate.
In this edition of LaLiga he has already appeared 12 times. In these appearances, he has committed 14 tackles, eight clearances and as many interceptions. He has won 20 of his attempted 28 aerial duels this season, a figure to applaud. The Englishman even excels in ground duels. Infact, going forward, he has already created five chances.
3. Achraf Hakimi (Paris Saint-Germain)
The Moroccan is a bit different from the other right-backs in this list. The 23-year-old who plies his trade for Paris Saint-Germain is mainly a right wing-back.
He has already made 16 appearances in Ligue 1. Under Mauricio Pochettino's guidance, Hakimi is improving day-by-day. He has already made 50 ball recoveries apart from making 35 tackles, 11 clearances and 12 interceptions.
Offensively, he has created 16 chances this season in Ligue 1 and has assisted twice. He is adept both in short (90.66% accuracy) and long pass (80% accuracy). Along with this, he exhibits some accurate shooting ability and has also scored thrice in the league.
2. Joao Cancelo (Manchester City)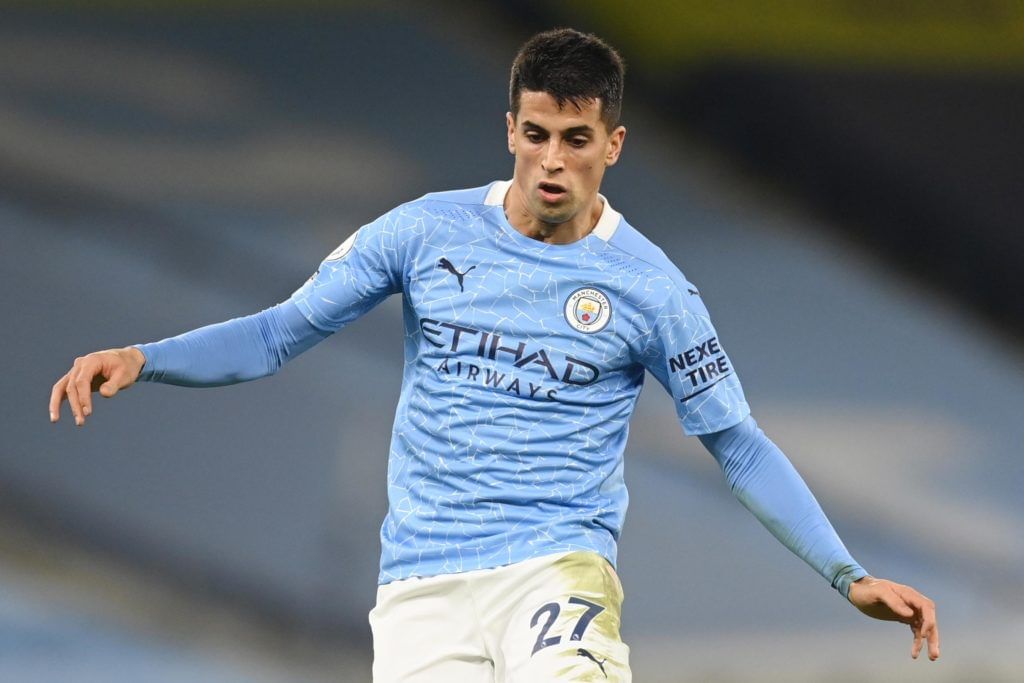 The 27-year-old is a utility player at Pep Guardiola's Manchester City. Cancelo can play both as a right-back and a left-back. The Portuguese is considered to be one of the best full-backs in the world.
In this edition of the Premier League, he has made 15 appearances so far for the club. Speaking about his defensive capabilities, Cancelo has made 91 ball recoveries, 30 tackles, 14 clearances and 33 interceptions till now. He is good in both ground and aerial duels.
Offensively, the Barreiro-born player has a knack of fancying shots on goal (20 shots, 60% accuracy). Apart from this, he also possesses a passing accuracy of 86.06%. He has contributed three assists this season and has created 15 chances.
1. Trent Alexander-Arnold (Liverpool)
Trent Alexander-Arnold is undoubtedly the best right-back in the world. The 23-year-old has recently bagged the Premier League Player of the Month (November). He is an out-and-out Kop, who has spent his entire football career at Liverpool. He has also been an important member of Gareth Southgate's English team, though he missed Euro 2020 due to injury concerns.
Speaking about his statistics this season in the Premier League, he has made 93 ball recoveries, 16 tackles, 18 clearances and 22 interceptions in 13 appearances so far. He is tough to beat in aerial challenges. He has the best crossing accuracy in this list (30.84%) and is adept in both short (81.31% accuracy) and long passes (54.93%).
Offensively, he has provided seven assists in the Premier League and has created 42 chances for his teammates. He is also prolific in set-pieces. Alexander-Arnold also has a goal to his name, which came from a free-kick against West Ham United in November.
For more updates, follow Khel Now on Twitter, Instagram and Facebook.