The team finished eighth in the points table.
Jaipur Pink Panthers are one of the best teams in the Pro Kabaddi League (PKL). The team won the inaugural season of the league. However, since then, the team are still waiting to recreate history. The former champions had a disappointing run in the PKL Season 8. The performance of the team was bittersweet last season. They won 10 and lost as many of 22 matches, while two matches were tied. The team finished eighth in the points table.
Jaipur Pink Panthers lost a few matches in the beginning, but then went on to win several in a row. They defeated the best team of the season, the Patna Pirates twice. At one point, the team were looking like potential contenders for the playoffs, but due to lack of consistency, the team's performance deteriorated.
What went wrong ?
The performance of defenders like Vishal was a boon for the Jaipur Pink Panthers in PKL Season 8. The player scored 39 points in 21 matches. His tackle strike rate stood at 34%. At the same time, the performance of Arjun Deshwal was yet another asset for the team. The way he led the team in the raiding department was commendable.
Which players faltered ?
In Pro Kabaddi League Season 8, if the Jaipur Pink Panthers were disappointed with someone's performances, then it would be from their veteran all-rounder Deepak Hooda. His performances didn't seem to be equivalent to his standards in past seasons. He scored only 120 raid points in 17 matches. During this, he could hit Super 10s only four times.
If Deepak Hooda had given full support to Arjun Deshwal in the raiding unit, the Pink Panthers would have surely found the right groove. The team's most experienced defender Dharmaraj Cheralathan also had a poor record in the season.
Which players shone?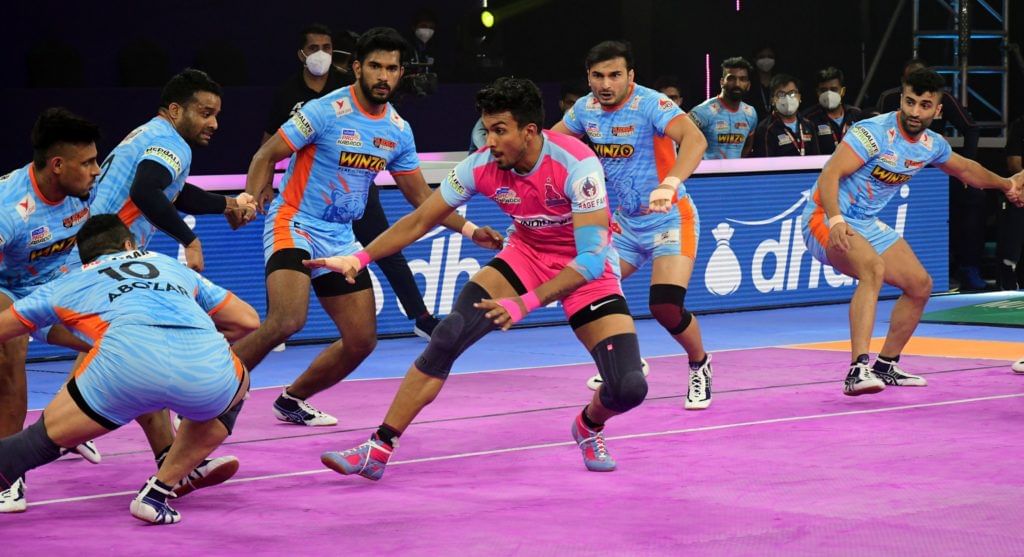 Young raider Arjun Deshwal played better than expected in PKL Season 8. He single-handedly led Jaipur Pink Pantehrs to victory in many matches. Deshwal scored 268 points in 22 matches and was the second-highest raid point scorer this season, only behind Pawan Sehrawat who scored 320 points in 24 matches.
The raider produced 16 Super 10s in 22 matches. Not only this, he dominantly scored six super raids as well. When it came to do-or-die raids, the young raider scored 44 points, which was also the second-best of the season. Apart from this, his average raid points was 12.14.
Changes required for next season
Jaipur Pink Panthers need to strengthen their raiding department. The team need competent players to support Arjun Deshwal, so that they aren't fully reliant on him. Apart from this, there is an immediate need for conditioning the defensive unit. At the same time, the team also need a consistent captain, as frequent changes in the captaincy hamper the team's game.
For more updates, follow Khel Now on Twitter, Instagram and Facebook.