The 23-year-old will compete in his maiden Olympic Games.
Neeraj Chopra is one of the biggest medal hopefuls for India at the upcoming Tokyo Olympics. He will be one of two javelin throwers in action in Tokyo, alongside Shivpal Singh. Chopra shot to fame after clinching Gold medals at the 2018 Asian Games and the 2018 Commonwealth Games. Since then, the javelin thrower has grown in leaps and bounds over the last couple of years.
The Indian athlete recently came up with the best effort of 83.18m to win the javelin event at the Meeting Cidade de Lisboa in Portugal. He is preparing hard for the Tokyo Olympics and expects to put up a good showing at the rescheduled Games.
Neeraj Chopra spoke about the competition in Portugal, his preparations and hopes for the Tokyo Olympics.
Shining on international stage
He stated, "I already had the list and the names of the participants who were coming to Lisbon. My coach had told me that it would be a training type competition and not to give my 100% here. So, the first thing was to reach here as there was very little time to do so."
The javelin thrower spoke about his feelings when he got to know that many people back home had tuned in to catch a glimpse of the Indian athlete.
Neeraj Chopra remarked, "They told me that there were a lot of Indians watching the stream. That felt really good because it is not something that happens regularly when a lot of people are following athletics. I will try my best to take javelin or athletics higher, so that more people are interested in it. It is not just watching, but also I would like the young generation to start taking it up, so that our level of athletics and other Olympic sports can be raised."
Preparations for Olympics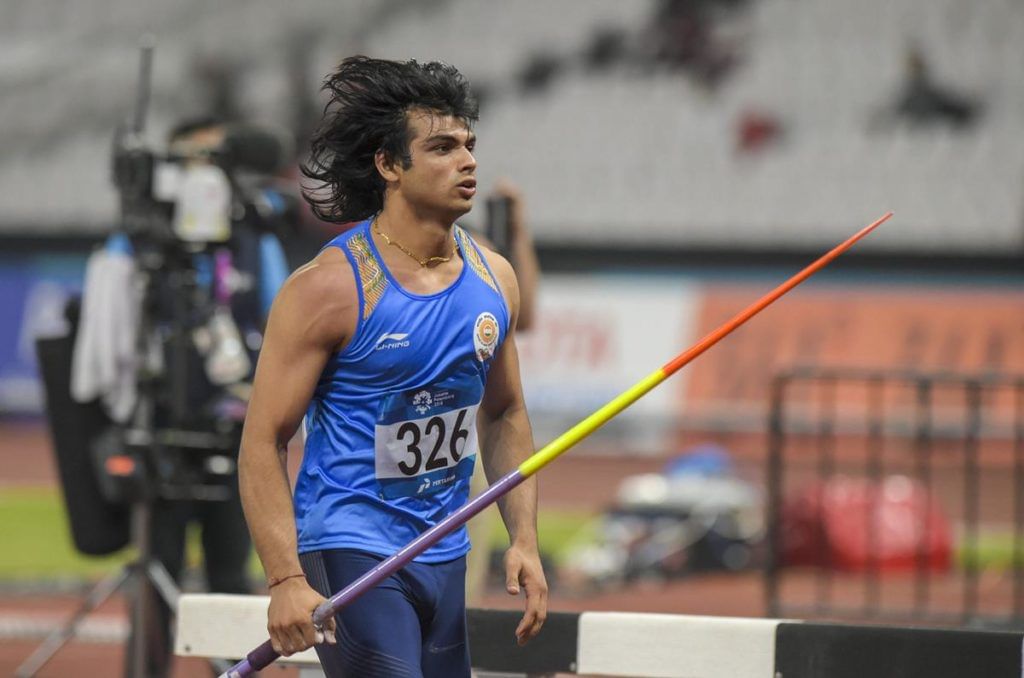 The current pandemic situation in India has made it very tough for athletes to prepare properly for the upcoming Olympics. This has prompted him to travel to Europe where things are a lot better.
"The main thing in Europe is I will get to play against a lot of my competitors here. I haven't played international competitions for a long time, so getting to play again was an altogether different feeling," stated Neeraj Chopra. The Indian athlete had not taken part in any international competition since qualifying for the Olympics at an event in Potchefstroom, South Africa in January last year.
Hence, getting to participate in quality competitions abroad is a welcome relief for Chopra. He said, "Firstly, I will be in Portugal for some time, around two weeks. I will go to Sweden from here and then to Finland. In the competitions in Finland and Karlstad (Sweden), I will put in more effort. In the upcoming competitions, there will be tougher javelin throwers, so the competition will be tough there. I will try my best to do a good result there. After that, I will train in Uppsala in Sweden for the Olympics."
The Tokyo dream
The javelin thrower also spoke about his ambitions for the forthcoming Tokyo Olympics. "I am keeping an eye on the other performers' results and how the competition would be. My training is going well. I am preparing well to face my competitors. I am giving my best in training and my result will be good in the upcoming Olympics," uttered Chopra.
Neeraj Chopra will be carrying the hopes of a nation when he takes to the field at the Japan National Stadium in Tokyo. The reigning Asian and Commonwealth Games champion is in a confident mood and optimistic ahead of his maiden Olympics. The javelin thrower will be hoping that he can do wonders on the track and end the country's long wait for an Olympic medal in athletics.
For more updates, follow Khel Now on Twitter, Instagram and join our community on Telegram.