Both parties have accused each other of being irresponsible.
The Indian tennis fraternity has been embroiled in yet another controversy just before the Tokyo Olympics. This time it is between Rohan Bopanna and the All India Tennis Association (AITA) on the selection of the doubles pair.
On Monday, Rohan Bopanna accused the AITA of misleading players, media and the government by saying he still had a chance to make the Olympics with Sumit Nagal. Meanwhile, the AITA said that they did everything within the rules of the International Tennis Federation (ITF) to send a men's doubles Indian pair to the Tokyo Olympics.
Rohan Bopanna tweeted, "ITF has never accepted an entry for Sumit Nagal & myself. ITF was clear that no changes were allowed after the nomination deadline (22nd June) unless Injury/Illness. AITA has misled the players, government, media and everyone else by stating we still have a chance."
Other top Indian tennis players like Sania Mirza, Mahesh Bhupathi and Somdev Devvarman also showed concern regarding the functioning of the AITA. Sania Mirza tweeted, "Whaaattt???If this is true then it's absolutely ridiculous and shameful..by this it also means that we have sacrificed a very good shot at a medal in the mixed doubles if you and I would have played as planned. We were both told that you and sumit's names have been given .."
Mahesh Bhupathi stated that If it was up to him he would have moved mountains to find a way to send Bopanna to the Tokyo Olympics.
He tweeted, "Bottom line is Rohan Bopanna and Sania Mirza don't play. If it were me I would be moving mountains to find a way for him to go considering they were so close last time. Also, I don't think it's incompetence. They just don't care.. and if you don't care you don't know."
What is the matter?
The issue was really simple. Rohan Bopanna didn't qualify for the Tokyo Olympics on the basis of ranking. The AITA gave him hope that he could get a backdoor entry after the qualification of Sumit Nagal. However, that hope turned out to be false.
The AITA released a statement on Tuesday to put their perspective in front of the world on the matter. It also includes a detailed sequence of correspondence between AITA and ITF.
Clarification from AITA
"The AITA wishes to put on record its deep disappointment at the unsavoury controversy. It has been needlessly generated due to some irresponsible tweets by some leading and respected players of India. It is felt important that the air is cleared at the earliest. So that this completely avoidable controversy is not fuelled any further by individuals or groups," read the statement.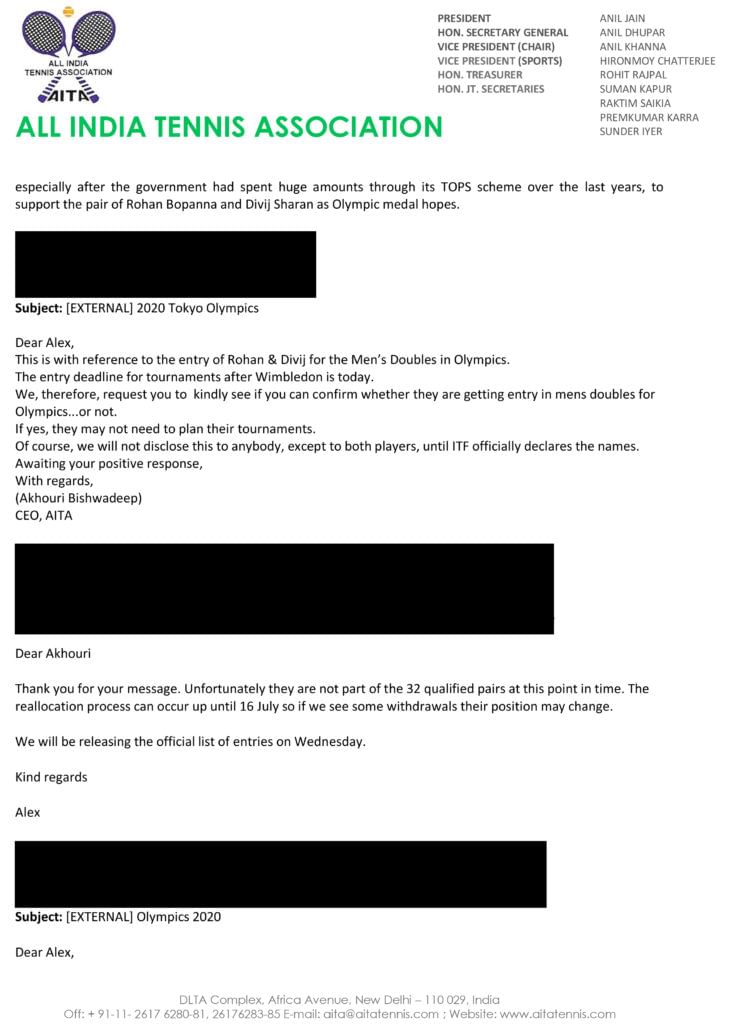 "Comments by some leading Indian players are inappropriate, misleading and it appears, without knowledge of the rules. They should have checked the rule book of ITF regarding qualifications. Rohan Bopanna and Divij Sharan, our men's doubles nominated team, did not qualify as per ITF Rules, on the cut-off date of June 14, 2021. Rohan and Divij were fifth on alternate list on 14th June."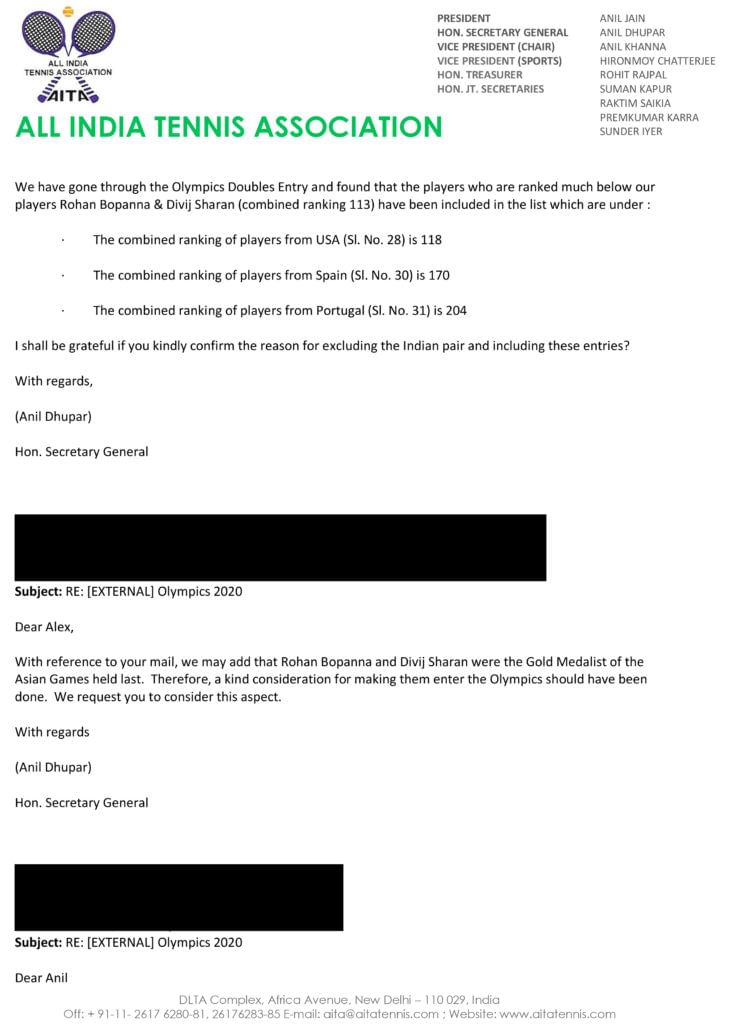 The statement further read," Subsequently, the only possibility of this pair getting an entry would be based on withdrawals if any by July 16. And without qualifying, the question of Rohan Bopanna partnering Sania Mirza in mixed doubles did not arise. Fact of the matter is that India's best men's doubles entry was sent for Rohan and Divij, which was the correct decision. However, they did not qualify as per ITF rules. Their performance over the last two years did not fetch them a world ranking that was good enough to qualify."
Correspondence between AITA & ITF
The AITA remarked that they saw a glimmer of hope for Bopanna after the qualification of Sumit Nagal. They wanted to pair both the stars since singles players were being given some preference in men's doubles, based on their singles ranking.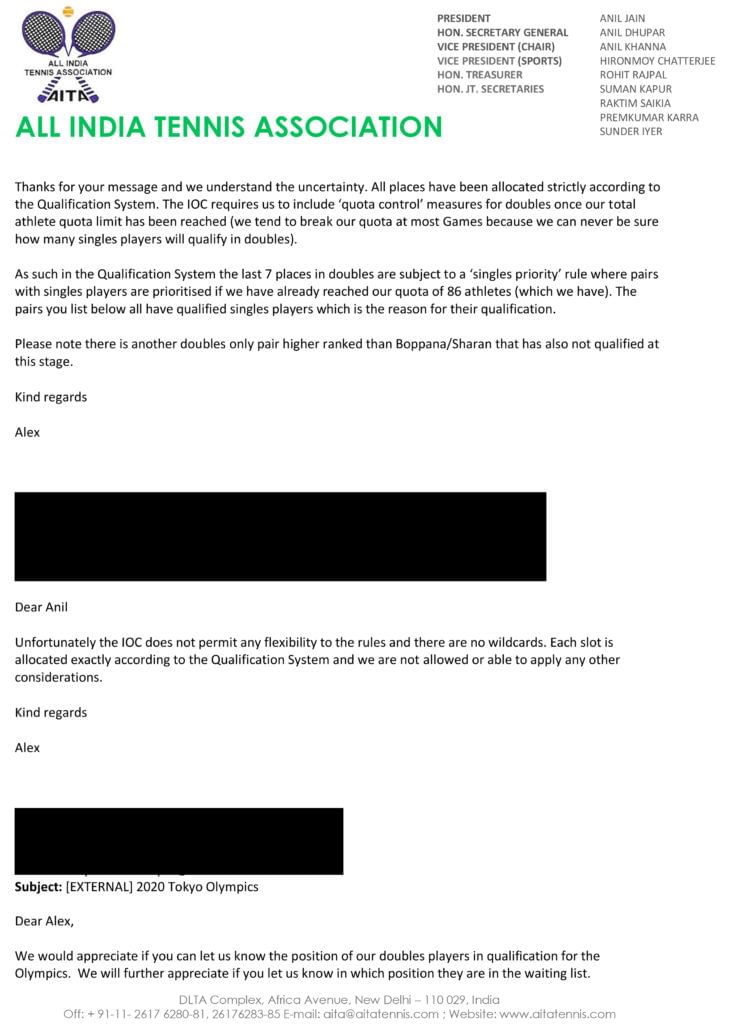 "We asked ITF whether the singles entry of Sumit Nagal will suffice to pair with Rohan Bopanna. Unfortunately, ITF informed us that this cannot be done at this stage because of various reasons and rules. It also included the possibility of changing the nomination only in case of injury/illness/exceptional circumstances. ITF added that even if it is done, the pair would still not qualify," the Indian association said in the statement.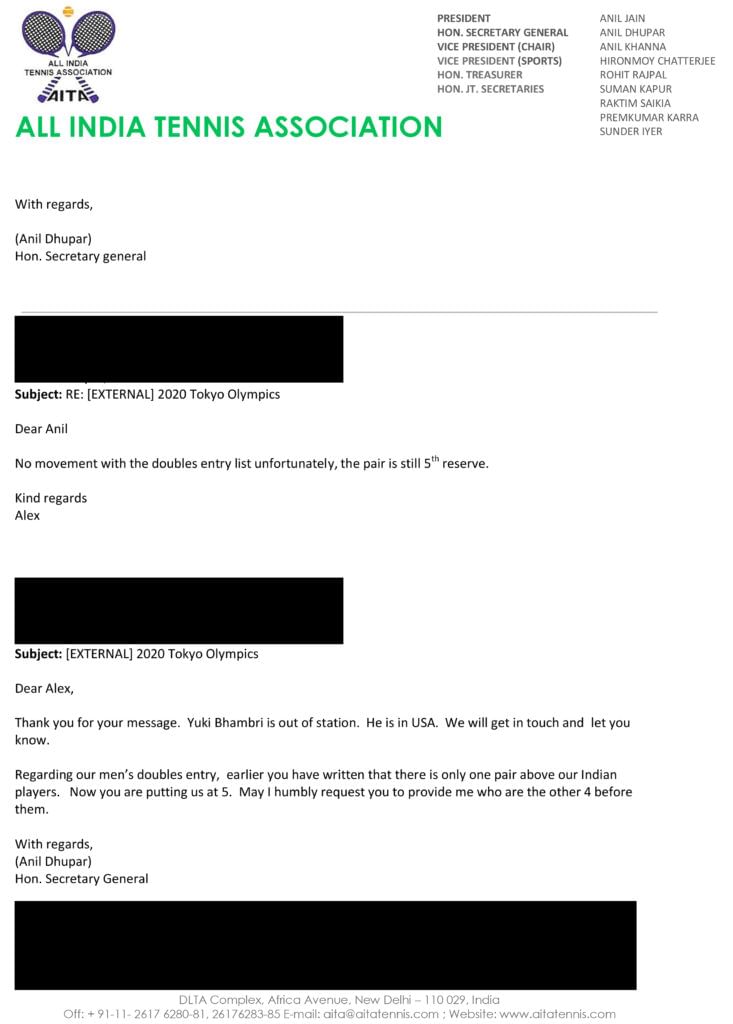 "Rohan with Sumit would be at third alternate pair. We at AITA tried to help our players with all combinations but they failed to make the cut based on rankings. Is this something that is so difficult for a person of Bopanna's experience to understand? And is Rohan Bopanna suggesting that we should have entered his name with Sumit Nagal one month ago when Sumit's ranking was in the 140s and Divij was at 78?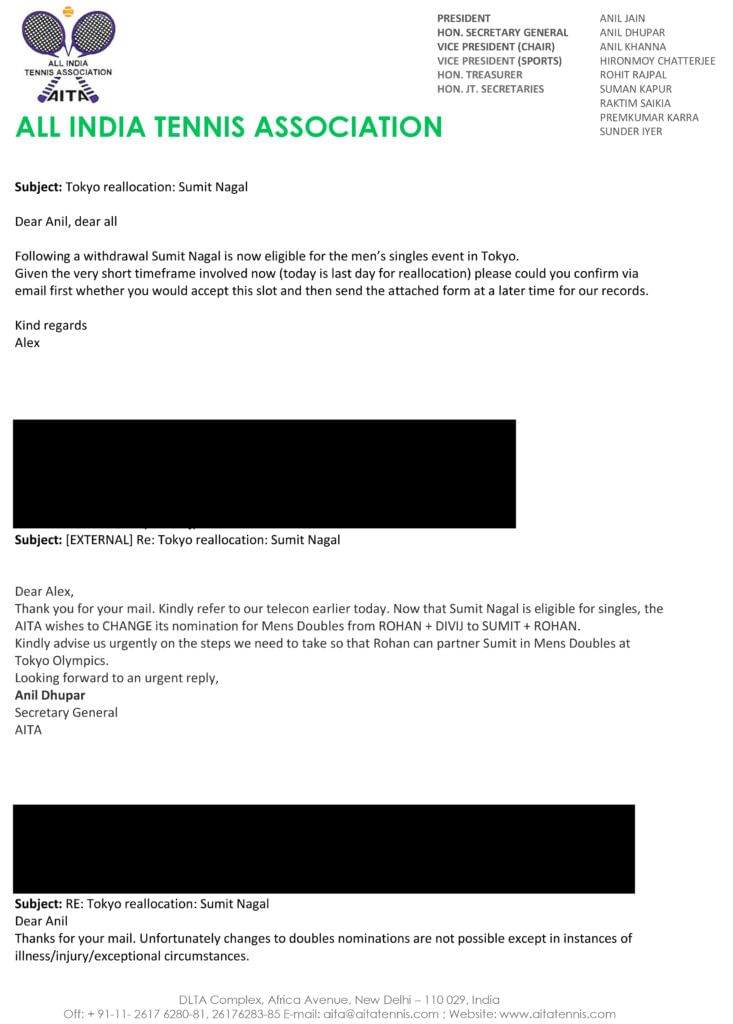 "Also, may we ask Rohan Bopanna what was wrong if the Secretary General told him that he was waiting for some good news. Is it a crime to be optimistic? Why is Rohan trying to paint it as if the attempt was to mislead him and the country? What could be his motivation for doing something like this?" the statement asked.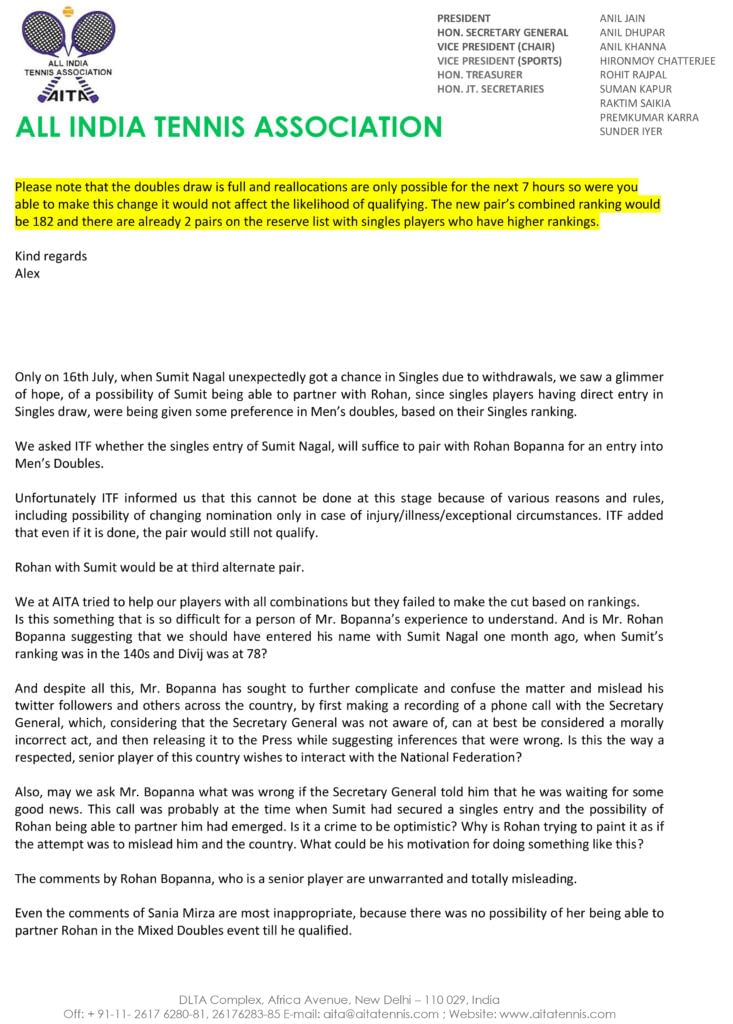 The Tokyo Olympics will take place from 23 July to 8 August 2021. Sumit Nagal, Sania Mirza and Ankita Raina will play for India in tennis events.
For more updates, follow Khel Now on Twitter, Instagram and join our community on Telegram.