The boxer will be competing in the middleweight category at the quadrennial event.
Boxing has become India's stronghold at the Olympics ever since Vijender Singh and Mary Kom came home with elusive medals. This year the country is sending their biggest-ever boxing contingent to the Tokyo Olympics. While people are excited to see Amit Panghal, Mary Kom and Pooja Rani, another pugilist in Ashish Kumar has gone under the radar.
First boxer from Himachal Pradesh to qualify for Olympics
Ashish Kumar does not come from the Indian boxing hotbeds of Haryana or Manipur. He hails from Himachal Pradesh. The pugilist created history when he clinched a quota at the Asia Oceanian Olympic qualification tournament in March 2020. He subsequently became the first boxer from Himachal to qualify for the Olympics, a feat which he believes will motivate youngsters from his state.
"I feel very proud and to be the first boxer from Himachal to qualify for the Olympics," said Ashish in an exclusive interview with Khel Now. "It is a matter of great pride and responsibility for me. I believe it will give belief to other boxers from the region that they can also qualify and win at the biggest stage. I already know a lot of people in my area who are taking a serious interest in boxing after seeing me qualify for the Tokyo Olympics," added the boxer.
A tough start to his career
The journey till now was filled with thorns for Ashish Kumar. He was all set to leave the sport in 2015 after his unfortunate quarterfinal exit at the National Boxing Championships. He gave up hope as people made fun of his failure. However, a comeback at the National Games in the following month changed his future. He defeated the national champion to clinch gold and from there, things started to fall in place.
"It was very tough at that time, as my confidence was very low and I thought I was wasting my time. I lost in the quarterfinals of the 2015 Nationals to a relatively unknown boxer and I was very disappointed. A month after the National Championships, National Games were held and I told myself that this tournament is make or break for me. If I fail to win at least a bronze medal, I will quit boxing," he reminisced.
"But, I ended up defeating the National Championship gold medalist in the semi-final and went on to win the gold medal. Before that gold medal, people used to make fun of me, but my brothers and father were my rock. They supported me and believed in me through thick and thin," added the pugilist who took up boxing only because of his family.
Failures shaped him as a boxer
While victory is always a sweet feeling for any athlete, it is the pain of failure which transforms them into a better version of themselves. Even in this case, Ashish Kumar admits that his failures have made him a better boxer and a better person. He pointed out how a failure earlier would break him and he would start doubting himself.
Quizzed if the failures that he faced early in his career shaped him as a boxer, Ashish Kumar said, "Absolutely! I believe failures teach you more than success and I have reached here only because of my failures. Not only as a boxer, I have grown as a person also. Earlier, I used to feel low after a defeat and doubt myself but now, I take everything positively and recover quickly to bounce back. I have become mentally very strong as compared to before. Also, I believe in the process now and remain patient."
Effects of COVID-19 during his preparations
The middleweight boxer was running riot at the Boxam International in Spain, but right before his final match he was diagnosed with COVID-19. It was very unfortunate for Ashish Kumar, as he was in great form during that period. But, the 27-year-old always kept his spirits high even during the tough time.
Sharing his experience, he added, "I was in very good form back in March and was supposed to play the final at Boxam when I tested positive. Yes, it was a setback at that time as I was in quarantine for two weeks, but I recovered very quickly. Fortunately, I had good enough time to recover properly."
Expectations from Tokyo Olympics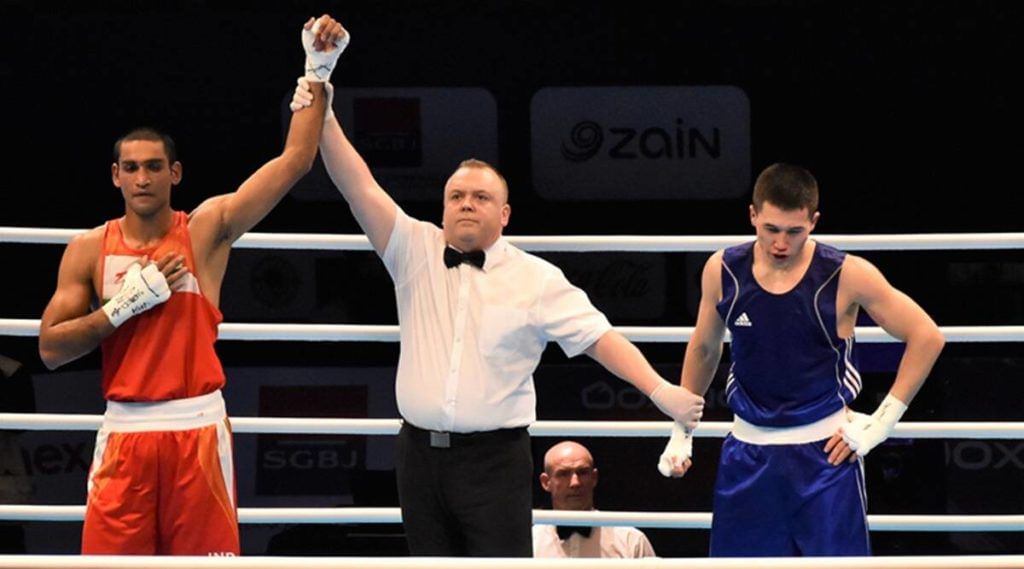 Ashish Kumar is seeded eighth in the middleweight category and is considered a very tricky opponent. He can beat the best in the world on his day and on other days he may lose to someone comparatively unknown. The 27-year-old has worked very hard on this aspect. He wants to maintain a certain level of consistency in his game.
Speaking about his chances at the Tokyo Olympics, he opined, "Anything can happen at the Olympics. Also, I feel I can beat anyone on a given day. I know my strengths and weaknesses and I have worked on rectifying them in the past few months. I will be looking to give my best and win a medal."
Inspired by legendary Vijender Singh
Most boxers from this generation have followed the likes of Vijender Singh and Mary Kom. The duo has paved the way for Indians in this sport. It is more so for Ashish, as he belongs to the same weight category in which Vijender won the Bronze at the 2008 Beijing Olympics. The 27-year-old wanted to be like his idol, he even went to Bhiwani to know more about the legendary boxer. Ashish believes that it was Vijender who motivated young boxers to shine on the global stage.
"Vijender bhai has been a massive inspiration, not only for me but for everyone in Indian boxing. He made everyone believe that we can win at the biggest stage. He was a complete boxer and a treat to watch," Ashish Kumar concluded.
For more updates, follow Khel Now on Twitter, Instagram and join our community on Telegram.