Estimated reading time: 5 minutes
The 27-year old wrestler will compete in the 65kg category event.
Bajrang Punia will be one of India's brightest medal prospects in the upcoming Tokyo Olympics. The 27-year-old will take part in his first-ever Olympics campaign in the 2020 edition. He is one of seven Indian wrestlers who has qualified for the mega event, hoping to bring back glory to the nation.
The wrestler has made rapid strides in the recent years. He has won an Asian Games gold medal in 2018 as well as two Asian Championships titles. Earlier in 2021, he had claimed the silver medal in the Asian Wrestling Championships at Almaty, Kazakhstan. Bajrang Punia, who has received the prestigious Padma Shri and Arjuna Awards, is gearing up for the biggest tournament in his career.
Here are five reasons why Bajrang Punia has a good possibility of winning an Olympic medal in Tokyo.
5. Training under expert supervision
Bajrang Punia has been handed a tough draw at the Tokyo Olympics. He will be up against reigning world champion Gadzhimurad Rashidov, a familiar foe in Takuto Otoguro and an experienced Haji Aliyev. However, the wrestler has prepared for a month under experienced coach Emzarios Bentinidis in Russia. There, he has worked to improve the main strengths in his game – power and endurance.
However, the Achilles heel in his game is his leg defence. Time and again, opponents have exploited this weakness and Punia tends to give away early match points. Under Bentinidis, Bajrang Punia has worked hard on this aspect of his game too. In recent interviews, Punia has said that he is confident to not concede early points and will look to win a medal at the Tokyo Olympics.
4. Proven performer on the international stage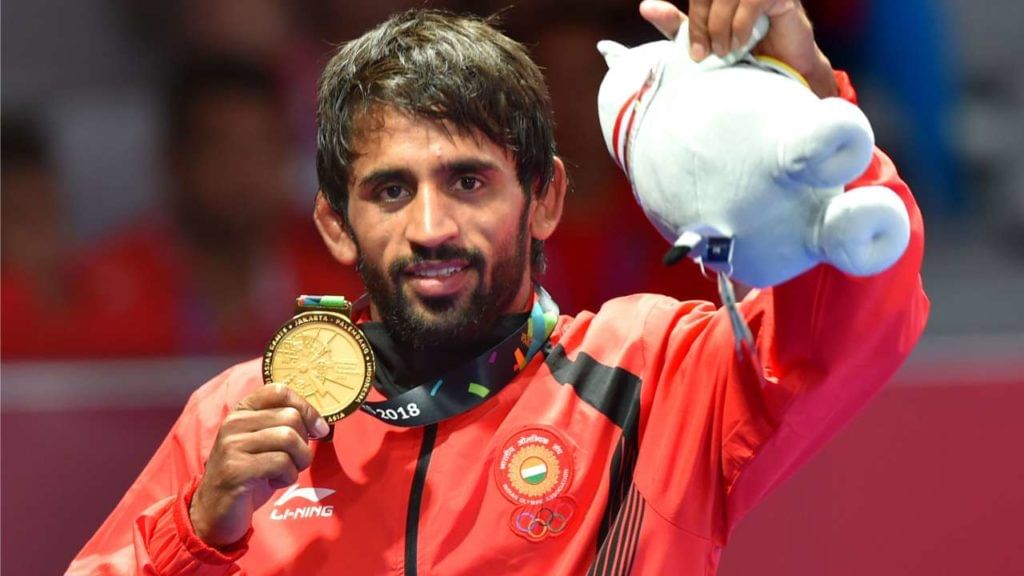 Technically, Bajrang Punia has been preparing for the Tokyo Olympics for almost eight years. He first came under the limelight after winning a bronze medal at the World Wrestling Championships in 2013. However, it was the following year that would turn to be his breakthrough year.
Punia won medals at the Asian Wrestling Championships, Asian Games and the 2014 Commonwealth Games. Since then, triumphs at the 2018 Asian Games, 2018 Commonwealth Games, Asian Championships and Commonwealth Championships have further enhanced his reputation.
He has won a host of medals in several international tournaments. Although the Olympics are a different challenge altogether, Punia can call upon his experience when needed. Years of facing world-class opponents in international competitions will give the wrestlers the belief that he can triumph on the grandest stage.
3. Power coupled with stamina
Bajrang Punia is one of the calmest wrestlers around. For a sport where your adrenaline can easily get the better of you, Punia's tactical brilliance makes him one of the best wrestlers in the world. Even if the scores are down, he can come up with a powerhouse attack in the last 30 seconds of the bout and will succeed more often than not .
In addition to this, Bajrang Punia has great stamina. If the bout is square after four out of the stipulated six minutes, it is almost impossible to defeat him given his power and stamina. These technical factors will hold him in good stead at the Tokyo Olympics.
2. Recent performances
Currently ranked World No. 2 in the 65kg weight category, Bajrang Punia has been in fine form of late. Earlier in 2021, he had participated in the Matteo Pellicone Ranking Series in Rome. In the quarterfinal, he defeated Turkey's Selim Kozran with a 7-0 margin and in the semifinal, the wrestler secured a 6-3 win over American Joseph Christopher. He then outmuscled Mongolia's Tulga Tumur Ochir to win his second consecutive gold medal in the prestigious event.
This was followed by Punia taking part in the Asian Wrestling Championships in Almaty, Kazakhstan. He blanked Jeong Yong-seok of South Korea and Mongolia's Bilguun Sarmandakh 3-0 and 7-0 respectively to reach the summit clash. Punia was advised by his coach not to compete in the final with an injured elbow and risk aggravating it. Hence, he forfeited his final bout and settled for silver.
Due to the difficulty to find sparring partners amidst the pandemic in India, Punia travelled to Makhachkala, Russia. He has been gearing up for the Tokyo Olympics there. If recent results are anything to go by, then Bajrang Punia is sure to have a stellar campaign in Tokyo.
1. Calm under pressure situations
The wrestler's patience can prove to be a deciding factor against some opponents who have better techniques than him. Bajrang Punia plays the perfect waiting game and this trait of his can come in very handy in crunch situations at the Tokyo Olympics.
However, Punia has this knack of starting bouts slowly. He is good at coming back into his matches but must be wary of not giving away too many points at the start of a match at an important tournament like the Olympics. It must be noted that seeding will play an important role at the Tokyo Olympics. The Indian grappler is seeded second behind Russia's world champion Gadhzimurad Rashidov. This will mean that he is unlikely to face tougher opponents in the early stages.
With 65kg freestyle wrestling being one of the most open events, Bajrang Punia will certainly fancy his chances. He will be hoping that he can stay injury-free and unleash his best version in Tokyo. In doing so, Bajrang Punia could join the pantheon of Indian wrestling legends.
For more updates, follow Khel Now on Twitter, Instagram and join our community on Telegram.