Athletics
UP's Kuldeep Kumar sets sights on winning medals at world stage after smashing junior NR in Pole Vault
By

M Sudharshan
The youngster also breached qualification mark for next year's World U-20 Athletics Championships.
Teenager from Uttar Pradesh, Kuldeep Kumar, took the Nehru outdoor stadium in Coimbatore by storm after creating a new junior national record in pole vault at the National Junior Athletics Championships 2023. The junior NR in pole vault was breached twice in the competition, raising hopes that perhaps this could just be the start to India's rise in the sport.
Prior to this, Kuldeep Kumar had clinched silver medal at the National Games 2023 by crossing the 5m barrier. However, he was injured on the runup to his next attempts leaving him stationed in the second spot. Meanwhile, compatriot Dev Meena went few steps further to create a new junior national record by leaping 5.16m and in the process also breached the qualifying mark of 5.05m for the World U-20 Athletics Championships 2024.
At the National Junior Athletics Championships, it was time for Kuldeep Kumar to make his mark. He initially started by breaking the meet record of 5.06m. Kuldeep then raised the bar to 5.17m with eyes on Dev Meena's newly set national record. And although he failed in his first attempt, he came back strong to create history.
That though wasn't the end. With the junior record now in his bag, Kuldeep he upped the bar to 5.32m to break Siva Subramani's senior level national record but was unsuccessful in all his three attempts.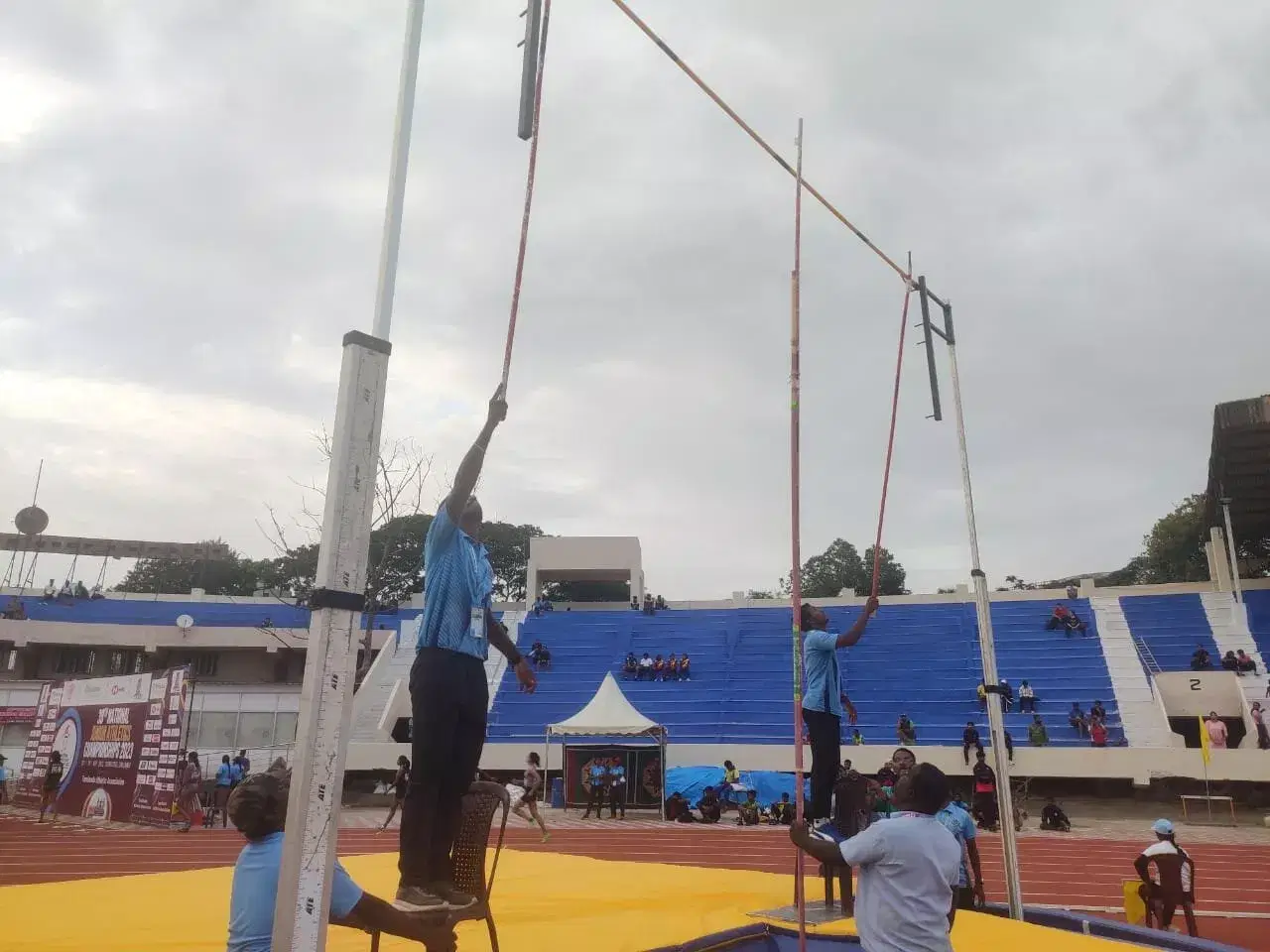 Asked about this constant chase of newer achievements and not slowing down, Kuldeep had a reasonable answer. "I will not be satisfied until I win any medal for my country at the world stage," said the junior pole vault champion. "But after getting slightly injured at National Games, I feel I have given my 100% here which I couldn't in Goa."
In the last one year, Kuldeep has been constantly getting over 4.80m but couldn't touch the 5m barrier. But in the past month, he has not only crossed 5m mark but has gone a step ahead and created a new record.
Indian Sports Live Coverage on Khel Now
Kuldeep Kumar's journey
Kuldeep started his journey at the national level in 2022 and in his maiden meet surged past 4.80m at the India U-18 Championships in Bhopal, Madhya Pradesh. He also produced a similar feat in his maiden Asian meet at the U-18 level that fetched him a bronze medal.
Earlier this year, Kuldeep set new personal best after going past 4.90m at the Busan International meet before resetting it thrice this month, first at the National Games (5m mark) and then at the National Junior Athletics Championships, where he jumped 5.6m to break the meet record and then 5.17m to make the junior national record his own.
His achievements also mean, India now has two athletes who have breached the qualification mark (5.05m) for the World U-20 Athletics Championships 2024. If they both make it to Lima next year, then it would be the first time India will be fielding two pole vaulters in a global meet.
"We both are good friends and hope to break each other's record one after another on the field," said Kuldeep of his friendship with Dev Meena.
Pole vault is in the Kumar family blood. Both of Kuldeep's elder brothers are pole vaulters and introduced him to the sport. "My first elder brother Direndra Kumar is in the Army and the second is employed with railways. Both of them actively pursue the sport currently. They helped me take up pole vault and the position that I am in today is because of their support," said Kuldeep.
Struggles
When he won a medal at the Asian U-18 championships, Kuldeep had to borrow a pole to compete in the tournament.
"There are few athletes who have lend me their poles to compete in events. Anuj is one among them who shared two of poles. I used to practise with his poles and have even played few events with them.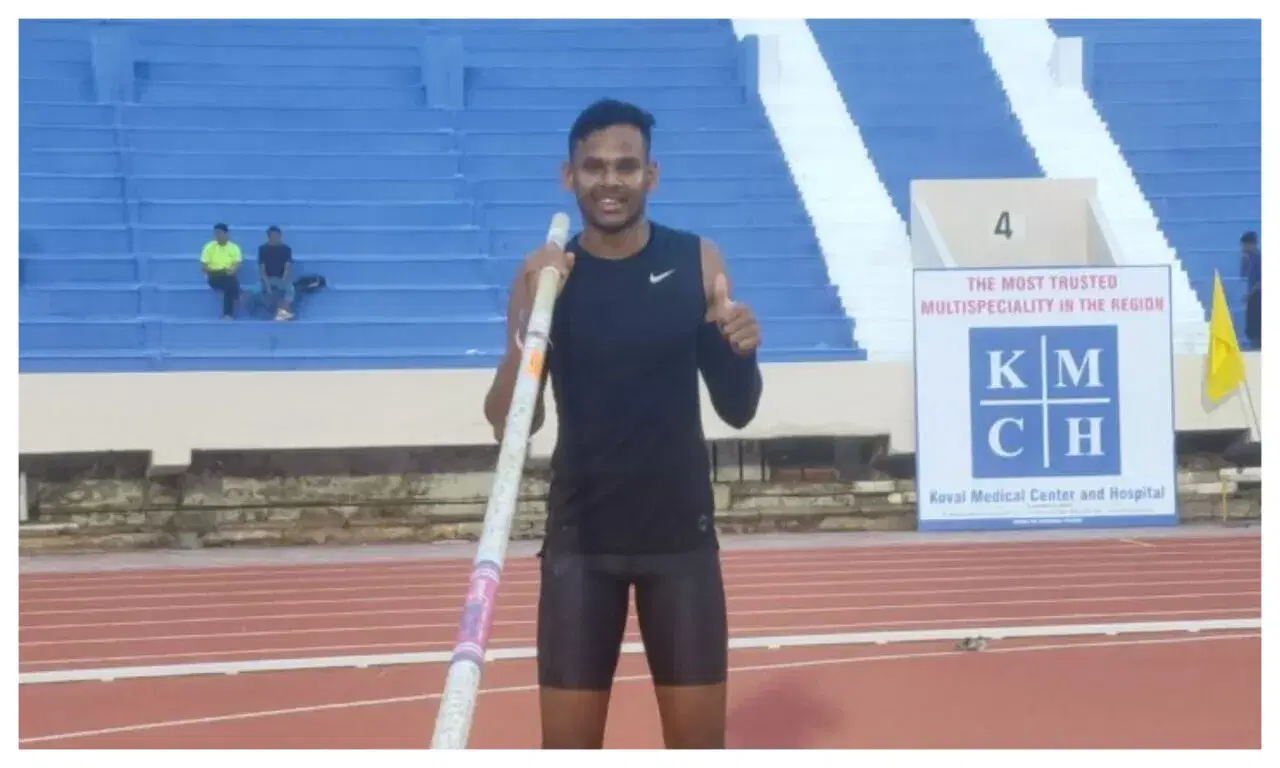 While he struggled with arranging equipment to travel for competitions, the quality of poles is also something that bothers the newly crowned junior pole vault champion.
"The quality of pole vaults in India aren't good in comparison to other good performing countries. We cannot use a same pole constantly for all the competitions and need to have multiple options. So, even if I improve my strength and fitness, it will be of no use if the pole isn't good.
"If you observed, I used multiple poles for my jumps. Till 4.90m, I used one pole and then to break the junior national record I used another. So, better the pole, the better will be the performance. I'm receiving help from the seniors and if we keep improving the quality of pole, then eventually we can create more records."
Next Aim?
With the junior national record now his, Kuldeep has set sights on newer pastures. "My aim will be to qualify for Asian Games 2026 and subsequently become the first Indian pole vaulter to medal in the competition," he said talking of achieving at the Continental stags.
"Before that, there is the Junior World Championships for which I'm aiming to cross the 5.40m mark. If I get to 5.40m, then will definitely win a medal and that would be enough for me to qualify for the next Asian Games.
"Although the next Asian Games is three years away, I'll have chance to prepare for a longer time and also cross greater heights."
For more updates, follow Khel Now on Facebook, Twitter, and Instagram; download the Khel Now Android App or IOS App and join our community on Telegram.