A football stadium must fulfil some key requirements to receive recognition from the world's football governing body.
"The football stadium is the magical place where players and fans come together to celebrate our beloved sport, and where legends, memories and iconic moments are created. It is, in essence, where football lives." – Gianni Infantino, FIFA President.
As rightly put forth by the FIFA President, a football stadium is at the core of footballing culture. Having a decent infrastructure is crucial to the development of football in any country.
Football players and spectators alike deserve well-built stadiums where good-quality football can be played and viewed. Arenas all across the world have to meet certain requirements in order to become FIFA-certified stadiums.
The FIFA standards
In order to successfully organise international level tournaments or high-level domestic tournaments, a country must have FIFA-standard stadiums. Whether the tournaments involve elite-level footballers or players of a younger age group, there are certain requirements that must be met.
The purpose of these guidelines is to provide a global benchmark for football stadiums. A stadium must fulfil key requirements and be socially, economically and environmentally friendly. Before getting into the technical requirements of a FIFA standard football stadium, it must go through a process of initiating, designing, constructing and operating guidelines.
The initiation of the project (stadium) must benefit local communities. Designing deals with the type of pitch, stands and availability of a roof that makes the stadium accessible for all sorts of spectators and caters to their specific needs. Constructing a stadium that is future-proof, environment-friendly and climate-proof is essential.
Technical Guidelines
Field of Play
By definition, the field of play is the area bounded by the goal lines and touchlines. FIFA's recommended field of play dimensions is 105 metres x 68 metres. It should be rectangular and marked with continuous lines.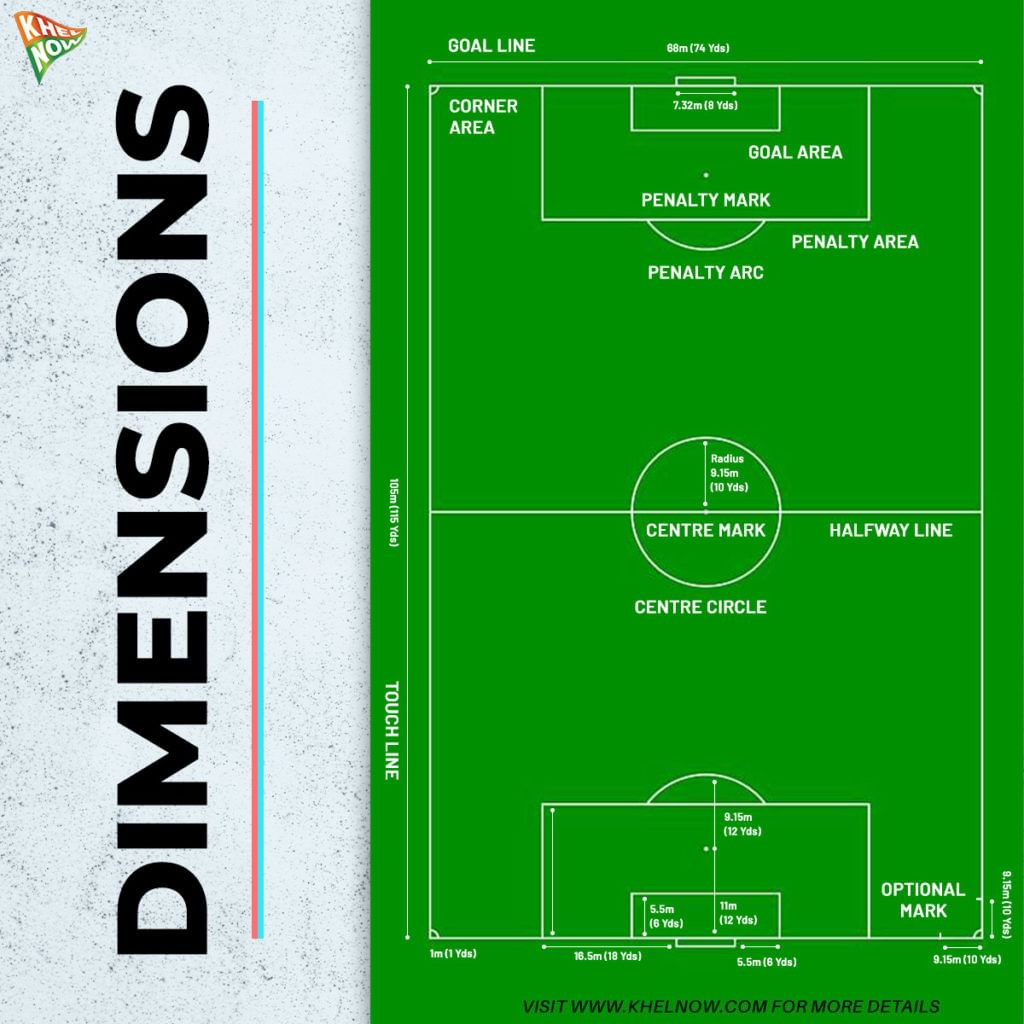 For the area outside the field of play, for larger stadiums, FIFA recommends that a total distance of five metres beyond each goal line and four metres beyond each touchline be provided before the placement of perimeter advertising boards. For smaller stadiums, FIFA recommends a total distance of four metres behind each goal line and three metres beyond each touchline before the placement of perimeter advertising boards.
The playing surface must be natural grass or an approved synthetic turf. A stadium must have adequate lighting for night games, with an average illumination level of at least 2,500 lux. The stadium must have seating for at least 5,000 spectators, with at least 1,000 seats covered. Furthermore, a FIFA-standard stadium must meet safety and security requirements, including fire safety and emergency evacuation plans. It should also have adequate facilities for media and medical persons.
Moreover, each stadium shall be equipped with two goals of suitable quality and safety. They are to be placed in the centre of each goal line equidistant from the corner posts. It is normal for stadiums regularly hosting professional football to have two replacement full-size goals on standby, for emergency situations where the original goals are damaged during the game. The recommended specification of permanent goals is also provided within the Laws of the Game.
Safety Requirements
For a FIFA-standard stadium, it is imperative that effective equipment and procedures are in place to detect and tackle any outbreaks of fire. All stadiums must contain appropriate firefighting equipment.
Emergency evacuation measures should be in place in emergency situations. The area around the stadium must be easily accessible for emergency vehicles such as firefighting trucks and ambulances.
All stadiums should be equipped with a Venue Operations Centre (VOC) or "stadium control room" from where safety and security operations at the stadium can be monitored and controlled. This is the room that can direct resources in both normal operations and during emergencies.
First-aid and medical facilities shall be available in all stadiums. A dedicated room such as the VOC must be in place to direct any medical assistance that may be required for spectators or players.
Signage should be available for wayfinding and safety measures. In addition, signage for ticketing information, travel information, upcoming events, waste and recycling information and stadium regulations shall also be available.
Lighting Standards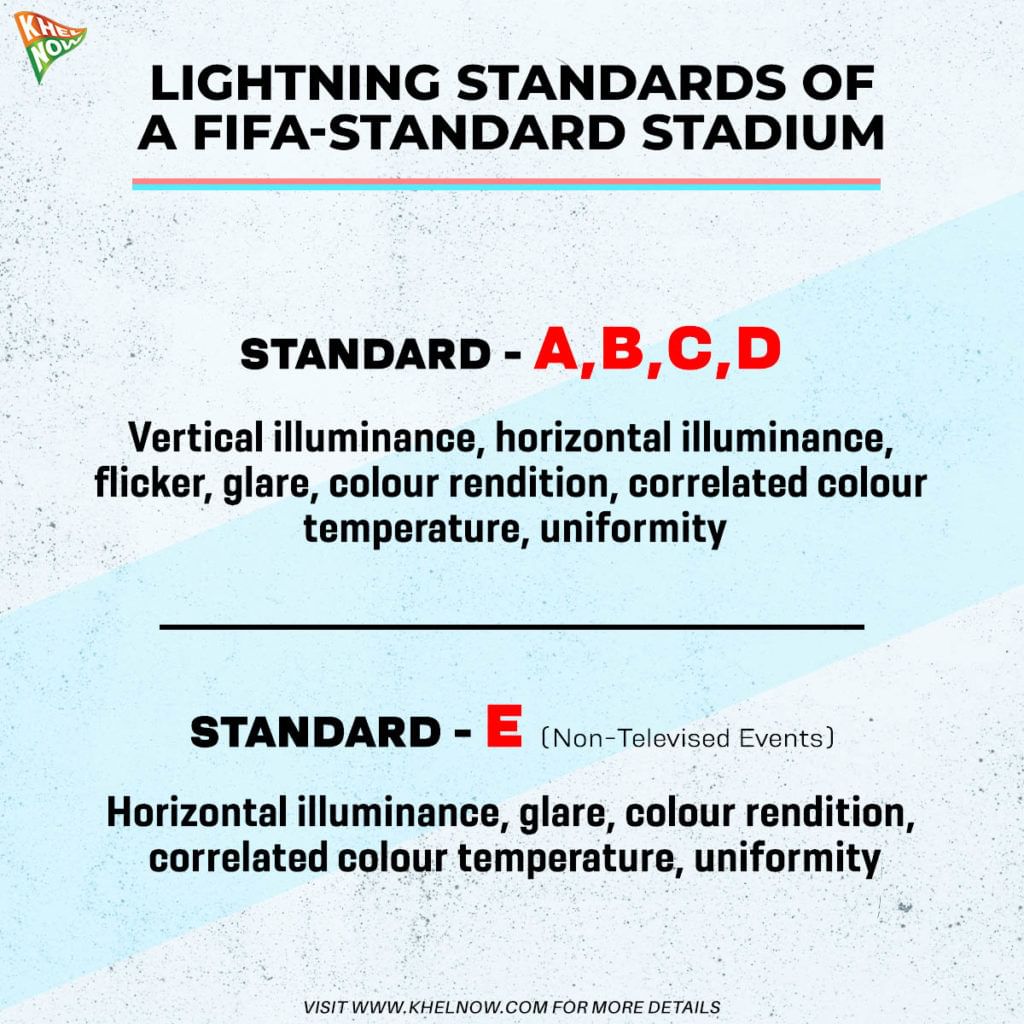 Moreover, a FIFA standard stadium shall have adequate staircases and elevators. They should have a sufficient amount of washrooms/urinals across the stadium for the use of the spectators. A stadium should have at least two player dressing room areas that include the team dressing rooms, toilets and showers and bathing/recovery areas.
Indian Football Trending Articles:
Stadium Categories
While it is nearly impossible to cater to every single stadium across the globe, the following categories aim to provide a basic framework wherein the standards set by FIFA can be implemented.
Here are the five categories: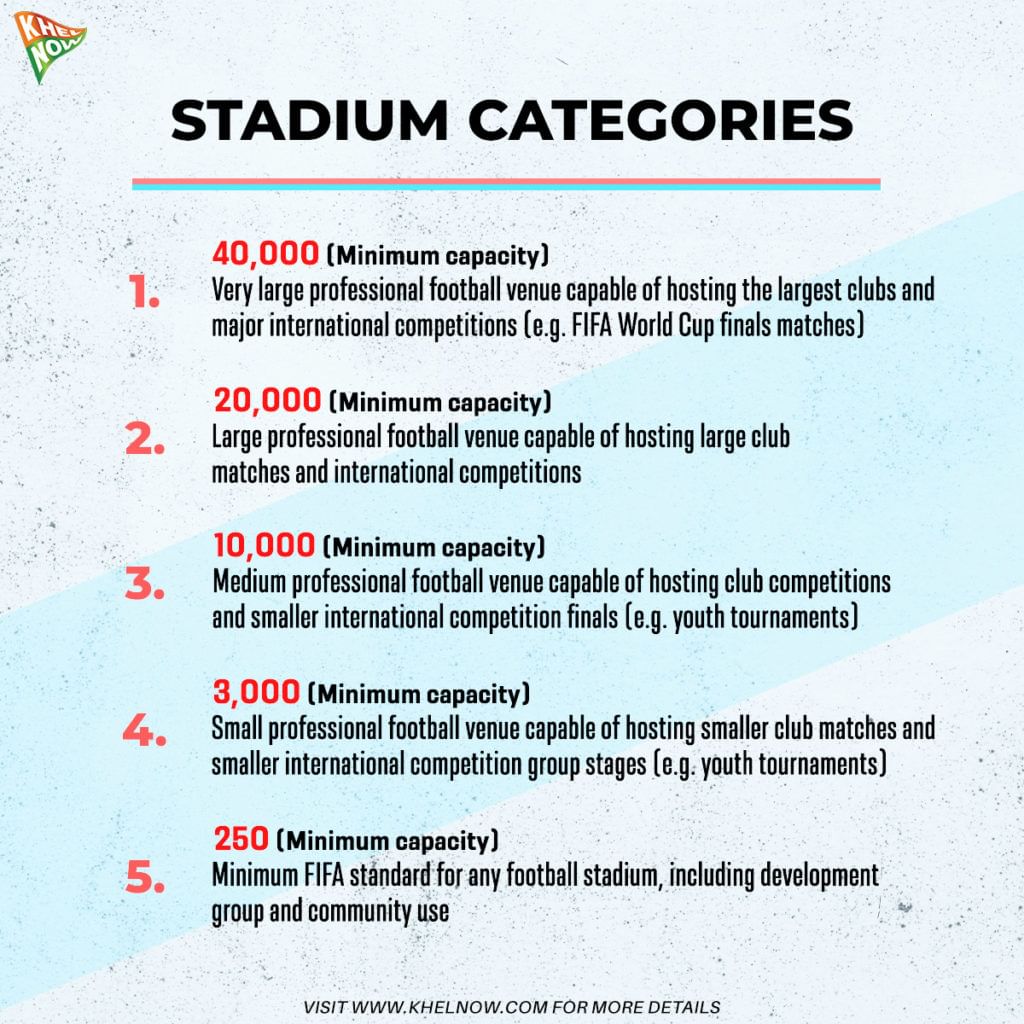 For more updates, follow Khel Now on Facebook, Twitter, Instagram, Youtube and join our community on Telegram.