The Bayern Munich defender reached the FIFA World Cup 2022 final with France
The Bayern Munich star has spent most of his career in the Bundesliga. Upamecano joined Bayern Munich from RB Leipzig in 2021. Bundesliga is finally back after the FIFA World Cup 2022 break. Dayot Upamecano recently sat down with the Bundesliga media discussing a variety of topics.
Here is the full interview:
How did the winter training camp go for you? The Sporting Director recently said that you are in excellent form…
"I feel great. Was very happy to meet up with my teammates again. I missed them. Am happy to be back here and to see everyone again. Of course, I trained a lot during my time off. I am feeling good and can't wait to get back on the pitch to win games and help my team in any way I can."
How did you process the defeat in the World Cup final?
"It was a difficult moment. But my family were there for me. It is important to move on now because there are lots of big challenges ahead with Bayern. So that is my focus now and I will look to put what happened in Qatar behind me."
What experiences have you taken from the World Cup?
"I gained a lot of experience. It was an amazing final. Of course, I would have preferred to win the title. But we gave our all. And we hope to be back very soon."
What did Julian Nagelsmann say to you when you returned?
"When I arrived back, we had a good chat. He told me that I had a great World Cup and that I just need to keep going."
How proud are you of your personal performance at the World Cup?
"Like I said, I was in good form going into the World Cup. The important thing was continuing the same form. If I am able to help my team, that is what I will do. We had a great coach, who helped us a lot throughout. He gave me a lot of advice during the World Cup. And I gave my all for France."
How pleased are you with the first half of the season with Bayern? You have played in every game and missed only eight minutes in total.
"Like I said, I am very happy. But I want to keep improving all the time and learning from people. I know there are lots of areas I need to work on. I am working hard, and I will keep doing so – on and off the pitch. Am looking to learn from everyone, be it my teammates, my coach, all the coaches. I am listening to a lot to ensure I keep progressing."
What do you tell yourself for motivation?
"To never stop and never give up. I am highly motivated, which is something that comes from my family. They push me every single day. And I hope to go as far as possible."
Who was your footballing idol?
"My idol? I've had many. Zidane. I am a defender, but I didn't start as a defender. I started as a striker or midfielder. So when I was younger, I really liked Zidane, Samuel Eto'o, and Thierry Henry. And I scored goals too. Because one of my coaches told me to play in defence. I was bigger than average when I was younger. So, he played me in defence. I wouldn't say 'unfortunately'; I would say 'thank you'. Thank you to that coach. Because I don't know if I would be where I am today had I remained a striker. No way. So thank you to that coach."
Having started out as a striker, do you miss scoring goals?
"No, I don't miss it. Today, I love defending. That time has passed, I would say."
Valenciennes, Salzburg, Leipzig, Bayern – you played for some big clubs in your career. How happy are you with your career so far?
"I have certainly made a good start to my career. I am very happy. Never wanted to take any shortcuts. I wanted to take it step by step. I started at Salzburg, then Leipzig and now Bayern. My family has always told me to take it step by step. I am very proud of my journey so far. But it is not over yet. I want to go as far as I possibly can."
You took a bit of time to settle in at Bayern in your first year. Do you know why that was?
"Of course. When you change environments, it's never easy to adapt. But I tried to adapt as quickly as I could. It's true that it took a bit of time.
But I have adapted now and have made my mark at this amazing club."
How much did knowing Julian Nagelsmann help the transition from Leipzig?
"It helped of course because I knew his way of playing. It was great being reunited with him at Bayern. We spoke a lot and I know him well. I know what he expects of me. He is someone who has helped me a lot and I am very grateful for that."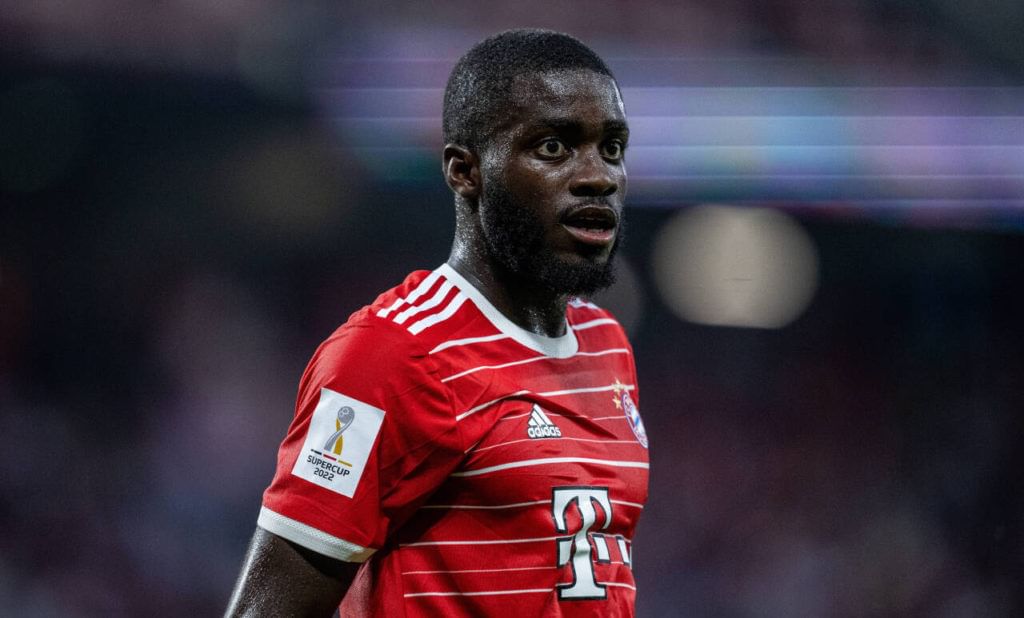 What weaknesses do you still see in your play?
"Weaknesses? I will keep them to myself and keep working hard. Don't want to tell my opponents what my weaknesses are. I am looking to improve in a lot of areas. And we do a lot of video analysis with the coach. And he takes me to the side now and again to tell me where I can improve and where I am doing well."
Do you consider your former club RB Leipzig one of Bayern's main competitors for the title?
"Yes, just like every year. They have been competing for the title for five years now. They are certainly contenders for the title this season."
Are you looking forward to the upcoming first game against Leipzig?
"It will be a good match. They are playing well at the moment, as are we. It will be a quality Bundesliga match. We will do everything we can to get the win. I am looking forward to going back to the Red Bull Arena. We will do everything to make sure we come home with all three points."
You have been in the Bundesliga for five-and-a-half years now. What do you like about this league?
"The thing I like the most is the atmosphere. It's incredible. The atmosphere in every single stadium is amazing. And that motivates you a lot as a player. And everyone has been very welcoming and respectful – both in Leipzig and in Munich. That is important."
Is it a different world playing for Bayern Munich compared to RB Leipzig?
"Not sure about a different world – it's the same country. No, Bayern is one of the biggest clubs in the world. There is no denying that. There have been some big players at Bayern. I very much enjoy being part of this club and hope to stay here as long as possible."
For more updates, follow Khel Now on Facebook, Twitter, and Instagram and join our community on Telegram.