The Argentine has had the worst start to a league campaign in the last 16 years.
The departure of Lionel Messi from FC Barcelona came as a shock despite signs of it taking place a few weeks ago. The 34-year-old joined Paris Saint-Germain during the 2021/22 summer transfer window after talks of a renewal with the La Liga outfit could not go forward. The Ligue 1 outfit acquired Messi's services to strengthen a team that already had the likes of Kylian Mbappe, Neymar, Sergio Ramos and more. His arrival made PSG an obvious threat and favourite to win everything in sight.
However, as it happens, Messi has not found his feet for his new club in the domestic league. He has yet to score or assist a goal in four appearances for PSG in Ligue 1. A goalless draw with Olympique de Marseille meant this was Messi's worst start to a league season in 16 years.
The UEFA Champions League is a different story, as Messi has scored three goals in three outings there. However, the fans of the Parisians are scratching their heads on the inability of their team to score while having the best player in the world. There are several factors which are contributing towards Messi's rocky start to life in France.
Here are the five reasons why Lionel Messi is finding it hard to adapt to Ligue 1.
5. New country, new league
Adjusting to a new country and an unfamiliar league system would take time for any player. This is especially true for Lionel Messi, who has left Spain for the first time after joining FC Barcelona as a youngster. He spent 21 years at the club, becoming a Barcelona legend.
His departure from the Catalonian club was tough to take for the fans and the player himself. Disconnecting from a major part of his career and focusing on the journey ahead will come naturally in time. Ligue 1 is very different from the La Liga. Messi does not enjoy similar time and space on the ball and the football is more pragmatic than the free flowing nature of the league in Spain.
4. A brand new tactical setup
Lionel Messi learnt all the tricks of the trade from the famous La Masia academy of FC Barcelona. Stars like Andres Iniesta, Xavi and more were produced there, players who symbolise the 'tiki-taka' football; something the Blaugrana are famous for. Messi played all of his career under that brand of football, and earned countless plaudits because of it. He enjoyed a positional freedom at FC Barcelona which he is not experiencing at PSG.
The attacking setup at his new club is different under Mauricio Pochettino. Messi had predominantly started on the right-wing of a front three and on rare occasions shifted in behind the striker. PSG overall are struggling to find rhythm in the final third, as their recent goalless draw with Marseille suggests.
3. Taking time to find synergy with new teammates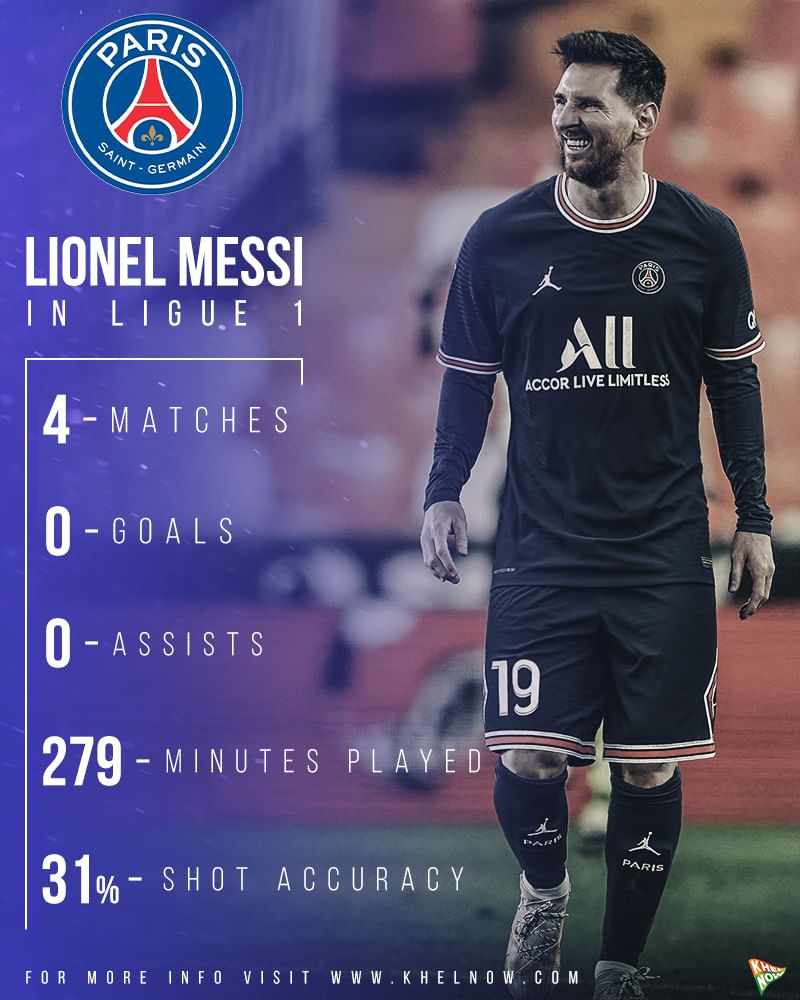 No matter how good the players are individually, getting them to combine is a different aspect altogether. While PSG have assembled a star-studded squad, there is a lack of cohesion among the big-name players of world football. A front three of Neymar-Mbappe-Messi looks terrifying on paper but the trio has yet to flourish in domestic competitions.
It has been hard for Messi to find chemistry with his new teammates. It is natural for any player to take time in understanding the psyche of new teammates. Up until now, Lionel Messi was playing with footballers who learned football and evolved with the same philosophy as his. It is a matter of when, and not if, Messi develops a connection with his new teammates.
2. Away from his comfort zone
The raging debate between Cristiano Ronaldo and Lionel Messi continues even today. The two legends of the game often are compared to each other and the argument against Messi was that he always played in his comfort zone. Messi had been a one-club player until now while Ronaldo had excelled with Manchester United, Real Madrid and Juventus, winning the respective leagues with all three clubs.
A change in team, league, teammates and overall atmosphere has certainly caused Messi to rethink and rediscover himself. Adapting to the new tactics, change in philosophy, and a new league is resulting in Messi taking time to find the back of the net.
1. Vigilant opponents
It is safe to say that the first priority for any Ligue 1 opposition is to find a way to stop Lionel Messi from scoring. Although, the same can be attributed to teams in the La Liga, the circumstances in Ligue 1 are different for Messi, and rather more challenging.
In four appearances in Ligue 1 by Messi for PSG, the club has failed to score on two occasions. They have also won only two matches of those four on top of that, which is also disappointing by their standards. Teams are wary of the threat PSG and Messi pose and hence go all out in marking and pressing the Argentine legend. However, a lack of cohesion is working against the club and Messi.
For more updates, follow Khel Now on Twitter, Instagram and Facebook.