In the recent past, Indian football ultras have made headlines several times, all for the right reasons.
Football has generally been overlooked as a sport that has united people irrespective of the various divisions that exists in the society. Similarly, the ultras have created a niche for themselves over the past numerous decades in football culture. Congregations of people wholeheartedly backing their most loved team, regardless of the results, putting up a marvelous show in the stadiums and garnering eyeballs from all quarters; this is what ultras in this sport has been all about for several years.
Once they get in the groove and become even more prominent, these ultras fight for wider social issues through their movements; most commonly concerning how they have initiated one against the commercialization of the game in recent times.
In India though, the ultras are still at a very novice stage. Club football have been a focal point of attention in some specific parts of the country over the years. There have been immensely passionate fan-bases, but hardly have they ever presented up such a maverick of a show that the ultras do on a consistent basis. Whilst the thoughts of it was planted among the supporters, as there is bound to be a time when the customs and traditions seed in here from the West. It took off, amid a bit late, but it took off and how!
Who Better Do It Than The Famed Men Who Support East Bengal?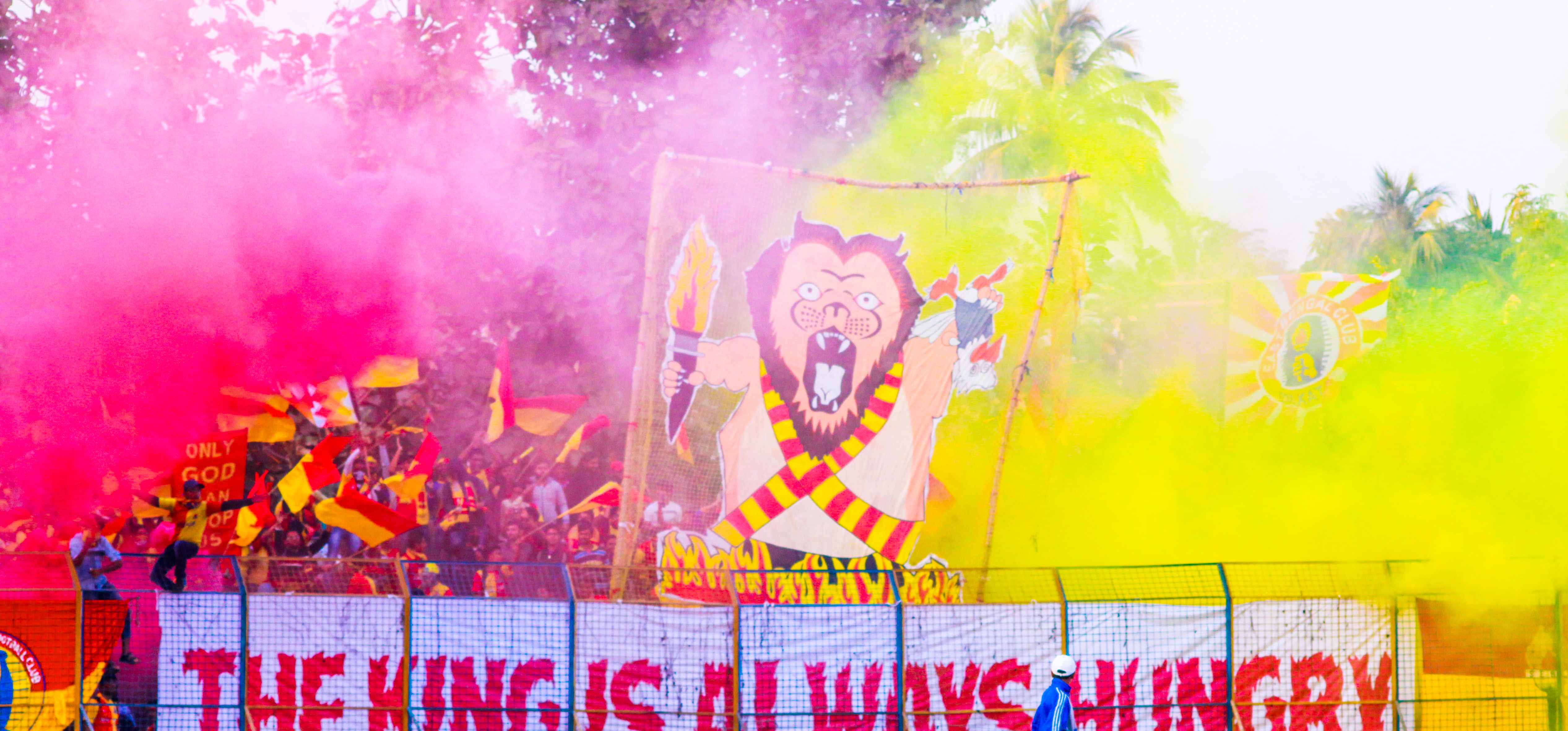 East Bengal Ultras during an I-League match
The year was 2013. It was Bengaluru FC's maiden season in Indian football and a group of men traveled all the way from Kolkata to Bengaluru to back, chant and cheer for their team. Whilst supporting one's team is common practice, the intensity and passion with which they did it for the entirety of 90 minutes showcased a unique pattern. Going ahead, the East Bengal Ultras were to become probably the most significant ultra-group in the country's footballing narrative. East Bengal Ultras also organised the Tunes of Colony – South Asia's first-ever live chant show last July.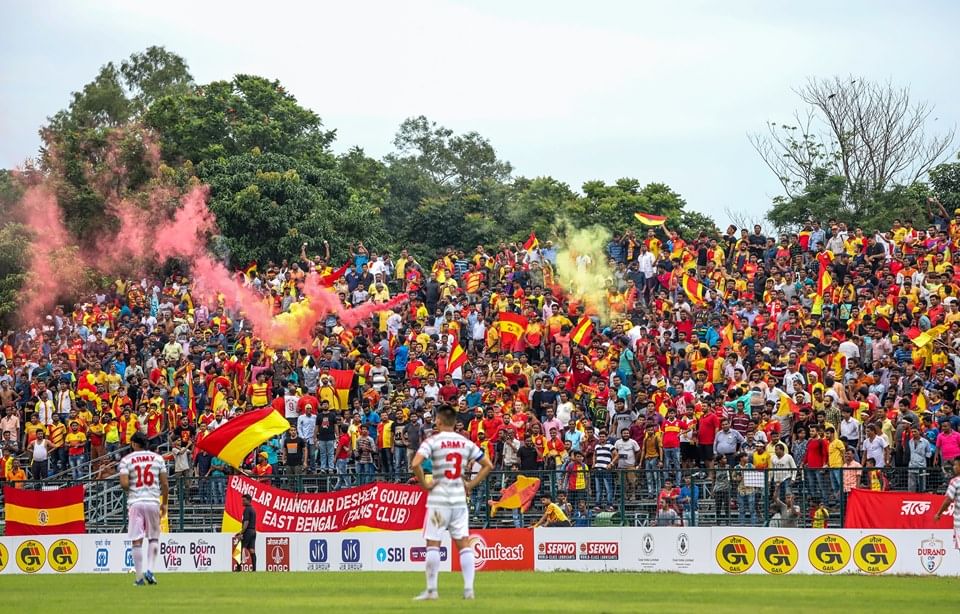 East Bengal fans during a Durand Cup game against Army Red
Abhranil Roy, a life-long East Bengal fan, and someone who has maintained a close acquaintance with his favorite club's Ultra says, "The EB Ultras are definitely the pioneer sort of fans to bring the ultra-culture in India. I am aware of how they started off. It was BFC's (Bengaluru FC) first season and EB won that game. There were very few people but for the first one-and-a-half years, they faced a lot of criticism from the traditional fans back in Kolkata. The thing is, conventional fandom in Kolkata galleries say that if one if supporting the team, one needs to abuse the opposition side too. It is called the Moidan culture. However, the EB Ultras brought their own set of chants, anthems and slogans along with banners, which was quite unconventional in the eyes of the fans that have been supporting the team for a while.
"There were very few people but for the first one and half years, they faced a lot of criticism from the traditional fans back in Kolkata," Abhranil Roy, East Bengal fan.

"The working of their organization is a management session through which a lot of Indian clubs can take lessons from. They have a core structure formed of people from the EB community. They have then segregated people from in and around Kolkata, who help them distribute merchandise and other stuff. For away games, they connect with other local fan groups such as the EB Mumbai, Probase East Bengal, EB Delhi and/or EB Siliguri. During last season, they had made sure that East Bengal away games have the support of the Ultras. Around 40-50 members of the EB Ultras traveled all the way to different parts of India, as the arrangements were managed by an internal group of the committee. It is not a travel support group of the club, but an organization that ensures that the team is backed thoroughly whenever they play."
Mohun Bagan Fans Are Not Far Behind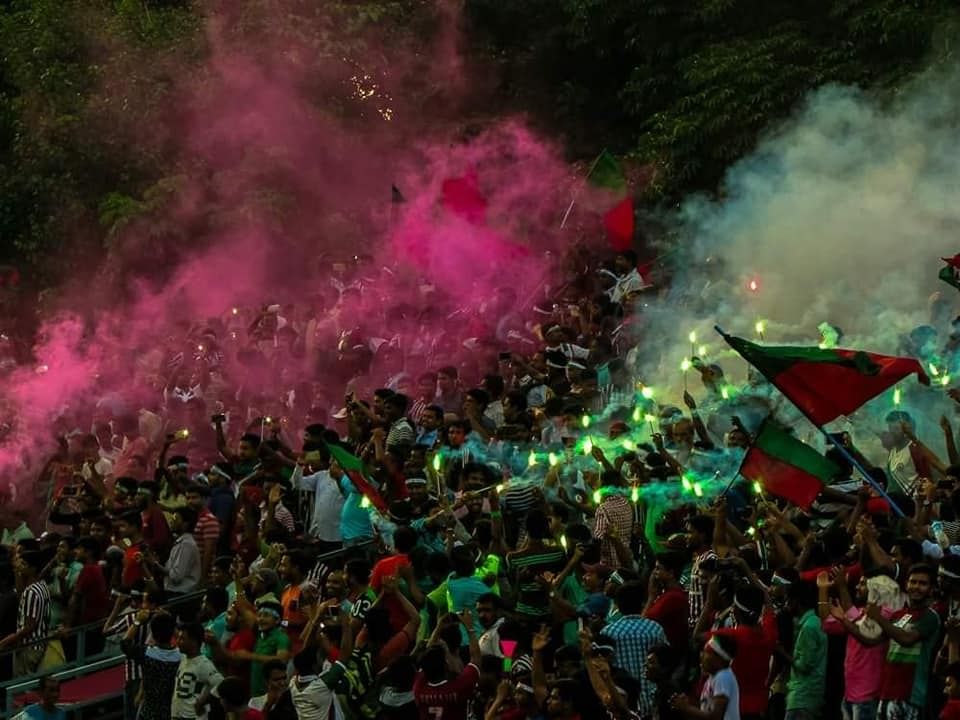 Mohun Bagan fans putting up a pyro show
Whilst the Red and Gold Bengal Brigade have made waves with their Ultras, their arch-rivals Mohun Bagan have initiated their own journey as well. The Mariners Base Camp, Mohun Bagan's Ultras, is at quite a developing stage currently. They were formed sometime around the 2016-17 period, at a time when the East Bengal Ultras were progressing incredibly in terms of their activities on & off the field. There has been a historic rivalry between Mohun Bagan and East Bengal and that has transcended to their respective Ultras too.
"I think the tifo battle is the one that brings about a fantastic rivalry in derbies. Both set of fans make dramatic drawings and designs showing each others' achievements and also take little digs at the other fan group," Moinak Banerjee, Mohun Bagan fan.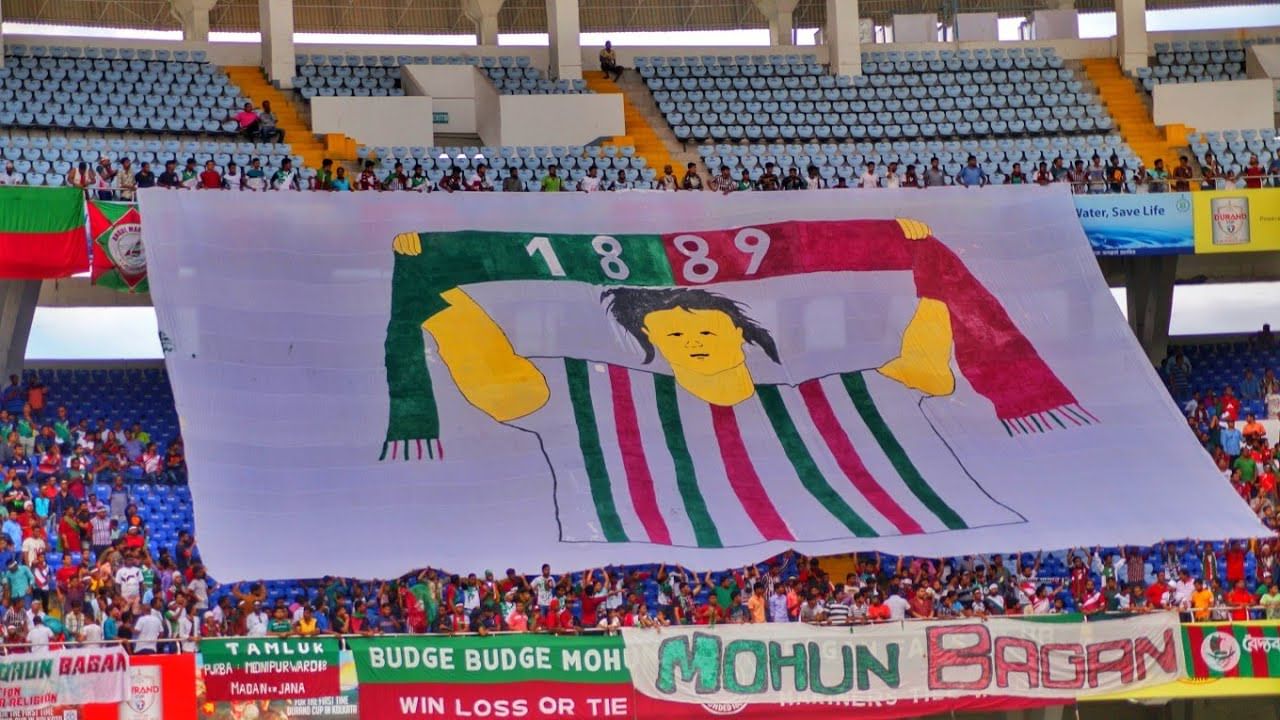 Mohun Bagan fans displaying a tifo during Durand Cup 2019
When asked about the Mariners Base Camp reiterates to the EB Ultras when the two teams face off, Moinak Banerjee, a long-standing Mohun Bagan supporter, remarked, "I think the tifo battle is the one that brings about a fantastic rivalry in derbies. Both set of fans make dramatic drawings and designs, showing each others' achievements and also take little digs at other fan groups. Another thing is that they try their best to make one's stand more beautiful than the others in whichever stadium they go to play and make it an auspicious atmosphere.
East Bengal Ultras Vs Mariners Base Camp
A female East Bengal fan leading the chants for the East Bengal Ultras
There is a new attraction each time from both parties. For example, East Bengal Ultras introduced the woman mic announcer and Mohun Bagan brought about the fireworks and light show at night. Overall, both the fan bases try their absolute best to create a wholesome aura eventually. The feel during matches is always that of optimism, no matter what the season's performances are. Maybe, the derby is the one which holds the highest prestige. Fans are desperate to show their support on a high scale."
Mariners Base Camp take great pride in their pyro shows
More importantly, with all due respect, the footballing culture in West Bengal is arguably unparalleled when compared to other clubs in the country. This is also because of the rich heritage that they possess, the history that enables them to attract the following of multiple generations of football fans at times from the same family itself. For the ISL clubs though, they haven't yet reached that paramount level of significance yet, and hence their fan-bases cannot be actually termed as 'ultras' specifically.
The ultras have their own swagger, their own rituals and styles which separates them apart from a regular set of fans in general. Though a couple of Indian Super League sides have built their own extremely loyal fan-base, so far, it would be stretching it a bit too far to call them ultras. Yes, they are a passionate group that backs their team wholeheartedly, but somewhere down the line, there is still a pretty long way to go for them to be entitled with the tag.
In the ISL, it is more difficult to develop such a zealous group of fans who would cross boundaries to display their commendation towards their clubs. However…
The Manjappada Have Also Made Their Presence Felt
The Manjappada have let their names known quickly
Krishna Prasad is a member of the Manjappada, Kerala Blasters' own Ultras. We inquired him about their prominently-known remarkability and recognition, to which, Prasad said, "Kerala has got a rich history in football dating back to the late 19th century. Keralites are one of the most passionate fans in India. Our role is to bring all Keralites under one umbrella and reignite and relive their passion and make them part of New Indian Football Revolution. When we look back, we are satisfied we have contributed to the new revolution. Our buck doesn't stop here and it will continue."
"Our role is to bring all Keralites under one umbrella and reignite and relive their passion and make them part of New Indian Football Revolution," Krishna Prasad, member of the Manjappada.
However, despite their continuous backing towards the team, the Blasters failed to deliver on the pitch for the entirety of last season. They finished at the ninth spot of the ISL 2018-19 points table with merely 15 points from 18 matches. Though the team endured massive troubles on the pitch, the Manjappada never failed to fill up their stadium in abundance. Campaigns like the previous one are the real test of character for such fans, and they didn't shy away from standing strong with their team even when the going got tough.
With respect to their previous season, Prasad remarked: "Last season was extremely disappointing. We can't sit on that and be disappointed always. We are all passionate and loyal to Kerala Blasters. New Season, New Hopes and we are back with a bang. We are not only back but with more vigour and energy. Nothing can stop our passion towards the team. Though we might get disappointed occasionally but we are passionate and loyal."
West Block Blues Also Have A Say
Unlike the Blasters though, the Bengaluru FC went through an excellent season last time around. They won the Indian Super League under the captaincy of Sunil Chhetri. They enthralled one and all with their consistently noteworthy performances throughout the season. While the players impressed the audience with their outings on the field, the West Block Blues were yet another interesting feature who followed the BFC for the whole season. The WBB has grown in numbers, attracted the urban audience craving for some Indian football based in Bengaluru, and made the trips to other cities, notably to Mumbai during their victory in the finals against FC Goa.
West Block Blues singing during an ISL game in 2018
Ajith Harish has been a constant member of the West Block Blues. Asked about what separates the WBB from other major groups such as the EB Ultras and the Mariners Base Camp, Ajith seemed dismissive of any sort of competition against other groups, in a very positive way. He said: "We are not here to be the best or outnumber the rest. Our cause is to support our team to the best of our abilities. That's what matters to us. Each fan club is different and is often a reflection of the city they are in. We have our advantages of being in an open and welcoming city like Bangalore. That's shown in what we do and what we are. Credits to all the fan clubs who support football as the sports requires much more in India."
"Our cause is to support our team to the best of our abilities. That's what matters to us," Ajith Harish, member of the West Block Blues.
The JSW have strived to maintain an organic relationship with the players and hence have developed a cult fan base for them within such a short span of time in Bengaluru. They are somewhat fortunate to have the services of the likes of Chhetri and Gurpreet Singh Sandhu, two players who attract attention from football viewers all over the country. Hence, we were curious regarding how is the relationship between the top-brass management of the club and the West Block Blues. The answers from Ajith were a true testament to the spirit that runs within the club.
"The club and the fans share a unique bond. At BFC, it's always a Fans First philosophy. They are very supportive of the positive things we stand for and we try to achieve. They have never disappointed us and when it comes to performance on the pitch, they always give their 100%. As fans, we try to do the same in the stands. It's a peaceful coexistence and that's how it should be."
Football fandom, until now, was innately concentrated to particular sections in the country. At a time when the sport is expanding its roots to the unknown territories, these ultras will play a major role in helping football burgeon further. Fan groups travelling away for their teams always tend to make the locals interested in following their teams with equal passion and intensity as well. It is more of a chain-reaction, through which one can hope that all major clubs in India proliferate their own vogue set of fans. Hence, the East Bengal Ultras' decision to travel to Kashmir during their club's encounter against Real Kashmir FC has major positive repercussions that will come into limelight gradually. Until then, one can only hope to see them evolve furthermore as time progresses.