The striker talked about his experience in the Indian Super League, hat-trick against Mumbai City and much more.
The 2021-22 season of the Indian Super League (ISL) is afoot and we've already seen over 100 goals being scored including two hat-tricks. Greg Stewart scored the first hat-trick of the season followed by NorthEast United's Deshorn Brown. The forward has been in top form ever since signing for the Highlanders.
Khel Now caught up with Deshorn Brown for an exclusive interview after he scored a top-notch hat-trick against the defending champions Mumbai City. The Jamaican ace shared his thoughts on his move to NorthEast United, Khalid Jamil and was hopeful of their fortunes turning around in the second half of the season.
Experience in India so far
Brown came to India in the winter of 2020 with Bengaluru FC and moved to NorthEast United a season later. Reflecting back on his time in India so far, Deshorn said, "I started with Bengaluru FC and it was a bit hard to adapt there. I still appreciate that they gave me the opportunity to come here and play in India. Last season was good and it has been good so far."
Hat-trick against Mumbai City FC
Deshorn Brown scored his first-ever ISL hat-trick in NorthEast United's final game of 2021 against defending champions Mumbai City FC. He said that the third goal was a crucial one and his favourite therefore.
"I think the third one was more crucial and critical. We were losing 3-1 and we scored two goals. The third goal gave us more energy to fight as it was a team goal," he asserted.
Transfer to NorthEast United
The forward joined the Highlanders midway through last season. When asked about how he managed to adapt to a new team in almost no time, Deshorn recalled, "It wasn't difficult. Playing wise, it was different. At Bengaluru, I didn't have much freedom. I think that's affecting their team. I've never seen anyone build a team around the players they like. They don't let you play your game and it was frustrating for me.
"When I came to NorthEast it was different. I saw the guys were training, the way they communicated with each other, and the freedom that the coach gave. I never met the coach and he just told me to play my game and use my strengths. For me, that's all I need to hear. I started training and playing and I felt like a bird, who was free. I remember playing my first game against Jamshedpur FC and we got three points that day. Coming here, I think I've made the right decision because I get to play the way I know to play," he explained.
Change in playing style
Deshorn Brown stressed over the fact that he was not allowed to play his natural game and was rather made to play out of position. He explained about what has changed from Bengaluru FC to NorthEast United. "I get to play the way I know. I know my style of play and how effective I'm. It's not difficult for me to adapt to any system," he claimed.
"They (Bengaluru) tell you to go out and play, but that's not what they want. They want you to do what they think you should be even if it's not helping the team. I played out of position over there (at Bengaluru FC) and did not get much game time. A lot of time, I played the first half or I get substituted and it was a difficult task for me.
"But, here (at NorthEast United) I get to start and I know that I've enough time. When I was there, it was always in the back of my head that the coach will substitute me. Those things broke my momentum and confidence. I've started feeling myself and now I know how effective I'm in attacking. I appreciate NorthEast gave me the opportunity to play here and now I get to breathe and execute what I can do," he further opined.
Thoughts on Khalid Jamil
Khalid Jamil has been no less than a blessing to Deshorn Brown's ISL career. The Indian tactician has given a new ray of hope to Brown to prove his doubters wrong. Sharing his thoughts on Khalid Jamil, Deshorn said, "One of the major aspects that I see in him is the belief that he has in every player. For me, he gave me the confidence to play my game and believed in me."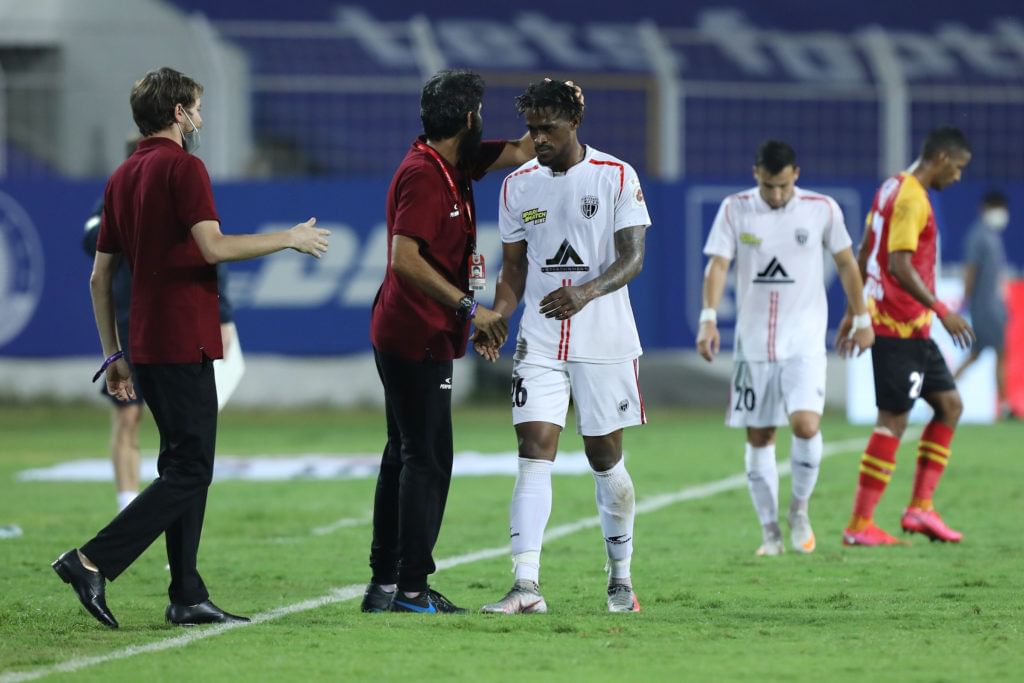 "He tells you to find something that'll help the team rather than forcing you to play here and there. He gave me confidence and belief. I've got the freedom to do what I can do and I've started enjoying football. In the end, I need to accept that it was a good decision for me to come to NorthEast," he added.
New Foreign player's policy
The League has introduced a new foreigners rule which allows more domestic players to be a part of the starting XI. "It's a good opportunity for Indian players," feels Deshorn because now they can have more game time. "It'll help them to develop and it's a good thing. But, at the same time if you lack quality it'll affect your team.
"The team that has the best quality will always outshine the team with less quality. Teams like Mumbai City FC, ATK Mohun Bagan have better Indian players. Other teams also have good Indian players, but those two teams have more quality," Deshorn Brown said.
Reflection on the season so far
The Highlanders have faced plenty of ups and downs this season and things have just not gone their way. The 31-year-old highlighted the things that have gone wrong for his side. However, he also sounded hopeful to turn this around in the second half of the season.
"I think the club will bring in some foreigners. We have never had all the foreigners due to injuries. I picked up an injury against Kerala Blasters and missed a few games. Losing (Federico) Gallego was a big blow.
"Being a full season around him, I think we would have clicked. He has a very good vision and is deadly with his passes. In the second half of the league, we will try to come back and possibly reach the playoffs," he stated.
Favourite moment in NEUFC shirt
The Jamaican star has been a part of NorthEast United for a second season running. He shared his favourite moment while playing for the Highlanders. "I think last season, when we beat ATK Mohun Bagan and Mumbai City FC. That was where I felt that we had a chance," brown recollected.
Message to the fans
The 31-year-old shared a message for the fans of NorthEast United. He appreciated their support and was hopeful NorthEast United will play in packed stadiums from next season onwards.
"We appreciate their support. Maybe next year, if the league opens up we can play in our own stadium. Just hang in there and keep supporting us," he signed off.
For more football updates, follow Khel Now on Twitter, Instagram and join our community on Telegram.