The official also spoke on the famed Tata Football Academy, the aim with budding footballers, coaches and more.
Over the years, the Tata Group has played a massive role in the development of Indian football. They have always looked to push the boundaries, strived to attain excellence in all their endeavors, and have subsequently elevated the standards through their proficient practices. The Tata football academy (TFA) is viewed highly in the country's football circuit and deservedly so, given the plethora of top players they have produced who have gone on to play at the highest level. Currently, the Tata Group boasts not only about their famed academy, but also Jamshedpur FC, and the club CEO Mukul Choudhari spoke about it briefly on Khel Now's Beyond The Scores podcast.
Taking us through it's rich history, Jamshedpur FC CEO Mukul Choudhari began, "We have been in the sport for quite some time. Tata football academy itself is basically over 30-years-old and we actually brought Super Soccer, which was almost more than 35-years-old. It was in 1984 that we got the Super Soccer series in India, which was the best of European and Latin American teams when they came here and played in India, right from Bochum to Sao Paulo to PSV Eindhoven."
"So that was our legacy. In fact, we have a league that we run here which is sponsored or rather completely run by Tata Steel, which is 75-years-old and is a local football league called JSA league – Jamshedpur Sporting Association League, I think it is one of the oldest leagues. That's our passion and love for the sport and that's the legacy as far as I am concerned of Jamshedpur and football per say," the Jamshedpur FC official added.
The main priority of the Tata Football Academy has always been to develop budding footballers, help them realize their full potential, and provide them the tools they will need to thrive in the game. They have managed to do the same, having produced 150+ national team players, with 24 of them captaining the national team on various occasions.
The numbers make for some great reading, which is a testament to their process, unwavering commitment to the cause, and professionalism. In 2017, Tata Steel decided to broaden it's horizons, deciding to venture into club business, taking over Jamshedpur FC in the Indian Super League.
Choudhari explained, "I came here to actually manage TFA and that's when at that point of time it happened so there was no air about getting into the club business though we were exploring getting into the second division for exposure sake for our cadets. But then we were seeing the ISL and the way Indian football has matured, we thought it was the right time to step in and that's when the senior leadership in Tata actually stepped in and said, 'Hey, let's launch a club now. I think football needs this boost.'
"At the same time, I think the eco-system that you have back in Jamshedpur will only compliment this. So I think that's how the decision to move into commercial side of football, which we were never in, happened in 2017."
Furthermore, the Jamshedpur FC CEO revealed that there are 28 TFA graduates plying their trade in the ISL in addition to many more in the I-league. He also spoke about their affiliation with foreign clubs and the immense pride TFA holds in creating athletes that can flourish in their sport. Choudhari even revealed that ex-cadets are called from time to time to interact with the kids at the academy, give them advice, and share their experiences with them.
"Even when there was not much of traction as far as football was concerned at that point of time, we didn't have so much viewership and stuff, we still had foreign partners. We had attachment with Sao Paulo at some point of time, we had Sheffield United as our partner way back in 2010 and otherwise."
"So we were working towards excellence, looking for knowledge partners who could help us get better and trust me all this was completely with the intention to better the standards of Indian football and nothing to do with commercials. So you know there was no fees one would get from transfers and otherwise but just the pride in creating an excellent cadet or an athlete and putting him down there where he perform at the highest level," the Jamshedpur FC CEO added.
Tata Football Academy are also placing their emphasis now on working with their local talent, helping them grow from a very young age, and possibly have them represent their city via the club. They joined hands with Spanish giants Atletico Madrid to assist them in this process of producing their own players.
"TFA of course has evolved. Right now, we are with Atletico Madrid, who is also a partner. We have a full-time Pro-License coach, who is the head-coach of the academy right now. We are very keen to see to it that now we are into the commercial side of the sport, it makes that much more sense to have a partner who can help you evolve to that level where you can produce your own players and have them play."
Explaining the reasons behind teaming up with the Los Rojiblancos, Choudhari said, "We are getting to that level and for that we needed a partner who could actually help us get there. We had evaluated many but we thought Atletico had the kind of infrastructure and support. They have 80-odd teams in the youth system, which I think is unparalleled to any other system in Europe so we thought it would be good. That's how TFA has always been focused on development."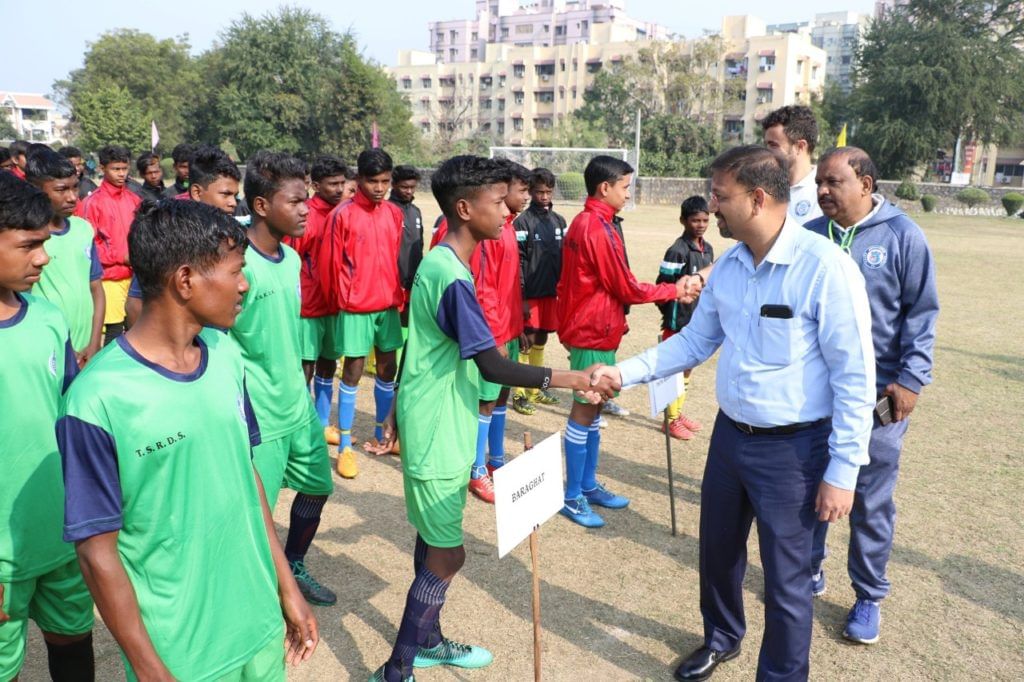 "They are a fantastic club and what they had done back in their own country and the way they have grown in the last 10 years, their journey is amazing. Particularly in the youth setup what they have done, we were very much impressed and we physically went there and basically saw their programmes and thought it was the best club to tie up with."
The Jamshedpur FC official also described it as a positive partnership, asserting that the Spanish outfit is helping them with the coaches and the other operations. The Men of Steel are picking their brains and progressing together in this joint venture.
Tata's focus though lies firmly in developing kids at the grassroots level and ensuring their smooth progression through the ranks. In fact, they have players training right from the age of six, even five at some stage, and have a number of youth teams. Besides, they are also investing time and energy in creating coaches to train the children, leaving no stone unturned in their growth.
They had even taken up an initiative in the city to educate coaches at the grassroots level and have succeeded in doing so, having almost created around 220 coaches in the last three years according to the Chief of Sports Excellence Centres at Tata Steel. As mentioned earlier, their goal is to work with the talents in the city and create a smooth supply chain of highly talented local footballers.
"We work very closely with the state association. Even for women's football, we are among the very few states in the country that might be having a women's league so to say in the state, which we have started. We had good participation for that. We are seeing the results. Right now, in the probables for the U-17 World Cup, we have almost eight probables from Jharkhand alone. That's a big number for one state to contribute and the state is doing a fantastic job. Again, I think together it will make a big difference," Mukul Choudhari signed off.
For more updates, follow Khel Now on Twitter and join our community on Telegram.