Bayern Strikes/Manchester City/Sports Illustrated
These players put up stellar performances in 2021 for their respective teams.
2021 provided enthralling action for football fans to enjoy. From the usual club football rigamarole to the Euros to many more, the year provided plenty of moments to cherish and reminisce.
Records tumbled, history was made, big teams asserted their dominance while some lesser-knowns punched above their weight. Many games proved to be exhilarating and made us sit on the edge of our seats. Ultimately, these moments contributed to further the euphoria associated with this game that we all love.
Another important part of this euphoria were the players. Their efforts and talent on the pitch are what captivates us all. Many players proved their skill and class in 2021. But a select few stood out from the rest with their consistency and success.
So let's take a look at the 11 players who made it to Khel Now's World XI from 2021.
Goalkeeper – Edouard Mendy
The Senegal international established himself among the best goalkeepers in the world in 2021. He was a cornerstone in Chelsea's successes in the year by leading them to the UEFA Champions League title. In the process, Mendy conceded only four goals in the entire tournament, a Champions League record.
This season, he has featured in all league games so far for Chelsea. In 50 Premier League games for Chelsea, Mendy has kept 24 clean sheets. That translates to a clean sheet almost every other game. His save percentage of 82% towers over his peer goalkeepers in the Premier League and across Europe. Therefore, Mendy is a guaranteed pick for any World XI of 2021.
Right-back – Joao Cancelo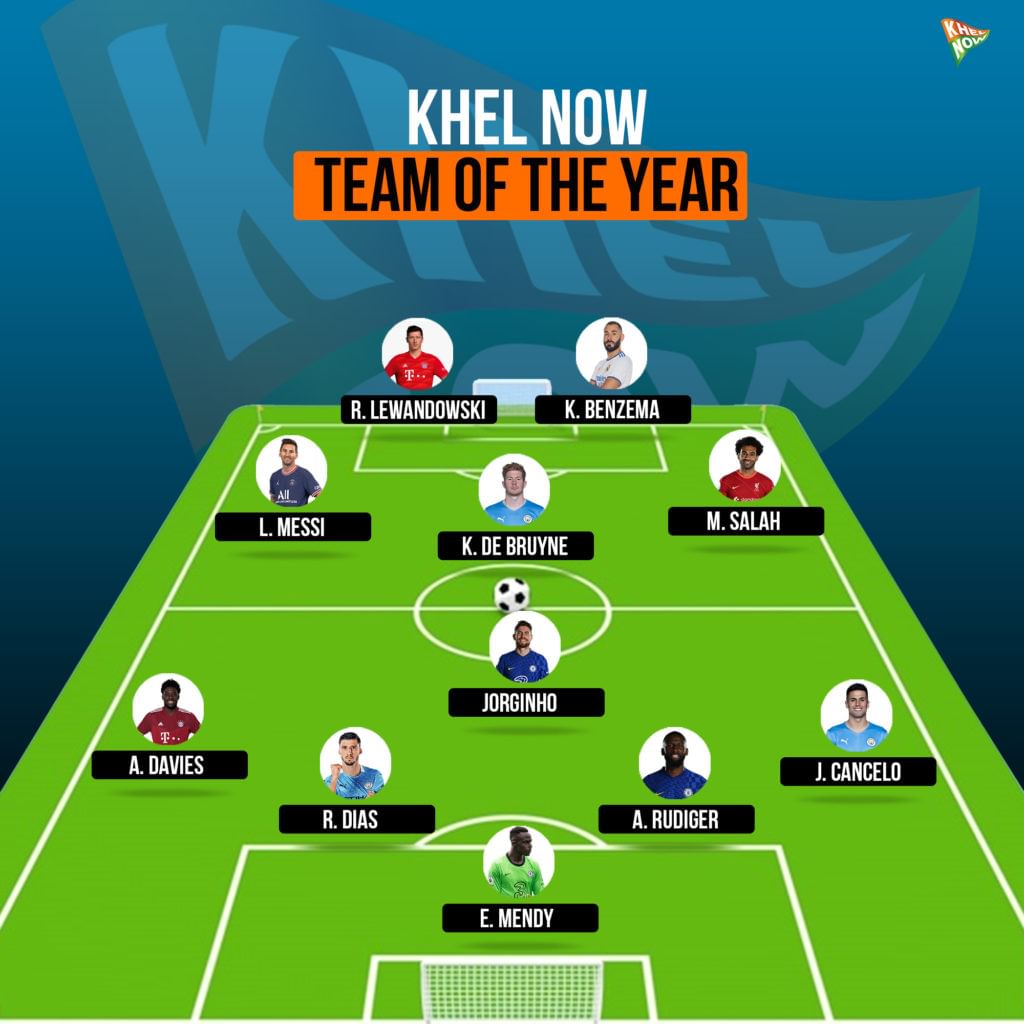 Other than the European Championship, Cancelo had an unblemished 2021 with Manchester City. He became a creative force at right-back under Pep Guardiola.
Last season, Cancelo ended up with three goals and five assists in all competitions. This season, he is already close to equalling his eight-goal contribution tally from last season.
Cancelo attempts 91 passes per game and completes 86% of them. He also makes close to nine progressive carries per game. All his stats this season place him in the top 99 percentile in the Premier League. This shows the kind of year and impact Cancelo has had, and easily makes his way into the World XI.
Centre-back – Ruben Dias
Cancelo's Portuguese and Manchester City team-mate Ruben Dias had an equally impressive 2021. The Portuguese center-back galvanized City's defence and led them to the UEFA Champions League final, the Premier League, and the Carabao Cup titles.
For his efforts, he was awarded the FWA Footballer of the Year, Manchester City's Player of the Season, and the Premier League Player of the Season. He won all these awards in his first season in the Premier League.
This season, he has led Manchester City's charge to another Premier League title. The Cityzens are eight points clear at the top at the end of the year. He has kept 12 clean sheets so far in this term.
Centre-back – Antonio Rudiger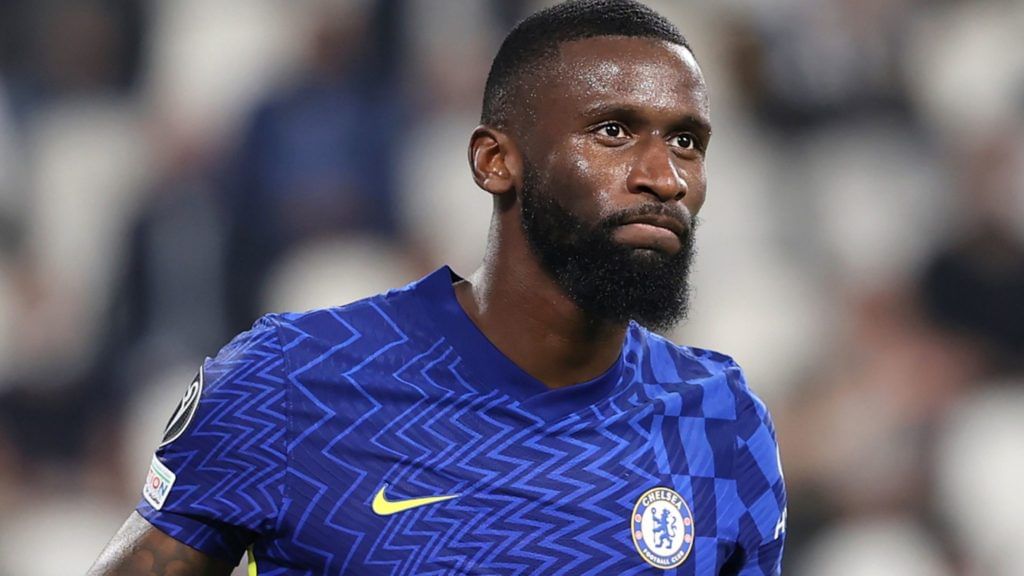 Rudiger was also one of the best players in 2021. The German led Chelsea to the Champions League title and the FA Cup final. This season, he started off brilliantly.
He has kept eight clean sheets and scored twice in the Premier League. He also has become a mainstay in Chelsea's backline and has formed a formidable partnership with Thiago Silva.
Left-back – Alphonso Davies
Bayern Munich's left-back Alphonso Davies followed up on his exploits in 2020. He once again dazzled in 2021, putting up stellar numbers at the left-back position.
Davies helped Bayern to another Bundesliga title. He also spearheaded Canada's surge to qualify for the 2022 World Cup. This season, Davies has put up 2.5 tackles and 2.3 interceptions per game. He also completes close to 11 progressive carries and more than three dribbles per game. Both these stats place in him the 99 percentile for full-backs.
Davies attempts 74 passes and completes 87% of them which is once again a sub-95 percentile score. This shows his growing impact on Bayern's gameplay and his inextricability for both club and country.
Centre midfielder – Jorginho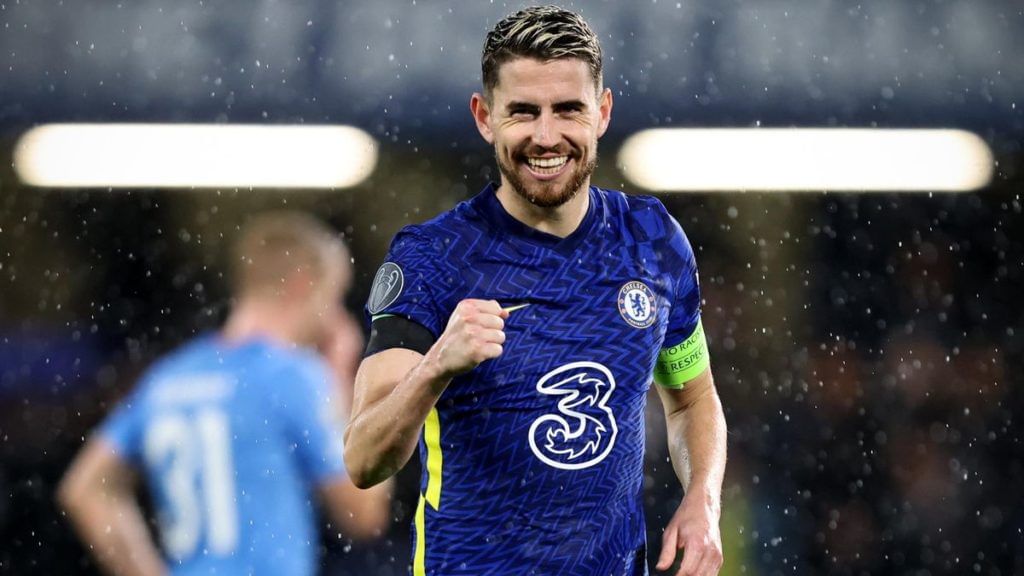 Winning the UEFA Champions League, the Euros, UEFA Super Cup, and making it to the FA Cup final means that you have had a spectacular year. This has been the story for Jorginho in 2021.
The midfielder also won the UEFA Player of the Year award. Jorginho was also placed third in the Ballon d'Or rankings. He also scored nine penalty goals in 2021, equalling the Premier League record. This season, Jorginho has contributed seven goals in 17 games.
With N'Golo Kante, Jorginho formed a formidable midfield partnership which reaped great success for Thomas Tuchel's Chelsea in 2021.
Centre midfielder- Kevin De Bruyne
The Belgian maestro continued his excellent performances on the pitch in 2021. He contributed the most goals for Manchester City last season with 28 (10 goals, 18 assists). This season, he has scored five goals and provided an assist in 14 games so far. He continues to remain the creative focal point in Guardiola's side.
For his efforts, De Bruyne lifted the Premier League title and the Carabao Cup trophies. He led Manchester City to their first-ever Champions League final. He was awarded the PFA Player of the Year as well. De Bruyne also led Belgium's rampant run in their qualification for the 2022 World Cup.
Centre attacking midfielder – Lionel Messi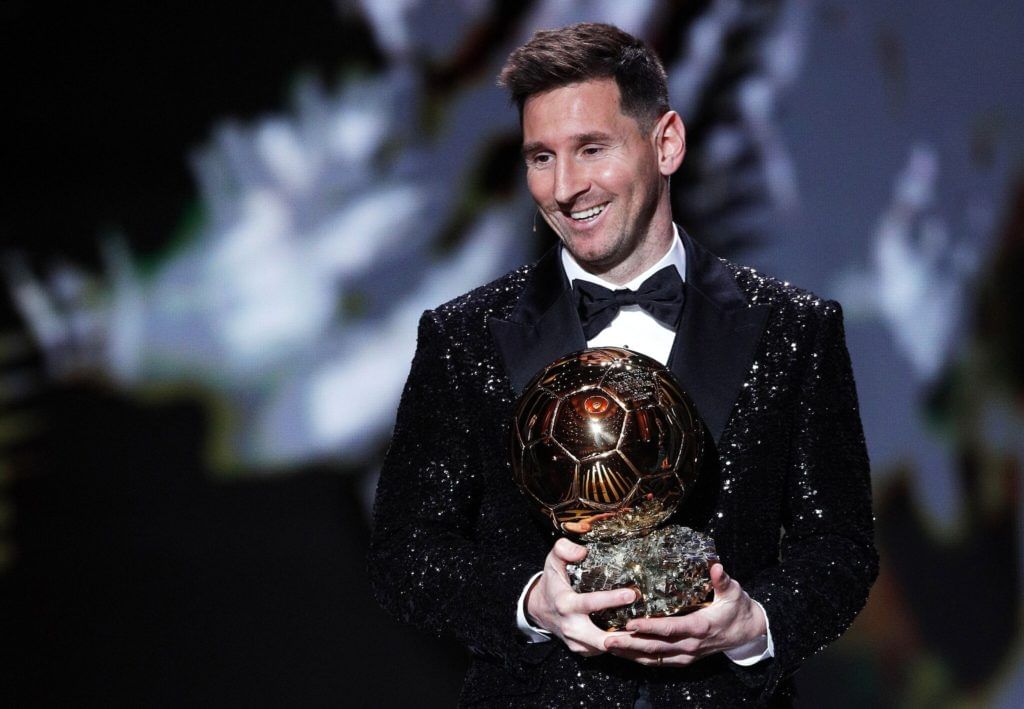 2021 will be a cornerstone year for Lionel Messi. The Argentine had a good mix of great and sad moments this year. The highlight of course was his Copa America triumph with Argentina. It satiated the long wait for both the player and his nation for an international trophy. Messi also won the Copa del Rey with Barcelona, his 35th and final trophy with his boyhood club.
But then the legend bid a tearful farewell to the Spanish giants before moving to Paris Saint-Germain. Messi also became the leading South American goalscorer when he surpassed Pele's record of 77 goals for Brazil.
This year, Messi has scored 43 goals and provided 15 assists in all competitions. It continues his ridiculous levels of consistency. To cap off a memorable 2021, Messi received his record-extending seventh Ballon d'Or in December.
Right attacking midfielder – Mohammed Salah
The Egyptian talisman continues to mesmerize the Premier League and Europe in 2021. Salah leads the Premier League goalscoring and assisting charts this season with 15 goals and nine assists respectively.
He has led Liverpool to second in the table this season. He dragged an injury-plagued Liverpool squad to the Champions League spot last season. In total, Salah has now scored 22 goals in all competitions in the ongoing campaign. In 2021, Salah scored 39 goals in 58 games in all competitions, and makes his way to out World XI of 2021.
Striker – Karim Benzema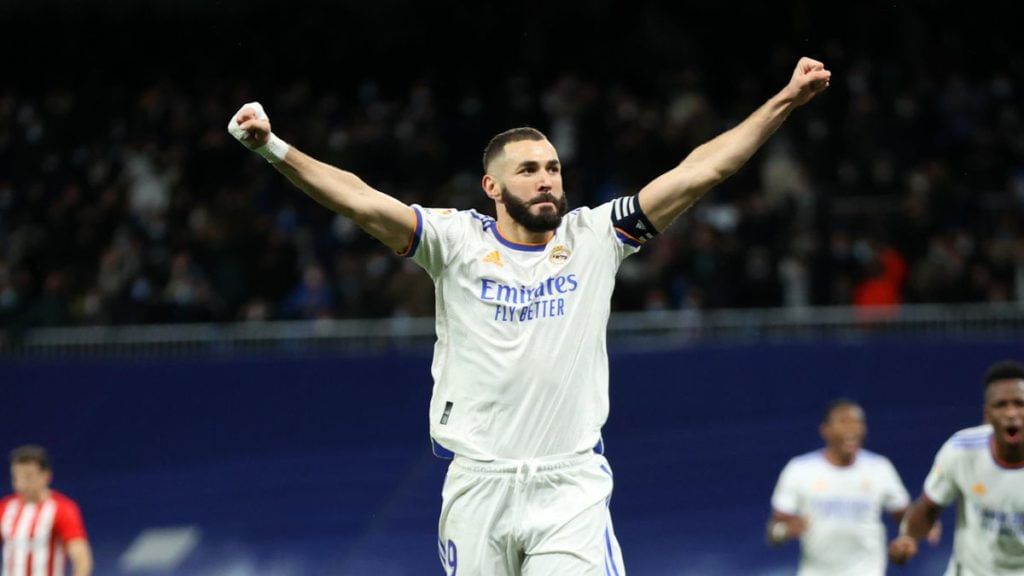 Karim Benzema will remember 2021 with great fondness. The Frenchman continued to dazzle for Real Madrid as he led them to the second spot in La Liga last season and the Champions League semifinals.
But the cornerstone moment came when he was recalled to the French squad for the Euros. It ended a seven-year exile away from Les Bleus. Benzema marked his return by scoring nine goals in 13 games for France in 2021. For his efforts, Benzema won the UEFA Nations League with France. It was his 27th trophy, making him the most decorated Frenchman of all time.
This season though, he has hit another level altogether. So far, Benzema has smashed 15 goals in 18 league games. He has scored 20 goals in all competitions in 23 games this season. Benzema also became the top French goalscorer in club football in November. He surpassed Thierry Henry's record of 401 goals. Benzema rounded off the year with 47 goals in 63 games across all competitions.
Striker – Robert Lewandowski
Lewandowski once again dwarfed everyone with his performances in 2021. The Polish forward took his game to another level. He smashed 69 goals for club and country in 2021.
Lewandowski broke the four-decade-old record for the most goals in a single Bundesliga season. He scored his 41st goal with the final kick of the 2020-21 season. This season, he has scored 19 goals in the Bundesliga. Lewandowski has already scored a frankly ridiculous 30 goals in all competitions this season. His tally is higher than club tallies in their respective leagues, and thus makes his way into our World XI of 2021.
Lewandowski won the European Golden Boot, Bundesliga, the Globe Soccer Player of the Year Award, and many more for his scoring feats in 2021.
For more updates, follow Khel Now on Twitter, Instagram and Facebook.