Quick Reads
Top 10 highest goalscorers of Bundesliga 2021/22
By
Jimit Bhavsar
(Courtesy : Footy Renders)
Robert Lewandowski topped the chart for the record 7th time.
The Bundesliga is one of the top 5 Leagues in Europe. There is an inflow of strong attacking players from top to bottom. Bayern Munich has dominated the league for almost a century now, winning it 10 times in a row. Despite the league being one-sided ,the quality of players there is astounding.
Let's take a look at the top 10 highest goalscorers in the 2021/22 season of Bundesliga.
10) Jonas Hoffman (12 goals)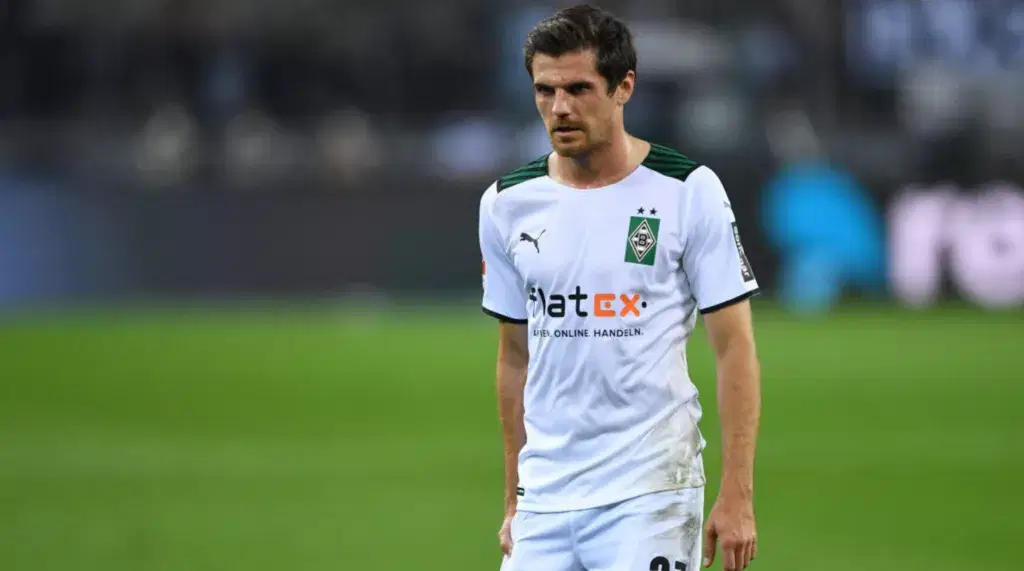 Hoffman is a midfielder for Borussia Monchengladbach. The German has also played as a winger in the past. He has played for 12 years in the Bundesliga from the 2008/09 season. Jonas has played 210 games in the German topflight league. He has scored 34 goals over-all out of which 12 came in this season. Jonas has scored three braces over the last four games. His final brace came when Monchengladbach beat Hoffenheim 5-1. Hoffman garnered 12 goals in 26 games in the 2021/2022 season.
Jonas played a vital role in Borussia Monchengladbach's win over RB Leipzig, scoring a brace.
9) Max Kruse (12 goals)
Kruse has scored 12 goals in 30 games. Max has helped Wolfsburg stay up and maintain a decent position in the Bundesliga table. The Wolves have finished 12th position in the table. Max started the season at Union Berlin scoring five times in the first half of the season. Wolfsburg then called him back for assistance in January. The veteran striker scored seven goals for Wolfsburg with the final goal against Bayern Munich. Thus Max helped secure a draw against the reigning champions.
Overall Max has a great record in the Bundesliga amassing 97 goals in 300 games.
8) Moussa Diaby (13 goals)
The youngster moved from Paris Saint Germain to Bayer Leverkusen in 2019. The transfer was imminent because it was made clear that he would get limited game time.Even at Paris Saint Germain ,Diaby only managed to score four goals in 37 games. Moussa was struggling at Bayer Leverkusen as well in his first season. But Diaby has managed to put up impressive numbers this season.
Moussa has scored 13 goals in 32 games in the Bundesliga. He managed double figures against VFB Stuttgart on Matchday 22 itself. Moreover the youngster scored a crucial goal which ensured Leverkusen to qualify for the UEFA Champions League.
7) Serge Gnabry (14 goals)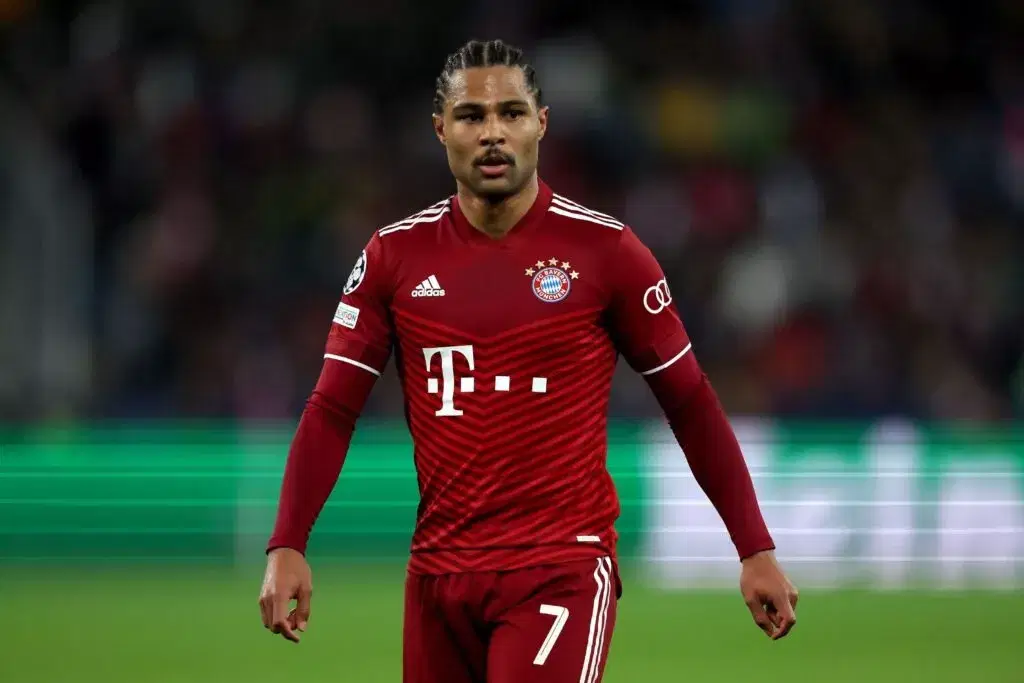 It is not surprising to see the name of a Bayern Munich player on the topscorers list. Gnabry has made a reputable name with Bayern Munich in the Bundesliga and Champions League as well. Previously , both Arsenal and West Bromwich Albion had rejected him. They deemed him as a failure but Gnabry had other plans.
Ever since joining the German League ,Serge has 67 goals and 38 assists in 171 games. Serge has scored double figures for Bayern Munich in every season since joining. Gnabry broke his previous record of 13 goals. The German winger scored 14 goals this season in 34 games. He scored a vital goal against Borussia Dortmund which ensured the title for The Bavarians.
6) Taiwo Awoniyi (15 goals)
The Nigerian striker was one of the most exciting talents during the 2014/15 season. He won the FIFA U-17 World Cup with Nigeria in 2013. Taiwo had signed for Klopp's Liverpool at the age of 18. Unfortunately he did not make a single team appearance mainly because of work permit. Taiwo then made his way to Bundesliga 2 where he struggled and scored only 1 goal in 12 matches for Frankfurt. Taiwo was forced to then play for third division Mouscron until 2021 when he signed for Union Berlin.
Awoniyi has been crucial for Union Berlin this season. He scored 15 goals in 31 games. Taiwo scored his 14th and 15th goal which ensured a UEFA Europa League spot for Berlin.
5) Anthony Modeste (20 goals)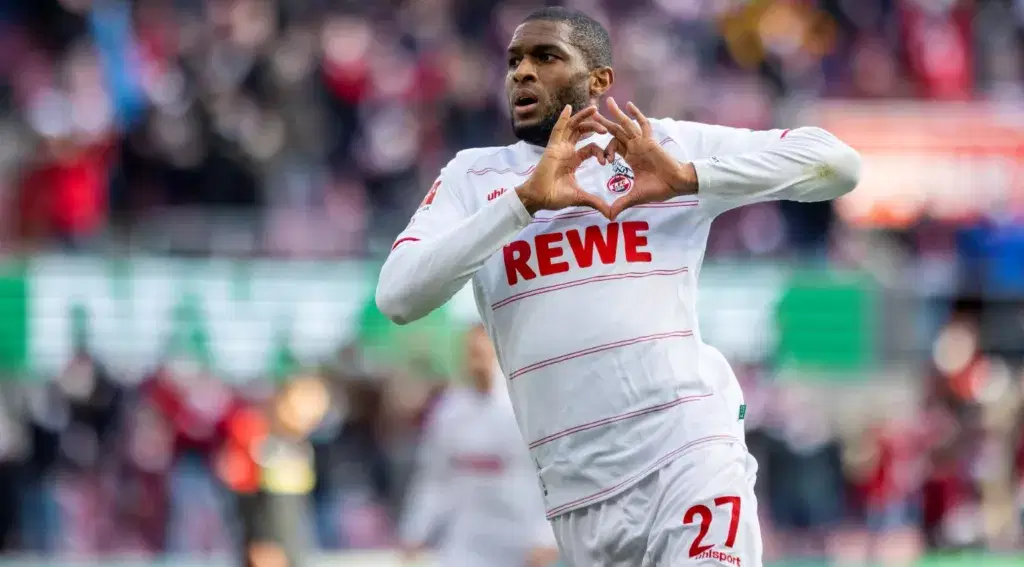 The Frenchman had garnered decent numbers in the Ligue Un . Modeste had scored 31 goals in 130 games in the French League. He has also played in Ligue 2 as well scoring 20 goals in 37 games. Modeste has also scored 6 goals in 16 games for the France U-21 side.
However his career went uphill after joining the Bundesliga. Anthony has scored 83 goals in 190 games which is a great record. Moreover he is one of the best headers in current football. Modeste has scored 20 goals for FC Koln in 32 games. He has scored 10 headers out of his 20 goal haul this season. Anthony played a crucial role in securing a spot in Europe for FC Koln.
4) Christopher Nkunku (20 goals)
Nkunku is one of the best players in the world as of now. He also has played in the Ligue Un before heading to the German top flight league. Christopher first came to the spotlight after scoring a hat-trick against Manchester City in the group stage of the UEFA Champions League. Nkunku has not only put up great numbers in the Bundesliga but also in the Champions League. He scored 7 goals in 6 games for RB Leipzig.
Christopher has produced his career best numbers this season. The Frenchman scored 20 goals in 34 games. He scored 12 goals in 2022. Surely many top clubs are monitoring his situation with RB Leipzig following an incredible season.
3) Erling Haaland (22 goals)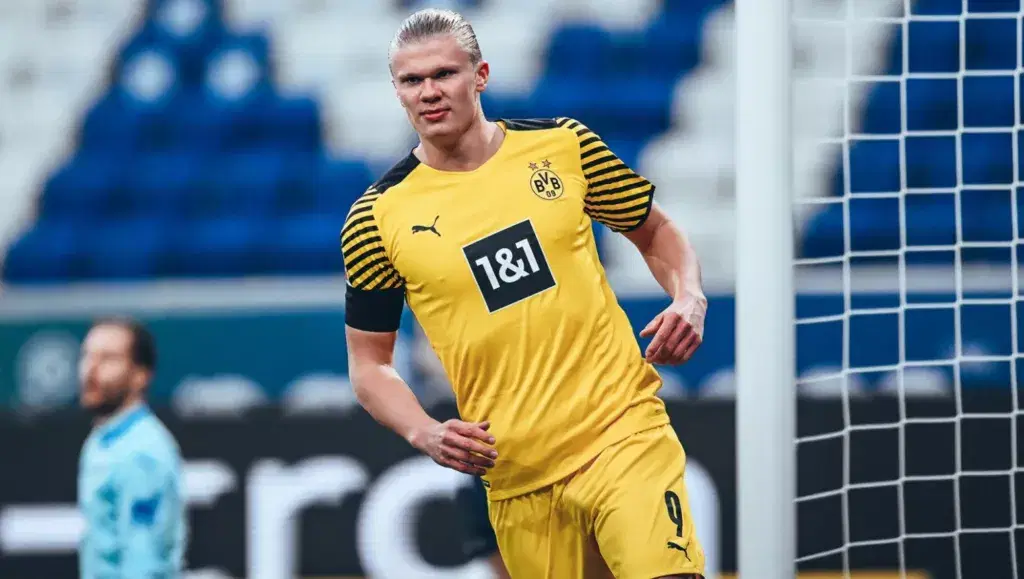 The Norwegian striker is arguably the best youngster right now alongside Kylian Mbappe. Haaland set a record last season in the Champions League. He scored 10 goals in 8 Champions League games for Dortmund last season. Moreover he already has more goals than CL appearances. Haaland has scored 23 goals in 19 CL matches.
Haaland scored 27 goals in 28 Bundesliga games last season. Erling managed to score 22 goals in 24 matches. He has played in limited games because of an injury which ruled him out. As of now Manchester City have completed the signing of the youngster from Borussia Dortmund. The Cityzens just paid £51 million for Haaland which is quite a bargain.
2) Patrik Schick (24 goals)
Schick first made a revelation in the Euro 2020. He was top scorer alongside Cristiano Ronaldo. The Czech international managed to score 5 goals in 5 games for his side. Patrik has played in Serie A as well, scoring just 16 goals in 78 games. However he has put up impressive numbers in the Bundesliga.
Patrik has scored 43 goals in 78 games for Bayer Leverkusen. He ended the season with just a single goal away from being Leverkusen's top scorer in a season. Patrik scored 24 goals which is very impressive considering the fact that he was ruled out because of an injury. The Czech international almost broke a record for Leverkusen in just 27 games.
1) Robert Lewandowski (35 goals)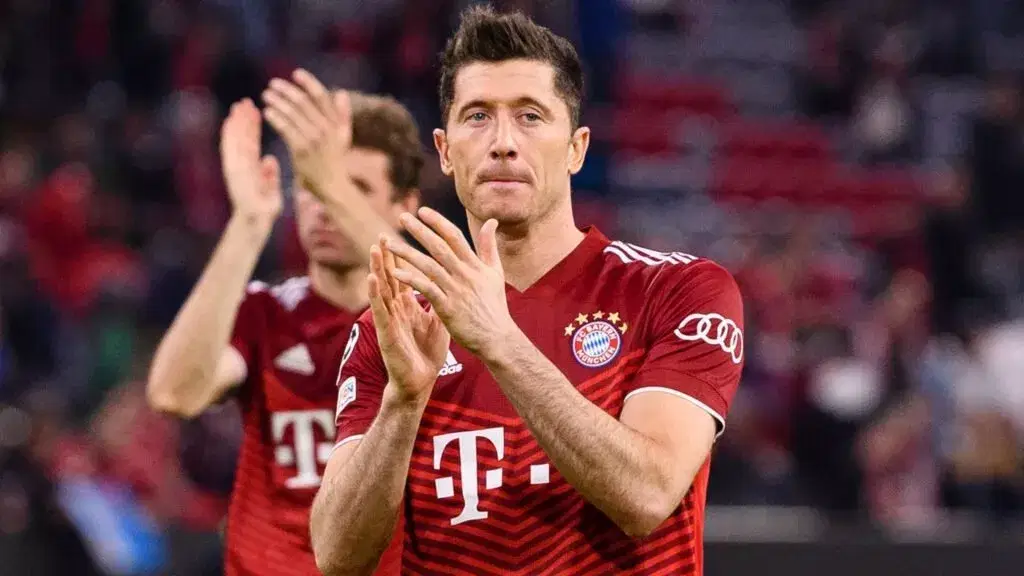 Robert Lewandowski is one of the best strikers in the 21st century. He has a reputable name and is alongside other legendary strikers such as Ibrahimovic, Suarez , Benzema etc. The FIFA Best Men's Player scored a staggering 18 away goals for Bayern Munich. Lewa has managed to score 35 goals in 34 games for Bayern Munich this season.
However this is not his best record , the Polish international scored 41 goals in just 29 Bundesliga games last season. This excellent record makes him the topscorer for Bayern in a single season beating Gerd Muller's record of 40 goals. Unfortunately Lewandowski is now ready to leave Bayern for a new challenge. Currently FC Barcelona are the frontrunners to sign him.
For more updates, follow Khel Now on Twitter, Instagram and Facebook.