Intriguingly, four of the five players on this list come from the same country
A Champions League title is every player's dream. It does not matter if you ask a young prospect or an accomplished veteran, everyone considers this competition their ultimate goal. Ask Gigi Buffon, who despite winning many League titles, Cups and even a World Cup, considers not winning the Champions League the only big miss of his career.
The toughest competition also requires a lot of mental toughness and skill to overcome crunch moments. However, some veterans in the Champions League's illustrious history have defied the stereotype of the age factor and led their teams to triumphs.
Here, we focus on the oldest players to have their hands on this prestigious trophy – the UEFA Champions League.
5. Marco Materazzi (Inter Milan) – 36 years 276 days
The Inter Milan legend has 48 appearances in the Champions League with one title to his name. Materazzi was the architect of Inter's treble-winning side in 2010. The former Italian defender had a very dominant defensive presence and played a major role in the final against FC Bayern Munich when Inter were put under immense pressure. During the 2010 season, he formed an impeccable partnership with his manager Jose Mourinho and every plan was incomplete without him.
4. Javier Zanetti (Inter Milan) – 36 years 285 days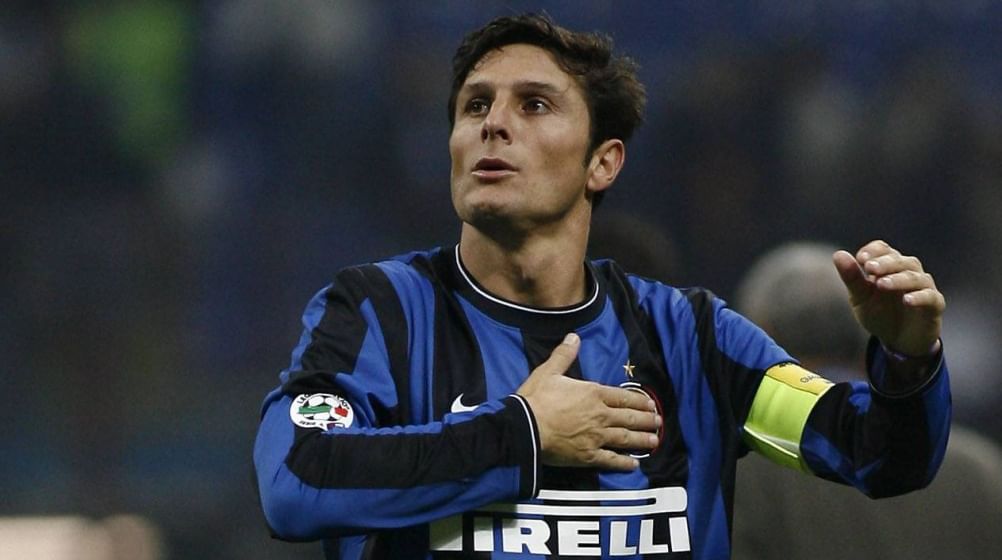 The Argentine legend played with Marco Materazzi in the same 2010 final and is considered to be one of the best of his generation. His versatility was remarkable during those days, and he was Mourinho's go-to man whenever his team struggled. He played 615 games for Inter Milan and won five league titles during his 19 year-run with the club. At present, Zanetti is Inter Milan's vice president and is working to take Inter back to its glory days.
3. Alessandro Costacurta (AC Milan)– 37 years 34 days
There is no disputing the fact that Italian players are like red wine. The older they get, the more refined they become. AC Milan's former centre-back won the Champions League trophy in 2003 at the age of 37 years and 34 days. It was Paolo Maldini and Costacurta who formed one of history's most iconic defensive lines. They terrified opponents in attack and left no openings for them.
The AC Milan legend was the complete package – he made interceptions and was great at man marking. Costacurta read the game well and won many major games during his career.
2. Pietro Vierchowod (Juventus) – 37 years 46 days
Italy has produced many legendary centre-backs in Champions League history. The likes of Diego Maradona, Gary Lineker and Marco Van Baston have claimed Vierchowod as their toughest opponent. In his only season with Juventus in 1995/96 at the age of 37 years 46 days, Vierchowod played the Champions League final against Ajax and won the competition. 
The world cup winner of 1982 was a remarkable defender with pace, strength, and a great understanding of the game. The Italian dominated almost every top defender award during the 80s and 90s.
1. Paolo Maldini (AC Milan) – 38 years 331 days
The oldest champion in the history of the Champions League is Paolo Maldini. He won the competition at the age of 38 years 331 days in 2007. Throughout his career, the Italian defender played a variety of positions but settled mostly at left-back. He had unbelievable technical ability with an excellent understanding of the game.
The legendary AC Milan defender is regarded as the best defender of all time by many legendary players and pundits. It is extremely important for any player to maintain a winning mentality. For Maldini, playing for the Rossoneri was always about winning. AC Milan's greatest servant holds a very special place in the hearts of every fan around the globe.
For more updates, follow Khel Now on Facebook, Twitter, and Instagram and join our community on Telegram.