Several high-profile athletes will be looking to book their spot in the Tokyo Olympics.
9:20 PM Thank you for joining us for the Indian Athletics Grand Prix 4. Hope you enjoyed our live updates coverage. See you again next time! Until then, take care and stay safe! Keep following Khel Now for all the latest updates from the world of sports.
9:15 PM Tajinderpal Singh Toor's performance was pretty impressive tonight. His throw of 21.49m would have been good enough for a Bronze medal at Rio 2016. American duo Ryan Crouser and Joe Kovacs had finished top of the pile with a throw of 22.52m and 21.78m respectively. However, Toor's throw tonight would have eclipsed Tom Walsh of New Zealand, who had achieved 21.36m on that occasion.
9:10 PM It was a day in which a couple of national records tumbled. However, shot putter TajinderPal Singh Toor was the only athlete who was able to qualify for the Tokyo Olympics, with a throw of 21.49m. The last chance to qualify for the Tokyo Olympics will be the Inter State Athletics Championships which will take place from June 25 to June 29.
8:53 PM Hima Das clocks a timing of 22.88 seconds to win the race, but agonizingly falls short of the Olympic Qualifying mark which was 22.80 seconds.
8:50 PM A star-studded Women's 200m race will soon get underway. This will be the last event of the night.
8:45 PM Harmilan Bains fails to book her Tokyo spot, after clocking 4:08.27 in the Women's 1500m. The Olympic qualifying mark was 4:04.20
8:40 PM Ajay Kumar Saroj wins the Men's 1500m race after clocking 3:46.46
8:35 PM Parul Chaudhury wins the Women's 5000m race with a timing of 16:01.37. The Olympic Qualifying mark was 15:10.00
8:25 PM The legendary Milkha Singh had a dream to see India win an Olympic medal in athletics. The Indian athletes are now trying their best to fulfil a long-awaited dream. Check out the Indian athletes who can win an Olympic medal in Tokyo. Read here
7:45 PM Tajinder Pal Singh Toor qualifies for the Tokyo Olympics!
He crosses the Olympic Qualification mark with a throw of 21.49m and breaks his own National Record. He did it twice with another throw of 21.28m. The Olympic qualification mark was 21.10m.
7:30 PM Dutee Chand breaks her own national record, by clocking 11.17 seconds in the Women's 100m. She misses out on a Tokyo Olympics spot by a whisker. The qualifying mark was 11.15 seconds.
7:20 PM Poovamma Raju wins the Women's 400m Heats 2 after clocking 53.78 seconds.
7:08 PM Revathi Veeramani clocks 54.48 seconds in Women's 400m Heats 1.
6:55 PM The Indian 4X400m Men's relay team achieves a timing of 3:02.61
6:45 PM The Indian 4X100m Women's relay team achieves a timing of 43.37 seconds. They have set a new national record but the Olympic qualifying mark was 43.05 seconds.
6:35 PM World No. 12 Annu Rani achieves a distance of 56.44m with her throw.
6:25 PM The Women's Javelin Throw event will soon get underway.
6:10 PM The first event of the evening sees Kamalpreet Kaur improve her own national record with a throw of 66.59m in Women's Discus Throw. Her previous best was 65.06m which she achieved at Federation Cup in March 2021.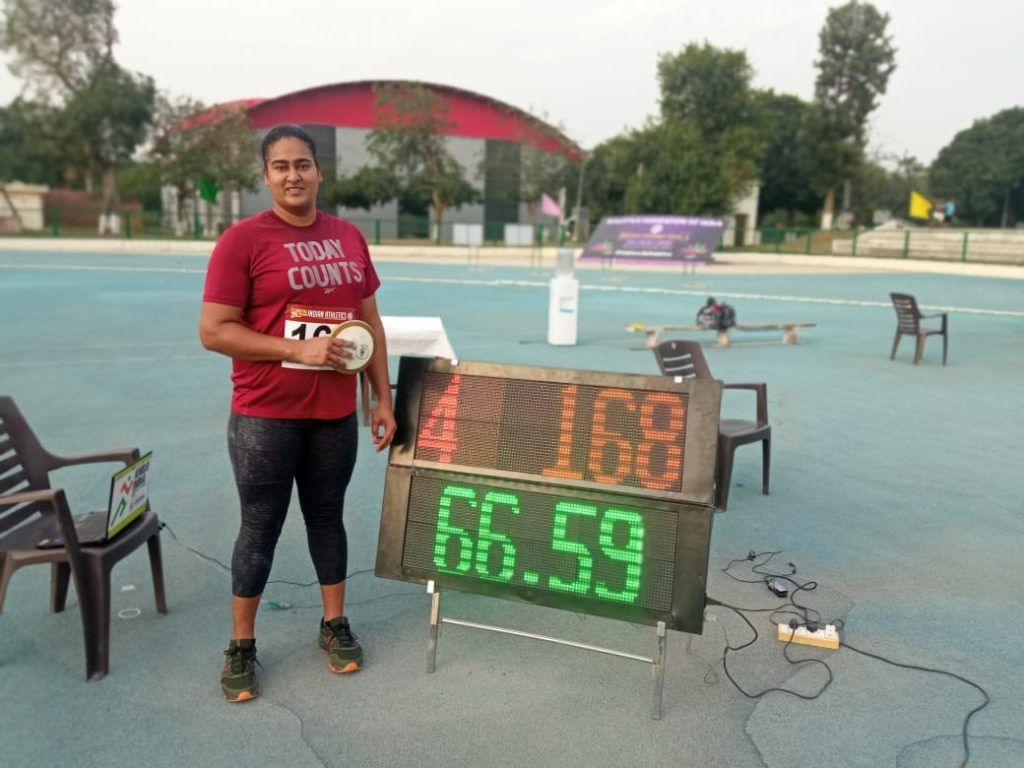 5:55 PM Here's the list of Indian athletes who have already booked their place in the Tokyo Olympics:
KT Irfan, Men's 20km race walking, individual
Sandeep Kumar, Men's 20km race walking, individual
Rahul Rohilla, Men's 20km race walking, individual
Avinash Sable, Men's 3000m steeplechase, individual
Murali Sreeshankar, Men's long jump, individual
Neeraj Chopra, Men's javelin throw, individual
Shivpal Singh, Men's javelin throw, individual
Kamalpreet Kaur, Women's discus throw, individual
Bhawna Jat, Women's 20km race walking, individual
Priyanka Goswami, Women's 20km race walking, individual
Muhammed Anas, VK Vismaya, Jisna Mathew, and Noah Nirmal, 4×400 Mixed Relay
5:50 PM Hello and welcome to Khel Now's live updates of the Indian Grand Prix 4.
The Indian Grand Prix, an Olympic qualifier, has been scheduled to accommodate athletes who missed out on events abroad due to COVID-19 protocols. This will be the penultimate chance for Indian athletes to book their place in the upcoming Tokyo Olympics. The Indian Grand Prix will feature 100m, 200m, 400m, 1500m, 5000m, discus throw, javelin throw and 4x100m relay events for women while the men will participate in 400m, 1500m, long jump, triple jump, shot put, javelin throw and 400m hurdles.
Several high-profile names such as Hima Das, Dutee Chand, M Sreeshankar, Kamalpreet Kaur, Annu Rani, Harmilan Bains, Tajinderpal Toor and many others will be in action tonight. The event will take place at the National Institute of Sports, Patiala.
For more updates, follow Khel Now on Twitter, Instagram and join our community on Telegram.