These players have won multiple medals in the Olympics.
While winning a Grand Slam is the dream of every tennis player, having an Olympic medal has its own relevance. Every tennis player harbours a dream of making a mark in the Olympics. And what better way to do it than to win a medal.

Top players like Rafael Nadal and Andy Murray are double Olympic medal holders. But there are others as well who hold the notable distinction of winning more than two medals. Let's take a look at those players who have achieved this tremendous feat:
5. Arantxa Sanchez Vicario – 4
Spain's Arantxa Sanchez Vicario holds a record of winning four Olympic medals in her career. The former World No. 1 won two silver and two bronze medals in Barcelona and Atlanta Olympics respectively. She clinched silver in doubles and bronze in the singles category at the 1992 Barcelona Olympics.
Arantxa repeated the same act in the next Olympics and won bronze and silver. Apart from her successes in the Grand Slams, winning multiple medals in the Olympics is an added feather to her already well-embroidered cap.
Plenty of chances but no finished product
4. Reginald Doherty – 4
Reginald Doherty was a former British tennis player who enjoyed great success at the Olympics. Born in 1872, Doherty was one of the most successful players to perform on centre court at the All England Club. His performances at Wimbledon are a prime example of that. He won four straight singles titles at Wimbledon (1897-1900) and was a finalist in 1901.
International competition brought Reggie to the 1900 Paris Olympics and the 1908 Olympic Games in London. He won two gold medals and a bronze in Paris. The double gold medals came as a result of his victories in the doubles and mixed doubles tournament. He won the bronze in the singles tournament as he refused to play against his younger brother Laurence in the finals.
Moreover, he was also Laurence's doubles partner in the tournament. On the other hand, his mixed doubles partner at the Olympics was a five-time Wimbledon champion, Charlotte Cooper. However, his doubles medal in the 1908 London Olympics came with George Hillyard.
3. Serena Williams – 4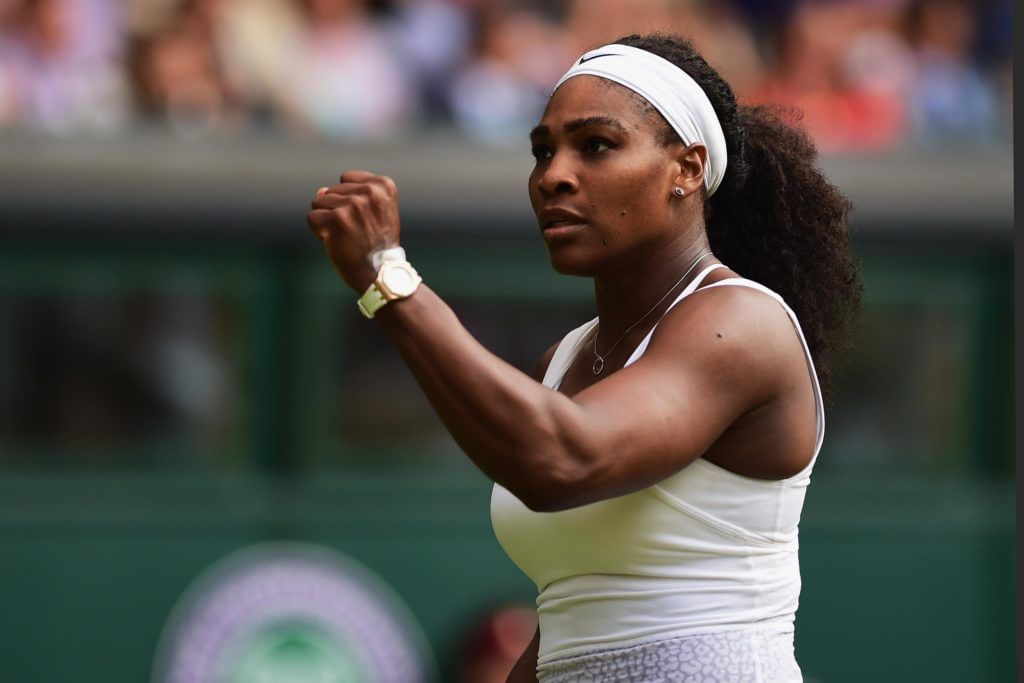 One of the leading figures of women's tennis today, Serena Williams is a four-time Olympic medalist. She won three doubles gold medals and a singles gold in her Olympic career. Her doubles partner being her elder sister Venus.
Serena won her medals in the 2000 Sydney, 2008 Beijing and 2012 London Olympics. The London Olympics saw her hitting two gold medals, one in the singles competition and the other in doubles. She beat Maria Sharapova in the finals in straight sets 6-0, 6-1 to win her singles gold. Moreover, she also joined in with elder sister Venus to win the doubles gold.
The Williams sisters beat the Czech pair of Andrea Hlavackova and Lucie Hradecka 6-4, 6-4 to add another gold to the US tally.
2. Kathleen McKane Godfree – 5
Kathleen McKane Godfree is regarded as one of the most decorated female Olympian in the United Kingdom. Ranked in the top 10 from 1921 to 1927 she reached a career-high ranking of World No 2. Godfree won five Olympic gold medals at the 1920 Antwerp and 1924 Paris games.
She clinched gold in the 1920 Antwerp games in the doubles category. The British player also won a silver and a bronze in the mixed doubles and singles category. Four years later, Godfree got her hands on a silver and bronze medal at the Paris Olympics. This time it was for her victories in doubles and singles categories. The International Tennis Hall of Fame inducted Godfree into its prestigious list in 1978.
1. Venus Williams – 5
Venus Williams is the most successful tennis player in the history of the Olympic Games. With a total of five Olympic medals which includes four golds and one silver, Venus sits right at the top of the list. Williams is a double gold medalist at the 2000 Sydney Olympics where she won gold in both singles and doubles category.
Additionally, Williams has also won gold in doubles outings in the 2008 Beijing and 2012 London Olympics. Her younger sister Serena being her doubles partner in the matches. Her fifth medal came in at the 2016 Rio Olympics where she won silver teaming up with Rajeev Ram.
For more updates, follow Khel Now on Twitter, Instagram and join our community on Telegram.