IPL 2023
Twitter account that tweeted "I'm sorry Kohli" is fake, warns Naveen Ul Haq
By

Sagar Paul
Naveen ul Haq faced online trolling after on-field confrontation with Virat Kohli.
Naveen-ul-Haq has faced significant online trolling following his on-field confrontation with Virat Kohli during the Indian Premier League (IPL 2023). The incident occurred during a match between Lucknow Super Giants and Royal Challengers Bangalore, where tensions escalated, leading to a verbal dispute between the two players. Since then, fans have meticulously scrutinized Naveen's online posts, searching for any link to Kohli or the incident.
Naveen Ul Haq clarifies his stance on the incident
A Twitter handle by the name '@naveenulhaq66' posted "I'm sorry Virat Kohli sir".
Although the incident generated significant attention, Naveen has now provided a clarification regarding the matter.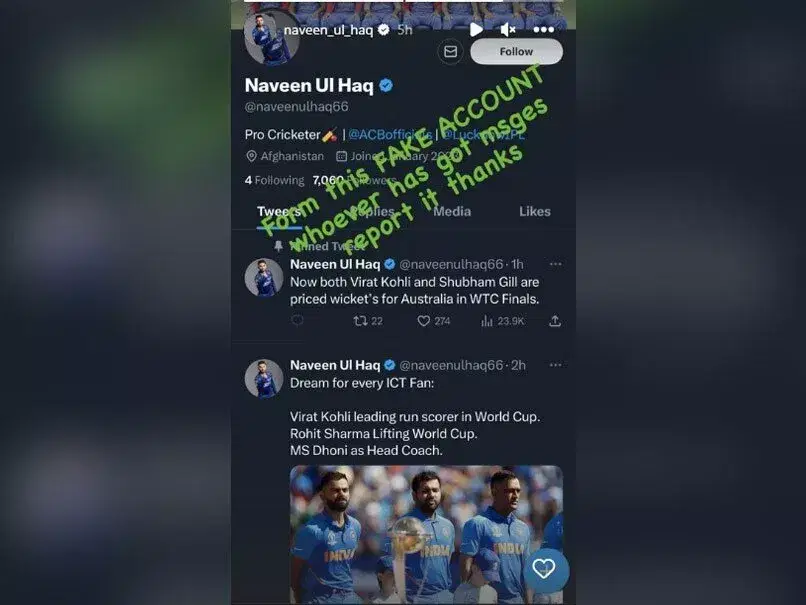 In a previous statement, Naveen expressed that he finds the chants motivating, as they inspire him to perform well for his team.
"I like that everybody in the ground is chanting his name or any player's name. I enjoy it. It gives me passion to do well for my team," Naveen said during the post-match press conference.
Naveen emphasizes importance of accepting criticism
The 23-year-old further emphasized that in the realm of professionalism, both appreciation and criticism go hand in hand, and it is essential to accept and embrace them.
"I don't concentrate on the noise from outside. I just focus on my cricket and my own process. Crowd is chanting or anyone, these things doesn't affect me. As a professional, you have to take this into your stride. One day you will not do your best for your team and these fans will give it to you. But when you will perform, they will chant your name. It's just part and parcel of sport," he added.
For more updates, follow Khel Now Cricket on Facebook, Twitter, Instagram, Youtube and join our community on Telegram.