The Islanders came out 2-1 winners in their previous clash against the Falcons.
Mumbai City will have to reset themselves against Air Force Club of Iraq as they search for a second win in AFC Champions League group stage. They were dismantled in a 6-0 thrashing by Al-Shabab in their last fixture. The Islanders will look to bounce back with a resounding display.
Though Air Force Club dominated Mumbai City in spells during their last encounter, Des Buckingham ensured that his men were smarter in taking their chances and preventing goals. A combination of resolute defending alongside set-piece efficiency warranted a historic 2-1 win for the Mumbai-based outfit. Nevertheless, Air Force Club were a threat with their crisp attacking moves. Let us go through a few things that Mumbai City can potentially utilise to hurt the former AFC Cup winners.
3. Deploying a hybrid zonal and man-oriented pressing system
Mumbai City came through last time, due to some dogged defending in the latter stages and throughout the game. Though Air Force Club went ahead due to a momentary lapse, their chances seemingly arose because of a zonal marking system. Players with outstanding predatory instincts like Hammadi Ahmed thrive against these systems, as he demonstrated. Because the pressing mechanism rotates based on the marker whose territory the attacker progresses into, interchanging positions and preying on individual weaknesses can work wonders.
Accordingly, Des Buckingham must notice that while zonal marking can prevent passing between the lines, it won't save them while defending their final third. They must emulate the man-oriented low block that their oppositions have frequently used. In doing so they would not only be able to track the most dangerous attackers, but also pile the pressure on with the sheer numbers as they isolate them in the process.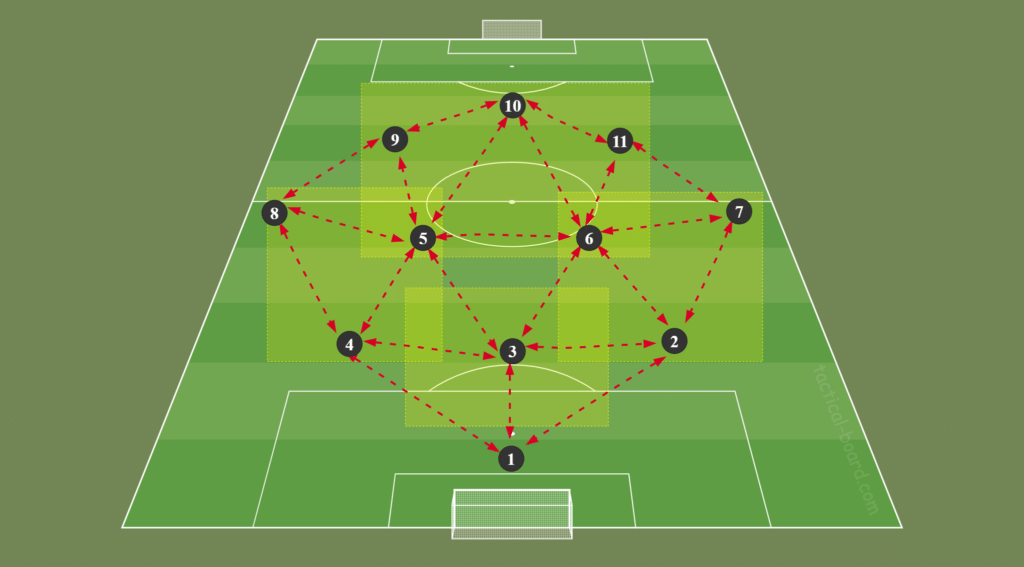 In this sort of situation, the Islanders can appoint Lalengmawia to do the dirty work. He generally covers a lot of ground and is extremely proficient with the ball as well as without it. He should try and mark Hammadi Ahmed and allow the skilled Iraqi forward as little breathing ground as possible.
While Vinit Rai would be paired alongside him, Moroccan Ahmed Jahouh can get the job done equally well. His sweeping tackles would be more effective in such a systema. He can consequently see more of the ball to play penetrative passes. Bipin Singh and Raynier Fernandes could start wide and drop deep to mark Air Force Club fullbacks.
While the final tackle will always be dependent on the individual brilliance of Mourtada Fall, Mehtab Singh, and Rahul Bheke, this system can ease the pressure on them and call them into action less often. The idea should be to use a zonal model in the attacking half and become more man-oriented as their opponents progress into their half.
2. Third man runs for set-pieces
Most of Mumbai City's opportunities have come from set-pieces and that is purely down to the brilliance of Ahmed Jahouh. The maestro is a dead-ball specialist and can generate clear-cut chances from unassuming distances. Mumbai have already preyed on defensive frailties from corners and open play in their last match against the Falcons. This time they should tweak their approach a bit.
This time around, Jahouh should look to a third option other than Mourtada Fall or Rahul Bheke as they will be marshalled equally well. Candidates would be either Igor Angulo or Diego Mauricio, depending on whoever starts, as well as Mehtab Singh. Mehtab Singh going up for corners also allows Mumbai City a chance from loose balls in the box.
In case of a conundrum following a corner, their striker would have a golden chance to square away the opportunity which most of their other players have otherwise failed to do so far. For instance the chance for both Fall and Raynier Fernandes in the match against Al-Jazira.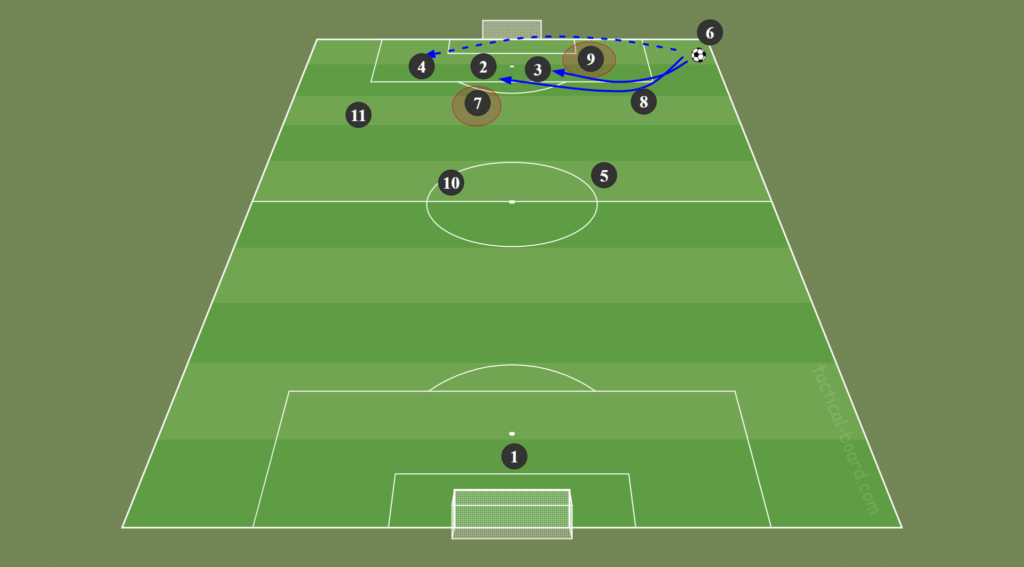 While this tactic is hard to use for corners as there is less ground to run, free kicks on the edge of the box and deeper could be a different ball game. We've seen time and again how despite his immense stature, Mourtada Fall manages to cover substantial distances to get a thumping header on target.
Even Mehtab Singh and Rahul Bheke have shown their athletic prowess in converting such gilt-edged chances. This could be a boon for Mumbai City. They could position an unmarked runner like Chhangte or Bipin Singh to pick up any loose ball from such a situation. The winger could ping it back into the box or have a crack shot at goal himself.
1. Using a back-three for quick breaks
Mumbai City have tried and tested their standard double-pivot system as well as a three-man rotation in midfield. However, in both cases, the Islanders have struggled to string together passes and often conceded possession to the opponents. What could possibly be an alternative to this dilemma? Add another midfielder obviously!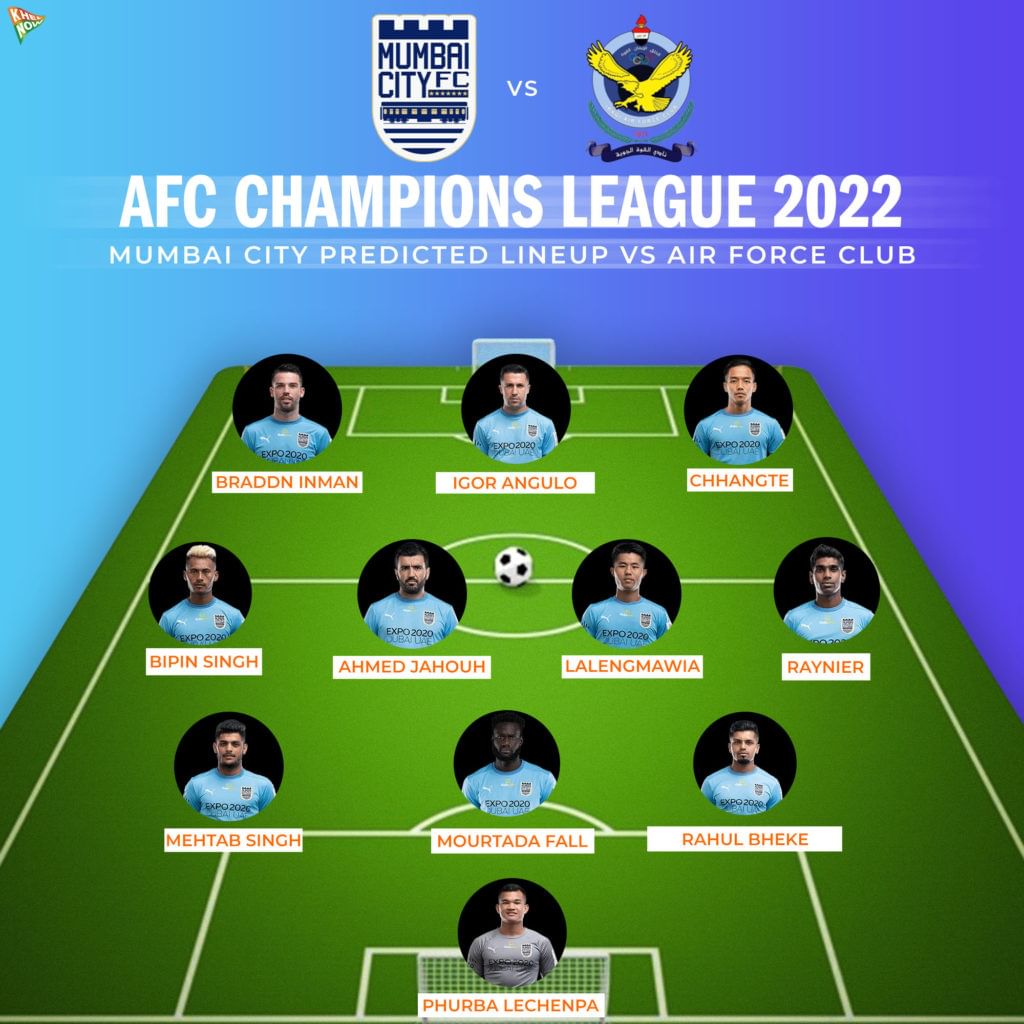 But in this case, the load is much more even as three centre-backs start in defence and two wider midfielders support the midfielders. While Mumbai City can use both a 3-5-2 and 3-4-3, the latter would be preferred. It can offer more chances to the forwards with a better promise for linkups and maintaining their shape while defending.
The back-three is preferred as adds numbers in defence, in case of a good offensive move by Air Force Club. One might look at the system as a trident of potential, with each of its prongs representing defensive solidity, fluid passing, and robust attacking.
Team Selection
Selection would be key in such a case. A natural ball-winner like Mourtada Fall must start at the centre of a back-three. He can make up for his lack of pace with his mature decision-making in tackling and passing. Rahul Bheke and Mehtab Singh can use their recovery speed and adventurous nature to their advantage. They will start on the wider side and support their captain in building up play. Players like Bipin Singh and Raynier Fernandes would be indispensable for this tactic, as their work rate and tenacity down the flanks will be a vital tool.
Bipin's habit of safe passing can actually be utilised in this manner. Lalengmawia and Ahmed Jahouh will have more options to orchestrate things from the middle of the park. That allows Brad Inman and Lallianzuala Chhangte to start in their preferred inside left and right channels.
Such positioning would allow them to ghost in and out of spaces. It would also give the striker more room to operate and allow the wingers to attempt more shots on target. Chhangte will surely benefit more as he has already had the most genuine chances among all Mumbai City forwards.
Both Diego Mauricio and Igor Angulo can profit from such a system. However, the Spaniard would be the favorite to start due to his excellent link-up abilities and expert blindside running. The only thing the Islanders must be wary of is not becoming static during build-up or while defending. The system can easily become lopsided and exert too much pressure on the remaining players otherwise.
For more football updates, follow Khel Now on Twitter, Instagram and join our community on Telegram.