Sunil Chhetri Twitter/wikisportsbio
Witness the numerous sides of the pint-sized behemoth of Indian football.
'As somebody who gave his best'. That, ladies and gentlemen, is Sunil Chhetri for you. The hardened, almost Olympus-like mental strength this man possesses has been brought forward in a special series by Federation Internationale de Football Association, commonly known as FIFA. The series goes beyond his life on the football field that has given football fans delirium an unimaginable number of times already.
We would try to be coy at times in this piece, because we don't want to give away the entire joy and beauty of the series. However, there will be moments when we would reveal a little, mostly to give context. So… let's begin.
From where? The story is so well-rounded and most of it is already in public. However, the tit-bits and the unabashed honesty with which the 'Captain, Leader and Legend' summarizes the happiest moments with a smirk and almost 'too shy to smile' smile is a sight to behold. We know you're here because you love Indian football, and the man who bears its flag, now for over a decade. So we will try and make sure this journey (and read) is worth your while.
It would be very random to jump from one episode or incident from another and thus, we decided to break this down into several facets of the man's life. He's all the tirelessness, in your face, subdued celebrations on goals and a fighter for lost causes, but he's definitely more. Here's to Sunil Chhetri – the man who made a generation fall in love with Indian football.
Sunil Chhetri – the son and son-in-law
At the beginning of the first episode, Chhetri almost cheekily says, "You're going to interview my mum also naa? So I have to say something which is going to be in sync…"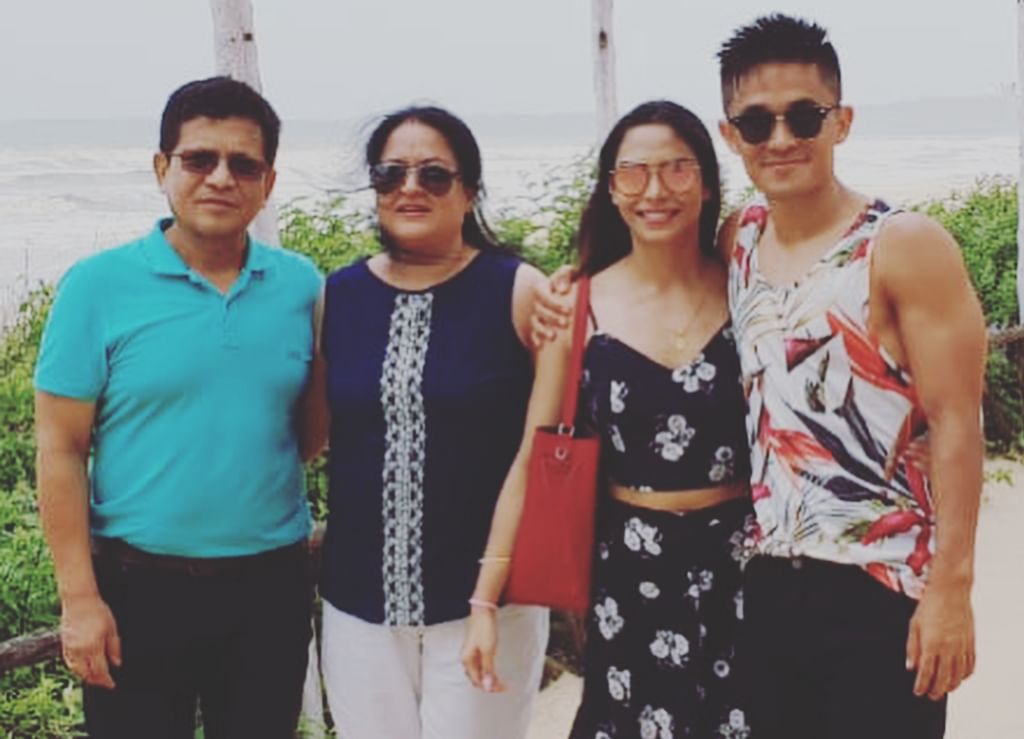 That, right there, is the naughty side of the No. 11 who millions of kids imagine to become. His tongue-in-cheek remark (literally) shows there's more than what meets the eye. And then you see the son to his mother. He fights to win, but also supports the family. He's beyond his years, and we now know where the foundations lie.
Chhetri is a kid the family dotes on, and the penultimate scene of the final episode makes you smile and cry at the same time. He loves his parents, but has his secrets. He is a family person, clearly, as his parents have left a deep imprint on him. The way he talks about his parents when they visited the Rashtrapati Bhawan with him will make your grin, and grin wide.
Moving on, we take a look at his relationship with his father-in-law, 'Coach' Subrata Bhattacharya. Bablu Da, as he's locally known, is a behemoth-like figure in Kolkata. His aura precedes him, and just the brevity to love your coach's daughter, and that too, of a man of Subrata's stature, shows how secure Chhetri has always been in his belief system, and love.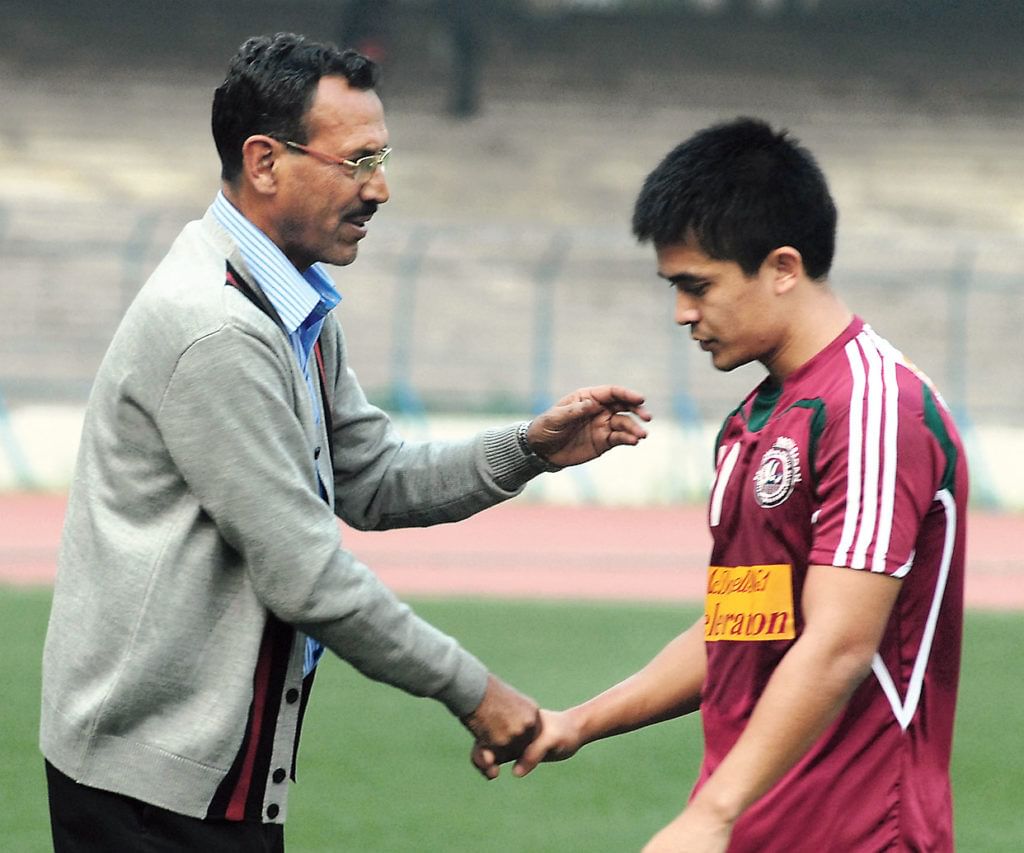 We'll come to that later. He still calls Mr. Bhattacharya 'coach', giving in to muscle memory. Or maybe, he likes him that way. Maybe, he likes the fact that Subrata was his coach first who styled his start on the national page. After all, Subrata brought him to Mohun Bagan, from where it all began. The reverence and love (and fear) is evident. It's sweet, and again, shows you can be the biggest name in Indian football and yet be the person you always were.
Sunil Chhetri – the husband
YOU CANNOT MISS THIS PART! He's so, so beautiful a human being and that reflects in his relationship with Indian football's first lady – Sonam Bhattacharya. The man absolutely dotes on her. In one scene, he asks Sonam to use a cushion to support her on the sofa, and it's in these little things you find Sunil Chhetri – the person who knows how to love with passion and care.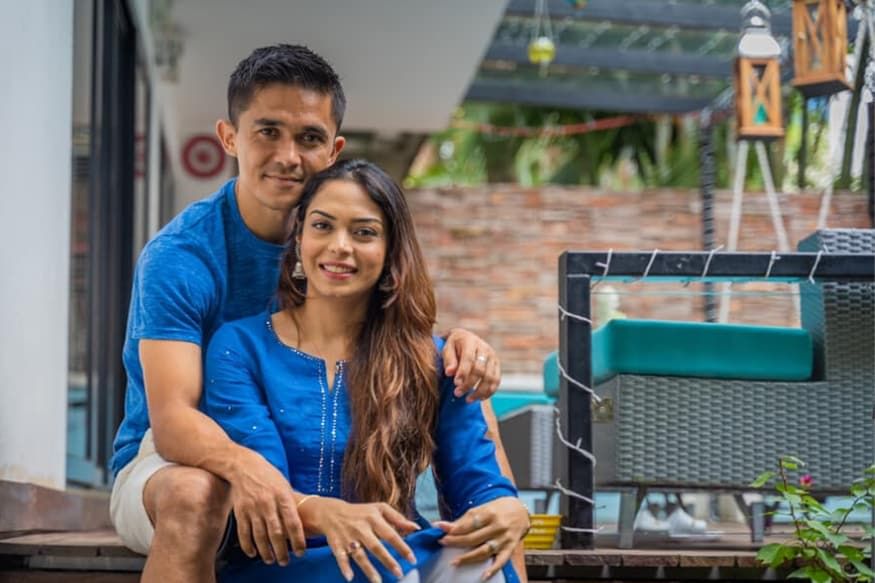 We're not going to giveaway the story of how it all materialised (and it definitely is worth the watch), but they dated 13 years before getting married. Before they got married, Sunil went to America (Kansas City Wizards), England (trials for Coventry and failed QPR contract) and a stint at Sporting Lisbon – but they kept going.
They always knew what they wanted and they got it eventually. Sonam has equally contributed to Sunil's journey, if not more. He's always been so secure in his personal space that he's been fully committed to football – and boy, has he done that well! Without sounding too mushy, you should also watch it to know how Sunil and Sonam deal with the bad days, the defeats and the challenges. We assure you, this one is way, way beyond football.
Sunil Chhetri – the friend
Sonu Lamba, Chhetri's long-time friend and agent, takes centre-stage here. There's also Tollywood actor Shaheb Bhattacharya, who is also Sonam's brother. Clearly, these guys have their secrets. But the fact that you see Shaheb and Sonu watch clutch matches in the stadiums when Sunil's playing tells you they allow him to take the centre stage that's his – the pitch, and are there to just support him, clap for him, and be with him.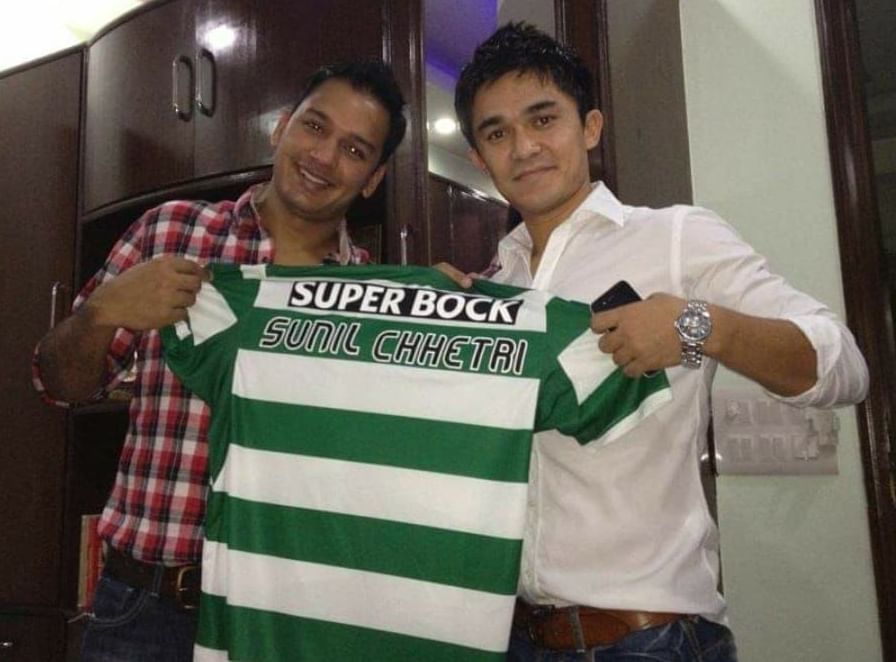 And Chhetri does his due as well. He has these regular trips with them in off-season (this is not in the series), and is a doting friend. He takes them to Rashtrapati Bhawan with his family, and Sonu is standing on the dais as Chhetri's holds Sonam's left hand to put a ring on her finger. That's what these people mean to him. Also, Chhetri endears Bhaichung Bhutia and Renedy Singh – his seniors in the national team and club.
Sunil Chhetri – the man
What better way to finish this than talking about the man himself. Chhetri reveals the human side of his when he talks about why he failed in Kansas and why Sporting Lisbon was a success. At one point, he says, "I've only been successful because the people around me wanted to be successful." Modesty learns it from the man himself.
There's more. He sits in the room he calls his office, and shows the awards that he's won. He's also taught us what to do when you've just lost a big final. The hunger is not just physical, and the will to win comes from within. You just have to keep waking up, and giving it your best shot and a little more. Every day. On match days. During training sessions. And that's how you become the player you want to be. That's how you become the leader you want to be.
You could have all the talent in the world, but you'd end up being nothing if not for hard work. Sunil also tells us there's one feat on the football pitch that even Cristiano Ronaldo and Lionel Messi wouldn't be able to beat him at. We don't want to give away everything, do we?
When Chhetri was asked how he'd like to be remembered, he took a moment's pause. His answer is the first line of this piece, but before you scroll up and read it again, make sure you remember him. His hard work and sacrifices warrants that. Tell his tales. Make him a legend. Build him a statue. Because that man deserves all that and more, for not just fuelling our dreams, but making several of them come true.
For more updates, follow Khel Now on Facebook, Twitter, Instagram, Youtube and join our community on Telegram.