The Mariners have recently merged with ISL champions ATK in a landmark association.
The Mariners are celebrating their 109th Mohun Bagan Day in remembrance of the warriors that won them the 1911 IFA Shield as a turning point in their history. While the occasion usually involves a lot of glow and fanfare at their ground, the current circumstances have forced them to take an innovative approach.
This year the Mohun Bagan Day is being celebrated virtually by the club, who have organized interesting events on their social media platforms. Looking back at just how successful the Mariners have been in their century-long history, one has to wonder how they've remained at the pinnacle of Indian football during all this time.
Founded in 1889, Bagan are one of the oldest football clubs in India. But, soon after their 1911 IFA Shield win, a number of prominent football clubs emerged to provide them stiff competition in the Indian football fraternity. Not far off from their ground in Maidan, Aryans FC were one of the original 'giants' of Kolkata football and rubbed shoulders with the Mariners in the pre-Independence and post-Independence periods.
But, while their neighbours struggled to keep up with the changing times, Mohun Bagan flourished well after Independence to assert themselves as the flag-bearers of Indian football. Due to their grand image, the best players from around the state of West Bengal wanted to play in front of the thousands of fans at the Mohun Bagan Ground.
That allowed them to snap up some excellent local talent and attract the best from around the country as well. Apart from the local hero Sailen Manna, India captain Talimeren Ao, Chuni Goswami and Jarnail Singh were all prolific in their success in the immediate post-Independence period.
Possessing such vibrant, menacing players, who were also strong-willed characters definitely benefitted the Mariners to maintain their bullish, never-say-die attitude. But, while a few teams withered away from the top of the crop, others rose. The famous Hyderabad City Police team and Gorkha Brigade emerged as dangerous rivals in the 1950-60s, thanks to their own ruthless players and brilliant tactics.
As a result they struggled to win the Rovers Cup or Durand Cup during that time, but eventually found their footing from the mid-60s onward. This was dubbed as their 'Golden Era' when the Mariners had the best possible players in Indian football and made it a regular feat to win the Calcutta Football League (CFL) and cup competitions.
After a decade of more dominance, the Mariners found themselves in an extremely vulnerable position getting hammered by bitter rivals East Bengal 0-5 in the 1975 IFA Shield final. The club was in complete disarray by then and looked to be heading in a similar direction as the likes of Aryan, Hyderabad City Police and Gorkha Brigade, falling off the Indian football map.
ALSO READ: Mohun Bagan: Top 10 iconic matches in Mariners' history
Just then, secretary and life-long fan Madhab Roy emerged to create one of their best teams of all-time. They signed some of the very best from around the country, including lethal goalscorer Subhash Bhowmick from East Bengal as well as Mohammed Habib and Mohammed Akbar. Electric winger Bidesh Bose also arrived at the right time, as they also formed a sturdy backline consisting of Subrata Bhattacharya and Pradeep Chowdhury.
With that, started the fightback against East Bengal. The Mariners won the CFL, Rovers Cup and IFA Shield treble in 1976, before clinching another trio of trophies — Rovers Cup, Durand Cup and IFA Shield, a year later. But what gave the club a boost in popularity and worldwide recognition was the arrival of Pele's Los Angeles Cosmos in 1977, something which solidified their claim as the biggest club in Indian football.
A few clever decisions made by their management allowed that game to happen and the fact that the Mariners gave a stiff fight to Pele's side earned respect from all over. But, another interesting turning point in their history came another decade of dominance later. Following the competition of 100 years, Bagan's then general secretary Swapan Sadhan Bose made a bold move to usher in the next era of joy.
ALSO READ: Revealed: Khel Now's best Mohun Bagan XI of all-time
He signed Chima Okorie, the first-ever foreigner to grace the Green and Maroon colours. The move was initially met with heavy backlash from fans not willing to accept a foreigner in their local team. However, Okorie scored over 100 goals for the club and led them to two CFL titles, two IFA Shields, three Federation Cups and most importantly, their first-ever National Football League (NFL) title in 1997-98.
The turn of the century made for a topsy-turvy journey for the Mariners, mainly due to emergence of clubs from Punjab and Goa. But, with the clever recruitment policies of late President Anjan Mitra and Tutu Bose, the Mariners found their first I-League joy in the 2013-14 season. Not only did the likes of Sony Norde, Cornel Glenn influenced that title, but the fact that Bagan had the best Indian core in the entire country back then helped them. As did coach Sanjoy Sen's intricate tactics.
After their former management started to take the backseat due to health reasons, the Mariners' clever, incisive recruitment continued under Srinjoy Bose and Debashish Dutta. Following a disastrous 2018-19 campaign, where Bagan finished fifth, the two brought Spanish coach Kibu Vicuna at the helm with his team. They also bought the foreign trio of Joseba Beitia, Fran Gonzalez and Fran Morante, as well as former Sevilla striker Papa Babacar Diawara.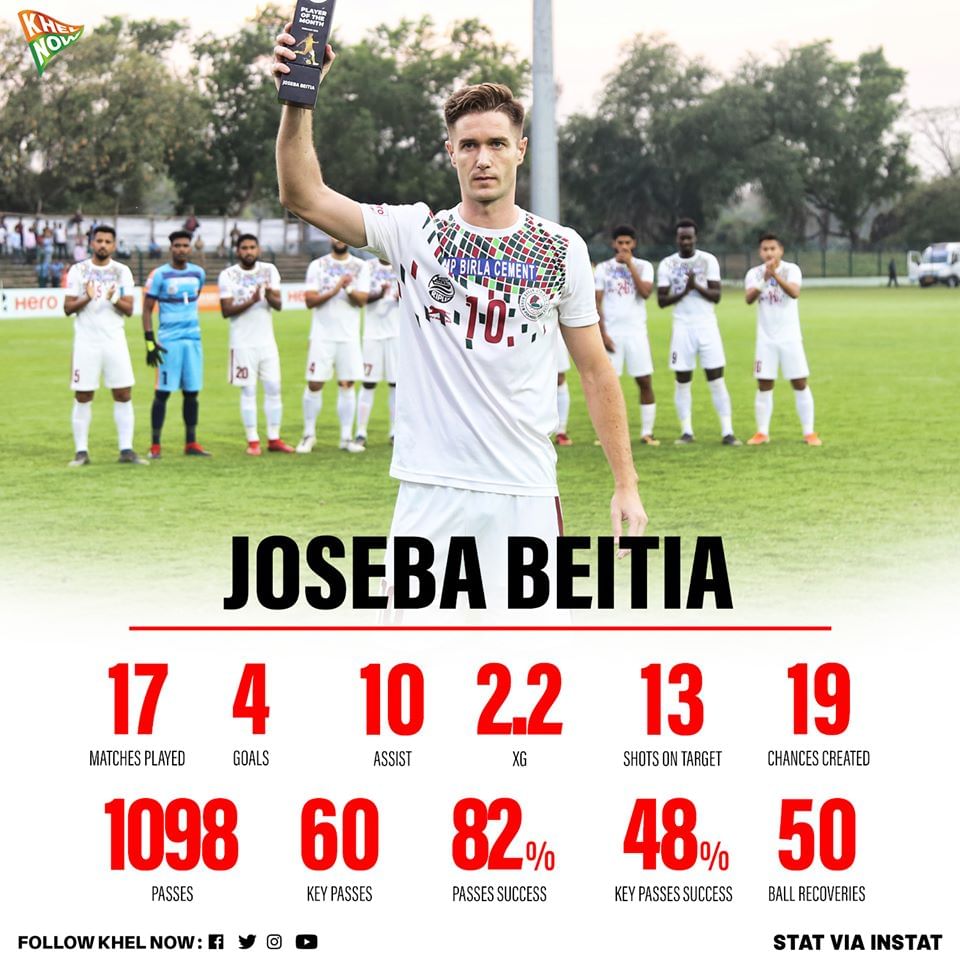 With brute force and technical wizardry, the Mariners romped their second I-League trophy in what was their final season in the league. Now having taken the next step in their evolution by merging with Indian Super League powerhouses ATK, the Mariners have once again shown long-term planning for sustained success. It is this visionary approach that maintains them as the national club of India, even as their challengers wither away upon losing the battle with the changing times.
For more football updates, follow Khel Now on Twitter, Instagram and join our community on Telegram.