The two Maharashtra clubs enjoyed contrasting fortunes last season but both make a fresh start…

| | |
| --- | --- |
| | Mumbai City FC |
Mumbai City FC, last year's table-topping semi-finalists have once again retained the services of their hugely talented coach Alexandre Guimares and have successfully re-signed Romanian powerhouse, Lucian Goian along with his defensive partner Gerson Vieira. Having already retained star Indian goalkeeper, Amrinder Singh along with midfield expert, Sehnaj Singh, they looked to sign a mixture of fresh and upcoming talent in order to compensate for the players who left the club and received a mixed reaction from the media and fans for their draft picks.
They signed a host of players ranging from their costliest player, Balwant Singh to their Jammu and Kashmir wall Mehrajuddin Wadoo. Both of these players enjoyed great ISL seasons as well as consistent I-league performances last season. Other players like Raju Gaikwad, Lalchhawnkima and Aiborlang Khongjee add a sense of class and composure to the lineup along with a rock solid defence. Although the signing of Arindam Bhattacharya and Kunal Sawant, in addition, to already retained Amrinder raises a few questions, Goian's re-signing shows that they intend to finish as table toppers once again and probably go for the win this time around.
PLAYERS' ROSTER
Amrinder Singh and Sehnaj Singh being retained created all the right noises for the team from the Financial Capital of India. Rakesh Oram and Pranjal Bhumij, two of the best budding young footballers in the developmental category, clearly shows the work done by the scouting department. Balwant Singh, the front man prised away from Mohun Bagan, who also is their costliest signing adds a fine touch to their attack and was in-fact the best option to fill in for the hole left by Sunil Chettri who will be plying his trade for Bengaluru FC this time around.
Arindam Bhattacharya and Kunal Sawant former FC Pune City and Mumbai FC goalkeepers provide a rock solid backup in case obvious first choice gets injured or under-performs to his 1.2 Cr billing. Raju Gaikwad, Lalchhawnkima– Kimkima, Biswajit Saha and Aiborlang Khongjee along with veteran defender Mehrajuddin Wadoo can form a formidable defence and carry forward Mumbai City's defensive reputation. Abhinash Ruidas and Sanju Pradhan are expected to provide the vital cross and link up in attack with Balwant Singh. Sahil Tavora and Zakeer Mundampara form the crucial duo in midfield on who Alexandre Guimares will heavily rely on along with the foreign signings.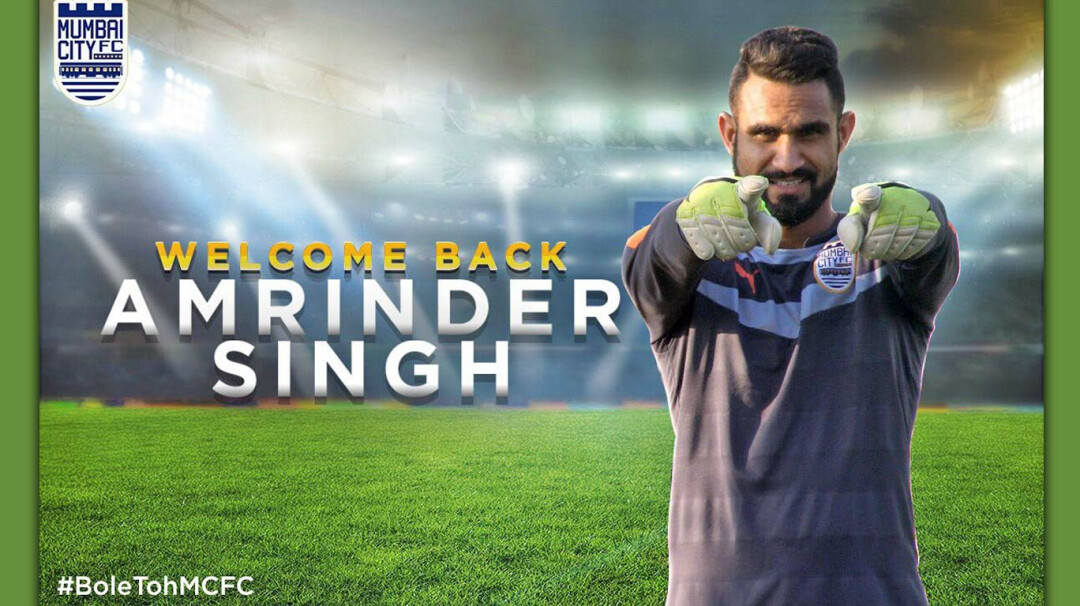 Mumbai's hero of last season, Amrinder Singh

The Mumbai based team, having already signed Goian, are heavily linked with getting Defederico, their attacking main-stay back along with Diego Forlan who worked wonders for Mumbai City FC by rolling back the years last season. Guimares is expected to sign a few more foreigners to complete the quota and also have a wholesome attacking unit.
TACTICAL SYSTEM (PROBABLE)
Mumbai City FC had the best defence in the ISL and also one of the potent attacks in the form of their leading Goal scorer Diego Forlan. Guimares surely would like to replicate last season's league run and the biggest positive for him would be that, unlike last season, he wouldn't have to wait for the arrival of his key players. Another positive for Alexandre would be, if rumours are to be believed, that there won't be a playoff this time around and that would boost his teams confidence as they finished top of the table last year around but weren't crowned champions.
The meanest defence is what Mumbai City had and will once again boast of the same thanks to them re-signing both Goian and Gerson who are sure to maintain the wall ahead of their goalkeeping stalwart Amrinder Singh. The midfield with the signed Indian players looks strong with Zakeer Mundampara along-side Sehnaj Singh will be the pivot of the team going forward as well as falling back. The fullback slots are up for grabs as they have both experienced campaigners as well young talent to fill them up. But purely going on form, we can expect Aiborlang Khongjee to retain a place along-side famed left back Raju Gaikwad who is well known for his free-kick like throws.
This is how the Mumbai City's team would look like at the moment
In the attacking third Pranjal Bhumij can fill the hole left by Sunil Chettri while Balwant Singh can easily breakdown any defence and freely score on will. He would be well supported by the likes of Sanju Pradhan on the right and Abhinash Ruidas on the left from whom we can consistently hope to make some excellent crosses.
Mumbai City do look strong in all quarters and will be expected to win this time around by their ever so vocal owner Ranbir Kapoor who clearly expects his team to be the champions this time around and probably gun for Asian glory in the form of AFC Cup.

| | |
| --- | --- |
| | FC Pune City |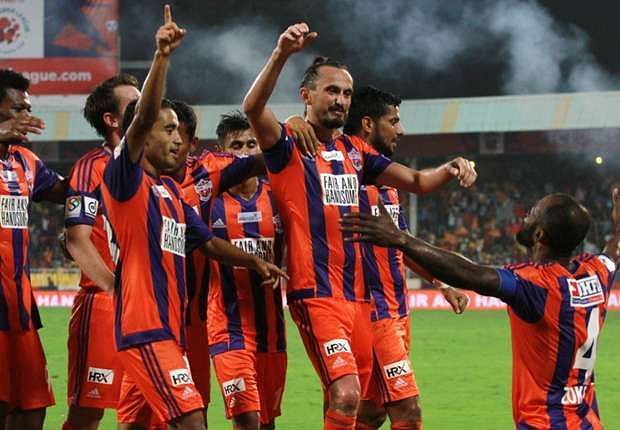 FC Pune City have drafted in a young squad with a high ceiling for improvement
Coming into the fourth season of the ISL, the Maharashtra side have yet to taste success in the league, failing to qualify for the semi-finals in each of the previous editions. Once again, Pune head into a new season, with a completely revamped squad, although not entirely by choice, with the inclusion of two new teams Bengaluru FC and Jamshedpur FC taking the league into a draft. With the option of retaining a maximum of 2 players for the new squad, Pune opted for young 'keeper Vishal Kaith, who has impressed with his performances for Shillong Lajong and more recently with the Indian U-23 squad. That, was an indication of the team's policy, as they also snapped up impressive youngsters like Isaac Vanmalsawma, Rohit Kumar and Nim Dorjee Tamang to name a few.
There is one route of continuity, though, and that is the enigmatic Spanish manager at the helm of the team management, Antonio Lopez Habas. At the end of last season, Habas had outlined his happiness of managing Pune, and should be delighted at the prospect of developing a young squad for a much larger period, with the expansion of the league into a 5-month long competition. Speaking to the press after the ISL Draft on Sunday, the Spaniard said, "Young players are hungry and eager to learn new things. I believe they will be the turning point for the team. We will focus on developing the youngsters."
PLAYERS' ROSTER
The Rajesh Wadhwani owned side ended the draft on Sunday as the team with the least amount spent, spending only 3.63 crores for 14 Indian players, averaging just under 26 lakh rupees per purchase. The club focused on procuring young players who've impressed in the recently concluded season of the I-League, where several youngsters made their mark around the league. Habas' side have solidified their young acquisitions with numerous experienced pros, who have years of experience in the Indian football circuit. These include Adil Khan, Jewel Raja, Baljit Sahni and Lalchhuanmawia Fanai.
Young centre-backs Pawan Kumar, Nim Dorjee Tamang and Wayne Vaz have been snapped up in the draft. Nim Dorjee was particularly impressive at Shillong Lajong this year. Accompanying them in defence will be Adil Khan, Fanai, Gurtej Singh, Harpreet Singh and Wayne Vaz. In central midfield, youngster Rohit Kumar, who has come through the ranks of DSK Shivajians' academy will join Jewel Raja Sheikh while the wings and supporting forward roles will likely be occupied by Kean Lewis, Baljit Sahni and Isaac Vanmalsawma. While Ashique Kuruniyan has been added to the squad, CEO Gaurav Modhwel's earlier comments suggest the FC Pune City academy graduate might be off on another loan spell in Europe.
Emiliano Alfaro will look to replicate his exploits for FCPC

Considering most Indian players were available in the draft, one can safely assume that Pune's Indian contingent stands completed. Uruguayan forward Emiliano Alfaro can expect more foreign players to join him over the coming weeks, as Pune shall look to stock up on crucial positions on the pitch. The Orange and Purple Army can expect their club to look for central midfield options as well as a couple of solid defensive personnel. An interesting position to take note of, shall the goalkeeping spot. The value of Indian goalkeepers has risen the rule of 5 foreigners per starting XI has been introduced, which meant Pune's retention of Kaith came in as no surprise. Whether the 20-year-old, who was only third choice last season, will start regularly remains to be seen.
TACTICAL SYSTEM (PROBABLE)
Many commented on the early impact the recruitment of Pradhyum Reddy has had, as the former Assistant Coach of Bengaluru FC has taken up a similar role in Pune. Reddy will already have worked with Habas over the summer, and Pune turning their attention to youth comes as little surprise. Antonio Habas will once again look to employ his philosophy of a pass and move style of play, something he attained from his time in Spain. While not in possession, he demands his players press from the front, disrupting the flow of possession of the opposition.
Relentless running from a front three of Marcelinho, Kean Lewis and Emiliano Alfaro could well be a common sight at FC Pune City matches. The hard working Jewel Raja could also see himself play a crucial role in the middle of the park, while youngster Rohit Kumar's composure could also come in handy. Isaac Vanmalsawma could slot in at number 8 and be the main creative influence in the midfield guiding attack and provide chances for the main man Alfaro.
Adil Khan got rid of his inconsistency and proved to be a stalwart for Churchill Brothers over the last I-League Season, even popping up with a crucial goal or two. Joining him in defence could be youngster Nim Dorjee Tamang, with Chhuantea Fanai and Harpreet Singh slotting in on the left and right side of the defence respectively. Pune is most likely to strengthen their foreign quota in defence as Habas' side remains short on experience otherwise, with Wayne Vaz, Pawan Kumar and Gurtej Singh all falling short on first team quality.
It may come to you as an obvious point, but a majority of the foreign signings will slot right into the first XI. Yet, if Habas was to choose an XI based on Pune's draft inclusions, it could look something like the graphic above.