The arena lacks in certain aspects which can be a cause of worry in upcoming days.
The Salt Lake Stadium is regarded as one of the most iconic sporting arenas across India. It is amongst the most glamorous football stadiums in the country and seats a huge number. In the recent Indian Super League (ISL) Kolkata derby between ATK Mohun Bagan and East Bengal – over 60,000 fans were in the stadium.
It was the first ISL Kolkata derby in front of fans and thus, was brimming with excitement. The Mariners ended up reigning supreme in the end, picking up a 2-0 win over two second-half goals. However, a tragic incident clouded the event. East Bengal supporter Joy Shankar Saha suffered a cardiac arrest in the stands and soon succumbed to death after being taken to a nearby hospital.
The entire thing shocked the Indian football fraternity, with both East Bengal and ATK Mohun Bagan's team members mourning the death.
This has caused some to question the facilities the iconic Salt Lake Stadium presents for its supporters. Despite its state-of-the-art infrastructure, the stadium is still far from perfect for the fans. The facilities need improvement, especially if the organizers want the ISL games to consistently get a major fan turnout for all the remaining games.
Better food and water services
A major problem for the supporters is finding adequate eating or drinking services. As plastic water bottles are banned in the stadium, supporters have to make do with drinking from water pouches. In terms of food, there are very limited options of snacks available.
This is unlike the foreign stadiums, where fans get a variety of options to drink and eat from. Attending a football match is supposed to be the ultimate entertainment package for a fan and to keep themselves energized, they need proper food and readily available water.
There needs to be an improvement in both these facilities. There should be better drinking water service available, especially in games like the Kolkata derby. Water should be available in abundance as it is a basic necessity. The price, of course, should not be inflated either.
In terms of food, a number of options should be made available and proper food stalls need to be installed inside the stadium. This will ensure a better fan experience in the upcoming games and reduce disgruntlement or unfortunate events.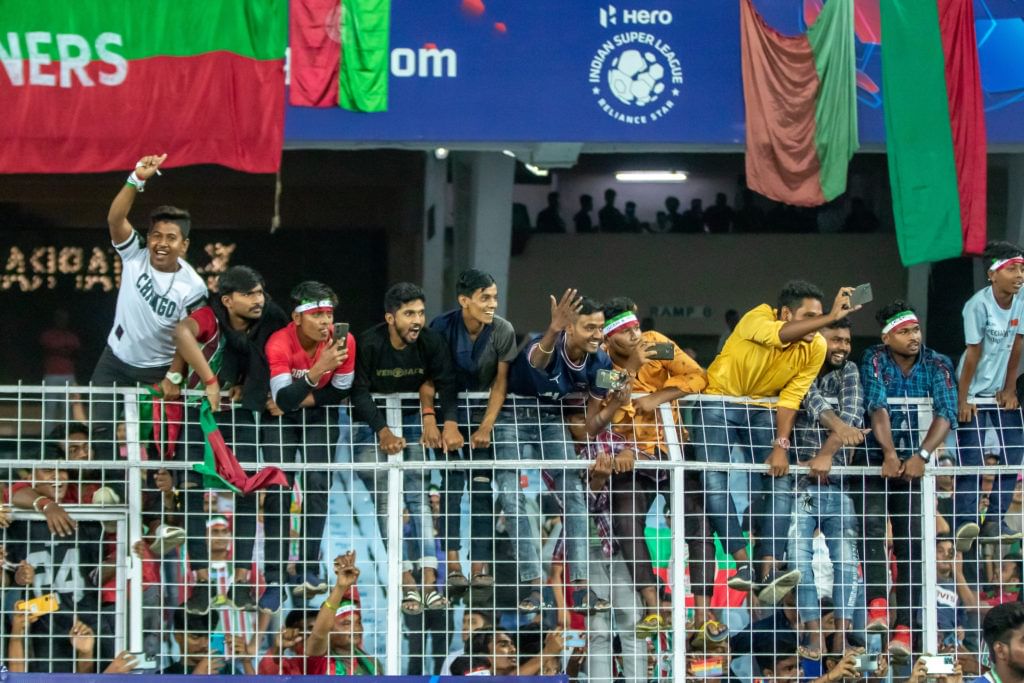 Improved security
There were some ugly scenes that took place after the Kolkata derby was over. A few ATKMB and East Bengal fans got into a fight outside the stadium and there wasn't enough police to stop it either. A place like "Kadapara" (people from Kolkata will be aware), which is just outside the stadium, has been a haunting place for East Bengal fans, where regardless of the game's result, the Red & Gold fans are beaten up or stones are thrown at them.
Of course, it's a major challenge for any security personnel to manage a grand-scale event like the Derby with over 60,000 fans attending. But the organizers need to do better in upgrading the security personnel for their games, to ensure that scuffles between fans or other ugly scenes are avoided.
There could be other private security firms hired for the matches to aid the police in managing the events. This will obviously make the fans feel much safer and secure, encouraging people of all ages to attend matches without any hesitation.
Medical assistance available for major events
The Salt Lake Stadium is one of the biggest sporting grounds in India. It is an incredible infrastructure that is difficult to cover on its entirety. So it'll naturally be difficult for a supporter in the stands to get medical assistance quickly in the event of an emergency.
While it'll be a really taxing task to do so for every game, the organizers should at least ramp up medical facilities in the ground for major games going forward. There is a hospital right opposite the stadium, but there still needs to be some medically qualified personnel to help in case of emergencies.
For games like the Kolkata Derby, a few medical assistants should be spread around the stadium in case any help is needed. This might help avoid tragic events in the future. It'll also help give more security to the fans and make the matches safer.
For more updates, follow Khel Now on Facebook, Twitter, Instagram, Youtube and join our community on Telegram.