The Federation has penned down a proper structure for youth leagues to improve Indian football's roots.
The All India Football Federation (AIFF) has set some ambitious objectives for the future of Indian football in its extensive roadmap 'Vision 2047'. This includes both their short-term objectives set for 2026 as well as the vision for 2047. But the federation realizes all too well that for them to realize their 2047 target, the grassroots structure needs to improve exponentially.
As a result, the AIFF aims to improve the youth league structure for the future. They are well aware that the youth system right now is not up to the mark and needs major overhauls to take Indian football forward.
Here we look at the planned structure for youth leagues in India as laid out in the AIFF Roadmap.
Massive increase in developmental squads
The AIFF is well aware that the number of development squads in India is still not as much as those needed for the state of the game to improve in India. That's why they are planning on a massive increase in the teams needed for youth players to develop to the quality needed for India to succeed at the international stage.
For the men's structure, the AIFF plans on having 700 development clubs across the country. Currently, there are less than 100 development sides in Indian football. So, the Federation basically wants nearly 7x of that to be created over the next five years.
When it comes to improvement of the development structure of women's football, AIFF is striving for 100 development teams. This will definitely be a massive step forward for women's football in India and help give a bigger platform for more aspiring young female footballers.
Increase in competitiveness in Youth Leagues
The AIFF definitely has some very ambitious plans when it comes to increasing the competitive game-time for youth-level footballers over the next years. As part of their 2027 target, they want male footballers of all youth-level age groups (U-21, U-19, U-17, U-15, U-13) to play at least 35 games per season.
Moreover, they also want the AIFF Elite Youth League and Local State Youth League to run simultaneously, with clubs and academies participating in both. Winners of the said State Youth Leagues will qualify for the next year's Elite Youth League.
When it comes to improving the quality of the Women's Youth League structure, the AIFF wants at least 20 state associations to implement Women's Youth Leagues before 2027. They also want at least 14 competitive games for young female footballers of all age groups by that period.
In another impressive objective, the AIFF also wants a University Championship structure to be formed before that. An Institutional league will also commence from 2027 onwards for young female footballers.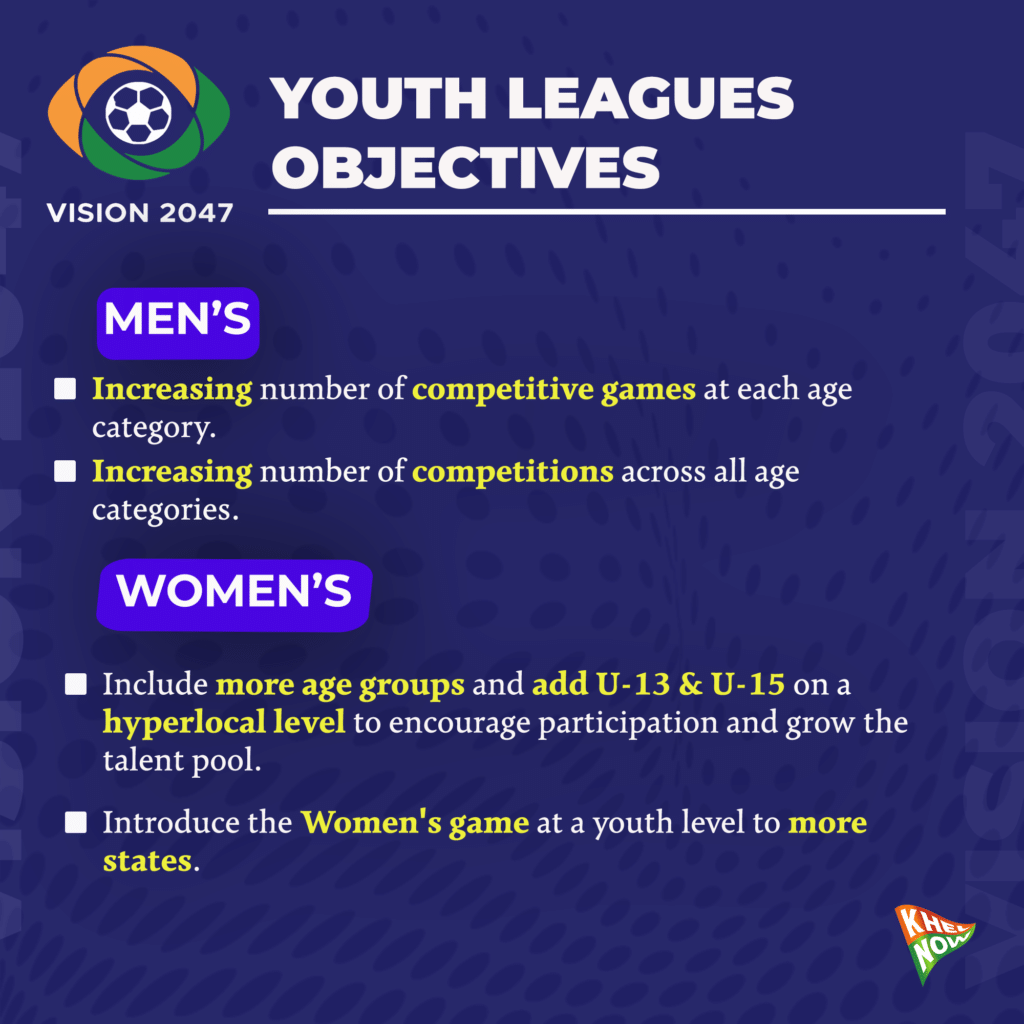 New Youth Level Competitions
The AIFF is aspiring to set up an Institutional League for both men and women footballers at the national level. This can be the pathway for footballers from university or local clubs, giving them a competitive edge before moving onto the senior competitive stages.
The National University league for women footballers will in all likelihood see the AIFF urge major universities in India to play in AIFF's leagues. This can help unearth hidden gems and give a platform for students, allowing them to continue their studies as well as move forward with their footballing dreams.
The AIFF also wants to launch the U-21 and U-19 National Football Championships for men and women footballers by 2027. This can allow the younger players who not actively involved in the Indian Super League (ISL) or I-League to compete against each other.
There are also plans of launching the National Football Games, giving even more opportunities to youth-level footballers to play and improve their match sharpness as well as help ease their adapting to the eventual progression into the senior stage.
Indian Football Trending Articles:
AIFF's vision for youth league structure by 2047
The federation is planning on forming a smooth grassroots transition structure by 2047. This can help young footballers have a smoother pathway to the Elite Youth League. Initially, a child will have to start at a City or District Youth League – which will have one or two divisions.
After that, they can get promoted to the lower divisions of the Youth League, which will also have one or two divisions. More importantly, the AIFF plans for 750 teams to play in these leagues by that period. If a footballer is able to impress here, then they'll progress to the Elite Youth League and play against the best in the country.
From that, they can progress to the ISL or the I-League – basically, the next step. This allows the young footballers to play a lot of competitive games and a steady increase in game-time will also help ease their transition to the senior level.
Considering that the AIFF aspires for a club to play 55 competitive games per season at a senior level by 2047, the young footballers have to play 30+ games to keep them extra sharp and make sure they're ready to compete at the highest level.
For more updates, follow Khel Now on Facebook, Twitter, Instagram, Youtube and join our community on Telegram.