Indian Football
How Golden Baby League is helping Pulwama in battle against drug trafficking
By
Sourav
The district in Kashmir has seen a rise in the social menace in recent years.
Until a few days ago, it was not a regular sight for beholders to find a bunch of lively kids, clad in colourful gears running after a football in the valley of Pulwama, Kashmir.
The northernmost state of India, referred to as the 'Paradise' for its exquisite natural beauty enjoys a long-standing relationship with the 'Beautiful Game,' having produced great ambassadors of the game in the likes of Abdul Majeed, Mehrajuddin Wadoo, Ishfaq Ahmed amongst others.
But the disparaging effect of illicit drug trafficking has always made the parents think twice before letting their wards go out and freely mingle with others — a "perennial roadblock for their advancement."
Here comes the All India Football Federation to their rescue with the introduction of Golden Baby Leagues, the flagship project. The leather sphere has played a significant role to boot out the abject impact of drug trafficking from the entire state of Kashmir, let alone Pulwama.
"Earlier, parents used to be apprehensive about allowing their kids to hang out with others because you could not anticipate how and when the youngster would fall in the trap. But Golden Baby Leagues has been a real game-changer here," states League operator Zahid Shafi Mir.
"Now when they lace their football boots, parents feel a solace at the back of their mind. As they kick the football, their parents kick the fear out of their mind," Mir added.
According to a recent report by the United Nations Drug Control Programme (UNDCP), more than 2,50,000 Kashmiri youngsters, comprising a fair share of 19% girls between the age group of 17-30 are involved in drug addiction. Even an under-construction school building in the Mugalpora area of Pulwama has turned into a hub of drug abuse.
Pampore in the district of Pulwama, which is renowned for saffron cultivation has also been in the news for drug trafficking but Golden Baby Leagues have brought in a breath of fresh air amongst the youngsters.
"There are dozens of villages in Pulwama where the youth are addicted to drugs. These drug addicts resort to thefts and are sources of menace. Football has helped us find a positive solution to address this issue. Since the introduction of Baby leagues, which got rechristened as Golden Baby Leagues later, has helped the parents trust their wards," affirmed Mir.
190 kids were divided into eight teams across three different age-groups — U-8, U-10 and U-12 — during the maiden edition of Golden Baby League which ran till December 2018. Numbers soared up to close to 200 during the subsequent Snow Baby League.
"Once the All India Football Federation floated the idea of the Golden Baby League, we didn't think twice. 190 kids, including 30-odd girls, across three different age-groups U-8, U-10 and U-12 got enrolled themselves. The numbers were encouraging given the circumstances," mentioned Mir.
"As the winter resumed, we planned to host Snow Baby League and it was an instant hit amongst the parents and kids. Kids playing on snow-covered fields were a treat to watch and everyone embraced the idea. The age-brackets were identical whereas some new faces joined us.
Even some girls, wearing pheran, couldn't resist themselves from kicking a ball alongside the boys. It continued till February 2019."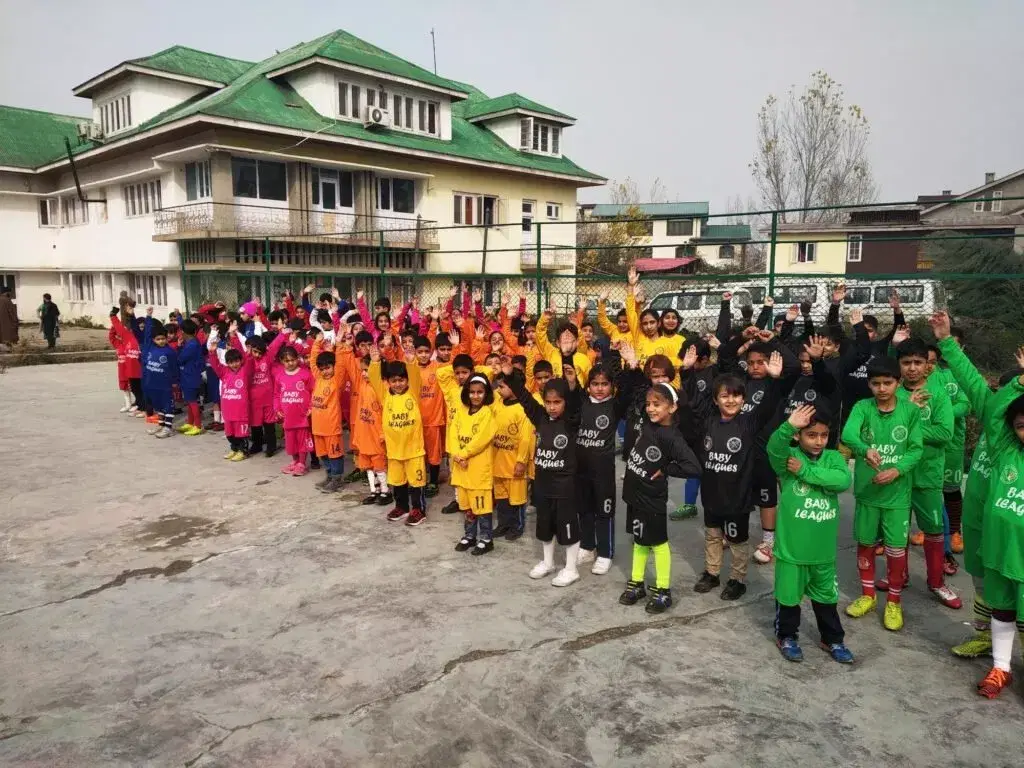 "Football is a great leveller. Instead of seeking a different solution through drugs, it is a wiser idea to head to the football ground. It helps you maintain a biological clock. Get addicted to football, not drugs," legendary Indian footballer IM Vijayan stated on the occasion of International Day against Illicit Drug Trafficking recently.
Pulwama has learnt it by heart, thus has embraced Golden Baby Leagues to come out of the curse. 250 kids got registered in the Pulwama Golden Baby Leagues which kicked off in November 2019 and ran till February 2020.
"Before the Golden Baby Leagues kicked off, we thought of exploring new age-groups. We switched to U-6, U-8 and U-10 age-groups and you won't believe, more kids joined in and the enthusiasm amongst the parents was unbelievable," affirmed Mir, who has acquired C-License in coaching recently.
"Moreover, we had to make nine teams per age-group i.e. one team more than the previous year. We had teams who used to travel 14-15 km by bus to take part in the league. The sense of inclusiveness and getting a healthy competitive atmosphere lured the parents to get their wards admitted," maintained Mir.
He further mentioned that Golden Baby Leagues has played a role of catalyst to bring more youngsters, even of higher age-groups, to the football pitch.
"Generally, young boys and girls get trapped in immoral activities and when they realise, it's too late. But Golden Baby Leagues have provided food for thought for the adolescent ones," he continued, "Earlier, we used to struggle to get boys to play football. But the scenario has changed of late. Between 8-18 years, we hardly had 40-50 kids even two years ago, but now we have 250 – thanks to the Golden Baby Leagues."
The operators have also taken the digital route to attract the parents to the Golden Baby League. "We have installed the Golden Baby League app on the mobile phones of the parents once they get their kids admitted," he informed. "Once the kid scores a goal, his / her name flashes on the screen. You won't realise how much joy it brings to the parents. That's priceless."
For more updates, follow Khel Now on Twitter and join our community on Telegram.
posted in :