ISL- Indian Super League
Indian Super League 2020-21 season review: Kerala Blasters
By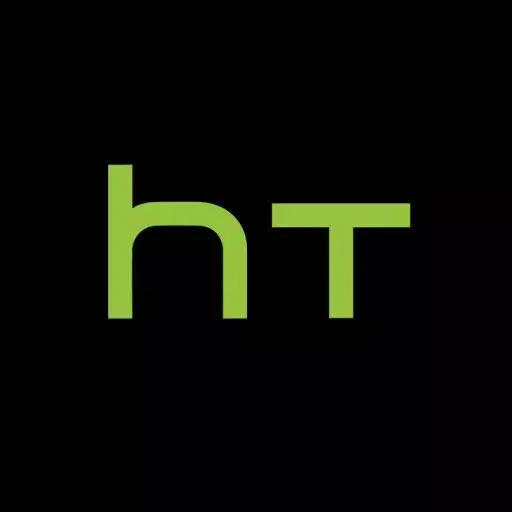 Harigovind Thoyakkat
The Yellow Army couldn't impress once again as they failed to qualify to the ISL playoffs for the fourth season in a row.
Hire coaches with good experience and winning pedigree, sign talented players who have proven their worth at other clubs, begin the season with boatloads of hype, expectations and promises, but then stumble and fail when it really matters – the actual league season. Kerala Blasters fans must be quite familiar with this routine, having grown accustomed to it over the past four years.
Before the start of the 2020-21 Indian Super League season, it once again looked like they were getting things right. They hired Karolis Skinkys as the new Sporting Director, who in turn roped in I-League-winning coach Kibu Vicuna. All of this was viewed as the potential start of good times for the two-time ISL finalists. The signing of Gary Hooper, Vicente Gomez, Nishu Kumar and so on only increased the fans' hopes.
However, we all know what followed. A 1-0 defeat against ATK Mohun Bagan in their ISL 2020-21 opener was followed by five more winless games. It was not until one month later that the club finally secured their first victory of the season against Hyderabad FC. The Yellow Army registered only two more wins after that and ended their campaign in tenth spot on the points table.
Fact Sheet For Kerala Blasters FC in Indian Super League Season 2020-21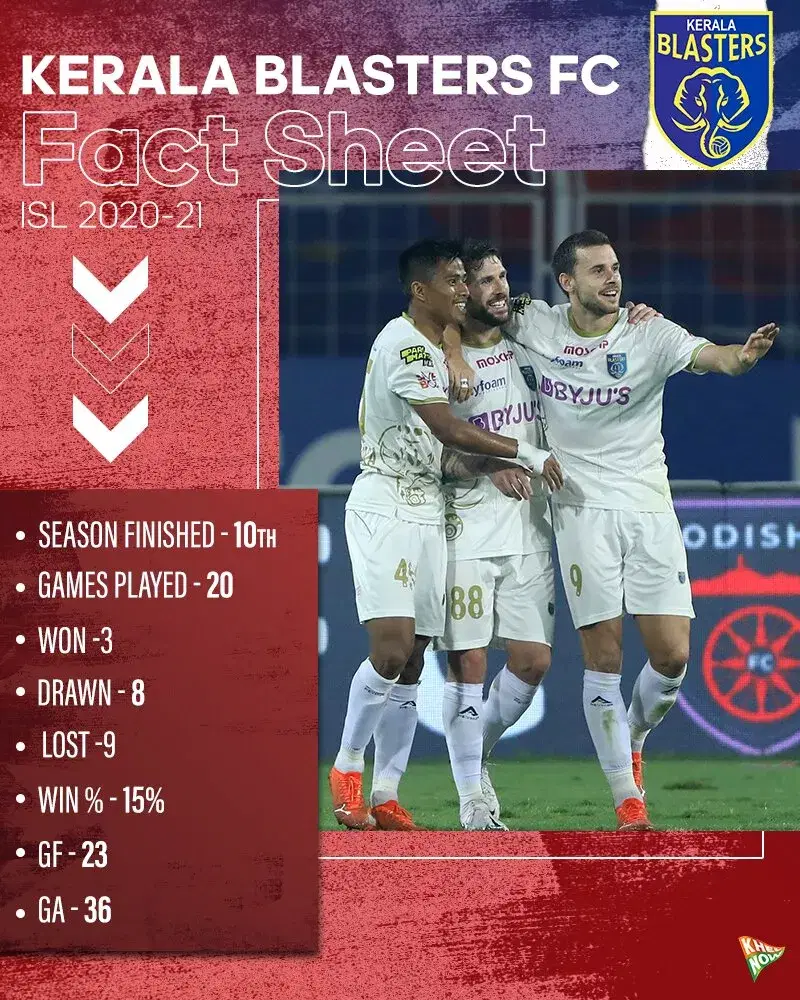 Top Performers
Jordan Murray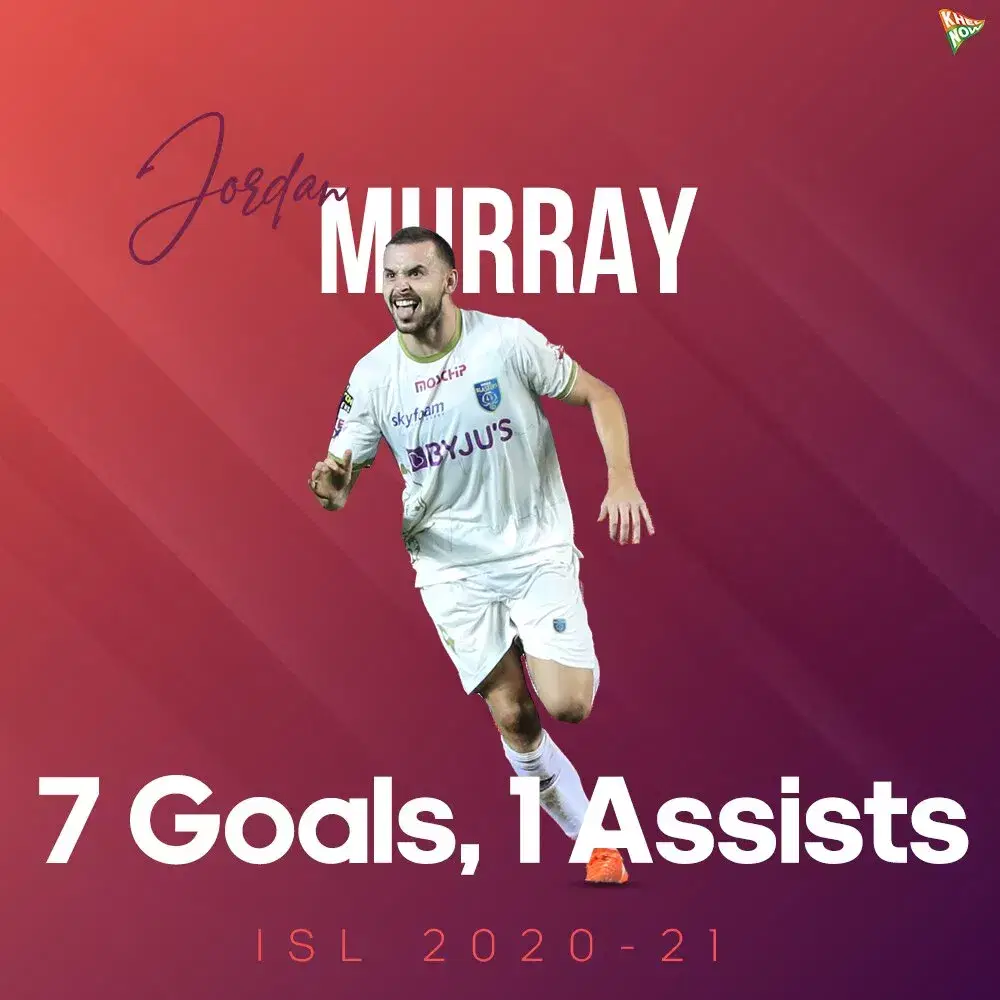 Jordan Murray ended his maiden ISL campaign as the season's top scorer for Kerala Blasters. The Aussie striker was primarily touted to be Gary Hooper's subordinate in attack and was not even the club's top choice among those shortlisted for the role. However, with seven goals and an assist from 19 games, the 25-year-old proved his worth.
Murray's goals also played important roles in KBFC'S wins against Hyderabad and Jamshedpur. He was not the most clinical striker in the league, but he more than made up for it with his work-rate and commitment on the pitch.
Gary Hooper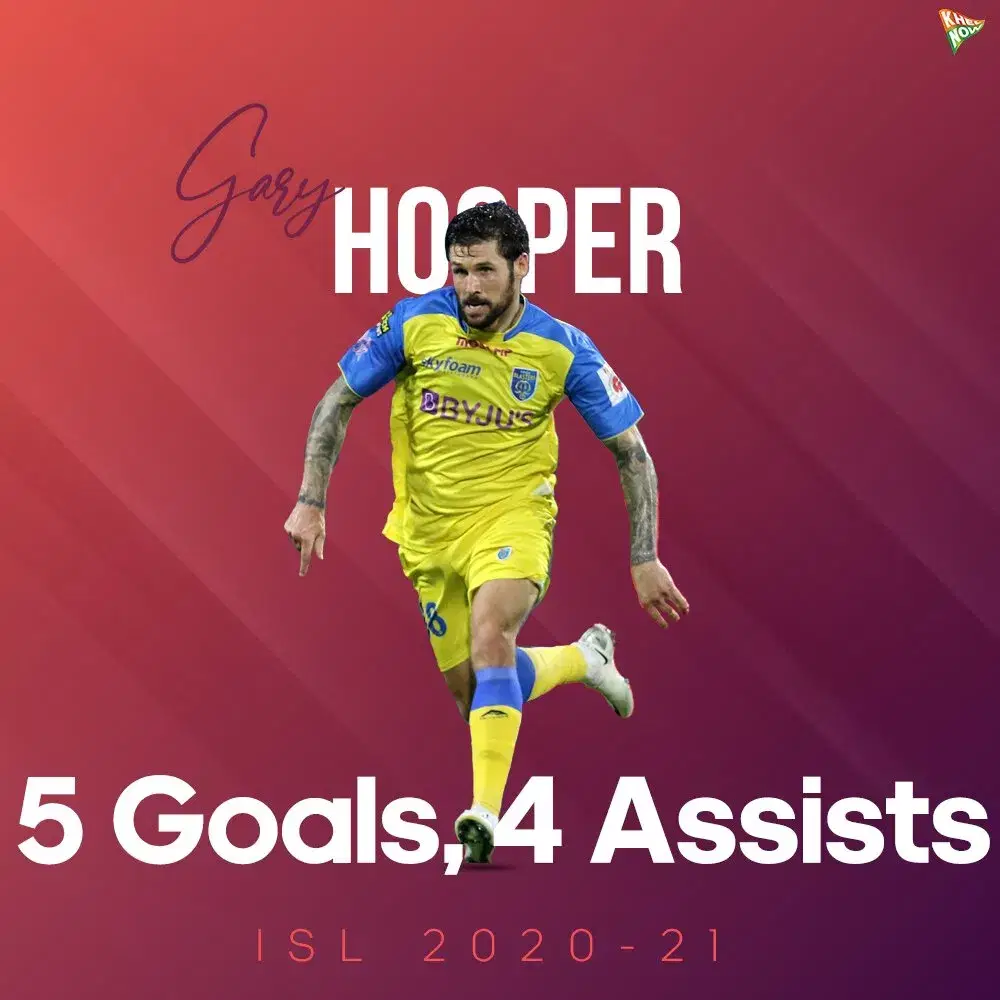 Having plied his trade at Celtic, Norwich City, Wellington Phoenix and so on, Gary Hooper arrived in India amidst a lot of expectations. However, he was unable to deliver in the beginning and also lost his place in the starting XI to Murray. A No.9 for most parts of his career, the Englishman was deployed in a deeper No.10 role at the Blasters and that seemed to trouble him for quite some time.
But, soon the 32-year-old bounced back and wrapped up his season as the KBFC player with the most goal contributions (9 – five goals and four assists). His assists to Rahul KP in both games against Bengaluru FC highlight how well he transformed himself to suit his team's demands.
Sandeep Singh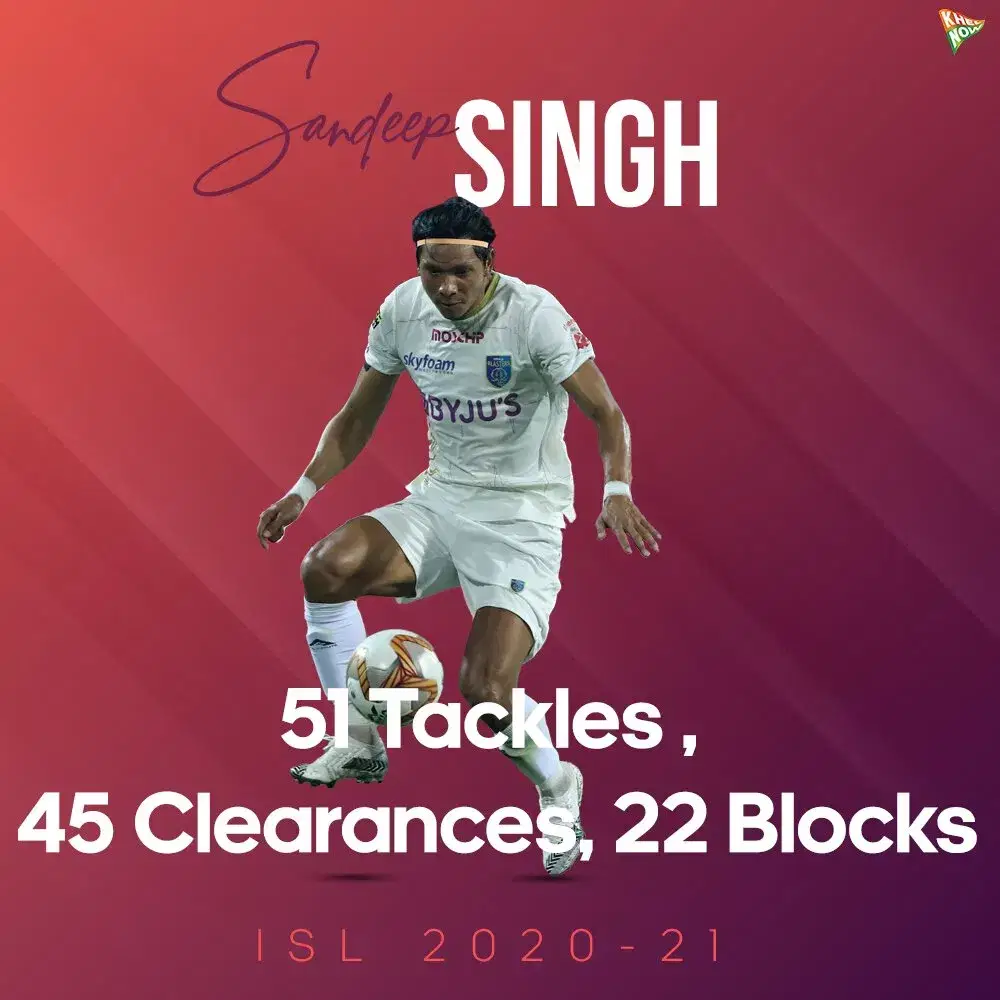 Sandeep Singh did not have a place in the XI in the first few games. He got his first chance during the win against Hyderabad. The fact that he played in every game except one since then testifies to his quality, in what was otherwise a mediocre defensive setup.
In 14 games, the former TRAU FC defender recorded 51 tackles, 45 clearances and 22 blocks. His versatility also came in handy during the season for the Blasters, as he played as a right-back when Nishu Kumar had an injury layoff.
Under-performer of the season
Bakary Kone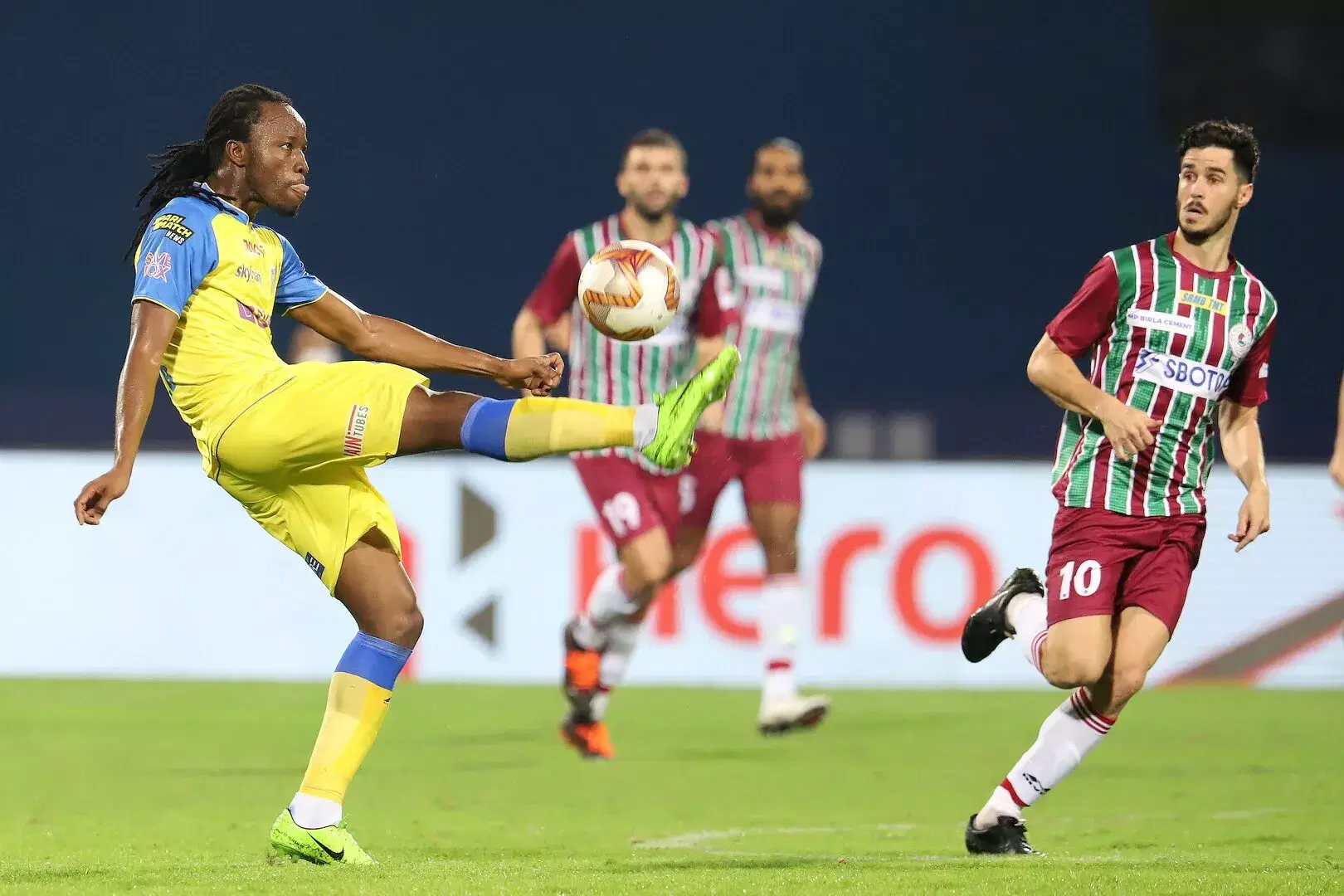 Kerala Blasters failed massively in their defensive signings, as highlighted by the performances of Bakary Kone. The Burkinabe centre-back played just 982 minutes across 14 games. In retrospect, that is a very low return for a foreign defender who was brought in to be one of the leaders of the team's backline.
The 32-year-old managed just 29 tackles, 38 clearances and 16 blocks over the course of the season. Above all, the number of defensive errors he committed was just too many and they often led to KBFC conceding goals unnecessarily.
Bakary Kone's 2020-21 Season in Numbers
Appearances: 14
Goals: 0
Assists: 0
Average Passes Per Game: 28.07
Tackles per game: 2.07
Clearances per game: 2.71
Blocks per game: 1.14
Top Performances
1. Kerala Blasters FC 2-0 Hyderabad FC
2. Kerala Blasters FC 2-1 Bengaluru FC
3. Jamshedpur FC 2-3 Kerala Blasters
Manager's Report Card
As mentioned earlier, Kibu Vicuna arrived at the Kochi outfit with ample winning experience. He was announced as the club's new coach shortly after lifting the I-League title with Mohun Bagan in the 2019-20 season. Despite that, the 48-year-old was unable to replicate his success at Kerala Blasters.
For a coach who likes possession-based football, Vicuna did not have ample resources for the same at his disposal. His strategy of building up from the back did not suit the likes of Costa Nhamoinesu and Kone, who are not ball-playing centre-backs. Somehow, it took until the end of December for him to realize that and bring about a change in his approach.
Last month, Khel Now had revealed the circumstances that led to the Spaniard's unceremonious exit from the club. The string of poor results that the team had under him was only a part of the problem, with other factors also contributing to his departure. But, to be fair, Vicuna himself did not seem to have as much say in signings and related matters. Had he been able to sign more players of his choice, Kerala Blasters would have probably had a different season.
The Yellow Army are actively in pursuit of a new head coach and fans are currently hoping that their club do not make the same mistakes again.
Lessons to be Learned
Having reached the final of the ISL twice in the first three seasons, Kerala Blasters have since slipped down to mediocrity. They are no longer seen as one of the teams to beat in the league. That is a pretty sad state of affairs for a team that boasts of a huge fanbase and gargantuan social media presence. Every season since 2016 has thrown up similar lessons for the Yellow Army. It is high time that the club develop a more organized approach to signings and improve the scouting for foreign players. A total change in management structure would also be welcomed by fans.
This season, the club have also hopefully realized that signing a good coach and a few good players alone will not constitute a winning team. It is equally important that the coach gets players that suit his playing style, or that the management chooses a coach that suits the style of the available players.
Fan View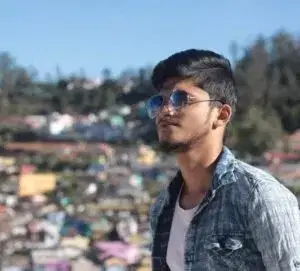 Adel Zahran: We learned from our mistakes this season" – This phrase is probably the only consistent thing that has come from the KBFC management side, other than the below-average results, in the last four seasons. I speak for all Blasters fans when I say that we hope this will be the last time that we have to hear it.
This season started like every other season, filled with hype, hope, optimism and everything in between, but ended in disappointment, like the past four seasons, the only positive being was that since we've been used to it by now, it didn't felt painful as it did before.
When the news that the club appointed a sporting director came up, the sort of the usual optimistic feeling got to our heads, but then reality struck when probably the best defensive pairing in the league (Sandesh Jhingan and Tiri) were replaced with Costa and Kone. Although our sporting director's words as to why he let go of Jhingan and Tiri provided some closure, they made less and less sense as the season progressed. Then there is the foreign scouting, which also was a major failure in my opinion. None of the foreign players exhibited a quality that was at least close to that of the players from the top 4 teams.
At the end of every season, one of the few positives that we usually have would be the discovery of a new Indian 'hero'. It happened this too as we found a few good players among out Indian contingent. However, to reach at least the top 4, every one of them should step up – that too on a consistent basis.
Speaking about the core aspect of any team, the head coach, Kibu Vicuna was not at all a bad appointment. When Eelco Schattorie was removed from his role last summer, there was a small-scale protest among fans, which then changed to hope as the I-League-winning Vicuna joined us. Even our pre-season results added to the hope but the story changed during the league season. His inability to use the available resources may have been the problem, but even that was not entirely his fault as some of our signings were just bad. In a league dominated by the likes of Antonio Habas and Sergio Lobera, this in no way is undermining Vicuna's tactical ability. But like Habas said in a post-match press conference, "I-League and ISL are not the same."
As of now, my only hope is that our SD has probably learned more about the quality of Indian football, and ISL in general as it looks like he probably underestimated the league, especially while scouting the foreign players. The forthcoming season is a valuable second chance for him to make things right.
For more updates, follow Khel Now on Facebook, Twitter, Instagram, Youtube and join our community on Telegram.