The Brazilian is looking forward for his club's turnaround during the upcoming reverse fixtures
Over the years, the Indian Super League has been a hub of marquee foreign players from all across the globe. Be it Spain, Brazil, Australia, Nigeria or lesser-known nations such as Martinique or Mauritania, the competition has seen stars from it all. Amongst these, Brazil ranks second for its representation with names such as even Roberto Carlos and Elano to have also graced the pitch at one point. Among the current Brazilian players in the league, Cleiton Silva holds a special place in the heart of many.
Since his arrival in June 2020, there's been a tidal shift in Bengaluru FC's attacking performance and as a result; a ray of hope for the club in its transitional phase. And rightly so, despite their rankings of late, he's delivered his part — so much so that he's virtually been their best player in the ongoing 2021-22 season. In other words, he ranks top in terms of goals (5) and assists (3) for the Blues and a joint-fourth for goals in the league.
In the previous season, he was ranked the Blues' top performer with 11 goal contributions (7G+4A), just above Sunil Chhetri with 10. As a result, he has become head coach Marco Pezzaiuoli's best bet in attack, as the team is hoping for a revival in their upcoming fixtures. Cleiton's role will be crucial in the second part of the ISL this season, which might as well be one of the deciding factors in how they finish.
The Brazilian talisman recently spoke to Khel Now in an exclusive interview on a variety of topics. Here are the excerpts:
On spending two seasons in the bio bubble
The 2021-22 season is the second campaign in a row that ISL players have spent inside the bio-bubble. Each individual and team have gone through their fair sort of experiences of isolation and mental fatigue. Cleiton Silva spoke about his life at Bengaluru FC inside such an environment.
"Honestly, it's been very difficult, especially for the last 10-15 days. A lot of things are going on and I've started to miss my family a lot. The bio-bubble is extremely hard. Last year as well, we had difficult times, especially at the end. But there's nothing we can do about it. We've to just try to adapt and look at the end and when every team is with their families," he began.
Then, the Brazilian ace stated that he's an avid reader and books by renowned authors have helped him cope up with the difficulties at the bio-bubble.
"I like books that give me some wisdom and I read past writers (historic authors) such as Leo Tolstoy, whom I really admire, along with George Orwell too, whom I like very much," he revealed.
Journey with Bengaluru FC so far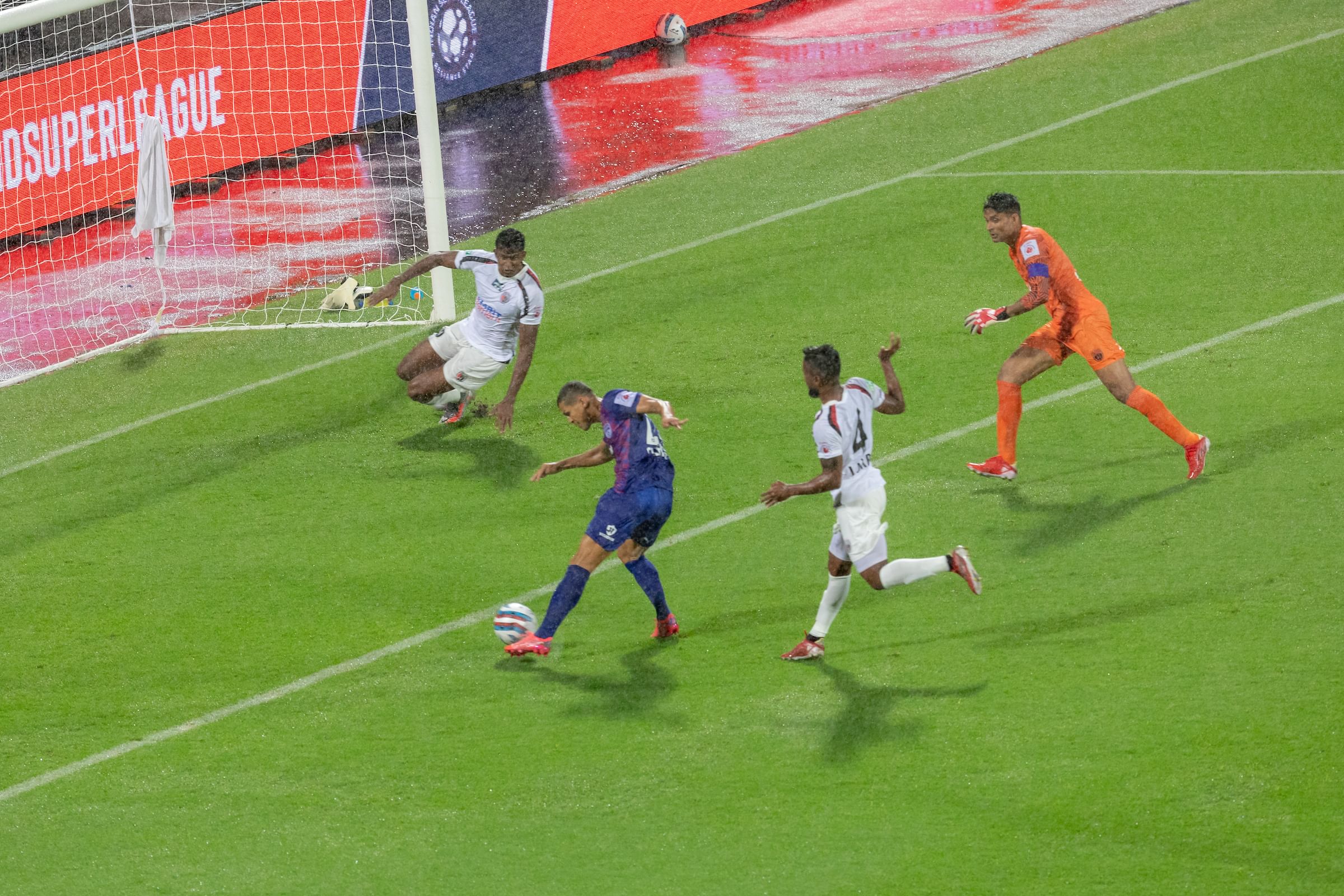 Cleiton Silva has been with the Blues for around two seasons now. Right from his arrival, he's given the West Block Blues a ray of hope in terms of his striking abilities. Last season, he was the club's top performer with seven goals and four assists and has replicated his performance this season as well (5G+3A).
"I am really enjoying (the time with) the club. We have a lot of special people here and people (fans) receive me so well. I really felt welcome when I arrived here last season," he expressed.
"My first thought about the club was this; that it's a family club and people choose to be here for a really long time. That's why I chose to come to BFC because I saw that most players were here for three, four or five years. I don't like to change too much from here and there. I like to make roots in the club that I play," he explained.
Thoughts at the time of signing
The 34-year-old spoke about potential pressure and challenges at the time of his signing for the club. Bengaluru FC were looking to replace their former striker Miku for a couple of transfer windows but failed. However, their search came to an end with Cleiton Silva.
"Well, I don't think too much about this thing (concept) of replacing someone. Everybody knows how great Miku was for the club, being a champion here. But I try to make my own path; my own history with the club," he quipped.
"We try to view it from the team's perspective as well. It's not only about scoring goals or delivering good self performances. You always have to try to improve the players around you as well. Especially because we have a lot of young players here," he opined.
Thoughts on the current season
As mentioned, Bengaluru FC didn't get their ideal start initially. With just one win in six games, the situation looked bleak from the larger perspective. Essentially, their first-half journey was inconsistent with individual errors and some areas requiring overall improvement. However, since the 3-3 draw to ATK Mohun Bagan on December 16, the Blues have gone on an undefeated streak (two wins and two draws), thereby reinstating hopes despite the initial bumpy ride.
"I think we played quite good in the last four games. The last game against (SC East) Bengal, maybe not so well. But (as I said), we didn't lose or concede too many goals in the last four. That's the important point for the team," he commented.
"When you don't concede goals, you can keep scoring and this can help the team win matches. That's what happened against Chennaiyin FC and even East Bengal. The most important thing is to not concede goals and then if you score one, it's enough to win the match. This must be our mentality," the striker explained.
On the club's youngsters
The Brazilian ace shared his thoughts on Bengaluru's youth development philosophy, reflecting on their Durand Cup campaign.
"The boys did very well at the Durand Cup, especially because they played against clubs that had foreign players, which meant they (opponents) would be stronger than them. But it's hard to say (point out) names because when you name one or two, other players (would) feel that they're not good enough. Especially with this transition from youth to professional level, it's very different when you compare and go on to play from one level to another," Cleiton Silva noted.
"I saw many players do well in the youth but at the professional level, they didn't do so well. And I also see the opposite; players who didn't do well in the youth play well at the professional level. So, I try not to say too many names. But in the end, yes, I see that in Bengaluru they have around five to seven (youngsters) who are really good players. That's good for the club itself because they can build a strong team for the next four to five years," he continued.
On playing under two different head coaches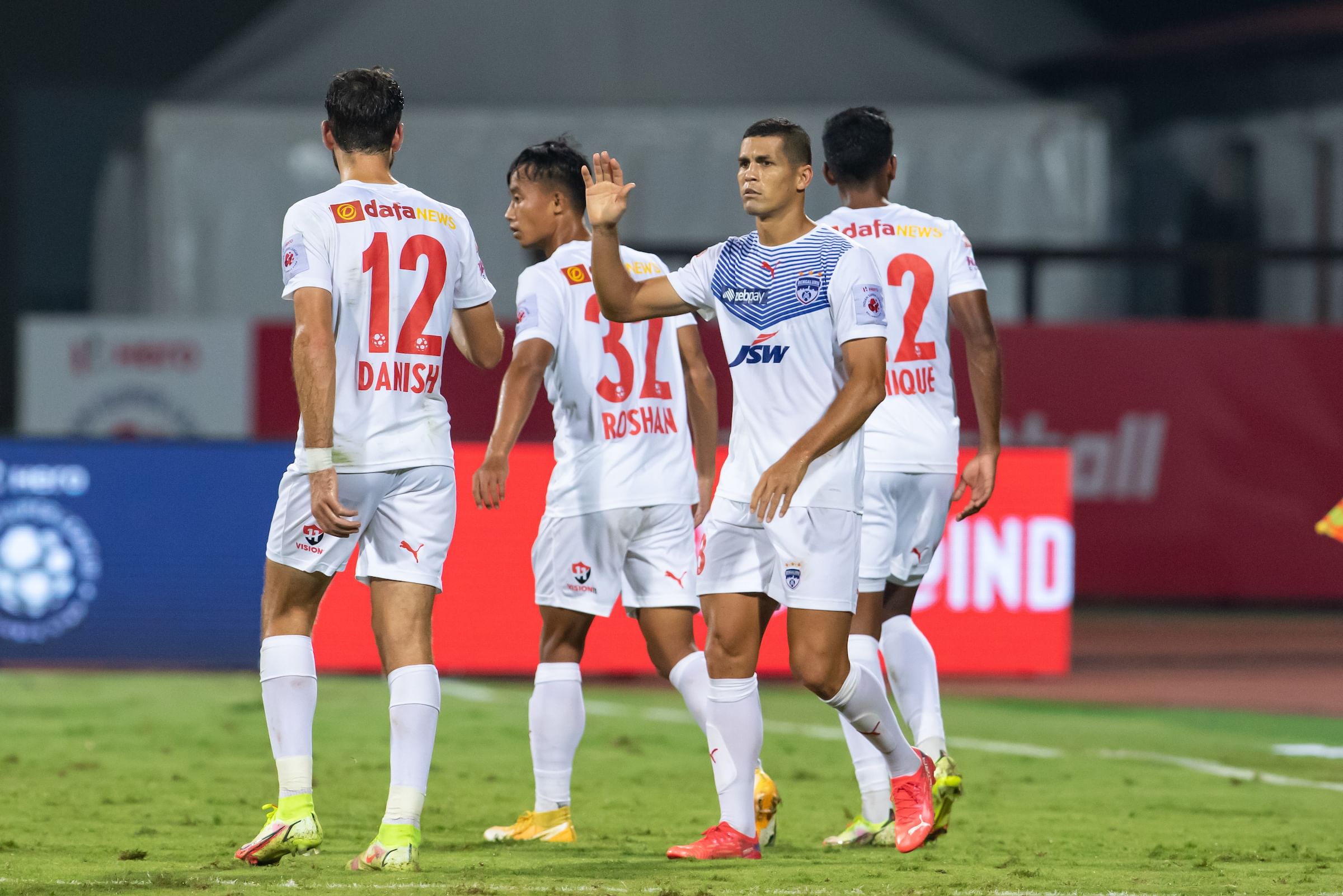 Cleiton Silva has now played under two different head coaches during his tenure with the Blues; Carles Cuadrat in 2019-20 and Marco Pezzaiuoli this season. In fact, considering Naushad Moosa's interim tenure last season, it could even be counted as three. Either way, he's been part of changing approaches and philosophies and it was only right to find out his perspective on such influence, both for the team as well as himself individually.
"It's hard to compare coaches because every coach has their own philosophies. So it does not mean one philosophy is better than the other. Some players have a more defensive way of playing and (on the contrary) some coaches have offensive ways to play. Marco is like a coach who likes to press high and be more active in the game. While Carles is a little bit more passive in this method," he opined.
"But as I said, it's difficult to compare. Carles was here, he was a champion and he's already proven that his philosophy works. We as players just try to adapt as fast as we can. With Carles, it was very different from what we have currently with Marco. Marco is quite different from Carles. And also (Naushad) Moosa, he gave a lot of opportunities to youngsters during his time. This was something that I really liked especially because he would be (staying) with the young players for quite long (even afterwards)," he stated.
Difference between Thai League 1 and ISL
Cleiton Silva is the second-highest scorer of all-time in the Thai League 1 and he highlighted some of the major differences between it and the Indian Super League.
"I think they have a different way of playing compared to India. Indian players have more professionalism, they're stronger and more focused on their careers. Whereas, how I see Thai players is that they have more quality in terms of passing, dribbling.
"(The reason) is that football is more developed in Thailand; from my perspective. In India, players have started to be more professional as they listen more and try to improve. For instance, players spend a lot of time in the gym trying to improve themselves and I think this is good for players," he remarked.
Lessons from Brazilian football
Brazil, as a nation, is known widely to produce talent from every nook and corner and they are scouted from all around the country. In other words, a hub of world-class footballers who enter the centre stage against the odds as compared to those who do so directly with brilliant facilities at their disposal. Regardless, they've produced some of the greatest footballers ever and continue to remain a sporting powerhouse.
"I think football grows everywhere. It doesn't matter where you are. I'm not from favelas or cities. I come from a farm. Families just stayed one or two kilometres away from each other. But at the end of the day, all guys used to come together, make balls with some bags and play football. Football grows everywhere and this is about Brazil," he initiated.
Not really diving much into the issues of facilities and the comparison to well-established nations, he opined that it was all about the basics such as belief and determination.
"In India as well, regardless of these issues and why or where you belong from, I think if you want to be a football player, it's (still) possible. It's not a problem and this should come naturally. You just have to fight to do (perform) and football will be with you always," he opined.
Brazil's influence on the ISL
When it comes to foreign representation in the ISL, Brazil ranks second behind Spain, making the country influential in the running of the tournament. At present as well, Cleiton Silva has two Brazilians in Bruno Ramires and Alan Costa alongside him at BFC.
"I think not only in India but all over the world, people like watching beautiful football and Brazil, as you said provides a lot of wonderful players. So when people see Brazilians playing, they want to see a bit of these players that they saw in the past," he observed.
"I think Brazilian players have this magic and so when people see us they want to see a bit of Ronaldo, Pele from us on the pitch. So we try to provide this and play the Brazilian way, that people want. Basically, they entertain," Cleiton responded.
On the Blues' 2021 AFC Cup venture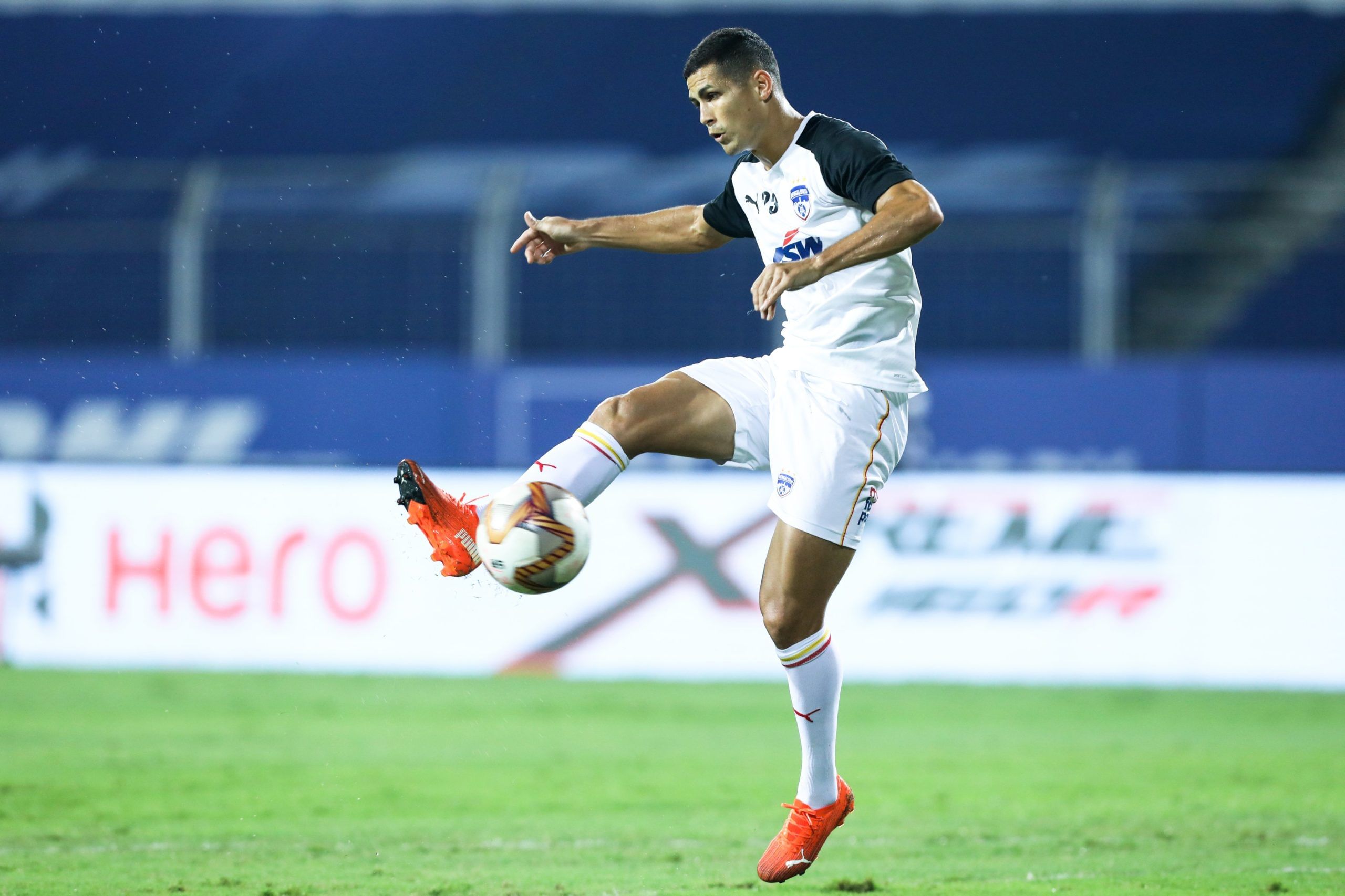 Cleiton Silva was quizzed regarding Bengaluru FC's 2021 AFC Cup journey, for they were knocked out after finishing second in the standings behind ATK Mohun Bagan.
"I think for the last few years we're building a new team. We've had many changes from last year to now and we're trying to build (rebuild) the team. So, I think this is the main reason why we're not doing so great. But from my point, I think we (still) did good. If we had one more game, we'd have gone to the next stage. So once again, I think we did quite good in the AFC Cup — even though we had many youngsters and new foreigners coming. It's not easy to build a team from nothing. We're still developing the team," he answered.
"Now we all have the second leg; 10 matches and 30 points to fight for in the ISL as well. Who knows what's going to happen? You'll see many clubs starting well in the ISL but now they're dropping too many points. So why not?" he quipped.
Message to Bengaluru FC fans
The 34-year-old winded up the interview with a message for Bengaluru FC fans, anticipating a turnaround from the reverse fixtures and a chance to showcase himself in front of the home crowd.
"I just want to thank them for the support they are giving me, not only from the stands but also on social media. I just credit them for all of this and want to tell them to keep supporting the club," he said.
"Of course, I want this situation to improve so that we can play at our stadium, Kanteerava, next season. But we are still with the pandemic for the second season in a row and it's not easy to be here. This is our fourth month already but I hope for the next season we can meet there," Cleiton Silva concluded.
For more football updates, follow Khel Now on Twitter, Instagram and join our community on Telegram.